If you don't have time to read the whole article and just want to find out what is the best gas grill under $1000, then we recommend the Weber Genesis II E-310. It is a durable grill with high-quality components and provides a great grilling experience.
It's time to step up your grilling game! When you have a higher budget, you can afford some of the newer bells and whistles that weren't on your previous models. Read this article and learn what gas grill features are worth the extra investment and which aren't that important. 
Whether you're looking for a propane or natural gas grill, a portable or a flat top model, we have the best options here. However, if you are looking for a built-in gas grill then check out this buyer's guide to find the best models.
In our review section below, you can find the pros and cons of six of the best gas grills under 1000 dollars, as well as our overall winner.
In this article, we're going to review the following gas grills:
What Can You Get For $1000?
Some of the features that are now "on the table" with a higher grill budget are completely and totally worth every penny. However, some are just extraneous and unnecessary. 
Here are some of our top recommended features for awesome high-end gas grill options:
Extra Burners
This is a no-brainer in the world of grilling! More burners mean more heat (for that nice charred flavor) and more opportunities to create different heat zones for various types of delicious food. No more waiting so long for food to finish with a few extra burners.
Electric Igniters
These are fairly standard for most gas grills on the market, but they are not always reliable and durable. When you're willing to pay a bit more, you can get an igniter that always works with the first try and keeps on doing that for many years to come. 
Electric is far more dependable than a rotary starter or a push-button starter. Lighting your grill up is not something you want to waste time on when you're ready to start grilling!
Fuel Gauge
No need to pick up your gas can before a BBQ sesh and try to "weigh it" with your hand to see whether or not you'll make it through the meal without running out. Know with one glance how much fuel remains, and you won't need to play that guessing game any longer.
Interior Lights
As the sun goes down, it might be harder to see what you're doing, and those steaks aren't going to perfectly cook themselves! Look for a unit that comes with some lighting options so you will know what you're doing on that grill night or day.
Rear Infrared Burner
If you want to roast a whole chicken or turkey rotisserie style, a rear infrared burner can come in handy.
Long Warranties
Since this is a proper investment, you want it to last. With good care and good research prior to purchasing, you could have this next grill for years and years to come. 
You want a warranty that goes with it! Spend a little extra on the extended versions, and know that you are fully protected from little burnouts and fritzes with one of the working parts of the grill.
Features That Aren't Worth It
Even if that extra money is burning a hole in your pocket, some of the pricier add-ons just simply aren't worth the additional fees. If you're not going to utilize a feature, then there simply is no reason to waste the money. Use it on buying delicious ingredients for grilling!
Here are a few unnecessary grill options:
Too Large of a Unit
A great big grill is, well, great…but not if you routinely cook for a small number of people. Sure, you can buy your grill based on one annual party you have, or for a potential get-together "someday," but just be realistic. 
It's more expensive in the long run to heat up a massive grill when you are only doing two chicken breasts. Stay rational even if you have a big budget.
Smart Technology
If there is one zone that just doesn't need "smart" technology, it's the grill zone. You don't need screens back there, or else it will be a distraction that will lead you to burn things. Also, digital or infrared thermometers aren't often as good as your standard, needle-having, internal meat thermometer.
Speakers
Believe it or not, adding speakers to a gas grill is not that uncommon. But is it really necessary? It seems like the likelihood of cooking your speakers is high, and perhaps those two elements should just remain separate.
Final Considerations
The bottom line and most important question to ask yourself before buying a new gas grill is: Do I feel excited about this grill? That's it! That is the most important consideration prior to slapping down your credit card and ordering the new rig.
Purchase something that makes you eager to grill. You should be confident that you will actually use the grill. 
If you are intimidated by your new technology or unsure how to use it, you are wasting your money. So read on, because we have reviewed 6 of the best gas grills under 1000 dollars for your convenience.
Best Gas Grills Under $1000 Reviewed
Ok, it's time to take a look at our list of top picks in this price class. Here is our carefully selected list of recommended products:
Best Overall: Weber Genesis II E-310 3-Burner Propane / Natural Gas Grill
Weber is a company with a stellar reputation and is known for their excellent customer service. Their products are also user friendly and durable. Genesis II E-310 is no exception, and it's one of the best 3-burner gas grills on the market.
This grill is easy to assemble and features a cart design with open shelving. It has high-quality, porcelain-enameled grates that are durable and easy to clean.
The three high-performance burners are made of stainless steel and pump out 39,000 BTUs of heating power. The 513 square inch main grilling area is big enough for 20 burgers. With an additional 156 square inches of warming area, you don't run out of cooking space even when you're having visitors. 
The E-310 heats up evenly and quickly once it's started. It's also designed to retain the heat well, so you don't consume a lot of fuel to keep it hot.
As we can expect from Weber, the E-310 is stacked with great features. It comes with stainless steel flavorizer bars that prevent flare-ups. They are also designed to vaporize the drippings which provides some smoky taste to your food. 
The grill also has an excellent grease management system that makes cleaning easier. It's compatible with iGrill 3 and the wireless meat probe monitoring system that connects with your smartphone.
One thing I really like is that the gas tank can be placed under the right side table inside a compartment where it's out of sight but still quite accessible. Another great thing is that the grill is available for both types of fuel, propane, and natural gas. The propane gas models come with a fuel gauge.
The standard model doesn't include a side burner. But if you feel like having one, choose the slightly more expensive E-330 (available on the dropdown menu at BBQGuys online store).
The stainless steel burners are covered with a 10-year warranty and other parts are covered for 2 years. If you're planning to store the grill outdoors, I recommend getting a cover (just choose it from "Optional Accessories").
The Weber Genesis is an outstanding unit with a lot of power and great user feedback. This grill comes from an iconic brand with good value. It is our number one recommendation in this price class.
Pros:
Convenient design

Durable construction

Consistent heat

Easy to clean

Large grilling surface

Comes with a fuel gauge (for propane)
Cons:
The Runner Up: Napoleon Prestige 500 4-Burner Gas Grill
If you don't want to get the Weber Genesis for some reason, here is a great option. Napoleon Prestige 500 is a very stylish gas grill manufactured in Canada. 
It has a modern and sleek black and stainless steel exterior. The two large shelving wings on both the left and right sides provide plenty of room to set plates or utensils. This grill also has double doors for additional storage and integrated utensil holders.
With 500 square inches of grilling space and 250 square inches of warming area, it's about the same size as Weber. When it comes to grilling power and number of burners, this one comes on top with 4 stainless steel burners and 48,000 BTUs of cooking power
This grill features a Jetfire ignition system that is safe, easy, and reliable. There is no side burner but you can choose to add a rear infrared burner if you feel like having one. It comes with a hefty extra cost, though. Even without it, this is the most expensive unit reviewed in this article.
SafetyGlow night lights are a nice extra touch. The control knobs of the grill glow in blue and turn to red when a burner is turned on.
When style matters, Prestige 500 is your best choice! It's available for both propane and natural gas.
Pros:
Stylish design

4 high-quality stainless steel burners

Plenty of heating power

Durable high-quality construction

SafetyGlow illuminated control knobs
Cons:
Best Portable Option: Blaze Professional Marine Grade Propane Gas Grill
Here is a compact and portable grill that provides solid cooking experience wherever you take it. And by wherever I mean in the backyard, camping, tailgating, or even on a boat trip.
When you read the "Marine Grade" portion of the product title, realize that they aren't exaggerating. Its specially treated stainless steel exterior makes it resistant to saltwater corrosion.
This grill can take the rigors and the wear and tear of the ocean with the best of them, and still crank out some delicious morsels at sea. 
Of course, you can always just set it up in your yard. However, it's nice to know how tough this unit is! 
It has short, squat legs, and it's extremely portable. It's best used as a tabletop grill but you can also place it on the ground.
The grill comes with nice features like the convenient push and turn flame-thrower ignition switch. It also has nice attention to details like the lid that locks down for safety and transportation ease.
The 205 square inch grilling surface is good for 8 burgers, so don't expect to host big parties with this unit. In addition, it has only one burner, so creating heat zones is a bit difficult.
There are many options available when you're buying this grill. You can choose the non-marine grade version to save money. Or you can invest some additional dough to get a sturdy pedestal to place it on.
If you're looking for a high-grade portable grill that is built to last even in the most demanding conditions, this could be the perfect option for you.
Pros:
Extremely durable

Very easy to assemble

Compact and easy to store

Portable

Can be mounted on a boat

Provides even heat
Cons:
Needs a table (unless you want to crouch or sit down)

Has only 1 burner

Small grilling area
Best Flat-Top Grill: Camp Chef 900 6-Burner Flat-Top Propane Gas Grill
Camp Chef 900 is likely one of the best mid-range flat-top grills available. You will feel like a real professional when preparing a meal on this baby!
Perfect for a versatile griller who wants to have a flat-top ready for sausage, pancakes, fried eggs, or even heating up water pots.
This grill is huge! With 6-burners and 877 square inches of cooktop available, there will always be room to throw another burger on the griddle. The surface is made of cold-rolled steel and is of the utmost quality.
It has 2 side shelves and two bottom shelves that give the griller plenty of room for storage. The large wheels and swivel casters allow you to easily move it around on an even surface.
Grilling purists might miss having the standard grates available as a cooking surface.
The standard warranty for this unit is only one year. Pay a few bucks more, and you can extend it up to 5 years when ordering from BBQGuys.
Pros:
Easy to use

Huge cooking area

Great value for money

Sturdy built
Cons:
No regular grilling grates
Best Large Grill: Broil King Sovereign XLS 20 4-Burner Gas Grill
Looking for a LARGE grill? Then this is what you need. Broil King Sovereign XLS 20 is a beast!
This is just about one of the largest grills available, so if you routinely do a lot of grilling and entertaining, this could be the one for you. It's one of our largest options and has room for a ton of food at over 1,000 square inches of total cooking space.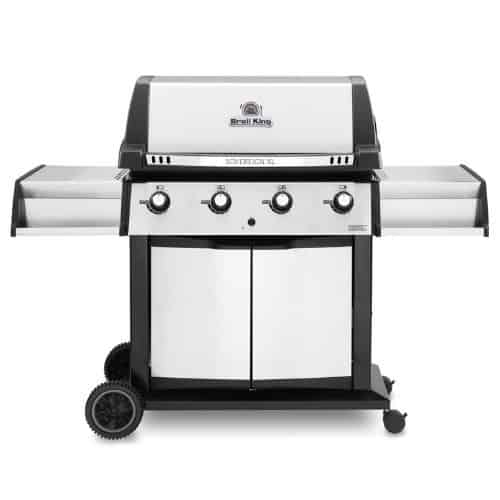 This grill has a massive enclosed storage area underneath the grilling surface with two doors. It also has two large side tables for prep and drinks. The thick cast aluminum finish provides even and quick heat distribution.
Stainless steel grates have great heat retention and the stainless "Flav-R-Wave" cooking system vaporizes drippings on contact for a nice overall flavor.
The grill has 4 burners that deliver high heat efficiently and evenly. You can choose propane or natural gas-powered option according to your preference.
Pros:
Large grilling area

Plenty of heating power

Made of durable cast aluminum

Even heat distribution
Cons:
No side burners

Takes a while to assemble
Best Compact Option: MHP JNR4DD Natural Gas / Propane Grill with In-Ground Post
Here is a slim and compact grill perfect for a small family's use. It has 365 square inches of cooking surface and pumps out 30,000 BTUs of energy.
The grill is mounted on a post and so it has a sleeker and slimmer feel than some of the other units. You can also choose other more portable options like an aluminum cart.
This is a sturdy grill with a heavy-duty cast aluminum housing that will last for many seasons even under high heat conditions. It has a foldable shelf that adds a place to set hot plates or finished food.
There is only one shelf though. So this unit lacks the shelving and storage that some of our reviewed items have.
Place this grill on your balcony, backyard, or patio, and you can enjoy cooking without sacrificing too much space! Both natural gas and liquid propane models are available.
Pros:
Compact design

Durable

Porcelain briquettes for precise heat
Cons:
Step Up Your Grilling Game
Did you find your favorite grill already?
If you're having a hard time deciding, go with our top pick Weber Genesis II E-310. It's a quality product that is durable and easy to use. In addition, the overall look and feel of this grill is very high-end and classy with a brushed stainless steel exterior and plenty of shelf and prep space.
You can find more gas grill buying advice here.
Go ahead and enjoy making mouthwatering meals all summer long on your new top-notch rig!