Are you thinking a built-in grill will be the next move for improving your outdoor cooking area?
Standalone grills are marvelous for small meals or single-course offerings. But if you want to have all the bells and whistles, you might opt to upgrade to an entire outdoor kitchen space with a built-in grill.
Let's see if you're ready to take the plunge and invest in a more permanent grill to be placed in your outdoor kitchen.
In this guide, you can find some useful tips for going built-in and a few checklists to consider. We will also review the top 5 built-in grills available on the market.
Our recommendations for Best Built-In Gas Grills:
Why Built-in Gas Grills Are Great
Maybe you've tried a number of grills over the years and have developed some tried-and-true recipes that are also favorites of your family and friends.
You have a little grill station set up on the side of your house with the extendable prep table wings on both sides. But there just isn't enough room for preparing everything on the menu.
Or perhaps you just bought a new house, and you'd really like to make your mark on it. You don't want to just plop your old grill in the backyard and make do. So, what's next?
Maybe something like this?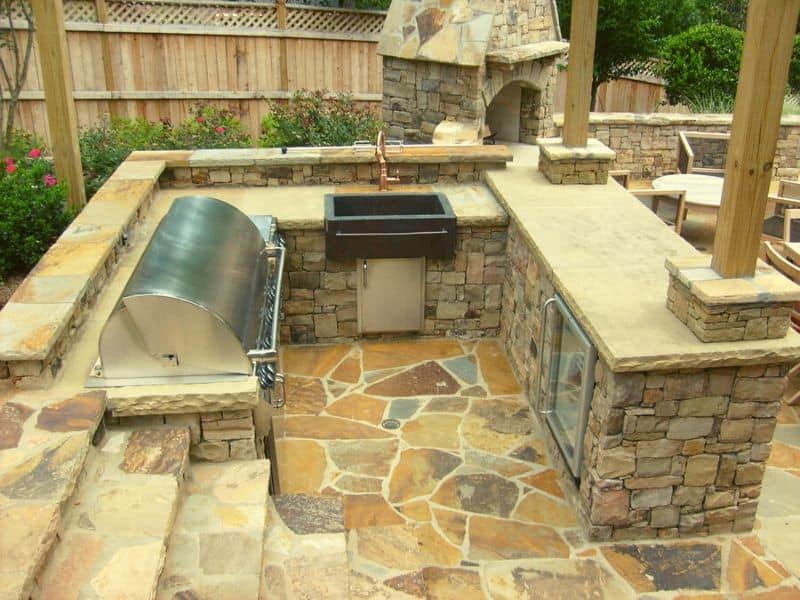 A true grill master shouldn't need to feel stifled in that limited set-up!
You're starting to think you could use some more counter space – and maybe a sink. No more huddling next to a grill with tongs on your belt loop and plates in your hands.
It's time to invest in your grill space, and create a fantasy kitchen al fresco!
Here is a short video that will help you with planning a perfect outdoor kitchen:
Outdoor Kitchen Planning & Building Process | The Watson Family's Kitchen Build | BBQGuys.com
You can find more tips for creating a beautiful and convenient outdoor kitchen later in this article.
Benefits of Grilling with Gas
Anybody who grills has a theory on what the superior type of grill is and what are the best methods to create a perfect meal. The truth is, there are a lot of wonderful aspects to using a gas grill.
All the grills we are reviewing in this article use gas, so here are some good reasons why you should choose one for your outdoor cooking space:
Gas Grills are Fast and User-Friendly: No need to wait for charcoal to burn up and out into cook-worthy embers. Plus, even beginner chefs can start these up.
Way Less Clean Up: Charcoal grills use, well, charcoal, and that burns into a mountain of crumbly, messy ash that needs to be disposed of. Not so with gas grills!
Excellent For Built-In Grills: The name of the game when having an outdoor kitchen is "convenience," and nothing is more convenient for grilling than simply pushing a button or turning a knob.
Gas is Generally Cheaper Than Charcoal: As a fuel, propane tanks and refills are cheaper than bag after bag of lump charcoal or briquettes. You can also directly tap into your home gas line to make it even slicker.
5 Best Built-in Gas Grills Reviewed
Ok, now it's time to look at our recommendations and reviews of the best built-in gas grills:
Best Overall: Lion Premium Grills 32-Inch Propane Gas Grill
This Lion Premium grill is a real powerhouse of a grill with a polished, classy exterior. It has 830 square inches of grilling space on the cooking surface, which is made of solid stainless steel grates.
There is also a natural gas version of the grill available.
Specifications:
Fuel Type: Propane/natural gas
Number of Main Burners: 4
Additional Burners: 15,000 BTU infrared rotisserie back burner
Total BTU: 75,000
Heat Flux: 93
Primary Grilling Area (sq.in): 647
Warming Rack Area (sq.in): 183
Weight: 170 lbs
Build Materials: Stainless steel
Dimensions: 32″ x 24.25″ x 21.5″ (L x W x H)
Warranty: Lifetime for most parts (3 years for flame tamers and 1 year for gas valves and some other parts)
The head is also made of stainless steel and is covered by a lifetime warranty along with the grates and burners. With double layer, seamlessly welded precision, the stainless steel cover is durable and waterproof, ensuring it will last for season after season of protecting what's inside.
One nice thing about this grill is that it's easy to use. Some premium grills have many features but are also complicated, and it takes some practice to be able to use them. Lion has a simple control panel that allows you to use it without a headache.
The grill has 60,000 BTUs of heating power spread over 4 adjustable main burners and an additional 15,000 BTU infrared rotisserie back burner. It also features an adjustable warming rack, an infrared back burner, and two interior lights for ease during evening cooking.
A gourmet package with cool extras is included. The rotisserie kit, smoker box, grill cover, griddle, and griddle plate remover with bottle opener are a nice addition.
This grill is a perfect choice for any seasoned grill master. If you're willing to cough up the dollars required, it will be the centerpiece of your outdoor kitchen for many years to come.
The Runner Up: Napoleon Grills Prestige 500
Napoleon Prestige 500 is an extremely sleek and elegant grill with a beautiful stainless steel finish.
Its 4 stainless steel tube burners produce 48,000 BTUs and can crank the temperature up in a few minutes. There's also plenty of grill space to utilize at 760 square inches.
Specifications:
Fuel Type: Propane/natural gas
Number of Main Burners: 4
Additional Burners: 18,000 BTU rear infrared burner
Total BTU: 66,000
Heat Flux: 96
Primary Grilling Area (sq.in): 500
Warming Rack Area (sq.in): 260
Weight: 125 lbs
Build Materials: Stainless steel
Dimensions: 32.5″ x 25.5″ x 22.25″ (L x W x H)
Warranty: Lifetime for most parts (3 years for flame tamers and 1 year for gas valves and some other parts)
This model includes an 18,000 BTU rear infrared burner and a rotisserie kit. The infrared rotisserie burner is a nice addition that allows you to roast food slowly and more evenly.
The grill has unique reversible wave grates that provide even heat and prevent smaller foods from dropping into the grill. The built-in temperature meters in the majority of grills are not very accurate, but the Accu-Probe temperature gauge of Napoleon provides much more precise readings.
The Prestige 500 models are built with high-quality materials and are made in Canada. This means that the quality is higher than China-made grills but so is the price tag.
This is a stylish and high-performing grill that will make a nice addition to any outdoor space.
What We Love
Easy to assemble and install
Nice set of features
Includes a rotisserie kit and infrared burner
High-quality construction
Lifetime or 15-year warranty on all parts
What We Don't
Smoker box is not included
The Premium Choice: Summerset TRL Series Propane Gas Grill
This grill certainly has a lot of incredible features that push it to this list and make it one of the best built-in gas grills. This grill features a solid stainless steel construction throughout. It also comes with an infrared burner and a built-in rotisserie kit.
Specifications:
Fuel Type: Propane gas
Number of Main Burners: 3
Additional Burners: 15,000 BTU rear rotisserie burner
Total BTU: 69,000
Heat Flux: 89
Primary Grilling Area (sq.in): 607
Warming Rack Area (sq.in): 248
Weight: 147 lbs
Build Materials: 304 Stainless steel
Dimensions: 32″ x 25″ x 21.25″ (L x W x H)
Warranty: Lifetime for all stainless steel parts and 1 year for other parts
The grill has a reliable flame thrower ignition that doesn't need an electricity connection or batteries. The halogen lights inside the grill and LED-lighted control knobs make sure that you can keep on grilling even late in the evening.
Its three regular burners and single infrared burner combine for over 70,000 BTUs of cooking power. The 855 square inch cooking surface is evenly heated thanks to the unique ceramic briquette system.
This premium grill provides high performance and is an excellent choice for completing your outdoor kitchen.
What We Love
Built with 304 stainless steel
Ceramic briquettes ensure even heat
Integrated lighting
Infrared burner and rotisserie kit included
Lifetime warranty for all stainless steel parts
What We Don't
Comes with a steep price tag
Best Budget Option: Bull Outdoor Products Bronco Bullet 4 Burner Natural Gas / Propane Grill
If you find the other options in this article too expensive, don't lose your hope yet.
The Bronco Bullet is not nearly as pricey but still includes all the necessary features. It has 810 square inches of cooking space and plenty of heating power in its 4 individually controlled burners.
Specifications:
Fuel Type: Propane/natural gas
Number of Main Burners: 4
Total BTU: 60,000
Heat Flux: 100
Primary Grilling Area (sq.in): 600
Warming Rack Area (sq.in): 210
Weight: 153.7 lbs
Build Materials: Stainless steel and heat-treated cast iron
Dimensions: 32.25″ x 25.25″ x 21.25″ (L x W x H)
Warranty: Lifetime (stainless steel cooking grids, frame, and housing), 3 years (stainless steel flame tamers), 2 years (burners), or 1 year (all other components)
The grill is almost completely made of stainless steel, which should guarantee good odds against the elements. It has reliable Piezo igniters on every valve and provides even heat with no cold or hot spots.
The Bronco Bullet grill housing, frame, and cooking grids come with a lifetime warranty, and the stainless steel flame tamers have a 3-year warranty. The heat-treated cast iron burners have a 2-year warranty. What we don't like is that all other parts are warrantied only for 1 year.
This is a good and affordable option for the griller who wants an easy-to-use grill for their outdoor kitchen area. Both natural gas and propane versions are available.
What We Love
Great value for money
Durable 14 gauge 304 stainless steel construction
Simple and reliable ignition system
What We Don't
Some parts have only 1, 2, or 3-year warranty
Best Built-In Natural Gas Grill: Bull Outdoor Products Angus 30-Inch Gas Grill
This is a sleek and well-built grill head that is both professional and user-friendly. It's specifically designed for outdoor kitchen applications and comes with lots of installation tips and tricks.
Specifications:
Fuel Type: Natural gas
Number of Main Burners: 4
Additional Burners: 15,000 BTU infrared rotisserie back burner
Total BTU: 75,000
Heat Flux: 100
Primary Grilling Area (sq.in): 600
Warming Rack Area (sq.in): 210
Weight: 166 lbs
Build Materials: Stainless steel
Dimensions: 32.25″ x 24.125″ x 21.25″ (L x W x H)
Warranty: Lifetime for most parts (3 years for flame tamers and 1 year for gas valves and some other parts)
With 60,000 BTUs of cooking power, this grill heats up fast and fierce and has 810 square inches of cooktop. Using Piezo igniters on each of the 4 burners ensures easy operating with the turn of a dial, and you can check the temperature on its exterior thermometer.
Made with solid stainless steel construction the grill comes with a lifetime warranty for the grates, burners, and firebox. The stainless steel flame tamers have a 3-year warranty.
Overall, this is a quality grill for a good price and could be a great option for your outdoor kitchen. You can choose a natural gas or propane version of the product.
What We Love
Gets hot fast
Even heat distribution
Plenty of cooking space
14 gauge 304 stainless steel construction
Comes with a sturdy rotisserie and infrared back burner
How to Choose the Best Built-in Gas Grill For Your Needs
Buying a built-in gas grill is going to be quite a hefty investment, so you should plan carefully before getting one. It will be a permanent part of your outdoor kitchen and you will probably be using it for decades to come.
This step-by-step buyer's guide will help you with choosing the right built-in gas grill for your outdoor kitchen:
1. Natural Gas or Propane
The first thing is to decide whether you are going to get a propane or natural gas grill. It doesn't make any sense to spend time looking at natural gas grills if you don't even have a gas line at your house.
Natural gas is probably the most convenient option if the rest of your house is already using it. Just extend the line to your grilling area and you will never have to worry about running out of fuel.
Using propane gas will not affect the grilling performance but it will be a bit more inconvenient. You will have to haul some heavy propane tanks to your grilling area to feed the fire. It's best to always have one full spare tank nearby in case you run out of propane in the middle of cooking a meal.
2. Dimensions and Grilling Space
The next thing is to think about where you're going to place the grill and how many people you usually cook for.
Built-in gas grills come in many sizes — widths ranging from 24 inches to 42 inches. The grill should fit nicely in the designated area.
If you like to throw big barbecue parties, get a grill that is large enough to cook for a crowd. You can still use it for cooking smaller meals too, there is no need to light up all of the burners for grilling a few burgers.
3. Materials and Durability
The grill is going to need to stand up to the elements and really take a beating. It also needs to maintain a certain elegance since it will be the main feature of your outdoor kitchen. You definitely don't want it to be an eyesore after a couple of seasons.
The interior of the grill needs to be as tough as the exterior to withstand the high heat. Therefore, you need some heavy-duty hardware that is built to last.
Stainless steel is a great option — hence the best high-end grills are made of it. But there are differences in the quality. Get a unit made with thick premium quality 304 stainless steel and it will last for decades.
4. Design and Features
The design of the grill should be both stylish and user-friendly.
A proper grease management system prevents flare-ups and makes cleaning easy.
Cabinet-style built-in grills come with handy enclosed storage space under the grill while other models include only the grill head.
If you like to grill large food items like whole birds, roasts, and pork butts, it makes sense to get a unit that comes with a rotisserie kit.
Many built-in grills also come with infrared back burners that bring rotisserie cooking to the next level. Infrared searing burners are great for producing high heat and getting that nice and crispy surface to your steaks and burgers.
5. Burners and Heating Power
The burners of a built-in gas grill should be made of high-quality stainless steel. You don't want them to start cracking after a couple of years of use. The burners should also provide even heat across the grilling surface.
Having at least 3 individually controlled burners, preferably more, is required to create heat zones for indirect cooking. This is necessary when slow cooking large items like ribs and briskets.
You'll also need the grill to be able to heat up to 600 degrees plus with ease for proper searing.
BTUs and Heat Flux
The grilling power of gas grills is often measured in BTUs (British Thermal Units). One BTU is the amount of heat required to raise the temperature of one pound of water by one degree Fahrenheit. While it's important to have enough BTUs, this variable alone doesn't tell us much because.
Heat flux is a much better variable for telling if the grill actually has enough heating power because it also factors in the size of the grilling surface. A small grill doesn't require as many BTUs to get hot as a large one. The heat flux is calculated by dividing the BTUs of the grill's main burners by the size of the main grilling area.
All models in this guide produce enough heat for the grill to get hot enough for searing in less than 10 minutes.
6. Warranty and Customer Service
Having a long warranty on the main parts of your built-in grill is important. The grill housing and burners are parts that you don't want to change — they should be built to last and have at least a 10-year warranty.
Some other parts, like flame tamers and gas valves, don't need to have such a long warranty. They can be easily replaced if necessary.
It's also very important to have responsive and helpful customer service in case you have some issues. A long warranty is not very useful if getting the replacement unit or parts takes months. Sometimes you might also need advice with installing and assembling or using the grill.
Creating a Beautiful and Convenient Outdoor Kitchen
A built-in gas grill is one of the most important things in your outdoor kitchen. But there are many other things to consider as well.
To make this guide complete, we have included some tips and ideas for creating a cozy and functional outdoor kitchen.
Counter Space and Seating
There are a number of ways to make your outdoor kitchen an appealing place to prepare meals, and they don't have to break the bank. The first step is to include plenty of countertop space for all your prep and serving needs.
If you have room in your budget (and your backyard), it could be nice to extend the counter into a large island or L-shaped extension and incorporate seating into your design.
Everybody loves to gather around the kitchen area indoors, right?
It's the same outside, and it will be nice to have some chairs and a place to set your drink without being in the way of hot food or cutting boards.
Equipment and Fixtures
But how do you make your outdoor kitchen as convenient and therefore as well-used as your regular kitchen?
Start by storing an "outdoor set" of basic dishware, cutlery, and cooking tools in a space that is durable and practical. 
Another touch to creating an ideal kitchen is adding a small refrigerator or even a sink. It can be a pain to have to run back inside every time you forget an ingredient, and it's nice to have all those accessible outdoors – but still cool if needed.
A sink is, of course, is handy for all sorts of things and can be a key feature for creating the most convenient outdoor cooking spaces. If possible, you could access your outdoor water spigots and tap in from there.
Roof or Pergola
A grander idea is to add a roof to the space. This opens your kitchen up for use during rain and other inclement weather, so you don't need to give up a nice charbroiled flavor just because it's sprinkling outside.
This could be an expensive undertaking if your budget allows for it. A sheet metal roofing and some trellis plantings that grow up the posts will provide a sheltered and beautiful cooking area.
Yet, it could also be a simple pergola-style roof with four 4x4 posts sunk in concrete in the corners and a simple slatted roof.
Final Steps to Take Before Getting a Built-in Grill
One final thought to consider is your climate and what steps you need to take in order to protect your outdoor kitchen.
For many, this will require a few covers and perhaps an auxiliary storage area for your chairs and cookware.
In hot climates, the sun is your enemy and will wear things away with enough time and exposure. Consider shade cloth or roofing features, as well as covers for appliances.
In cold areas, the low temperatures and wetness are what you'll battle, so an extra storage space to keep pricier investments dry and secure is optimal.
Built In Gas Grills FAQ
What Are the Benefits of Having a Built-In Gas Grill?
With a built-in gas grill, you can cook restaurant-quality meals at your own home and save money and time in the long run. Turn the gas on, start it with a push of a button, and you will be ready to grill in a few minutes. Also, if you connect the grill to your natural gas line you won't have to worry about running out of fuel.
Once your outdoor cooking area is ready, you can keep the grilling tools and cutlery in the drawers near the grill. No more running between your barbeque and in-door kitchen to grab things you need. This saves time and makes cooking easier because you won't have to leave the grill unattended.
Most built-in gas grills are made with high-quality stainless steel that is easy to clean and maintain. The grill will most likely last for decades and requires very few repairs.
Built-in grills are highly customizable and you can choose one that matches the decor of your outdoor kitchen. In addition, the grill will be a permanent part of your outdoor kitchen giving it an elegant look and improving the property value.
Are Built-In Gas Grills More Expensive than Freestanding Models?
Freestanding gas grills come in all price ranges starting from a few hundred dollars while built-in units rarely cost less than a thousand bucks. So yes, on average built-in gas grills are more expensive than freestanding models.
But this money is not wasted. Built-in barbecues usually have more grilling space and more heating power. In addition, they are constructed with thick and durable stainless steel and come with long warranties.
How To Install a Built-In Grill?
Most of us will have a professional do the actual installing of a built-in grill.
Yet, there are some things that you should consider before deciding where and how to place the grill and having it permanently installed:
Choose a Good Location: Having a pleasant and spacious area for outdoor cooking is important. The grill should also be a safe distance away from any buildings and easily flammable materials.
Have a Proper Encasement: It's best to have a permanent and sturdy place to install your grill. Build an encasement with counter space for preparing foods and suitable places for your grill and other appliances as well as cabinets and sink. You can build it with bricks or masonry.
Test Your Grill: After you get the grill, test it thoroughly before having it permanently installed. Assemble it and check that there is no visible damage. Make sure that the ignition and all of the burners as well as other features like rotisserie and lights are working as they should. If you install the grill and find some problems afterward, it will be very hard to remove and replace it.
Take Your Grilling to a New Level
A nice outdoor kitchen with a built-in grill will surely take your cooking to the next level. I hope this guide was useful and you found the perfect grill for your needs.
If you are not yet sure which one to choose, our recommendation is the Lion Premium Grill. This grill provides an enjoyable cooking experience and fits sleekly in your outdoor oasis. It's also durable and will maintain a high-quality finish even after a few seasons outside.