There are some things in life that are worth investing in. And a premium quality gas grill is definitely one of them.
If you can afford to part with the money, the best high-end gas grills can provide decades of use and improve your cooking experience exponentially.
These grills have the highest-quality components and the best heat distribution, along with outstanding features that set them head-and-shoulders above the everyday grills at the big-box stores.
Our recommendations for Best High-End Gas Grills:
What Do You Get When You Buy a Premium Grill?
Quality Parts and Materials
There are certain situations where you get what you pay for, and for the most part, grills are a good example.
Even department store models are already durable items that can last for years. But with proper care and feeding, a high-quality grill can live on your patio for decades. If you're looking for the absolute best of the best, or you are building an outdoor kitchen that needs to stand the test of time, a premium grill is the way to go.
One of the most noticeable differences between grills is the materials used. High-quality stainless steel is heavy and expensive. But it also lasts longer and resists corrosion like no other material.
Yes, many big-box stores also sell stainless steel gas grills. Yet, they often use conventional steel fasteners and frames that rust quickly. The side panels and lid might be stainless, but the rest of the grill is falling apart after a few rough years on your patio.
More Features
Compared to cheaper brands, manufacturers of expensive grills have a slightly different marketing tactic. They aren't looking to increase their profits by nickel and diming their customers for every little thing.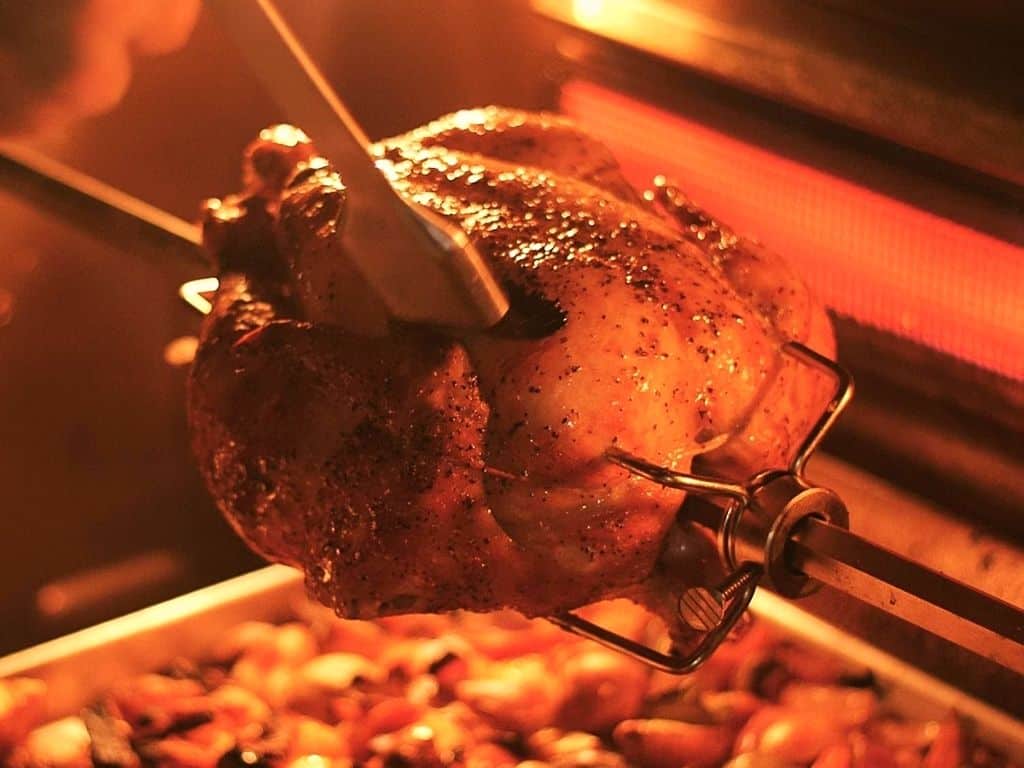 These grills are far more likely to come fully loaded. They're going to be larger, and if there's something you might want, like a rotisserie, it's more likely to come with the unit right out of the box.
Support and Warranty
High-end grills have better parts availability and warranties than cheaper options. Since the components are already high-quality, the makers usually include lifetime warranties. And many of these include things that aren't covered by typical grill warranties, like burners or grates.
Better Cooking Experience
Finally, cooking on a premium model grill is more pleasant. The heavy construction and better burner technologies mean fewer aggravating hot spots. The heavy-duty, often double-layered, lids mean that heat is trapped better.
Advanced grilling techniques like smoking or pizza-making go smoother. In addition, they are often easier to clean, with more thought-out designs that make drip catchers more effective.
Best High-End Gas Grills Reviewed
Before making a considerable investment to get a premium quality gas grill, you want to be sure that it is worth the money and that it has all the features you need.
After thorough research, we have picked the 6 best grills for this guide.
Below you can find a few more interesting guides:
Next, let's take a look at our carefully selected list of best high-end gas grills.
Best Overall: Fire Magic Echelon Diamond
The Fire Magic Echelon Diamond is a sight to behold; it's stunning, with the right balance of features and options to make any backyard chef happy.
The grill is not too big but offers plenty of cooking space. It comes with plenty of configuration options and can be purchased for built-in outdoor kitchen applications or stand-alone patio use.
Specifications:
Fuel Type: Propane/natural gas
Number of Main Burners: 3
Additional Burners: 15,000 BTU side burner and 13,000 BTU infrared rotisserie burner
Total BTU: 118,000
Heat Flux: 114
Primary Grilling Area (sq.in): 792
Warming Rack Area (sq.in): 288
Weight: 425 lbs
Build Materials: 304 stainless steel
Dimensions: 79.25″ x 30.5″ x 52.5″ (W x D x H)
Warranty: Depends on the part (click the link above to see details at BBQGuys)
One of the most notable things about the Echelon Diamond is the flat bar-style cooking grates. These grates are made from heavy-duty stainless bars, which are flat on top to get their heat into your food better.
The three burners are cast from one-quarter inch-thick stainless, and they have flavor grids above for exceptional heat distribution and control. Together, they put out 90,000 BTUs.
The grill also has all the features you would expect from a premium American-made model. The built-in rotisserie features a 13,000 BTU quantum infrared burner, which produces twice as many BTUs as a standard infrared burner.
An included meat thermometer and four independent temperature zones are monitored from a backlit LCD control panel on the front of the grill. The grill's interior is lit by two halogen lights, and the control knobs are backlit with LEDs.
There's a flush-mount 15,000 BTU side burner on the stand-alone model. Unlike many grills, this one requires a 120-volt outlet to power its ignition and lighting systems.
Buying Options
If you buy this grill from the BBQGuys online store, you have plenty of options to pick from. For example, you can choose the fuel type (propane / natural gas) and configuration (stand-alone / built-in) according to your needs.
What We Love
Plenty of heating power
Great monitoring and control options
Comes with a powerful infrared burner
Looks amazing
Built with premium materials
Includes a charcoal/smoker basket for a smoky flavor
Manufactured in the USA
Excellent warranty
Best Large High-End Grill: Napoleon Prestige PRO 825 Propane/Natural Gas Grill
According to Napoleon, the Prestige PRO is rated for up to 51 burgers. With 825 square inches of cooking area and a total of 123,000 BTUs, this is a big grill.
But some of the features also set it apart from the competition. Cooking on this well-thought-out grill is a pleasure, no matter what size crowd you're feeding.
Specifications:
Fuel Type: Propane/natural gas
Number of Main Burners: 6
Additional Burners: 17,000 BTU side burner, 8,000 BTU smoker burner and 18,000 BTU infrared rotisserie burner
Total BTU: 123,000
Heat Flux: 97
Primary Grilling Area (sq.in): 825
Warming Rack Area (sq.in): 605
Weight: 469 lbs
Build Materials: Stainless steel
Dimensions: 94.25″ x 25.5″ x 51″ (W x D x H)
Warranty: Lifetime or 15 years depending on part
The Prestige PRO has two covered cooking areas, one with an 18 by 28 grate and the other with an 18 by 18 grate.
The larger side features four conventional grill burners, as well as a rear rotisserie burner and smoker tray for wood chips. The smaller area is a sear station that can also be used as a warming area, with two super-high-power infrared burners and a warming burner.
The cooking grates are made of ultra-thick 9.5 mm stainless steel rods, and their unique wave design keeps food above the grill.
All knobs are backlit, and the grills cooking areas are lit from the inside for night cookouts. The knobs' color can be changed to anything, but as a safety feature, they smartly turn red if the gas has been left on.
No matter where you look, little things make this grill stand out. The side table, usually a ho-hum addition to any grill, has an integrated ice bucket and a cutting board. If you cook with a wok, you'll love the reversible grate on the side burner, which flips to hold flat pans securely.
The integrated wood chip tray for smoking is uniquely built into the control knob for its burner, which pulls right out from the front of the grill for easy access.
The Napoleon comes in either a propane or natural gas version, and two smaller sizes are also available. Napoleon offers a lifetime bumper-to-bumper warranty on their grills.
Buying Options
For this unit, you have plenty of options to choose from on both Amazon and BBQGuys. Both propane and natural gas grills are available and you can also get a smaller version of this grill.
What We Love
Large grilling area
Stylish design
Great features
Easy to clean
You can use only the other side when cooking for a smaller group
Made in North America
Long warranty
What We Don't
A few part are not made of stainless steel (e.g. cart legs, back panels)
Great Mid-Priced Option: Weber Summit S-670 Grill Center
Weber might not leap to mind as a high-end, premium grill manufacturer, but using their top-of-the-line models is nothing short of a phenomenal cooking experience. The Summit Series grills are the perfect example of a grill where everything comes together just right.
The battle between Napoleon and Weber here really comes to matters of personal preference like which one you think will look better or if you are loyal to one of the brands.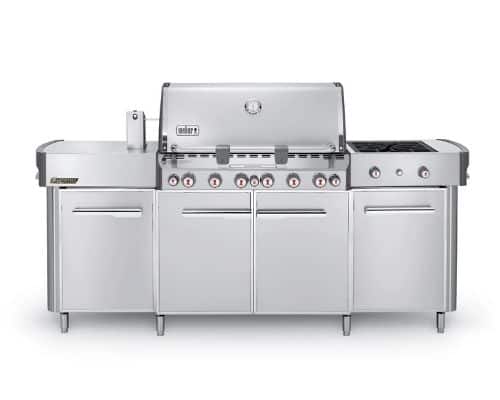 Specifications:
Fuel Type: Propane/natural gas
Number of Main Burners: 6
Additional Burners: 10,600 BTU sear burner, 27,000 BTU side burner, 6,800 BTU smoker burner, and 10,600 BTU infrared rotisserie burner
Total BTU: 115,000
Heat Flux: 113
Primary Grilling Area (sq.in): 624
Warming Rack Area (sq.in): 145
Weight: 418 lbs
Build Materials: Stainless steel
Dimensions: 91.1″ x 26.5″ x 51.5″ (W x D x H)
Warranty: 10 years
The Grill Center option in the Summit Series allows you to create the look and feel of a complete outdoor kitchen.
It comes with stainless freestanding units, the center includes two side tables with adjustable stainless steel shelving. One includes a dual-ring 27,000 BTU side burner system.
One of our favorite features of the Summit grills is the rotisserie. The drive unit is permanently mounted on the side table, allowing the motor to flip-down flush, entirely out of the way when not in use.
The grill also includes an integrated smoker box with its own 6,800 BTU burner, as well as a 10,600 BTU sear station.
Buying Options
The BBQGuys online store allows you to configure the grill according to your preference. In addition to the Grill Center, you can get a stand-alone or built-in version of the Summit S-670 or get a smaller Summit-400 series grill.
If you want to order the grill from Amazon they only have the natural gas version of the Grill Center.
What We Love
6 main burners give plenty of control
Powerful dual-ring side-burner
Excellent value for money
Comes with a smoker box
Great rotisserie system
Durable construction
10-year warranty for all parts
What We Don't
The burner housing and the rear of the grill are made of porcelain-enameled steel
Simple and Stylish: Mont Alpi 44-inch Barbeque Island
If you're looking for a complete outdoor kitchen solution, the Mont Alpi island offers a fantastic value. Even though the components are modular in design, they look integrated with faux granite white countertops and heavy-duty stainless siding.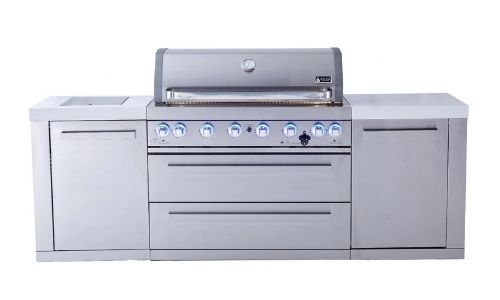 Specifications:
Fuel Type: Propane gas (can be converted to natural gas)
Number of Main Burners: 6
Additional Burners: Side infrared burner and rear infrared burner
Total BTU: 115,000
Heat Flux: 105
Primary Grilling Area (sq.in): 684
Warming Rack Area (sq.in): 121
Weight: 482 lbs
Build Materials: 304 stainless steel
Dimensions: 93″ x 20″ x 47″ (W x D x H)
Warranty: Depends on the part
The main grill has an 18 by 38-inch cooking grate plus a warming rack, with 115,000 BTUs of heat output from its six burners. The grate is made of 8 mm stainless rod.
There are ceramic infrared burners in the rear, for rotisserie, and on the side for searing. One side table has a covered, flush-mount side burner.
The rotisserie kit isn't included with the grill. This is a propane model, but a natural gas conversion kit is available separately. There are also numerous other matching modules available to expand your outdoor kitchen, including a beverage center with a sink and refrigerator.
This barbecue island has caster wheels that are removable which allow to you easily use it as a built-in grill.
Buying Options
Check out the BBQGuys online store if you want to choose between 6 and 4-burner models or add a beverage center to the unit.
Mont Alpi Barbeque Island is also available on Amazon. They have an additional rotisserie kit too if you need one.
What We Love
Made with 304 stainless steel
Stylish faux-granite countertops for prep space
Large storage cabinets and drawers
Pull-out grease tray for easy cleaning
Dual halogen lights are great for cooking after dark
What We Don't
Rotisserie kit is not included (sold separately)
Dual-Fuel Grill with 2 Hoods: Coyote Centaur 50-Inch Hybrid Grill
For the ultimate grilling options, dual-fuel grills, also called hybrids, are becoming more popular.
We aren't talking about natural gas and propane here. These grills give you the best of both grilling worlds by offering you a gas grill and a charcoal-fired barbeque pit.
Whether you want to light up a few steaks or burgers after work or slow smoke a pork shoulder over the weekend, a dual-fuel grill, such as the Coyote Centaur, is the way to go.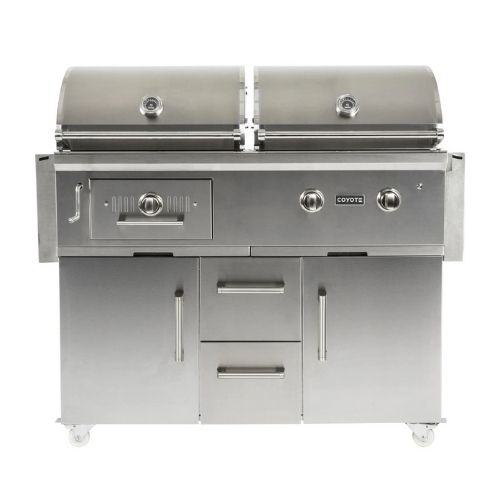 Specifications:
Fuel Type: Propane/natural gas and charcoal
Number of Main Burners: 2
Total BTU: 40,000
Heat Flux: 95 (for gas side)
Primary Grilling Area (sq.in): 847
Warming Rack Area (sq.in): 353
Build Materials: 304 stainless steel
Dimensions: 78.63″ x 25.5″ x 52.5″ (W x D x H)
Warranty: Depends on the part (click the link above to see details at BBQGuys)
The Coyote 50-inch Hybrid has two hoods, one side for charcoal or wood chunks and one side for gas grilling.
The gas grill side has two burners with a combined total of 40,000 BTUs and over 600 square inches of cooking space. The charcoal side has the same size grate with a slide-out adjustable fuel tray. A hand crank allows you to change the distance from the cooking grates to the burning coals.
Coyote sells this hybrid unit in either propane or natural gas models. The unit is modular, and the freestanding grill here is actually the same as the built-in model but with a custom-made stainless cart.
Buying Options
The BBQGuys online store lets you choose between built-in and freestanding variants of the Coyote Centaur. Both are available as propane and natural gas versions.
On Amazon, you can find a natural gas version of the freestanding Coyote grill. There is also a built-in natural gas option available.
What We Love
Great for grilling and smoking
Sturdy and durable construction
Powerful burners on the gas side
You can easily adjust the height of the charcoal
Allows you to grill and smoke at the same time
What We Don't
Takes some practice to use both sides simultaneously
No rotisserie option
Most Stylish Dual Fuel Grill: American Muscle Grill 36-Inch Built-In Dual Fuel Grill
Not all hybrid grills are humdrum models that look like two mediocre grills attached to one another. The American Made Grill 36-inch model certainly isn't.
If you want a real showpiece for your outdoor kitchen, look no further. Modeled to be reminiscent of a 1969 Shelby GT350 Mustang, the AMG is unique and eye-catching.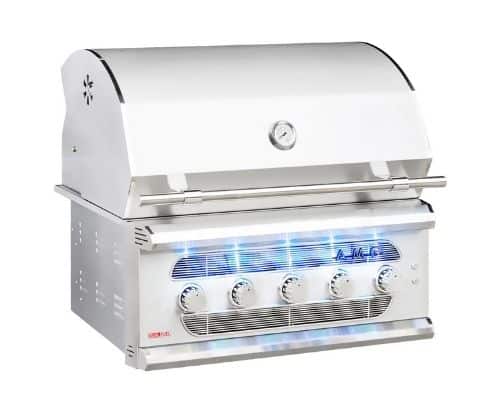 Specifications:
Fuel Type: Propane/natural gas, wood (pellets), or charcoal
Number of Main Burners: 5
Total BTU: 110,000
Heat Flux: 153
Primary Grilling Area (sq.in): 720
Warming Rack Area (sq.in): 385
Weight: 300 lbs
Build Materials: 304 stainless steel and stainless steel
Dimensions: 37″ x 33.25″ x 33.12″ (W x D x H)
Warranty: Depends on the part (click the link above to see details at BBQGuys)
The retro knobs and front grate on this grill are LED lit. But don't for a minute think that anything is sacrificed in making this grill look so good.
Each of the 5 burner areas is modular. At their base, you have a stainless steel 22,000 BTU gas burner. Above that, five multipurpose, removable trays can hold charcoal, wood, wood pellets, or any combination.
Since the charcoal or wood sits above the conventional gas burner, you can use the gas to light the solid fuels. There are plenty of adjustable vents so that you can burn any fuel of your choice with maximum heat control.
The double-layer stainless hood traps heat very well, perfect for low-and-slow cooking methods like smoking.
The grates are unique, too, with a reversible design with concave and convex sides. The convex side is for meats, allowing drippings to run off, while the concave side is used for veggies or delicate items like fish.
AMG sells the grill fully loaded, including nice-to-have items like leather gloves and a grill cover.
Buying Options
For this grill, there are plenty of different options available on Amazon and you can find all of them by clicking here.
What We Love
Looks stunning
Plenty of fuel options
Made of durable high-quality parts
You can easily light up the charcoal or wood with the gas burners
Reversible grill grates
Includes BBQ gloves, cover, and a multi-purpose grill tool
Made in the USA
What We Don't
Expensive
No separate rotisserie burner
Things to Consider Before Buying a High-End Grill
Installation and Use
As with all grills, you need to look closely at how and where you're going to use it.
Is a natural gas hook-up available? Will you be installing the grill in an existing outdoor kitchen?
Do you need to move the grill, either inside for the winter or around the patio for different types of gatherings?
Everyone's situation is different, so think carefully before making a large investment in a grill.
One unique thing about better-than-average barbeques is the features available if you have space to make an outdoor kitchen. Alfresco cooking areas make your grilling experience better. More prep area and counter space mean you can spread out.
Having access to water and electricity means you can use all your cooking appliances outside. And all of the storage allows you to keep everything you need close at hand. This all means fewer trips back and forth from the kitchen and more time spent outside cooking.
Many manufacturers keep this in mind with their top-of-the-line offerings, including side tables and beverage carts. This modular way of arranging an outdoor kitchen is fast and straightforward, and it provides a fantastic way to get up and running in no time.
Dual-Fuel Hybrid Grills
Do you love the convenience of gas grills but wish you could occasionally light up some charcoal?
Then consider one of the dual-fuel grills reviewed in this guide. You will have access to a high-quality gas grill while being able to cook with other fuels, too — no need to keep a cheap charcoal kettle grill on standby.
You can choose a grill like the Coyote Centaur with separate hoods for gas and charcoal grilling, which allows you to grill some steaks and burgers on the gas grill while slow-smoking ribs or a brisket on the other side.
Another option is to get something like the American Muscle Grill where you have one grilling area that allows you to cook with gas, wood, or charcoal.
Size and Power Output
All of the models included in this guide can blast out enough flames to get really hot in just about 10 minutes.
However, it's also important to keep in mind the size of the crowd you need to feed and how controllable the grill you buy is. Some premium grills are quite large, meaning they may be overkill for a couple.
What are BTUs and Heat Flux?
BTU (British Thermal Unit) is often used to measure the heating power of gas burners or a whole grill. It is very useful for comparing individual burners, but when we are looking at grills it doesn't really give you a clear image of how hot a grill can get.
Different grills with the same BTU output can have a huge variation in how fast they heat up and what is the maximum temperature that they will reach.
Heat flux measures the ratio of BTUs to the size of the grilling surface and thus, is often considered better for describing the heating capability of a grill.
Think about the grill size and make sure that you can still accurately control the grill temperature with the available burners if you don't often use that much space.
A larger grill with four or five burners can easily be used with only one or two burners lit. A large grill with two or three burners is likely to waste a lot of fuel and be underutilized by small groups.
One great option is to get a grill like the Napoleon Prestige PRO 825 or Coyote Centaur, which have two separate hoods. You can just fire up the other one when cooking for a smaller group and utilize the whole grill when having a barbecue party with a bunch of people.