If you just want to quickly know what is our top pick for the best 6 burner gas grill, then we recommend the Weber Summit S-670. It is a durable product with all the features you can wish for and will give you an excellent grilling experience for many years to come.
When you're checking out 6 burner gas grills you're obviously looking for a large and powerful beast of a grill that enables you to cook for a number of people. If you invest in a big grill you want to be sure it delivers top-notch grilling performance and is not going to break apart anytime soon.
Before deciding on which unit to buy, there are many aspects to consider depending on your budget and specific needs. We have done that work for you and included the best 6 burner grills on the market in this buying guide.
In this article, we're going to review the following 6 burner gas grills:
Why Choose a 6 Burner Grill?
Manufacturers tend to use the same burners throughout their model lines, which reduces their costs and makes parts more available to the consumer. This means that grills from the same brand are often pretty similar to one another. So if they're all the same, what is the advantage of having more of them?
For one thing, more burners mean more power and more heat to the cooking surface. Most manufacturers are going to put six burners into bigger grills, so if you're looking for a large rig to feed a lot of people, you'll probably want to take a look at models like these. 
Another reason you might consider a 6 burner model is for better control. By distributing the heat over a wider area, you get a lot more cooking options. If you're looking to try your hand at baking on the grill or working on special techniques like slow-cooking and smoking, a 6 burner grill is more likely to give you a higher level of control over the cooking surface temperature.
Picking the Best 6 Burner Gas Grill
Size and Power
Probably the biggest factor in choosing a gas grill is how big you need it to be. Are you cooking for a small family or a bunch of 20 hungry guys? What do you cook on the grill – just the meat or all of the sides too? 
Consider carefully just how much food you need to put on the grates to figure out what is the right size for you. More space isn't always better. Set your budget, and you might be able to get a smaller, higher-quality grill that you will like cooking on more.
When looking at the BTUs (British Thermal Units) that a grill produces, remember to look beyond the biggest number. More significant factors in your cooking will be the quality of the grill and how well it distributes those BTUs to the cooking grate.
Thinking that a 6 burner might be too large? You can also check out our guide with the best 3 burner gas grills and get a smaller unit instead.
Durability and Warranty
If your grill lives outside in a harsh environment, you'll want to invest in one of high quality. Steel components can rust quickly, especially in the South or places with a lot of humidity and salt in the air. 
Stainless steel and aluminum components are best. All grills will benefit from a well-fitting cover when not in use, and keeping them clean and rust-free will add years to their lives. 
I think it's a good idea to pay attention to the warranty as well. Also, read the fine print to make sure you understand which components are covered and which are not.
Special Features
The best 6 burner gas grills offer three features of special interest. Many of these things can be added with aftermarket parts, but it will never work as well as if it's built right into the grill. 
A rotisserie attachment is an excellent item if you like to cook whole chickens, turkeys, or even gyros! Many grills also have infrared burners mounted vertically on the back of the grill, specifically for rotisserie use.
The side burner is another option that's taken for granted sometimes. It's great for whipping up sauces, pasta, or soups while you cook outside. 
If you like steak or chops, you might want to consider a grill with a high-powered searing burner. These burners distribute heat a little differently and often utilize infrared technology to get that initial sear just right. 
Best 6 Burner Gas Grills Reviewed
Here's a look at our top picks for six-burner grills.
Best Overall: Weber Summit S-670 Propane / Natural Gas Grill
Our overall winner is the Weber Summit S-670. Here is a grill that is durable, stylish, and gives you a superb grilling experience in every aspect.
Of special note are the dedicated 10,600 BTU sear station, the smoker box with dedicated 6,800 BTU burner, the 10,600 BTU infrared rotisserie burner, and the 12,000 BTU side burner.
All wrapped in an attractive stainless package, this grill is a dream to cook on in your backyard. The stainless rod cooking grate features an impressive 624 square-inches of cooking space, plus another 145 square-inch warming rack. The grate is made of extra-thick 9 mm stainless steel rods.
The S-670 also has LED lighting for nighttime cookouts, and even a propane gauge, so you know exactly where you stand with fuel (with the propane gas model). No more frantically swapping out propane tanks in the middle of cooking dinner.
For fuel options, you can choose between propane and natural gas.
If you're looking for the best of the best, look no further than the Weber Summit-series grill. The beautiful S-670 has all of the options you could ever want and enough power to handle any grilling task. 
Pros:
Durable stainless steel construction

Easy and convenient to use

Integrated smoker box with dedicated burner

Tuck-away rotisserie with rear infrared burner

Powerful sear station

LED-backlit control panel and knobs, and grill lights integrated into the handle for nighttime cooking

10-year warranty
Cons:
Best Built-In Option: Bull Diablo 46-Inch
Propane / Natural Gas Grill
Bull has a reputation for making great grills, and the Diablo is one of their best. The hood and grates on this grill are made from 304 stainless steel and backed by a lifetime warranty.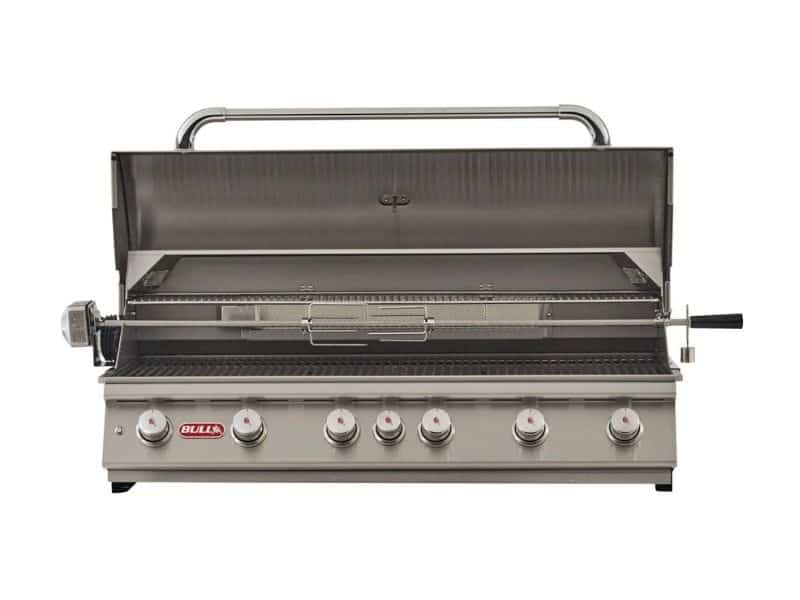 The Diablo is a big grill, with an incredible 105,00 BTUs of heating power over a total of 1,564 square-inches of cooking area. It comes with special "flame tamers" that cover all burners to ensure there are no hot or cold spots and to prevent flare ups. 
Both natural gas and liquid propane models are available.
If you've got an outdoor kitchen and you like to entertain a lot of people at once, this is a great grill. The infrared rotisserie is sure to please, and you'll love the built-in grill lights for cooking after dark.
Pros:
ReliaBULL technology keeps cooking area evenly heated, no hot spots

Extremely powerful: 105,000 total BTUs

Rear infrared burner

Interior halogen lights for nighttime cooking

All stainless steel construction
Cons:
Flame shields and valves backed by lesser warranty (3 and 1 year, respectively)

Pricey
Best Budget Option: Megamaster 6-Burner Propane Gas Grill
It's tough to find a better value grill than the Megamaster, especially if you're looking for a 6 burner model. While it doesn't have all the bells and whistles of other models on our list, what it does have is bullet-proof old school technology. This grill has powerful burners, providing 54,000 BTUs of heat, and cast iron cooking grates for excellent heat distribution and retention.
The primary cooking area isn't huge at 543 square-inches, but it's plenty big enough for most backyard chefs. On a grill this size, 6 burners means that you can crank up the heat to cook hot and fast. You probably won't miss having a dedicated sear burner with so much power. 
So what are you missing by saving so much money? For one thing, this grill is made mostly of enameled steel parts. That should work fine for most chefs, and if you keep it under a cover and mend any rust as soon as it pops up, the grill can provide you with years of service.
Pros
Amazing value in a six-burner grill

Electronic ignition

Cast iron grates
Cons
Open cart design/no storage

Enameled steel lid and frame

No sear station or side burner
Best Flat-top Model: Camp Chef FTG900 Flat Top Propane Gas Grill
Flat-top grills are a bit of a niche market, but they're worth a look, especially if you're cooking for a lot of people. What you lose in versatility might not be noticed by many chefs, especially if you seldom bake or cook large items on your grill.
A flat-top is just a giant griddle, much like restaurants use. They're perfect for burgers and steaks, and there's plenty of room for bacon, eggs, pancakes, and veggies. 
The Camp Chef FTG900 features a large 877 square-inch cooking griddle, big enough for the biggest parties. It also has unique micro-adjustment levelers to get the griddle level no matter where you set up. Grease drains to a special grease bucket, and the set up includes two big side trays for prep space. 
Pros:
Large, pre-seasoned griddle

Folding side shelves

Grease catch bucket
Cons:
Open cooking only, no lid for indirect heat
Best Compact Option: Weber Genesis II S-435
Propane / Natural Gas Grill
If you're looking for a grill to fit in a small space like a balcony or a terrace, the Weber Genesis is a great option. This is actually a 4 burner grill, so why did we include it here? This grill also comes with a sear station and a side burner, so that's 6 burners altogether and we wanted to have one option that is more compact.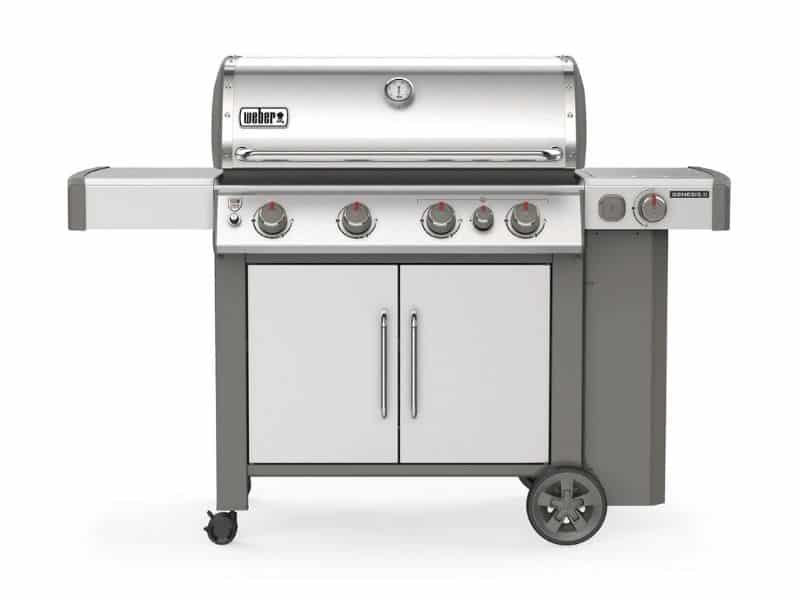 Yet, for a unit this size, that's more than enough heat and control. Combined, the four burners and sear station can put out a total of 69,000 BTUs on the 646 square-inch cooking grates. The warming rack tucks away for when you want better access to the main cooking area. 
The Genesis II also features Weber's GS4 high-performance grilling system, which includes an infinity ignition system, high-quality stainless steel burners with enameled Flavorizer bars, and a grease management system. All in all, this is a great value grill for all of the features you get.
You can choose to buy a liquid propane or a natural gas unit according to your preference.
Pros:
Four burners, plus sear station and side burner

Weber GS4 high-performance grilling system

Propane fuel gauge

Stainless and cast aluminum components for longevity
Cons:
Less heat than a six-burner model, but much more compact for small spaces
Most Powerful: Monument Grills 77352 Propane Gas Grill
Looking for a grill that has an incredible amount of power and an impressively large cooking area? The Monument 77352 fits the bill nicely, and all for a surprisingly affordable price.
The grill includes an electric ignition system, side burner, and even a rotisserie kit. The knobs and panel are backlit, and this stainless steel grill looks sharp too.
Pros
84,000 BTUs of power total

900 square-inch cooking area

Affordable

Stainless steel construction

Includes rotisserie unit

LED back-lit control panel

8-year warranty
Cons