If you are in a hurry and just want to know what is our choice for the best boat grill, then we recommend the Magma Newport 2 Infrared Grill. This high-quality stainless steel unit is specifically designed for convenient cooking in the marine environment.
Boats present quite a few unique challenges to the floating gourmet. Vessels come in every shape and size, but even yachts can feel pressed for space in the galley and food prep area.†
Marine grills are the perfect solution to add some cooking space, and nothing completes a great day on the water like a fresh lunch right off the grill. Grills enable even the smallest boats to cook onboard Ė a rail-mounted grill is a nearly universal feature on pontoon and sailboats.
In this article, weíre going to review the following boat grills:
How to Choose the Best Boat Grill
There are quite a few factors that go into picking the perfect barbecue for your boat, so itís not as easy a choice as it may seem at first. Things youíll definitely need to consider include high-quality stainless construction, fuel type, the right size, and how you want to mount it.
Materials and Construction
The most obvious consideration for a marine grill is the quality of construction. You donít have to be a boater for long before you discover how harsh the marine environment really is. Even protected and kept away from direct splashes, things rust, corrode, and fall apart quickly. Grills are no exception.
High-quality grills are a substantial investment. Some boaters use them more than others, so if you think you will be using the grill a lot, itís worth spending on a unit made of durable materials. Most marine brands use double-layer stainless steel, which protects them from corrosion and keeps them cooler to the touch.
Fuel Source
Even boat grills come in two varieties Ė charcoal and propane.
Propane fueled models are our number one choice for marine barbecues. They often use small one-pound camping cylinders, which are easy to come by at nearly any hardware, drug, or big-box store. You can even buy adapters online that allow you to refill them from a larger tank, or you can buy a type of adapter for your grill to run it off your shipís propane system.†
The nice thing about small cylinders is that itís easy to carry a spare or two. The bad thing about them is that they rust readily Ė spray a little WD-40 on them right when you get them from the store.
Propane grills heat up and cool down quickly. That means they can be stored in a bag out of the way, set up and cooked on, and then stowed again for cruising all in a short period of time. You donít have to worry about keeping a bag of coal on board, nor do you have to carry a starter or lighter fluid.
Charcoal boat grills are often compact and easy to use, but they have the same problems that their landlubber grill cousins. They take longer to heat up, and they burn dirtier. On a boat, youíll have to worry about storing the coals and keeping them dry. Since the grill takes longer to heat up and cool down, you wonít be able to move the grill or stow it if itís in the way.
Whatever fuel you choose, keep in mind how dangerous fire and flames are on a boat. Few substances burn quicker than fiberglass. And whatís more, that fiberglass shell contains all sorts of other explosive substances like gasoline fumes, propane, and batteries that make hydrogen gas. Itís a floating tinder box, so use extreme caution when planning how youíre going to use your grill.
Size
Boat grills need to be more compact than your home options. But you still need to squeeze in enough space to cook for everyone on board.†
If youíve got a big pontoon boat and a big family that likes to go out, some of the larger rectangular models will suit best. But most marine grills are on the smaller side. Their grates accommodate enough food for a cruising couple, and maybe a few guests in a pinch.
The size of your grill is likely to be proportional to the size of your boat. Bigger boats have bigger rails, and therefore more space for larger grills. Also, bigger boats will likely have more guests on board and need a bigger grill. Thereís certainly no need for a small boat to buy a big grill unless theyíre often cooking for many people.
Mounting Options
The final challenge is addressing how the grill will be mounted. The decision depends on the boat and its design.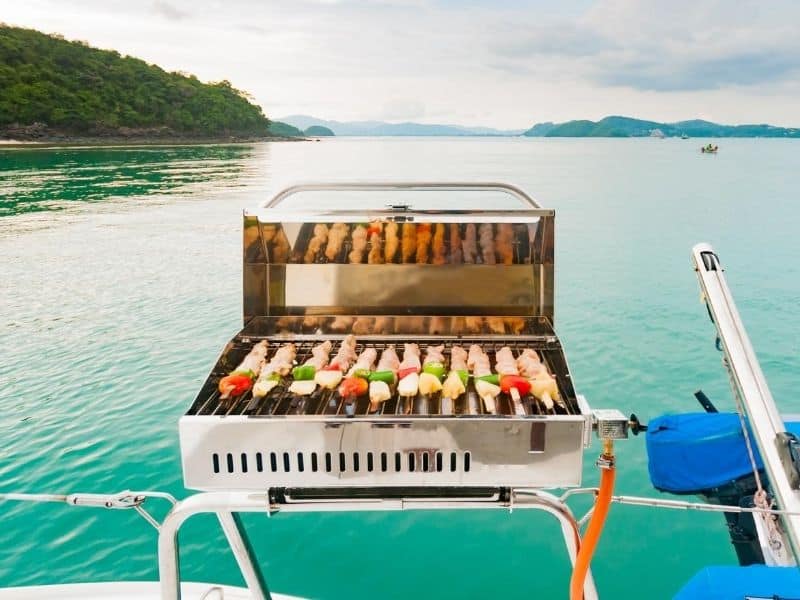 Pontoon boats often have square railings all the way around, allowing easy mounting options nearly anywhere you like. Powerboats and sailboats usually come with round railings or pulpits/pushpits, and mounts are available to attach your grill securely. Most are made from 7/8 or 1-inch stainless tubing. Some express cruisers lack railings, and deck mounts are available to secure the grill on a pedestal. The swim step is a good place for it.
Whatever mounting system you choose, the grill needs to be secure. Tabletop or fold-out leg models should not be used since you canít ensure that it wonít slide around. Even if you anchor in a quiet cove, when the grill gets to 450 degrees, a wakeboarder is guaranteed to appear, circling and sending your grill sliding.
With that said, fold-down legs are a great feature if you want to use your grill onshore. They make great portables for tailgating, or you can use them ashore at the beach or sandbar.
Top 5 Marine Grills Reviewed
Hereís a look at the top picks for the best boat grills.
Best Overall: Magma Newport 2 Infrared Grill
Magma is well-known for their excellent boat grills that deliver in all aspects that are important for cooking on the water. The resigned Newport 2 infrared grill has been improved in many areas making it even better than the older model that was already good.
The infrared screens provide intense heat so you can sear your steaks properly. Thanks to the dynamic combustion system the grill works well even in moderate wind. This kind of details make the Newport that much better than some other grills that are not really designed for boats.
It's entirely made from high-quality stainless steel so it lasts for years even in a harsh marine environment. There is also a tempered glass viewing window so you can monitor your food without opening the lid all the time.
This grill has a 162 square inch grilling area and uses standard one-pound propane canisters as a fuel source. You can also buy a conversion kit to adapt it for on-board LPG or CNG systems.
There is a variety of options to install the Newport so it fits nicely on your boat. It also weighs only 20 pounds so it's not too heavy. For example, you can get a Magma mounting system for rail or a fishing rod holder.
If you are looking for a durable grill for quick, tasty, and easy cooking on your boat, then here is our top pick!
Pros:
Durable and lightweight stainless steel construction
American made quality
Gets hot fast
Works even when it's windy
Gives a nice sear
Cons:
Grill thermometer has no degrees (only colors)
Best Premium Option: Blaze Marine Grade Professional
Some companies have gotten into the business of selling grills as marine accessories. Unfortunately, many of them have poor heating qualities and are a challenge to cook on when compared to your grill at home.
What if a company that makes some of the best grills made one for the marine environment? Then youíd have the Blaze portable marine grill. This is the nicest premium grill you could ask for your boat.
Since Blaze isnít really in the marine market, you might have to look around and experiment to get the right mounting kit. One great option is to pay a bit extra for a pedestal if you order it from the BBQGuys online store. Then you can just attach the sturdy pedestal on your boat.
Once you get this beast up and running, it will cook quickly and evenly. It features a 201 square inch cooking area and a 12,000 BTU H-shaped burner. The heavy-gauge stainless flame tamer and thick hexagon-shaped cooking grates are sturdy and add to the seamless cooking experience.
Pros:
Excellent cooking performance
Marine-grade 316L stainless steel exterior
Produces even heat
Lifetime warranty for all stainless steel components
Cons:
Best Value for Money: Camco Olympian 5500
Camco makes many products directly marketed to folks in RVs, but which are very applicable to boats as well. Besides having quality components and compact sizes, they offer their products at a better price point than most marine manufacturers.
The Olympian grill is no exception. It has a built-in thermometer, 180 square inches of cooking area, 12,000 BTUs of power, and a Piezo ignition.
Unlike most grills on our list, the Olympian is configured for a low-pressure propane hose from your existing system. That means thereís going to be a little more setup, especially if you donít already have a hose set up for your grill. If your boat doesnít have propane at all, youíll need to pick up an adapter to use a one-pound camping tank.
The mounting bracket that comes with this grill is designed for RV rails. But you can just order that with the grill and easily attach it to most boats. It does have folding legs too, but those arenít going to work well on board the boat.
This portable grill is made with 304 stainless-steel, is lightweight, and needs no assembly. However, the smoker grate under the grilling grid is made of cast iron and can rust easily, so it's recommended to season it well.
Optional parts to consider:
Pros:
Great value for money
Relatively large cooking area
Made of 304 stainless steel
Looks nice and is lightweight
Cons:
Smoker plate is made of cast iron and can start rusting
Best Option for Easy Mounting: Extreme Marine Cuisinart Petit Gourmet
When you find a grill you really like, you get creative to make it work onboard your boat. This is what has led Extreme Marine Products to sell this Cuisinart grill.
Yes, itís a great grill that, when compared to marine options, is bargain-priced and cooks wonderfully. But what they bring to the party are mounting options. Theyíve taken the standard tabletop Cuisinart and added stainless brackets to attach to square pontoon boat railings.
The grill itself has a 145 square inch cooking area, a 5,500 BTU burner, and it runs off a one-pound propane cylinder. Itís a super-compact package that stows away easily and looks great.
If you don't want to worry about buying separate mounting accessories, then just get the Extreme Marine Cuisinart Petit Gourmet and you got everything you need!
Pros:
Cooks nicely
Affordable
Easy to mount with the included brackets
Cons:
Best Compact Option: Magma Kettle Gas Grill
Magma kettle-style grills are a nearly ubiquitous boating accessory. They are compact and powerful for their size, available in two different diameters, and they come in gas or charcoal models.
Magma makes the most choices of mounts that are solely for boats. You can mount these grills nearly anywhere Ė they even make mounts that fit in fishing rod holders.
There are mounts for round and square railings, flush mounts, and swinging brackets. You can also get legs to use the grill when ashore.†
This grill is small enough to be able to fit on any vessel. The kettle-design gets plenty hot with its 10,700 BTU burner that distributes heat evenly to cook pretty much anything.
Pros:
Durable
Compact
Cooks well even when there is some wind
Many mounting options available
Cons: