A passion for BBQ is rarely satisfied with a single appliance. Whether you're grilling outdoors or inside your house or garage, it's good to have a choice of cooking surfaces.
Best suited for different foods, gas grills rely on air circulation and open flame for heat conduction, while griddles harness the power of direct heat.
So, why settle for one or the other when a grill and griddle combo makes the most of chicken wings to pancakes?
You won't be disappointed in these five top picks. We'll review their strengths and limitations and help you find the perfect fit for your needs.
Our recommendations for Best Grill and Griddle Combos:
Why Grill and Griddle Combos Are Great
When you want to cook a variety of dishes with one appliance, a grill and griddle combo is the perfect solution. And the best thing is that most models allow you to use both cooking styles simultaneously!
Griddles are wonderful for cooking foods including:
Breakfast: Pancakes, hash browns, eggs, toast, and buns.
Teppanyaki: Japanese dishes with anything from beef, chicken, and shrimp to fish and assorted vegetables.
Mexican foods like tacos and fajitas and any Spanish dishes that are cooked à la plancha.
While griddles are fantastic for smaller and thinner food items because they won't fall between the grill grates, they are not optimal for larger pieces of meat, chicken, or fish.
Use the grill side to cook:
Any fatty and large pieces of meat.
Chicken wings and legs.
Whole veggies, like corn on the cob, and mushrooms.
When you're cooking steaks and burgers, you can use either grill or griddle side — it's up to your personal preference!
Top 5 Best Grill and Griddle Combos Reviewed
Now it's time to take a proper look at our top picks. We have included both standalone and tabletop options that run on either propane gas or electricity.
Best Gas Grill and Griddle Combo: Royal Gourmet GD401C Portable Grill and Griddle
Royal Gourmet's well-designed outdoor grill and griddle combo runs on standard 20 lb propane tanks and boasts 584-square inches of cooking space.
The space is equally divided between the side-by-side grill and griddle, which both offer excellent cooking performance. Each side is powered by two burners for quick and consistent heating.
Specifications:
Fuel Type: Propane
Number of Burners: 4
Total BTU: 48,000
Total Cooking Area (sq.in): 584
Weight: 94.6 lbs
Build Materials: Stainless steel, ceramic coated steel (flat top), porcelain-enameled cast iron (grill grates)
Dimensions: 66.1″ x 21.7″ x 36.6″ (W x D x H)
Warranty: 1 year
A pleasure to use in the backyard or on the road, the Royal Gourmet is relatively portable at around 95 pounds. The legs fold down for storage and transport.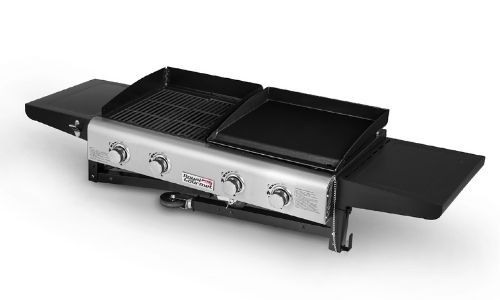 At home, four casters make it effortless to reposition on your deck or patio — most models only offer two. It's a lifestyle-friendly combo for grilling anywhere, anytime.
Just season the grates and cooktop with oil before making your first meal. Clean-up takes seconds with the removable grease management system.
Shortcomings are minor. The two side shelves are generous, but we wish they folded. And the toolbar is a plus, but it's mounted low and feels a little awkward to tall users.
So if you want a versatile, full-sized combo, this is an impressive combination of performance and price with features rarely found in models this affordable.
Here is a short video that sums up what this excellent outdoor grill and griddle combo is all about:
What We Love
Heats up fast and evenly
Great value for money
Large cooking area
Easy to clean
Good grease management system
Foldable legs make it portable
What We Don't
The side tables can't be folded
Best for Camping and Tailgating: Blackstone Tailgater Portable Gas Grill and Griddle Combo
Smaller than a backyard grill but larger than a tabletop version, Blackstone's Tailgater is just right.
This two-in-one workhorse combines a heavy-duty grill box and vented lid with a flat top griddle for 477 square inches of versatile cooking area.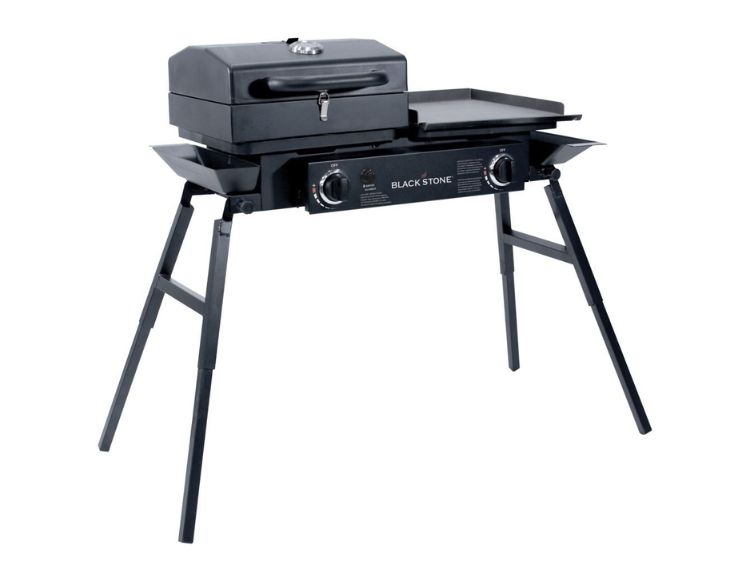 Specifications:
Fuel Type: Propane gas
Number of Burners: 2
Total BTU: 35,000
Total Cooking Area (sq.in): 477
Weight: 75 lbs
Build Materials: Painted steel, stainless steel, and cold-rolled steel
Dimensions: 52″ x 24″ x 38.5″ (W x D x H)
Warranty: 1 year
With two independent burners putting out 35,000 BTUs, this unit provides plenty of heat without being inefficient. The steel cooktop and cast-iron grates conduct and retain heat like a champ. A top performer, the design doesn't compromise quality for portability.
Blackstone is known for their excellent griddles and they also nailed the combo design prefectly. Their most innovative model, the Tailgater weighs 75 pounds but sets up in seconds. The legs fold up and can be adjusted to stay level on rough terrain. Sure, you can use it on your patio — but it's an adventurer at heart.
A small complaint is that the lack of workspace takes some getting used to. The Tailgate has a bare-bones frame with no side shelves or toolbars.
The sleek design contributes to its portability, but we hope they'll consider a magnetic tool bar in the front in future models.
But for now, no grill-griddle combo makes this outdoor enthusiast happier.
What We Love
Portable design
Plenty of heating power
The grill side has a lid
You can remove the grill box and use it as a propane stove
The legs can be adjusted separately
What We Don't
No side shelves or toolbars
Best Tabletop Option: Royal Gourmet Tabletop Grill & Griddle Combo
Tabletop grills are rarely this capable, but the Royal Gourmet is one of a kind. Sporting four burners instead of two, it offers full-size performance in a portable, budget-friendly package.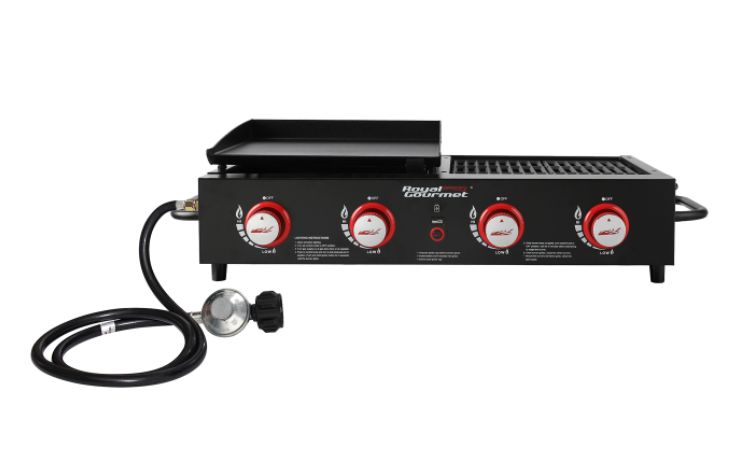 Specifications:
Fuel Type: Propane gas
Number of Burners: 4
Total BTU: 40,000
Total Cooking Area (sq.in): 438
Weight: 47.8 lbs
Build Materials: Painted steel, stainless steel, and cast-iron
Dimensions: 40″ x 19.3″ x 11″ (W x D x H)
Warranty: 1 year
Four independently controlled stainless steel burners create separate temperature zones over 438 square inches of cooking area. The total heat output rivals backyard griddles at 40,000 BTU.
The ceramic-coated griddle plate and cast-iron grilling grates can handle any type of food from steaks to grilled vegetables with minimal cleanup. A cinch to clean, this model is equipped with a grease management system and removable ash tray.
Engineered for tailgates or tabletops, the Royal Gourmet slides easily into a pickup or camper. With a hose connector — sold separately — you can connect it directly to an RV.
At around 48 pounds, it's no lightweight, but it's an easy 2-person carry to a campsite. Compared to the Tailgater, the build quality is slightly less robust. Yet it's sturdy and well-appointed for a fraction of the price. You're getting more than your money's worth.
What We Love
Large for a tabletop model
Plenty of heating power
Fast to set up
Great for tailgating and camping
What We Don't
The frame could be sturdier
Best Grill Griddle Combo for Indoors: PowerXL Smokeless Grill with Interchangeable Griddle Plate
Enjoy BBQ ribs and char-grilled steaks year-round without checking a weather forecast. The PowerXL Smokeless Grill lets you bring the party indoors.
A good choice for couples plus guests, it fits easily on the countertop and accommodates up to four large burgers or chicken breasts.
Specifications:
Wattage: 1,200
Cooking Area: 108 sq.in.
Weight: 18 lbs
Materials: Stainless steel, plastic, nonstick cooking surface, tempered glass
Dimensions: 19.8″ x 8″ x 5.5″ (L x W x H)
So how does this smokeless grill actually work?
The PowerXL is a fully self-contained unit, it comes with interchangeable, non-stick grill and griddle plates. Just plug it into a wall outlet and turn it on. Quick, precision heating up to 450 °F makes quick work of mealtimes.
The cooking surface heats from edge to edge, so there's no wasted space. And with the tempered glass lid, food never dries out. It seals in moisture and flavor.
Equipped with a drip tray to catch excess grease and liquids, food is healthier, and cleanup is child's play. With a run through the dishwasher, the grates look like new.
As long as you have an electric power source, this grill can be used inside or out. The built-in fan whisks away smoke, so you won't attract bears or hungry neighbors.
A minor quibble is with the power cord. It's short, so where it can be placed is limited unless you have an extension cord.
Available in five configurations including a smaller model and a Pro version with a hinged lid, the Power XL provides an authentic, reliable BBQ experience without the limitations of gas grills.
What We Love
Produces very little smoke
Great value for money
Precise temperature control
Gets hot enough for searing
Compact size
Lid, heating plates, and heat reflector are dishwasher safe
What We Don't
The power cord could be longer
You can only use the grill or griddle at a time
Indoor Budget Pick: Hamilton Beach 3-in-1 Electric Indoor Grill + Griddle
Hamilton Beach's 3-in-1 grill and griddle combo is the most versatile appliance of its kind. Use the reversible split cooking plates to create a full griddle, a full grill or a half grill-half griddle. Finally, it's meals done your way.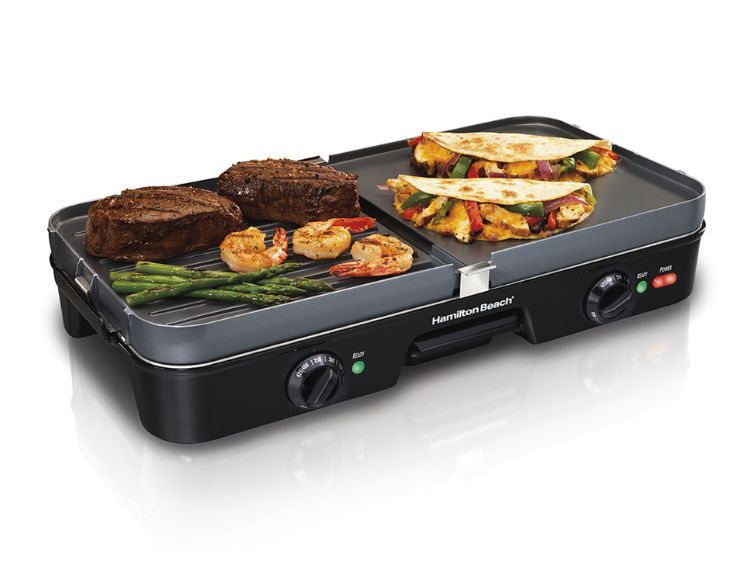 Specifications:
Wattage: 1,400
Cooking Area: 180 sq.in.
Weight: 9 lbs
Materials: Stainless steel, plastic, nonstick cooking surface
Dimensions: 12.51″ x 23″ x 6.71″ (L x W x H)
This compact and lightweight unit has 180-square inches of cooking space making it perfect for small families. Each side has an independent temperature control, so you're never limited to just one type of food.
The center grease channel funnels oils away from your food for a clean finish. When you're done, toss the plates and grease tray into the dishwasher and get on with your day without soaking or scrubbing.
Our budget pick, this model doesn't have some of the perks of the PowerXL. But what it lacks in bells and whistles it makes up for with price. A bargain, it expands your cooking capabilities without shrinking your wallet.
What We Love
Simple and efficient design
Affordable
Compact and portable
Fast and easy to clean
What We Don't
No lid to contain smoke
The temperature numbers on the dial are easily erased
How to Choose the Best Grill and Griddle Combo
Grill-griddle combos come in an endless range of styles and sizes to meet every need and budget.
Which is right for you? Let's find out!
1. Indoors, Outdoors, or Both?
Where do you prefer to grill? Indoors or out, griddles produce similar results. But authentic BBQ taste is tough to create without an open flame.
Indoor grills give meats some char, but the flavor isn't as deep or rich. Nothing beats the aroma of a flame-broiled burger.
Still, grill smoke isn't welcomed everywhere. If you live in a small apartment or your complex has a no open flames rule, an indoor combo is a perfect choice. Ideal for all seasons, meals are never delayed because it's cold or raining.
And all you need to power it is an electrical outlet — there are no heavy propane tanks to lift or store. Indoor grilling is much like outdoor grilling but without bugs or backaches.
Just remember that indoor grills can be used outdoors, but outdoor grills can't be used inside because they produce smoke and carbon monoxide gas.
2. Size and Portability
The size of your griddle determines how many people you can cook for — allow at least 25 square inches per a portion of meet.
But you'll need much more if you want to cook some veggies too. For a family of four, 400 square inches should do it, but we recommend sizing up to accommodate guests.
If you're also using your grill on the road, portability is a factor. You'll get less than 300 inches with a tabletop combo but up to 500 with a freestanding model will collapsible legs.
Beware, however, that some of the largest grills on the market claim to be portable, but you need a bag of tools and two strong people to break it down and carry it.
3. Materials and Durability
The materials grills are made with impact both performance — we'll address that next — and durability. If you want an outdoor griddle to last, choose models with weather-resistant cooktops, stainless steel burners and powder-coated frames.
The best indoor griddles should have sturdy handles and removable grates. Look for dishwasher safe, utensil-resistant, non-stick coatings.
4. Cooking Performance
Cooking performance comes down to heat control and conduction. Heat is controlled through the electric heating elements or propane burners.
Each creates a different temperature zone on the cooktop, so more burners are better for cooking different foods at the same time.
While outdoor grills can often reach temperatures well over 500 °F, most indoor griddles are limited to 400-500 degrees. That's fine for most foods, but it's too low to get a good crust on pizza.
Heat conduction and retention depend on the cooktop material. Thick steel or cast iron grates warm more evenly than thin steel and hold heat longer.
A hood helps maintain cooking temperature and allows for baking — a plus if you're on the road without an oven.
5. Maintenance and Cleaning
Most outdoor grill-griddle combos have steel cooktops that require seasoning. But once prepared, they develop a non-stick finish and are essentially maintenance-free.
Cleaning is as easy as turning up the heat and giving it a good brushing. Spray water on the surface to remove crusts — they loosen easily as the steam evaporates.
If you're looking for an indoor griddle, you're in luck. Most grates are non-stick and dishwasher-safe. Cleaning is a breeze but be cautious with abrasive cleaners and sponges. Delicate surfaces are prone to scratches.
Now it's time to choose a grill and start cooking!