Don't cry over another piece of shrimp that fell between the grill grates or a char-burnt burger.
Level up your game with the latest grilling technology from two top makers — Blackstone, the undisputed king of flattop griddles — and Nexgrill, the new kid on the block obsessed with innovation and smart features.
When a good grill isn't good enough, these quality flat top grills give you culinary superpowers.
But which is worth your hard-earned cash? Let's find out.
Summary of our comparison between Nexgrill and Blackstone griddles:
Blackstone – Brand Overview
Blackstone has been the market leader in griddle sales since 2005. Their innovative gas and electric grills set the standard against which other brands compete.
Made of premium materials and uncompromising quality is their claim to fame.
Choose from tailgate-worthy portable grills to family-sized backyard beasts plus the accessories you need to make the most of every meal. Blackstone offers affordable luxury!
To see how these excellent flat top grills fare against another top brand, I recommend that you also read my guide that puts Pit Boss and Blackstone Griddles against each other.
Nexgrill – Brand Overview
Nexgrill is a relative newcomer. They've been producing high-quality, professional-grade grilling gear under different brand names, like Kitchen Aid, since 1993. Yet only recently are Nexgrill-branded products making their mark.
Their selection of gas and charcoal grills large and small rivals Blackstone, but the price point is a little lower.
While Blackstone might be the number one outdoor griddle company, Nexgrill is also improving its game with the all-new Daytona-series propane griddles:
The exception in price is the new Daytona series, their most advanced griddles with user-inspired features like oversized side shelves, a stainless steel hood, and a removable condiment caddy.
You'll pay more, but Daytona griddles make your outdoor cooking space as comfortable and efficient as your indoor kitchen.
If you are interested in their gas grills check out this comparison of Nexgrill and Weber.
Nexgrill vs Weber – Griddle Comparisons
Blackstone has a huge selection of propane griddles, while Nexgrill only has a few different models. Thus, it makes sense to compare units that are somewhat similar in size, features, and cooking capabilities.
Let's kick off this comparison with their premium models and then move on to the basic models and portable tabletop units.
Premium Griddles: Blackstone Original 1899 vs Nexgrill Daytona 4-Burner
If you're in the market for a family-sized griddle, look no further than these two top competitors.
Side-by-side, neither model stands out as our clear favorite.
Our recommendation is the Blackstone Original 1899 because of its better quality and overall cooking performance.
But if you want to save a bit, the Daytona costs less and is not a bad choice either. The weekend barbecue warrior will be thrilled with either of these premium griddles.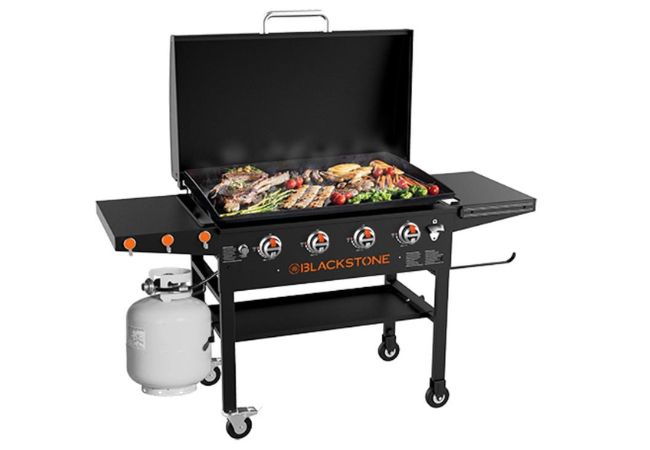 Blackstone Original 1899
Cooking Area: 720 sq.in
Number of Burners: 4
Total BTUs: 60,000
Warranty: 1 year
---
Nexgrill Daytona 4-Burner
Cooking Area: 768 sq.in
Number of Burners: 4
Total BTUs: 60,000
Warranty: 1 year (5 years for burners)
Design and Build Quality
The build quality is similar beginning with weather-resistant, powered coated steel frames.
Blackstone opted for a sleek frame while Nexgrill's has more aesthetic substance. A unilateral stabilizer bar on the frame above the swivel casters gives it more side-to-side stability.
Both feature heavy-duty steel lids to protect the cooking surface when it's not in use. But we prefer the Nexgrill's all-stainless construction to Blackstone's powder-coated black finish. It looks more like a high-end appliance than a trailside grill.
Cooking Area and Heat Control
Cooking space is comparable — 756 square inches for the Nexgrill versus 769 for the Blackstone. But the latter feels a little roomier for that extra hot dog or two. Yet, either griddle can handle 35 burgers and more.
Each model boasts 60,000 BTU of cooking power over four, independently controlled stainless steel burners.
Sear steaks over one — sauté onions over the other. Flexible temperature zones produce just the right amount of heat for all types of foods.
Propane-powered, only the Blackstone is compatible with natural gas — the adapter is sold separately.
Ease of Use and Maintenance
Get dinner going in a flash with the match-free electronic ignition system. Both griddles feature plenty of cooking space including two spacious side shelves and a lower shelf. Each also has tool hooks and a paper towel holder.
We give Nexgrill kudos for a center-mounted roll and a removable condiment caddy — it's a breeze to clean. But Blackstone gets the nod for folding shelves.
One substantive difference between these two models is the cooktop quality. Nexgrill uses hot-rolled steel, a good but somewhat less sturdy material than Blackstone's cold-rolled steel. Practically speaking, the difference is minor, but the Blackstone's cooktop is more rust-resistant, and the heat distribution is better.
Neither griddle comes pre-seasoned. But after the cooking surfaces are properly prepared, they develop a nonstick finish.
Just scrape them clean, pushing leftover oil and food bits into the grease trap. The Daytona has traps on each side of the cooktop — the Blackstone's is in the rear. On paper, two should be better than one, but the Blackstone's works like a charm, while the Nexgrill's tends to clog.
Portability
Both griddles are technically portable — they have four movable wheels — two swivel and two fixed. But at more than 120 pounds, you'll need tools and a crew to do it.
So these units are really designed to be used in your backyard, while the wheels come in handy when strolling them around on an even surface.
Budget Griddles: Blackstone 1554 vs Nexgrill 4-Burner
Overall, both grills are top performers for casual use. With care, they'll give you years of excellent service. But for the dedicated outdoor chef, the Blackstone is a better investment.
For the dedicated outdoor chef, the Blackstone 1554 is a better investment.
The Blackstone is simply slightly better in almost all aspect — undoubtedly resulting in the company's focus on entirely focusing on outdoor griddles to perfect their products.
If you are thinking about the price aspects, there is no real difference here. So you might as well choose the more durable and user-friendly Blackstone.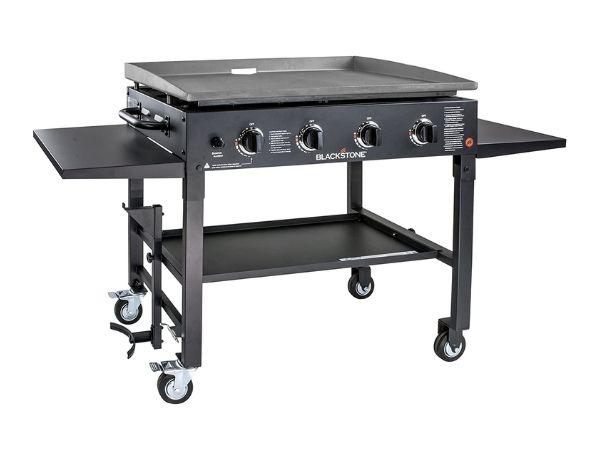 Blackstone 1554 Griddle
Cooking Area: 720 sq.in
Number of Burners: 4
Total BTUs: 60,000
Warranty: 1 year
---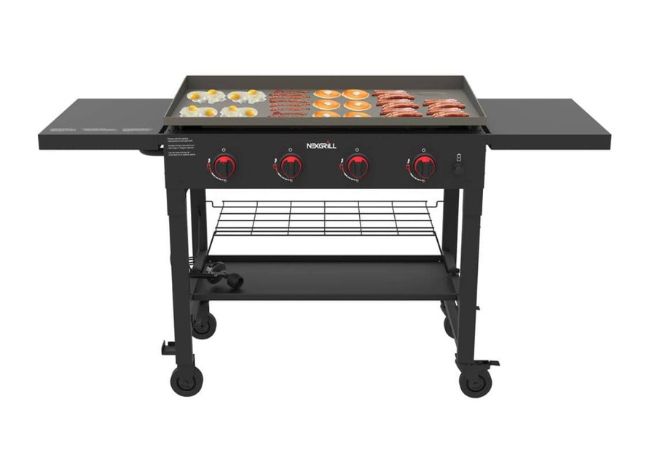 Nexgrill 4-Burner
Cooking Area: 732 sq.in
Number of Burners: 4
Total BTUs: 48,000
Warranty: 1 year
Design and Build Quality
Want a burger on a budget? Put Nexgrill's famous four-burner griddle and the Blackstone 1554 on the top of your list. These are essentially their premium models without lids or bells and whistles.
The aesthetics and the craftsmanship are similar. Each features a weather-resistant, collapsible cart for quick if not easy transport — they still weigh over 100 pounds. The 700-plus square-inch cooking area, however, is a plus for serious tailgaters.
Cooking Area and Heat Control
Four burners on each model pump out 60,000 total BTUs of heat over four independently controlled temperature zones. And both feature a push-button electronic ignition system.
Like their premium griddles, the primary difference between Nexgrill and Blackstone is the cooktop. But it matters more for these budget griddles because they lack a lid for protection.
Both companies emphasize the need to cover the grill with a PVC cover when it's not in use. Still, it's easy to forget while you're waiting for it to cool down.
If you leave the Nexgrill in the rain, you'll be scrubbing rust off in the morning. The Blackstone's cold-rolled steel is stronger, smoother, and more warp- and rust-resistant. We like a forgiving grill.
Ease of Use and Maintenance
User-friendly, the controls are intuitive — you don't need a degree to figure out how they work. But again, the Blackstone has better grease management and is easier to clean.
Portability
When it comes to portability, these units are very similar to their fancier cousins reviewed above. Fairly easy to stroll around on an even surface but too bulky to take on most outdoor trips.
Tabletop Griddles: Blackstone Original 1814 vs Nexgrill Daytona Tabletop
Nothing beats a pint-sized grill for those last-minute day trips. But forget the charcoal — Nexgrill and Blackstone have portable propane grilling down to an art.
The Blackstone Original 1814 Tabletop Griddle is one of their best sellers — and for a good reason. Customers rave about it, and so do we.
It's just so easy and straightforward to set it up and start cooking. And although it's a bit more expensive compared to the Nexgrill, it's definitely our top pick for a portable tabletop griddle.
That being said, the Nexgrill Daytona holds its own with excellent reviews and a wallet-friendly price tag — so you won't be disappointed in either of these fine griddles.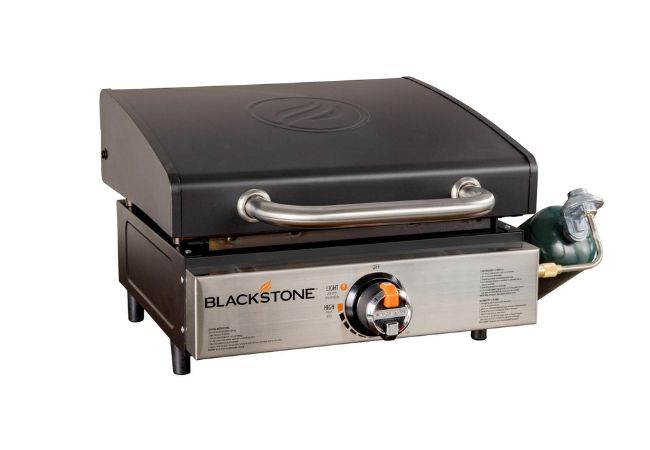 Blackstone 1814 Tabletop Griddle
Cooking Area: 267 sq.in
Number of Burners: 1
Total BTUs: 12,500
Warranty: 1 year
---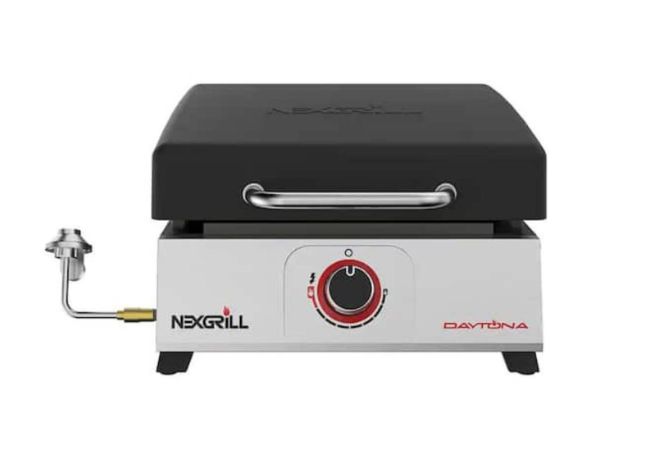 Nexgrill Daytona Tabletop Griddle
Cooking Area: 271 sq.in
Number of Burners: 1
Total BTUs: 12,000
Warranty: 1 year (5 years for burners)
Design and Build Quality
Both of these griddles have a nearly identical footprint, but there are a few key differences.
Again, Blackstone's cold-rolled steel cooktop is superior, but the Nexgrill's also performs well. Because of the size, the subtle difference in heat distribution is barely noticeable.
Cooking Area and Heat Control
Blackstone's 17-inch Original 1814 griddle offers 12,500 BTU across 267 square inches of cooking area. Like their premium models, it features a stainless steel burner, Piezo ignition, carbon steel cooktop, and protective lid.
The Nexgrill is similarly equipped but with a 12,000 BTU burner and four more square inches of cooktop — on a 17-inch griddle, every inch matters. On this model, they moved the grease trap to the back where it's more effective.
We really prefer the sides on the Blackstone cooktop. They're higher in the rear, so it's harder to send a burger flying if your flipping skills aren't what they used to be.
Ease of Use and Maintenance
Engineered for 1-lb. propane canisters, both are also compatible with 20-pound tanks.
Purchase an adapter hose for around $30, and you'll recoup the cost in a single summer if you use it regularly — these griddles are ideal for RVs.
Portability
Both griddles are super lightweight and portable. But only Blackstone offers an optional cart with a side table to make it more tailgate friendly.
And if you're lugging your griddle to an off-road campsite, the Blackstone 1814 weighs only 30 pounds to the Daytona's 37.5.
Final Thoughts on Blackstone vs Nexgrill Flat Top Grills
So what is the conclusion, is Nexgrill or Blackstone better?
Overall, Blackstone just has put so much time and effort into perfecting their griddle game that they come out on top. Cooking performance, griddle surface durability, and grease management are all a notch better than in the Nexgrill models.
However, some people might think that the new Nexgrill Daytona models look better or appreciate the slightly lower price point.
So the choice is ultimately yours, and you can't really go wrong here.
Happy grilling!