Sometimes it's hard to pick through the marketing noise and figure out what a company really stands for. Are they offering you a premium product that happens to be a bargain, or do you get what you pay for?
The market for gas grills is a hot one. Nearly every home has a patio, and nearly every patio wants a gas grill. If you're out shopping, you're certainly not left wanting more choices.
Nexgrill makes attractive grills that seem loaded with options — all for attractive prices. Weber makes more expensive grills, but are they worth it? Let's take a closer look.
Summary of our comparison between Napoleon and Weber gas grills:
Nexgrill – Brand Overview
Nexgrill is a common brand name you'll see browsing the aisles of your local big-box retailer. For the most part, Nexgrills are sold exclusively at The Home Depot in the United States.
The company makes everything from table-top travel gas grills to top-of-the-line 6-burner models for parties. Generally, their grills are freestanding and primarily stainless steel.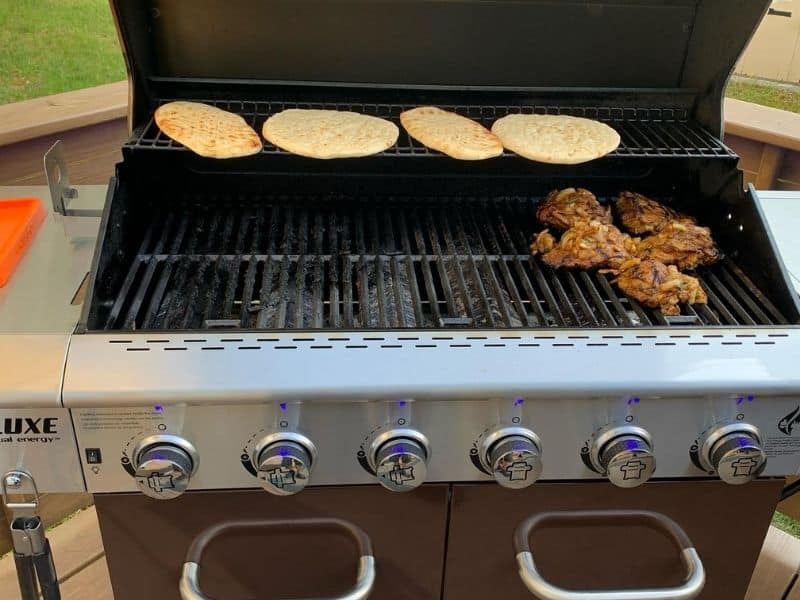 They don't make any other styles of grills or cooking appliances — only gas grills and propane flat top grills. If you are interested in their griddles check out this comparison of Nexgrill vs Blackstone.
While it's difficult to determine the origin of all of the grill components these days, most Nexgrills are imported from China.
In general, their grills are reliable and robust but don't expect them to last as long as a premium brand. Unfortunately, they have also put out defective and dangerous products in the market earlier. Their warranty, with a few minor exceptions, covers most components for only one year.
What's great about Nexgrill gas grills? They represent an incredible value. This department store brand allows you to get a fully loaded or a huge grill on a budget.
Weber – Brand Overview
Weber is one of the oldest and most trusted names in grilling. Everyone knows the brand, and it's the most recognized brand in the outdoor cooking world.
They make every grill imaginable, from their classic charcoal kettles to Mercedes-level stainless gas models. Offerings include gas, charcoal, electric, and wood pellet grills.
Check out this short video that sums up the essence of Weber grills:
Weber's products are considerably pricier than Nexgrills's. However, you get grills that are mostly assembled and shipped from the US for the added cost.
Their grills are outstanding simply due to their longevity and quality. While you can debate if you get what you pay for until the burgers are done, Weber grills will outlast nearly every other brand on the market. To prove it, their best grills are covered by an incredible 10-year warranty.
Read also: Weber Spirit E 310 vs Genesis E 310
Nexgrill vs Weber – Product Comparisons
Now it's time to compare different gas grills in 3 categories from small, and medium-sized units to large rigs that can handle dozens of burgers or steaks at a time.
Small Gas Grills: Weber Spirit II E-210 vs Nexgrill Evolution
These two small grills both come from reputable companies, but their entry-level products are far from loaded with features. What you get in the small grill category is a simple grill with basic features — but both are built well and are fun to use.
Our pick for a small gas grill is the Weber Spirit II E-210 because of its better overall quality and durability.
This sturdy 2-burner grill has a user-friendly design, advanced GS4 grilling technology, and a 10-year warranty. And the best thing is that the Spirit II E-210 is surprisingly affordable!
If you can't afford the Weber, Nexgrill Evolution isn't a bad choice either. Its main complaints are the small cooking area as well as inconsistent quality and unreliable customer service.
Design and Build Quality
The Weber Spirit II has a porcelain-enameled finish available in multiple colors and an open cart design. The total weight is kept low since Weber imagines you'd want to move such a small, portable grill around and push it into smaller spaces. The cart features oversized wagon wheels to make moving it around easier.
Still, the build quality is top-notch, and the Weber will last many years, probably much longer than discount steel-framed grills would.
The Nexgrill Evolution is all stainless steel, with an enclosed cabinet and 4 caster wheels. It looks nice and sleek but can't match the built quality of Weber in any aspect.
Ease of Use and Maintenance/Cleaning
The Weber Spirit II features their advanced GS4 grilling system, which includes a reliable Infinity ignition system, stainless burner tubes, Flavorizer bars, and an excellent grease management system. Cleaning this grill is as simple as cleaning or replacing the foil drip pan that tucks underneath.
The Evolution from Nexgrill also features a basic electronic ignition. However, the grease management system is not as well designed as in the Spirit II.
Burners and Temperature Range
Both grills have two stainless steel burners, and cast iron cooking grates provide excellent heat distribution. The Nexgrill is the more powerful of the two, rated for 28,000 BTUs to the Weber's 26,500.
The Nexgrill Evolution adds an extra twist – they supply the grill with stainless "infrared" heat plates for indirect cooking. Despite the buzzword confusion, this isn't a real infrared grill with powerful searing burners. They are simply a different style of the cooking grate, which makes it easier to spread the heat out over the entire grill surface.
Grilling Space
The Weber has 360 square inches of space to cook on, with another 90 on the warming rack.
The Evolution two-burner grill has 279 square inches of cooking space and there is no separate warming rack.
Extra Features
Both grills feature side tables to increase your storage and prep area, but neither one comes with a side burner. The side trays fold down for tight storage spots.
The Spirit II is compatible with a range of Weber accessories, including their iGrill 3 temperature gauge and app. The Weber also features a handy propane gauge.
The Nexgrill has an enclosed cabinet to hide your propane tank out of sight.
Warranty
All Weber Spirit II grills come with impressive 10-year warranties that cover everything except for everyday wear and tear.
The Evolution comes with a standard one-year warranty.
Looking for more affordable options? We also have a guide comparing Monument Grills vs Weber.
Medium-Sized Gas Grills: Weber Spirit E-330 vs Nexgrill 4-Burner Grill
When you step up to a mid-sized grill, you get a few perks. These grills have more cooking real estate and come with useful features like a side burner for sauces.
Also, having more burners gives you the power to control the cooking temperature better and opens the door for recipes that require indirect heat.
Our pick is the Weber Spirit E-330 as it provides a great grilling experience tried and tested by thousands of happy customers.
In addition to the side burner, the grill has an extra searing burner that comes in handy especially when grilling steaks.
What makes the Nexgrill also an attractive option is the price — it's about half compared to the Spirit E-330. It also has a slightly larger grilling area than the Weber.
Design and Build Quality
The E-330 is from the original Spirit line, but it's an oldie but a goodie, as they say. Like the smaller Spirit II covered above, this grill has a porcelain-coated lid and cook box available in multiple colors. The cart is enclosed, though, and features four small castering wheels for moving around your patio or deck.
The Nexgrill four-burner grill has a conventional stainless steel grill design and also sports 4 wheels.
Ease of Use and Maintenance/Cleaning
The E-330 is a high-end grill from the original Spirit lineup. It doesn't have the latest technology that Weber offers, but it's a great value and a superbly built grill. Clean up, and maintenance is easy, with a dedicated foil drip pan and sturdy cast-iron grates.
The Nexgrill has a battery-operated electronic ignition system and 4 burners for flexible heat control. The stainless design makes keeping it clean overall relatively easy by keeping rust to a minimum.
Burners and Temperature Range
The Spirit E-330 is a 3-burner grill, a nice compromise in the small to midsize grill range. It provides enough flexibility to control temperatures with care, but it also doesn't outgrow small patios or balconies. In short, it's the perfect size for regular families of 2 to 5 people.
Its main burners put out a total of 32,000 BTUs and the Weber also includes a 12,000 BTU side burner. In addition, it comes with a 7,500 BTU sear station — a nice feature in a grill this size if you want to cook steaks or other items with intense direct heat.
The 4 burners in the Nexgrill put out a total of 48,000 BTUs, which give you lots of control over your heat and cooking for direct or indirect recipes. The side burner puts out 12,000 BTUs.
Grilling Space
The Weber comes with porcelain-enameled cast-iron grates with 424 square inches of cooking space, plus a 105 square inch warming rack. It is the smaller of the two grills.
The Nexgrill has 626 square inches of cooking space on stainless grids.
Extra Features
Both grills have side tables and cabinet design for extra prep space and storage.
Warranty
The Weber Spirit series grills come with a 10-year warranty covering the cook box, lid, and burners. Most other parts, like the cooking grates and Flavorizer bars, are covered for 5 years. The cart and other accessories are only covered for 2.
A 5-year warranty covers the Nexgrill's burners. The rest of the grill, however, is only covered for one year.
Large Gas Grills: Weber Genesis E-435 vs Nexgrill Deluxe 6-Burner
Large grills are often the Cadillacs of their lineup. They've got more accessories and more options, and they typically represent the best qualities that the makers can produce. They are, in short, their flagships.
But grills this large aren't for everyone. While you might be lured in by the flashy accessories and options, some people simply don't use this much grill space.
So unless you have a large family or regularly host some backyard barbecue parties, you might find better value by opting for premium grills of smaller sizes.
In situations where nothing but a big grill will do, both Weber and Nexgrill make some large rigs that will cook burgers for your family and your neighbors, too.
Our recommendation is the renewed 2022 Weber Genesis E-435 because of its great features and excellent overall quality.
It's made with high-quality materials, has a larger main grilling surface compared to the Nexgrill, and comes with a long warranty.
If you want more burners for less money, then the Nexgrill might be what you are looking for. The trade-off is lower quality parts that can rust easily and the not-so-great customer service when you try to get replacement parts.
Design and Build Quality
The Weber is made with sturdy painted and stainless steel and has an enclosed cart with extra storage space under the grill. The gas tank can be placed under the right side table where it's out of sight but still accessible.
It also has a convenient side compartment designed for storing Weber Crafted grillware and other things like grilling tools and condiments.
The Nexgrill also features a cart design that hides the fuel tank, but it is still open to the rear. That means it looks great, but it doesn't offer protection from the elements to any supplies you've got tucked away down there.
Ease of Use and Maintenance/Cleaning
Like the Spirit II, the renewed Genesis has Weber's advanced grilling system with reliable ignition, even heat control, and flavorizer bars for smokier flavor and less flare-ups. The newly designed grease management system makes clean-up super simple and fast.
The Nexgrill has electric ignition for effortless startups and a decent grease management system.
Burners and Temperature Range
Weber's four burners put out a total of 48,000 BTUs. The Nexgrill Deluxe puts out a whopping 62,000 BTUs over its six stainless steel burners.
Both grills get hot enough for a proper sear in a matter of minutes.
Grilling Space
The Genesis has a tuck-away warming rack and porcelain-enameled grates. Its total cooking area is a whopping 994 square inches.
The Nexgrill Deluxe also has an impressive 768 square inches of cooking space on porcelain-coated cast-iron grates.
Extra Features
The Genesis features all of the latest toys from Weber and is one of the most advanced grills they make. All of their extras, like pizza stones, flat top griddles, and rotisseries, will fit on this grill.
In addition, it comes with a 12,000 BTU shelf-mounted side burner and a powerful 13,000 BTU sear burner.
The Nexgrill Deluxe is available packaged with various extra features like a blue LED light system to illuminate the front control panel. You can also opt for the rotisserie kit. The standard side burner puts out 12,000 BTUs.
Warranty
The Weber Genesis grills are covered with a 12 or 10-year warranty for most parts while a few parts have a 5-year warranty. Everything is covered except for normal wear and tear.
The Nexgrill only has a 1-year warranty, except for the burners, which are covered for 8 years.
Nexgrill vs Weber – Final Thoughts
The main concept of these brands is very different. Weber offers quality, long warranties, and excellent customer service — and charges accordingly. Nexgrills are affordable but might not last for many seasons.
If you have the budget, I recommend you choose a Weber grill. Yet, entering the world of gas grilling with a budget option from Nexgrill might not be that bad either. The choice is yours!
I recommend that you also check our comparison of Napoleon vs Weber. That's a tough battle between two excellent brands!