Griddles are redefining the way America cooks outdoors. Fast, convenient and energy-efficient, they're cleaner and more versatile than ordinary charcoal and propane grills.
Whether you're cooking for your family or tailgating with your team, the right griddle turns ordinary meals into a feast.
So, let's take a closer look at which of the two top brands will bring out your inner chef — Blackstone, the market leader, or Evo America, an up-and-comer in the retail market. It's a clash of the titans!
Evo America – Premium Flat Top Grills
Evo was founded in 2001 by foodies for foodies. The supplier of choice for high-end restaurants and resorts, they're taking the residential market by storm with top-of-the-line stationary and portable cooktops earlier available only to food service professionals.
Ultra-efficient, the Evo grills are made of commercial-grade stainless steel. Pair them with a cart or install them in the cabinet of your choice.
But why are Evo grills so expensive?
Engineered and built in the US, the price point is jaw-dropping but reflects the quality — the craftsmanship and performance are superb.
An investment-level purchase, it's covered by an industry-leading limited lifetime warranty. You're actually getting more than you pay for.
Check out this short video and see what makes Evo flat top grills so special:
Blackstone – Great Griddles for Everyone
Blackstone has been the global leader in outdoor griddle technology since 2005, offering innovative propane, gas, and electric cooktops. Inspired by the restaurant industry, their griddles are made of durable, premium materials guaranteed to perform.
Choose from large backyard models to portable griddles for your outdoor adventures. Blackstone offers premier parts support and a broad selection of must-have accessories from carts to air fryers.
Full-featured but not weighed down by bells and whistles, Blackstone's entry-level griddles are comparable in price to propane grills. Designed in the US but made in China from globally-sourced parts, they strike the perfect balance between quality and price.
A relatively new company, Blackstone has nonetheless captured a majority market share by creating affordable, user-friendly products for aspiring chefs of all skill levels.
Read also: Blackstone vs Member's Mark Griddle
Evo vs Blackstone – Grill Comparison and Reviews
Now it's time to see which brand wins the battle of the flat top grills.
We chose the most popular full-sized outdoor griddles from each brand to be compared head-on.
Evo Professional Flat Top Grill vs Blackstone 1984 Original 36-Inch Griddle
The Professional tabletop griddle from Evo is a perfect addition to any outdoor kitchen and great for entertaining your family and guests. This cooktop comes fully assembled and includes a grill cleaning handle, two gray pads, two screens, two spatulas, and a cookbook with more than 50 recipes.
Here are some ideas on how to integrate it into your outdoor kitchen:
Blackstone's 1984 Original griddle is a national bestseller. Their flagship model, it's the foundation upon which their other lines expand.
Both are top performers, but that's where the similarities end.
Overall, the nod goes to Evo for build quality, aesthetics, and versatility.
When you buy the Evo Professional Flat Top Grill from BBQGuys online store, you can choose between propane and natural gas models. You can also get the grill as a tabletop version or with a cart.
Evo backs its products with a limited lifetime warranty, but we doubt you'll ever need it. They're built to last a lifetime.
Functionally, the Blackstone is on par for a fraction of the price and in some ways surpasses its high-end cousin.
Yet, for home use, the Evo stands out as it can be integrated nicely into an outdoor kitchen. But for tailgating and trailside cooking, the Blackstone is more practical.
For most buyers, the choice comes down to cost. If you can afford it, the Evo is worth every penny and will increase the value of your home.
Among budget griddles, the Blackstone is impressive, but it's not in the same league. However, it's a great alternative for the Evo grill if you are looking for a more affordable option. Its value is what makes it America's best-selling griddle brand.
Blackstone 1984
Cooking Area: 768 sq.in
Number of Burners: 4
Total BTUs: 60,000
Weight: 130 lbs
Warranty: 1 year
---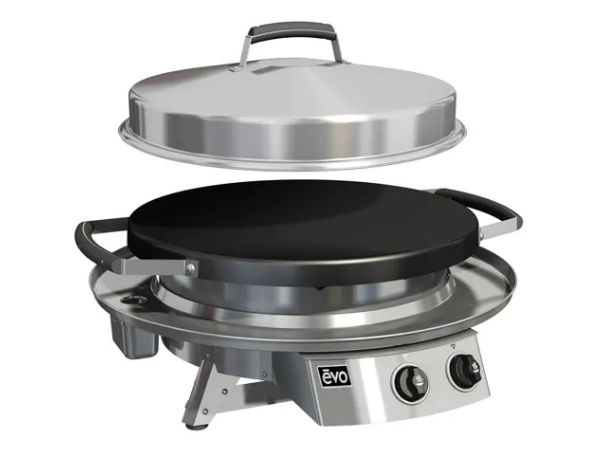 Evo Professional
Cooking Area: 650 sq.in
Number of Burners: 2
Total BTUs: 40,095
Weight: 117 lbs
Warranty: Lifetime / 1 year
Design and Build Quality
The Blackstone's build quality is excellent. Sturdy, the rugged steel cooktop spans a weather-resistant, powder-coated steel frame.
But Evo takes it a step further with commercial steel construction that gives its griddles heft. Aesthetically superior, they're luxurious right out of the box. The tabletop version is portable, or it can be installed in an outdoor kitchen cabinet of your choice.
Consider purchasing Evo's stainless steel cart for all-in-one convenience.
The designs vary significantly. At first glance, the rectangular Blackstone is what you expect when you think of griddles, so, the Evo's round cooktop is surprising.
Without built-up sides to prevent food from falling off the edge, it might feel awkward to use at first. Yet with practice, it has the finesse of a fine hibachi.
The design of the Evo flat top grill has one significant advantage — you can tend to the food from any direction. This also means that several people can gather around the grill and cook their own food at the same time!
In addition, the Evo grill comes with a vented hood that lets you steam, poach and bake making it super versatile.
Cooking Area and Heat Control
The grilling area of Evo is slightly smaller — 650 square inches compared to the Blackstone's 768. That's a 20% difference and something to think about if you feed large groups.
Burners on both models are made of stainless steel, but the Blackstone has four and the Evo only two. Each is independently controlled to create different temperature zones, so the Evo is comparatively limited in the types of foods it can cook simultaneously.
Evo gets hotter in the center than around the sides. So sear steaks in the middle and grill vegetables near the edges.
The Blackstone's 60,000 BTU output is significantly higher than the Evo's 48,000 BTU, so warm-up time is quicker. But when it comes to grilling, the difference is negligible because both cooktops conduct heat flawlessly.
Ease of Use and Maintenance
Intuitive to use and straightforward to care for, neither grill requires much maintenance. But the Blackstone's cold-rolled steel cooktop must be seasoned before use — a process that takes a few hours when done properly.
Evo cooktops come preseasoned. A quick scraping while they're hot is all they need to retain their rich patina and non-stick qualities. It couldn't be simpler.
Both griddles feature reliable push-button ignitions and comprehensive grease management systems, so you'll enjoy more flavor and less fat.
The Blackstone's grease tray is rear-mounted — the Evo's surrounds the grilling surface but stays cool enough to avoid flare-ups. They're a breeze to clean, but only the Evo's is dishwasher-safe.
Despite their weather-resistant construction, both griddles should be kept covered when not in use. Neither model includes one, but they can be purchased separately.
Portability
When it comes to portability, both griddles are designed for home use, yet they can travel. The Evo may seem like the more compact choice, but it still weighs 117 pounds even without the cart.
And the cart lacks creature comforts. A simple, two-wheeled tripod, the only real convenience it offers is a lid holder. The Blackstone features four rolling casters — two locking — and the legs fold up for easy transport.
For convenience, it's also an advantage for Blackstone. The 1984 Original boasts two side shelves, a large lower shelf, a paper towel holder, and four tool or towel hooks. It's a true, all-in-one grilling station.
Warranty
The Blackstone is backed by a standard one-year warranty.
The Evo Professional has a lifetime warranty covering rust and defects for all metal surfaces but the electronic and gas components are only covered for one year.
Evo vs Blackstone Flat Top Grill – Final Thoughts
Both flat top grills reviewed in this guide deliver great cooking performance, provide plenty of griddle surface, and are easy and fun to use. These are definitely some of the best outdoor griddles on the market today.
Choose Evo if you want a permanent solution that will be integrated into your outdoor kitchen. This grill is made in the USA with the highest quality materials and is built to last.
The Blackstone griddle is a great alternative — especially if you don't want to spend too much. You can easily move it around with the cart and place it wherever it's most convenient.
I hope this guide helped you out with choosing the right type of outdoor griddle for your budget and needs.
If you still want more options to choose from, take a look at this comparison of Camp Chef and Blackstone griddles.