Summers are too short to waste, so why not kickstart the fun with an outdoor griddle?
No feast is too big or small for these ultra-versatile cooktops. Forget the charcoal — griddles are the fuss-free way to feed family and friends. Make a meal on one, and you'll never look back.
Today, we'll compare top models from Blackstone and Member's Mark feature-for-feature. In your backyard or on the road, they're the game changers you've been waiting for.
Summary of our comparison between Member's Mark and Blackstone griddles:
Member's Mark vs Blackstone: Griddle Reviews and Comparison
Before diving into specifics, it helps to know more about the Blackstone and Member's Mark brands. So let's take a look at where these companies are coming from and how they design and manufacture their products.
Each has a unique emphasis that influences the type of griddles they make.
Blackstone is a pioneer in griddle technology. Founded in 2005, they only make flat top grills and griddles and focus on creating innovative products for the culinary market.
But whether you're a foodie or just an outdoor enthusiast, you'll appreciate the simplicity of their user-friendly griddles. Their focus is on performance and not bells and whistles.
Modestly priced, Blackstone griddles are engineered in the US and manufactured made in China with high-quality materials under close supervision for strict quality assurance.
Despite the affordable price, their griddles are good enough to compete against more expensive brands. See this comparison of Blackstone vs Camp Chef for more details.
The Member's Mark brand is owned by Sam's Club — a division of Wal-Mart. Where their products are made, however, is a mystery.
The company is cagey about sourcing, so like Blackstone, we assume their griddles are manufactured in China. Most similar products are.
Member's Mark griddles are sturdy where it counts — a value brand, they've been delivering quality merchandise for less since 2017. You'll notice minor differences in the build quality and convenience features compared to brand-name versions. But if you don't sweat the small stuff, their griddles are a steal.
Member's Mark products are sold at Sam's Club, Wal-Mart and Amazon, though prices may vary.
Next, let's compare the products of these two brands toe-to-toe.
Large Flat Top Grills: Blackstone 1554 Griddle Station vs Member's Mark 4-Burner Gas Griddle
Both brands offer excellent full-sized flat top grills for cooking large amounts of food in your backyard. These versatile cooking machines are great for cooking anything from burgers and steaks to eggs and pancakes.
At first glance, the overall craftsmanship on these griddles seems comparable, but there are clear differences beginning with the cooktops and frames.
Our top pick for a full-sized flat top grill is the Blackstone 4-burner outdoor griddle.
The main advantage is the better overall quality — the Blackstone 36″ flat top grill is built to last with a thick griddle top enforced with angle iron to prevent warping.
So we have to give the nod to the Blackstone for overall quality, but the Member's Mark has its strengths too. Did we mention it comes with a free cover?
And for some buyers, the choice will come down to budget. At about 30-percent lower price, the Member's Mark is hard to ignore.
Check out our Evo Grill vs Blackstone comparison for more large outdoor griddle options.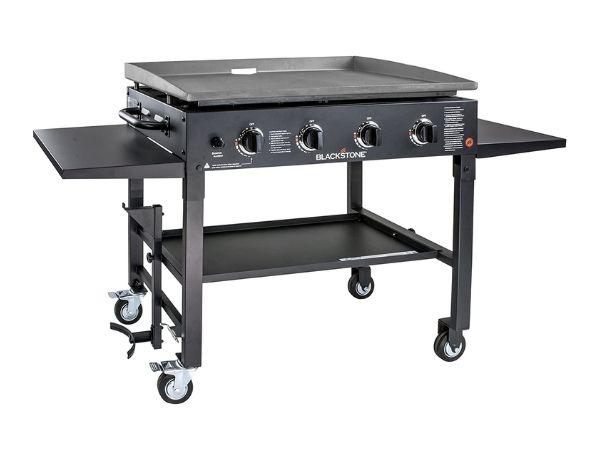 Blackstone 1554 Griddle
Cooking Area: 720 sq.in
Number of Burners: 4
Total BTUs: 60,000
Weight: 120 lbs
Warranty: 1 year
---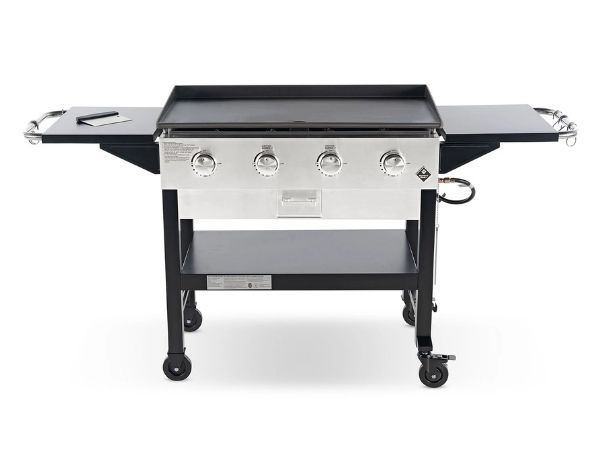 Member's Mark Griddle
Cooking Area: 720 sq.in
Number of Burners: 4
Total BTUs: 60,000
Weight: 110 lbs
Warranty: 1 year
Design and Build Quality
The Blackstone's is made of superior cold-rolled steel while the Member's Mark is constructed with lesser hot-rolled steel. Either is fine for cooking, but the thick cold-rolled metal top on the Blackstone is stronger and smoother for a more durable and rust-resistant finish.
The frame on the Blackstone is powder-coated to form a thick, weatherproof exterior. Member's Mark griddles are painted and more vulnerable to scratches, chips, and rust.
If grills stay covered in inclement weather, both will be durable. If not, it's an advantage for Blackstone.
Cooking Area and Heat Control
Both griddles offer the same amount of cooking surface. With a generous 720 square-inch surface area you can cook 32 burgers at a time!
But the size is not all that matters. The thicker cooktop on the Blackstone has better heat retention and the angle iron welded on the bottom side prevents it from warping.
Burners on both models are made of stainless steel and pump out 60,000 BTUs of cooking power over four independent temperature zones, so heat control is a draw.
Ease of Use and Maintenance
The Blackstone has a battery-operated matchless ignition system for a speedy start-up. The Member's Mark griddle has an equally capable Piezo ignition system with no battery required. If you're on the road, that's a plus.
Both griddles are intuitive and easy to use with two side shelves for food and grilling accessories. Member's Mark added a towel bar and tool hooks — we like that.
The cooktops require proper seasoning to develop a nonstick finish, but clean-up and maintenance are nearly effortless once they're prepared.
Blackstone griddles have a rear grease trap. The Member's Mark's is in the front and is easier to access but you might end up losing some smaller food items if they slide into the grease trap.
Portability
Weighing 110-120 pounds, each griddle features four heavy-duty wheels and two locking casters for moving them around your deck or patio.
Designed for backyard use, neither model is particularly portable. But the Blackstone's shelves slide out, and the legs fold up for transport. With help, it's portable enough for special occasions.
Breaking down the Member's Mark amounts to disassembly.
Portable Tabletop Griddles: Blackstone vs Member's Mark 22 Inch Griddle
Tabletop griddles provide a compact and lightweight option for cooking anywhere from a campsite or a tailgate party.
But they are also a convenient option for preparing smaller batches of food in your backyard or patio — you can just put the griddle in a cabinet after cooking so it's out of the way.
Blackstone's original tabletop griddle has fans worldwide, so can the Member's Mark compete? Let's find out.
Our recommendation for a portable griddle is the Blackstone 22-inch tabletop unit.
This is a tough battle the Blackstone wins with its better overall quality and the convenient hood that provides more cooking options and protects the griddle surface while you are not using it.
There's a significant price difference between the two griddles, but it's not as wide as with the large models. If you don't care for the hood you might consider saving money and getting the Member's Mark.
Yet, all dedicated adventurers should invest in the Blackstone.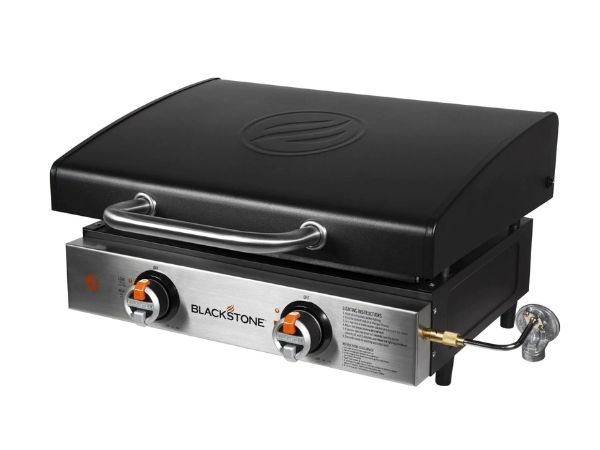 Blackstone 22″ Griddle
Cooking Area: 362 sq.in
Number of Burners: 2
Total BTUs: 24,000
Weight: 38 lbs
Warranty: 1 year
---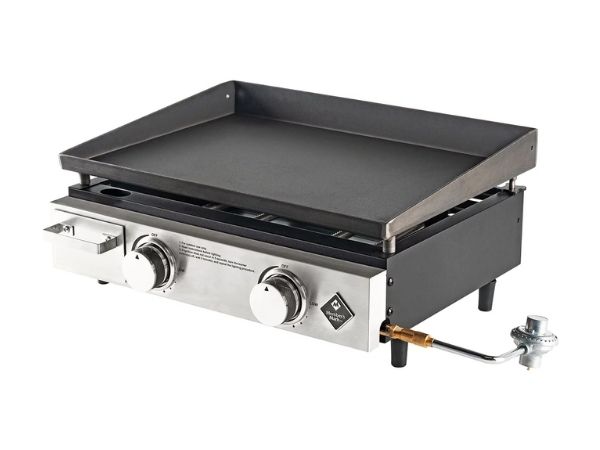 Member's Mark 22″ Griddle
Cooking Area: 352 sq.in
Number of Burners: 2
Total BTUs: 24,000
Weight: 37 lbs
Warranty: 1 year
Design and Build Quality
Aesthetically, the Member's Mark looks more like a home appliance than a camping accessory with a sleek stainless steel and black finish.
Orange highlights on the Blackstone's temperature knobs give it a less polished look, yet it makes them easier to see in low outdoor light conditions. If you're cooking at dusk, you're less likely to burn your food or fingers.
Cooking Area and Heat Control
Both griddles measure roughly 22-inches, but the Blackstone boasts 362 square inches of cooking area — that's 10 square inches more than the Member's Mark. It's not a deal-breaker, but it's enough of a difference to limit the number of people you can cook for by trailside.
Each, however, features dual 304 stainless steel burners with 24,000 BTUs of total heat output. You can expect long-lasting performance and even heating from both griddles.
As with their larger models, the Blackstone's cold-rolled cooktop has an edge. Clean-up time is a draw.
Ease of Use and Maintenance
Both griddles start in seconds with battery-free Piezo ignition systems. Two independently controlled heat zones can handle a wide range of foods — sear steaks on one side and grill delicate vegetables on the other.
The Blackstone has a lid — a feature that helps cook thick cuts of meat faster without drying them out. The one pound it adds to the griddle's weight is worth the extra effort to carry.
Speaking of burns, the rear-mounted grease management system on the Blackstone is safely tucked in the back and out of the way. The Member's Mark has a pull-out drawer in the front with a metal handle that's dangerously close to the temperature controls when it's hot.
Portability
Engineered for portability, both models have a sturdy feel and should hold up well for travel, but the point goes to Member's Mark for including a custom-fit dust cover.
Both griddles are designed for use with a 1-lb. propane canister, but you have Blackstone's blessing if you want to connect it to a 20 lb. fuel tank — just buy the adapter. Using anything but small propane canisters will void the warranty on the Member's Mark.
Member's Mark vs Blackstone Griddles – Final Thoughts
In this battle of outdoor propane griddles, Blackstone is the winner in both categories because of the better overall quality. Yet, the Member's Mark griddles are a decent option if your budget is tight.
The main thing is that both brands provide great griddles that are versatile and easy to use. So choose a model that best suits your needs and have fun while cooking!
If you want to take a look at another brand comparison, see who wins the contest between Pit Boss and Blackstone griddles.