Ask any barbecue guru what their secret is, and they'll tell you — it's having the right tool for the right job. Blackstone, a South Dakota Company with more than a decade of experience in outdoor cooking, takes that hint seriously.
With a few dollars and a dream, these outdoor enthusiasts launched a line of premium outdoor griddles in 2005. Today, they sell some of the finest outdoor griddles and accessories for the backyard chef to the trailside gourmet.
So, which of these best-selling models shall it be?
Our recommendations for Best Blackstone Grills and Griddles:
Why Blackstone Griddles Are Great
Blackstone has earned is reputation as the griddle company because they only focus in making the best flat top grills and griddles.
This strategy has clearly paid out as they control about 80% of the U.S. outdoor griddle market.
So why is everyone buying these griddles? What makes them so great?
Here are a few good reasons to get a Blackstone griddle:
Excellent value for money
Great cooking performance
Durable and easy to maintain
Various types of models available — large, small, standalone, tabletop, and combo units with grill, air fryer and more
Seems like focusing on griddles only has allowed them to perfect the design, quality, and overall user experience.
Do Blackstone griddles have any disadvantages?
Well, not really.
However, the griddle surfaces are made of cold rolled steel that needs to be seasoned before first use while some other brands offer pre-seasoned flat top grills that are ready to use out of the package.
But this is not a big deal, just season your new griddle with this griddle seasoning and conditioner and you're good to go!
If you are still wondering what the Blackstone griddles are all about, check out this short video and find out:
If you want to see how their products fare against another famous BBQ brand, read this article with a comparison of Pit Boss vs Blackstone Griddles.
7 Best Blackstone Griddles and Grills Reviewed
As mentioned earlier, Blackstone griddles come in all shapes and sizes and it might take some effort to find a model that fits your requirements.
Take a look at our recommended options below and choose the one that best suits your needs.
Best Overall: Blackstone 1984 Original 36-Inch Griddle Grill Station
Some products are tweaked for years before they're perfect. But Blackstone got it right the first time with their original 1984 griddle.
Their largest model, it boasts an enormous 768 square-inch cooktop on a rust-resistant, powder-coated frame. Four, independently controlled, stainless steel burners create flexible temperature zones for the ideal finish on foods from veggies to steaks and pancakes.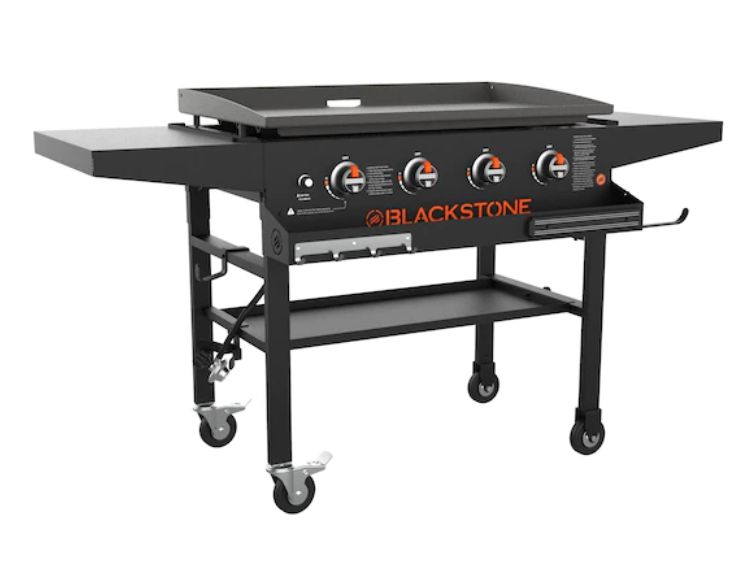 Specifications:
Fuel Type: Propane gas
Number of Burners: 4
Total BTU: 60,000
Cooking Area (sq.in): 768
Weight: 130 lbs
Build Materials: Painted steel, stainless steel, and cold-rolled steel
Dimensions: 62.5″ x 22″ x 36″ (W x D x H)
Warranty: 1 year
Intuitive to use, the Blackstone features two generous side shelves and a large lower shelf for supplies. Perks also include a paper towel holder, towel hooks and a magnetic strip to hold your tools.
The electronic ignition ensures an instant start while the 60,000 BTU output guarantees quick heating without burning through propane inefficiently.
You'll need to season the cooktop before your first meal, but once it's prepared, it cleans up in seconds with a quick scraping. You won't miss your kitchen.
Aesthetically, the Blackstone is simple — the plain black finish belies the grill's quality. At 130 pounds, it's designed for home use, but you can travel with it in a pinch.
Despite its weather-resistant construction, the grill should be covered when it rains. We wish one was included, but Blackstone's heavy-duty 1528 cover is a good fit and competitively priced. We recommend buying this affordable set that includes the grill cover and a basting cover.
There are higher-end griddles on the market, but you'll spend more and get less. A great value, the Blackstone delivers a budget-friendly, pro-level grilling experience.
If you want a similar model with hood, check out the Blackstone 1899 available on BBQGuys online store.
What We Love
Large cooking area
Excellent value for the money
Plenty of heating power
Easy to assemble
Cleaning is fast and effortless
What We Don't
Grill cover is not included
Best for Camping and RVs: Blackstone 1813 Original 22-Inch Tabletop Griddle with Hood
Space is no issue with Blackstone's 1813 Original tabletop griddle. A 22-inch, 38-pound powerhouse, it's the compact cooking solution you need on the road.
Among Blackstone's best sellers, this pint-sized griddle is second-to-none for performance and portability. A rare combination of quality and affordability, you won't be disappointed.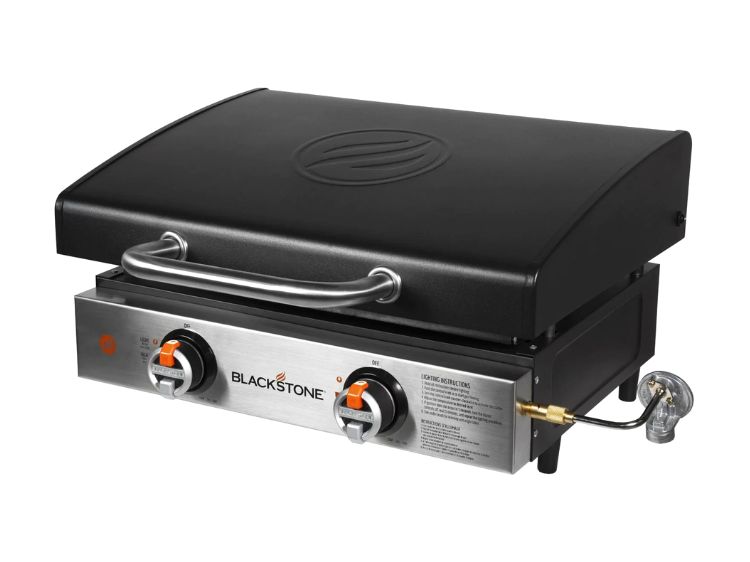 Specifications:
Fuel Type: Propane gas
Number of Burners: 2
Total BTU: 24,000
Cooking Area (sq.in): 362
Weight: 38 lbs
Build Materials: Painted steel, stainless steel, and cold-rolled steel
Dimensions: 23.6″ x 23.6″ x 13″ (W x D x H)
Warranty: 1 year
Despite its compact size, this griddle has a 362-square-inch cooktop that accommodates 12 burgers at a time. Made of the same top-quality steel as Blackstone's larger griddles, it cooks quickly and evenly over two independent burners.
Unlike similar models, it has a lid, so you have more versatility, and burgers and chops cook faster without drying out.
The matchless ignition system is welcomed in fire-prone areas where charcoal isn't. Campground-friendly, the lid and grease trap work together to prevent flare-ups.
And we like the reflective orange contrast on the temperature knobs for cooking in low-light situations. Pancakes at 5 am are delicious, but it's safety first.
Designed to work with handy 1-pound propane canisters, you can also connect it to a 20-pound tank with an adapter hose and regulator. Sold separately, it's a fuel saver for around $30.
What We Love
Compact and portable design
Large-enough cooking surface
Very easy to use and clean
Precise temperature control
Reliable ignition
What We Don't
Needs a separate adapter to fit 20 lb propane tanks
Premium Option: Blackstone 1963 Culinary Pro 28-Inch Griddle Station with Range Top
If you need a medium-sized but full-featured cooking station, look no further than Blackstone's 1963 Culinary Pro outdoor griddle with two range top side burners.
As well equipped as your kitchen, it transforms your outdoor living space.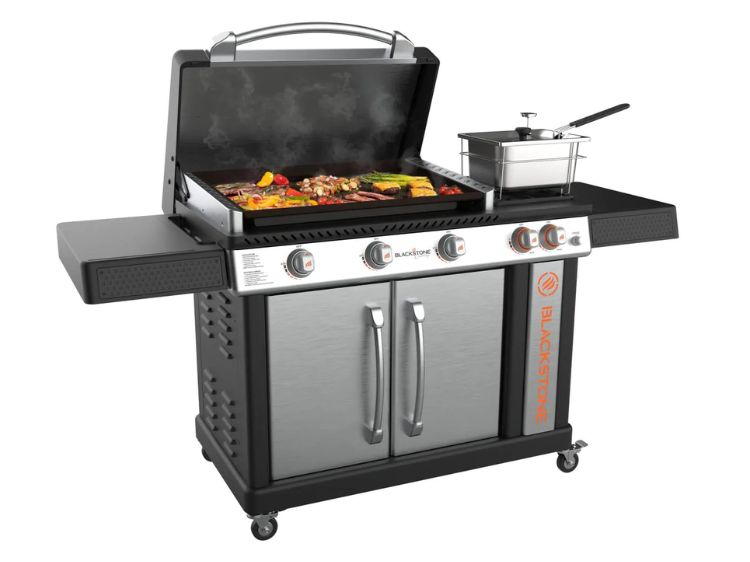 Specifications:
Fuel Type: Propane gas
Number of Burners: 3 (griddle) + 2 (range top)
Total BTU: 72,000
Griddle Cooking Area (sq.in): 613
Weight: 196 lbs
Build Materials: Painted steel, stainless steel, and cold-rolled steel
Dimensions: 68.19″ x 27.52″ x 41.42″ (W x D x H)
Warranty: 1 year
This cooking station has three independently controlled, stainless steel burners to power the ample 613 square-inch cooktop — total heat output on the griddle is 48,000 BTUs. And then there are the additional two range-top burners, one of which serves as a fryer basket.
You'll enjoy two expansive prep shelves and a culinary-style hood offering precision heat control. The patented grease management system keeps fat out of your food and contained for quick and easy cleanup.
Engineered for use with propane but convertible to natural gas, the tank is stored in a cabinet below the griddle. It's a tidy look that preserves its aesthetics and provides additional storage space.
The black-on-stainless design is universally appealing and usually found on high-end griddles twice its price.
If you're looking for a bargain, this isn't it. But how many cheap griddles can you grill, saute, boil and fry on?
A pleasure to use, it's an investment you won't regret.
What We Love
A complete cooking station with range top burners
Stylish and functional design
Excellent grease management system
Large enclosed cabinet for storage space
Has a lid to protect the cooking surface
Grill & Griddle Combo: Blackstone Tailgater Grill and Griddle Combo
Still can't decide between a grill and a griddle?
With Blackstone's Tailgater, you don't have to. Perfect for tailgating, camping, or even backyard use, it's one of Blackstone's most portable standalone models.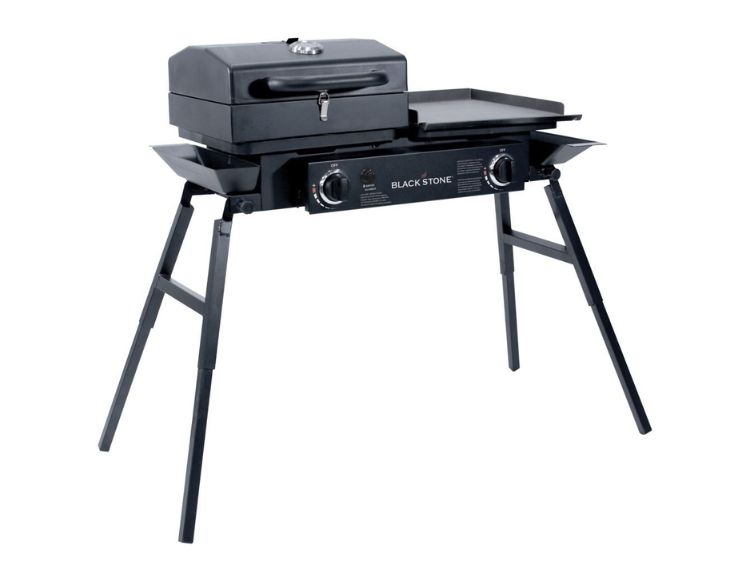 Specifications:
Fuel Type: Propane gas
Number of Burners: 2
Total BTU: 35,000
Total Cooking Area (sq.in): 477
Weight: 75 lbs
Build Materials: Painted steel, stainless steel, and cold-rolled steel
Dimensions: 52″ x 24″ x 38.5″ (W x D x H)
Warranty: 1 year
This two-in-one wonder combines a heavy-duty grill box and vented lid with a flat top griddle plate for a combined total of 477 square inches of cooking space. Two independent burners — one steel and one cast-iron — offer 35,000 total BTUs.
One great thing is that you can remove both the grill box and the griddle top and gain access to each burner. This allows you to use them as range top burners with pots and pans.
With folding legs, the Tailgater sets up in seconds and stays stable on uneven ground. Small but not compact, it strikes a balance between portability and function.
This is one of the best grill griddle combos on the market and Blackstone's most innovative and versatile design yet. It's a clever solution for the dedicated outdoor chef. Cook what you want, how you want, and where you want!
What We Love
Grill and griddle in the same unit
Portable design
Plenty of heating power
The legs can be adjusted separately
What We Don't
A bit heavy to carry around
Great 2-Burner Griddle: Blackstone Adventure Ready 28-Inch Griddle
Blackstone's Adventure Ready Griddle is among its most versatile. Larger than its tabletop version but smaller than the 36-inch griddle, it may be the just-right size you've been looking for.
Specifications:
Fuel Type: Propane gas
Number of Burners: 2
Total BTU: 34,000
Cooking Area (sq.in): 448
Weight: 78 lbs
Build Materials: Painted steel, stainless steel, and cold-rolled steel
Dimensions: 44.5″ x 19.5″ x 33.5″ (W x D x H)
Warranty: 1 year
A compact version of the original grill station, it provides 448 square inches of cooking space over two independent, stainless steel burners. Designed for 20-pound propane tanks, the total heat output is a surprising 34,000 BTUs.
Ideal for a small patio or tailgating, the legs fold up for transport once the bottom shelf has been removed. Light on bells and whistles, one side shelf was eliminated to reduce carrying weight, and the other doesn't fold.
At 78 pounds, it's not Blackstone's most portable design for camping, but what it lacks in convenience it makes up for in size and performance. Unlike flimsy charcoal grills, the sturdy two-wheeled frame keeps the griddle stable on uneven terrain.
No matter where you are, it's truly adventure-ready.
What We Love
Great for tailgating and backyard
Heats up fast end evenly
Sturdy and durable
Easy and fast to assemble
What We Don't
The bottom shelf needs to be removed before you can fold the legs
With Air Fryer: Blackstone 1962 28-Inch Griddle with Air Fryer
If you're like us, your air fryer takes center stage in the kitchen. So, why not double your fun with one of Blackstone's most sought-after models?
The pride of their Patio Collection, this 28-inch, two-burner griddle has a 4-quart air fryer and warming drawer. From now on, you can cook the French fries in your backyard or patio while searing steaks on the griddle!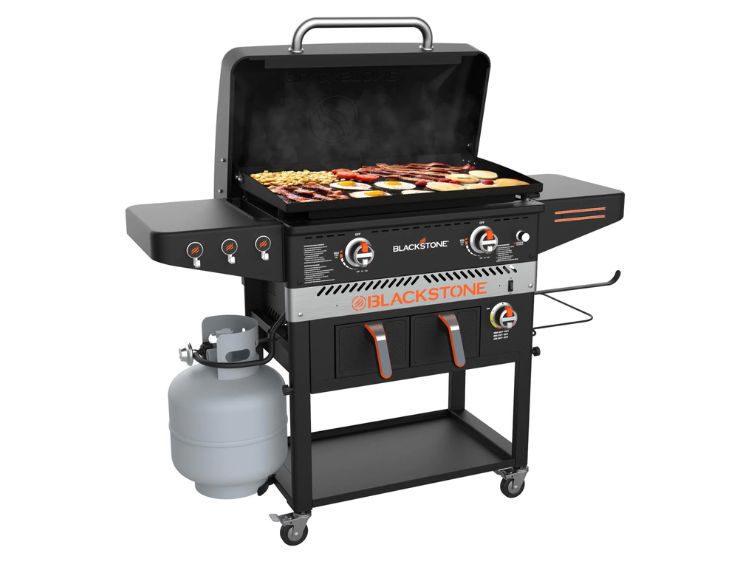 Specifications:
Fuel Type: Propane gas
Number of Burners: 2
Total BTU: 47,000
Griddle Cooking Area (sq.in): 524
Weight: 149 lbs
Build Materials: Painted steel, stainless steel, and cold-rolled steel
Dimensions: 54.5″ x 25.5″ x 45″ (W x D x H)
Warranty: 1 year
This cooking station is great for preparing almost any kind of food you can imagine.
Whip up steaks, veggies, and burgers on the 517 square-inch, 34,000 BTU cooktop while cooking other dishes in the air fryer. At the same time, you can use the warming basket for buns.
With two prep shelves, magnetic tool holders, a paper towel holder and a garbage bag stand, you're ready to take on the world.
A propane-powered backyard grill, it moves smoothly on four swivel casters but isn't portable at 150 pounds. But with a grill station like this, who wants to leave home?
What We Love
Versatile cooking station
Large griddle surface
Includes and air fryer and warming basket
Spacious side shelves
Integrated tool, paper towel, and garbage bag holders
What We Don't
The propane tank is on plain sight
Budget Pick: Blackstone 1971 Original 17-Inch Portable Tabletop Griddle
Why settle for a cheap grill when you can get a great griddle for cheap with Blackstone's 1971 Original tabletop griddle?
A basic option for outdoor enthusiasts who value function over frills, it's all that you really need to cook for 2 to 4 people.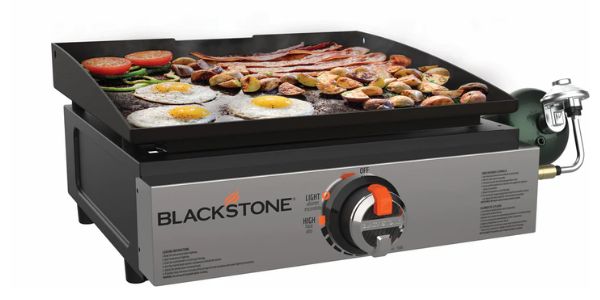 Specifications:
Fuel Type: Propane gas
Number of Burners: 1
Total BTU: 12,500
Cooking Area (sq.in): 267
Weight: 17 lbs
Build Materials: Painted steel, stainless steel, and cold-rolled steel
Dimensions: 17.32″ x 21.71″ x 8.62″ (W x D x H)
Warranty: 1 year
A single 12,500 BTU burner powers the 267 square-inch cooktop on 1-pound propane canisters. It grills nine burgers or four burgers plus hash browns.
Perfect for campers and small spaces, it's available with or without a hood, weighing just 17 pounds without.
The lightest and most compact griddle Blackstone makes, it's constructed of the same durable materials as full-sized models. You'll pay less, but you're not compromising an inch on quality.
What We Love
Affordable
Compact and very lightweight
Great cooking performance
Ready to use in a matter of seconds
What We Don't
Relatively small cooking area
Best Blackstone Griddle for Indoors: 22-Inch Blackstone Electric Tabletop Griddle
Regular Blackstone gas griddles shouldn't be used indoors unless you have a powerful ventilation hood and a dedicated cooking area made with durable and fire-safe materials.
So here is a Blackstone griddle that you can also use in the kitchen if the weather is cold or rainy.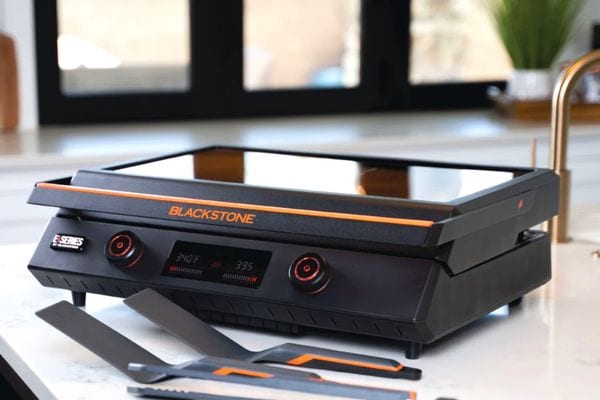 This electric tabletop griddle is lightweight and compact but still has a large 358-square-inch cooktop surface perfect for cooking breakfast, lunch, or dinner for the whole family. It has 1200 watts of power and easy temperature control. The ceramic-coated non-stick surface doesn't require any seasoning and makes cooking and cleaning easy.
The glass hood is convenient when cooking larger food items and reduces the mess in your kitchen area. This griddle is also small enough to be stored in the cupboard when you don't use it.
Specifications:
Wattage: 1200
Cooking Area (sq.in): 358
Weight: 26 lbs
Build Materials: Painted steel, tempered glass, and non-stick griddle surface
Dimensions: 21.6″ x 20″ x 8.8″ (W x D x H)
Warranty: 1 year
What We Love
Can be used indoors and outdoors
Lightweight and portable
Easy to use and clean
The glass hood reduces mess and traps heat
The grease cup can be washed in the dishwasher
What We Don't
Not as powerful as the gas griddles
How to Choose the Best Blackstone Griddle for Your Needs
Here are the main things to condiser before buying your new Blackstone flat top grill:
Surface Size
How many people you can feed in one sitting comes down to the size of your griddle's cooking area.
We suggest allowing at least 100 square inches per person. This means that a 450-650 square-inch model is ideal for most families, but we recommend sizing up if weight and portability aren't a problem.
When friends or family are over, the extra space comes in handy. Sure, the kids can eat in shifts. But with an expansive cooktop, everyone can sit down for a hot meal together.
Blackstone has a great selection of different sizes of flat top grills.
The smallest one — their original 17-inch tabletop model — offers a 267 square inch cooking surface while the 36-inch cook station has a whopping 768 square inches of cooking real estate.
Burners and Heating Power
Grilling power is noted in British Thermal Units (BTU), but it's not the whole story. More of an efficiency rating, BTUs don't necessarily reflect how hot your grill can get.
In general, higher-BTU grills have the potential to get hotter, but airflow and how well the cooking surface distributes heat also impact performance.
Even low-BTU grills may achieve temperatures exceeding 600 °F, yet most foods are grilled between 350 °F and 400 °F. So, don't make BTU rating your primary consideration.
The number of burners is more likely to affect your satisfaction with a grill.
Blackstone models have stainless steel burners that are independently controlled, allowing you to establish different heat zones.
Sear steaks on high over one and sauté onions on low over another. The more burners a grill has, the greater the variety of foods you can cook on it simultaneously.
Cleaning and Maintenance
Flat top grills are easier to clean than grills, but both are a breeze to maintain if the surfaces are properly prepared.
The trick is to season them with oil. All of Blackstone's grills and griddles develop a smooth, non-stick patina with a few treatments. And each has a grease management system mounted in the rear of the grill for catching spills and preventing flare-ups.
To clean your griddle, turn the burners on high and sprinkle on some olive oil while using a scrape to push bits of food into the grease trap. If crusts remain, spray water on the surface, and they'll loosen as the steam evaporates.
Design and Appearance
Blackstone makes both portable and backyard griddles.
The largest models are designed for a permanent place on your deck or patio. They are heavy, but some of them can be broken down for a road trip.
For outdoor adventures, we recommend a lighter-weight option. Choices include tabletop grills you can set up on a tailgate or stand-alone models with a collapsible frame.
All have an aesthetically sleek black or black-on-steel design. The knobs on some models have high-visibility orange trim for those early tent-side breakfasts.
Portability
Blackstone's tabletop griddles weigh under 40 pounds and are small enough to slip into a car trunk. Mid-sized models with frames are heftier at 70 to 80 pounds and will fit better in small SUVs and trucks.
Technically portable, breaking down backyard grills for transport requires two strong people, a screwdriver and patience — they weigh up to 200 pounds.
For tailgating, both tabletop and mid-size griddles are good options.
But for campers, ask yourself which model you would rather walk a half-mile to a campsite with?
Versatility and Features
Outdoor cooking is fun but it's also a hassle without the tools and equipment you're used to.
Luckily, Blackstone griddles offer kitchen convenience with a wide range of accessories and features that work together seamlessly.
Go minimalist with a tabletop griddle or choose a large cooktop for your patio with a range burner or an air fryer. Tailgaters should explore the ultra-flexible grill and griddle combo — it's the ultimate in versatility.
Cooking stations come with side shelves plus handy hooks to hang your towels and spatulas on. And all Blackstone grills are equipped with matchless ignition systems.
They've thought of everything so that you don't have to.
You can also take a look at our comparison of Blackstone and Member's Mark griddles for more options to consider.
Blackstone Flat Top Grill and Griddle FAQ
How to clean a Blackstone griddle after cooking?
While the griddle is still warm, you can use a scraper to carefully scrape off all the leftover food and push it to the grease trap. Removing the food debris from warm griddle is easier but be careful not to burn your hands.
If some food is stuck on the griddle surface, you can squirt some warm water on it to help with removing it.
Next, wipe the surface clean with a paper or dishcloth. Make sure the surface is clean and dry.
Finally apply a this coating of oil or Blackstone Griddle Seasoning and Conditioner.
What is the largest Blackstone griddle?
The Blackstone 1984 Original 36-Inch Griddle Station reviewed earlier in this guide has the largest griddle surface at 768 square inches.
However, the Blackstone 1963 Culinary Pro 28-Inch Griddle Station also reviewed above is an even larger unit. The griddle surface is a bit smaller but it comes with two range top burners.
What is the best oil to season a Blackstone griddle?
Blackstone Griddle Seasoning & Cast Iron Conditioner is our recommended option but you can also use canola, flax seed, or olive oil for seasoning a Blackstone griddle.