Great outdoor cooking doesn't start with secret sauces — it begins with having the right tools, starting with a propane griddle. As versatile as a kitchen full of appliances, they're the hassle-free way to fuel your summer feasts without charcoal, matches, or messes.
Pit Boss and Blackstone — the titans of the industry — make the best outdoor griddles money can buy. Large or portable, they have you covered.
But which models have the design, durability, and features that make a good grilling experience great? Let's find out!
Summary of Pit Boss vs Blackstone griddles:
Take a look at the infographic below for a quick comparison of these two brands: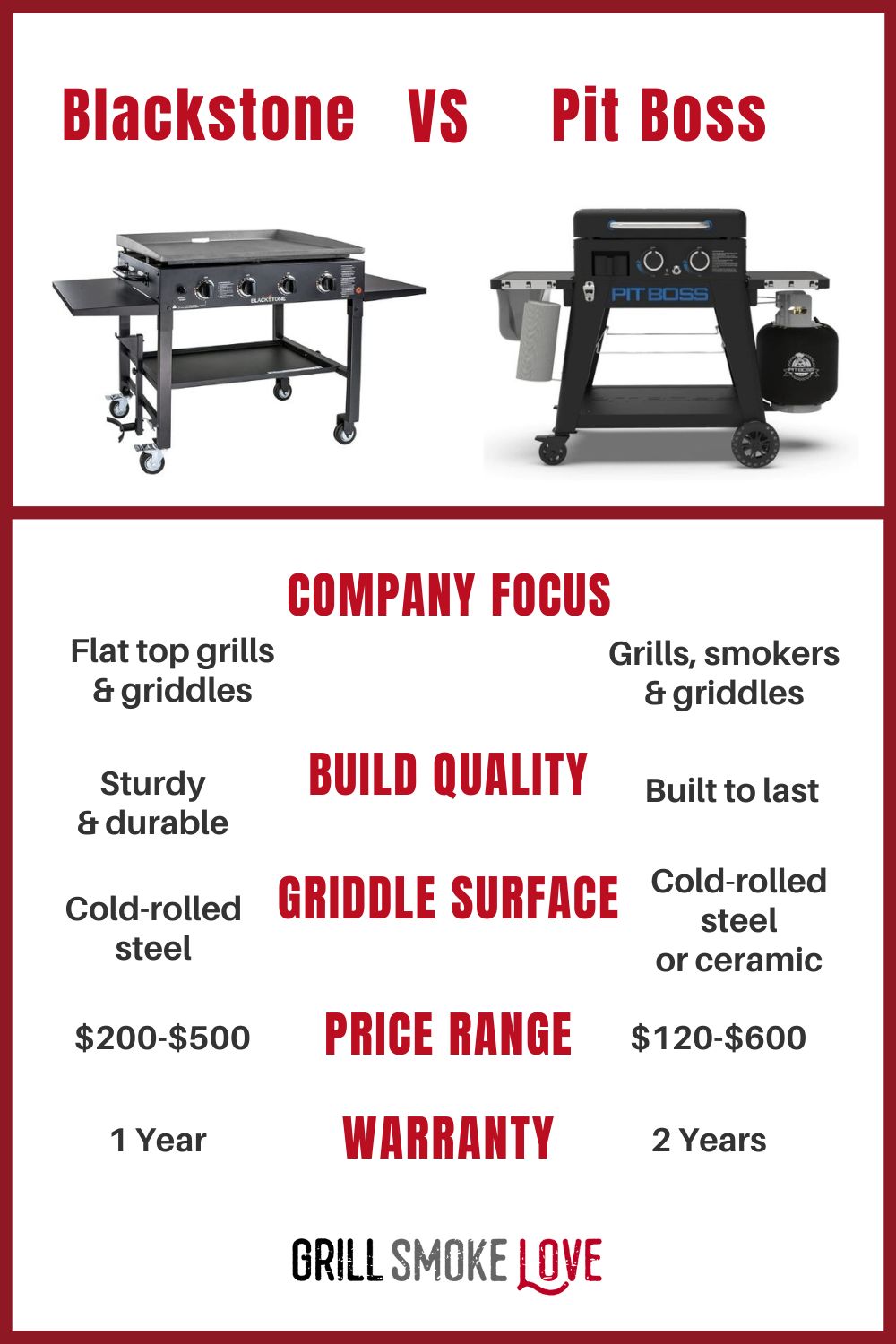 Pit Boss – Grills, Smokers and More!
Pit Boss is a big brand known for their excellent products ranging from gas, charcoal, and pellet grills, to outdoor griddles and accessories. The company also offers a wide range of barbecue sauces and rubs.
Although the company is not especially focused on griddles and flat top grills, they provide a nice selection with great overall quality.
Pit Boss griddles come in four different types. They have the typical, large standalone griddles, the innovative and portable Ultimate griddles, and the compact Sportsman griddles for outdoor adventures.
In addition, they have the regular portable tabletop griddle with no extra gimmicks.
Blackstone – The Griddle Company
Blackstone can be considered the griddle company because they only make flat top grills and griddles.
Their goal is to make versatile outdoor cooking appliances for an affordable price — and their griddles certainly fulfill this purpose. The brand has succeeded so well that they retain 80% of the U.S. outdoor griddle market.
Blackstone griddles come in various sizes ranging from one-burner tabletop models to portable standalone units and full-sized backyard flat top grills. All of their products are designed and engineered in the US.
So maybe you are thinking — what's all the fuzz about Blackstone? Why is everyone buying these griddles?
Check out this short video that summarizes the essence of Blackstone griddles and find out:
The success story of Blackstone continues, and I don't wonder why — focusing on one type of product has allowed them to perfect the design, quality, and cooking performance.
Take a look at the comparison of Blackstone vs Member's Mark griddles for another interesting battle of brands.
Blackstone vs Pit Boss: Griddle Comparisons
Now it's time to compare these two brands toe-to-toe on different griddle categories from full-size and portable standalone units to compact tabletop models.
Large Flat Top Grills: Blackstone 1154 vs. Pit Boss 10762
Both brands have excellent full-size griddles in their selection. These units are great for cooking big amounts of food and hosting a brunch or barbecue feast in your backyard.
Comparing these griddles is tough because both of them offer a large griddle surface and excellent cooking performance. Feature-packed, they're neck and neck.
Our recommendation for a full-sized flat top grill is the Blackstone 4-burner outdoor griddle.
It's a tough battle but the Blackstone costs about 25-percent less than the Pit Boss — that's enough to splurge on a batch of top-quality steaks. Let your budget decide.
The Pit Boss isn't a bad choice either. What makes it especially attractive is the two-year warranty compared to only one year on the Blackstone.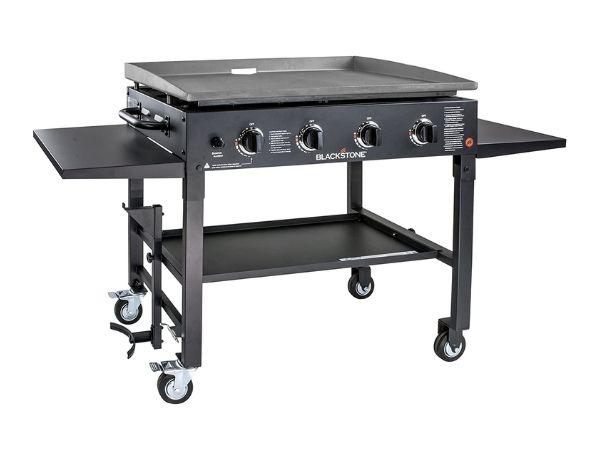 Blackstone 1554
Cooking Area: 720 sq.in
Number of Burners: 4
Total BTUs: 60,000
Weight: 120 lbs
Warranty: 1 year
---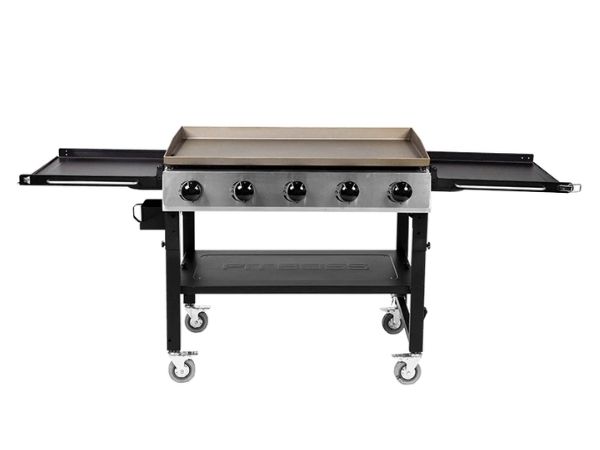 Pit Boss 10762
Cooking Area: 753 sq.in
Number of Burners: 5
Total BTUs: 62,000
Weight: 130 lbs
Warranty: 2 years
Design and Build Quality
The materials a griddle is made of can make or break its performance and durability. If you want your grill to last outdoors, look for high-quality steel construction.
In this category, both the Blackstone and the Pit Boss shine with their heavy-duty steel cooktops, powder-coated rust-resistant frames, and stainless steel burners.
Smartly designed, both models feature dual shelves — a must-have feature to hold food and grilling accessories — but the Blackstone's don't fold down. Sturdier, they're removable with effort, but we prefer the Pit Boss's folding design.
And Pit Boss has finally upgraded their grease management system to a side-mounted trap that's more accessible than the Blackstone's rear-mounted version if your griddle is stationed against a wall.
Cooking Area and Heat Control
Pit Boss edges out Blackstone for cooking surface area by 33 square inches. It's not a lot, but it can be the difference between everyone eating together for breakfast and someone having to wait when you're feeding a crew.
The Pit Boss features five independent burners for quick heat-up and precision zone control. The Blackstone only has four, but each puts out a blazing 15,000 BTUs. Combined, that's only 2000 BTUs less than the Pit Boss with one less burner.
Temperature control is superb for both grills with even, side-to-side heating — not an inch of the cooking area is wasted.
Ease of Use and Maintenance
A breeze to use, both griddles fire up immediately with match-free ignition systems. The Blackstone has a slightly thicker cooktop and retains heat like a champ, a plus for high-heat searing and stir-frys.
Cooktops on both models are advertised as non-stick, but both require seasoning to develop a non-stick surface. Clean-up and maintenance are effortless once the cooktops are properly prepared.
Portability
Designed for backyard use, neither of these griddles is portable.
The Blackstone weighs less, but the Pit Boss is easier to maneuver around your patio with four swiveling casters. Two wheels on the Blackstone are stationary.
If you are looking for a more portable unit, check out the comparison below.
Portable Standalone Griddles: Blackstone Adventure-Ready vs. Pit Boss Ultimate
If you want at-home cooking capability for your next outdoor adventure, look no further than the Blackstone Adventure Ready or the Pit Boss Ultimate 2-Burner Griddle. Road-worthy competitors, they offer the portability and function you need.
Our recommendation for a portable standalone griddle is the Blackstone Adventure-Ready.
At half the cost compared to the Pit Boss, the Adventure-Ready is a pint-sized version of their backyard griddle. It lacks the wow factor of the Pit Boss, but it's a good compromise between portability and everyday use in small spaces.
However, if you are ready to spend more, consider getting the Pit Boss Ultimate instead.
Aesthetically and functionally, the Pit Boss lives up to its name. It's the "ultimate" in portable cooking luxury, but it's pricey and a little underpowered for regular home use. It's also almost twice as heavy as the Blackstone.
Pit Boss Ultimate is also available in bigger sizes with up to 5 burners.
Blackstone Adventure Ready
Cooking Area: 448 sq.in
Number of Burners: 2
Total BTUs: 34,000
Weight: 66 lbs
Warranty: 1 year
---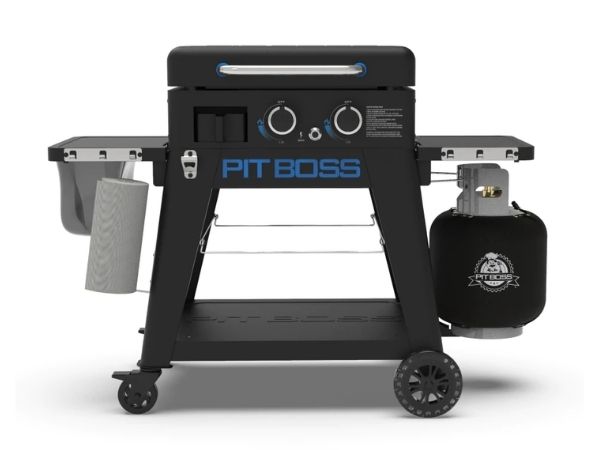 Pit Boss Ultimate
Cooking Area: 433 sq.in
Number of Burners: 2
Total BTUs: 26,000
Weight: 110 lbs
Warranty: 2 years
Design and Build Quality
The build quality of these griddles is equivalent. Sturdy, frames are made of durable, rust-resistant steel. Each assembles in minutes and boasts an expansive cooktop.
But that's where the similarities end, so let's examine the differences.
The Adventure-Ready grill is basic and budget-friendly. The cooktop is made of cold-rolled steel, the same tried-and-true material used in their larger models.
Pit Boss opted for an armored ceramic cooking surface. Is it durable?
Only time will tell. Slick, it requires no seasoning and cleans ups like new with nothing more than a paper towel.
Speaking of paper towels, the Pit Boss Ultimate is as functional as your kitchen with a paper towel holder, built-in tool hooks, bottle opener, and trash bag holder. Two folding side shelves are the icing on the cake.
Light on bells and whistles, the Blackstone offers a single shelf that requires a screwdriver to remove.
Cooking Area and Heat Control
Both griddles feature two powerful burners, but Blackstone's Adventure-Ready puts out a whopping 34,000 BTUs. The Pit Boss lags behind with 26,000.
However, the Pit Boss is equipped with a lid for smoke control and fuel efficiency.
Ease of Use and Maintenance
Grease management systems are comparable, but Blackstone's ignition system requires a battery.
Portability
The legs fold flat on both models for quick and easy transport. Frames are solid, but the Blackstone weighs over 40 pounds less. This really makes a difference if you have to carry the griddle even for a short distance.
Only the Pit Boss, however, has a lift-top griddle. Place it on the frame or use it on a tabletop — the choice is yours.
We also like the four-wheeled frame on the Pit Boss. Easy to move, it beats Blackstone's two-wheeled design.
Tabletop Griddles: Blackstone 1813 vs. Pit Boss PB336GS
If you don't want to invest in a large and expensive flat top grill and can manage with a cooking surface that is a bit smaller, the tabletop options below might be a perfect alternative.
These griddles are compact and lightweight but still provide great versatility and cooking performance like their larger cousins.
Our top pick is the convenient and user-friendly Blackstone 1813 tabletop griddle.
It has a decent-sized cooking area and comes with a hood that makes it very versatile and protects the griddle surface while you are not using it.
The Pit Boss PB336GS is not a bad choice either — although it's smaller and has less heating power.
The biggest difference between the two griddles is price. At 40 percent less than the Blackstone, the Pit Boss is a good entry-level choice for the casual griller. The Blackstone is an investment purchase for committed campers.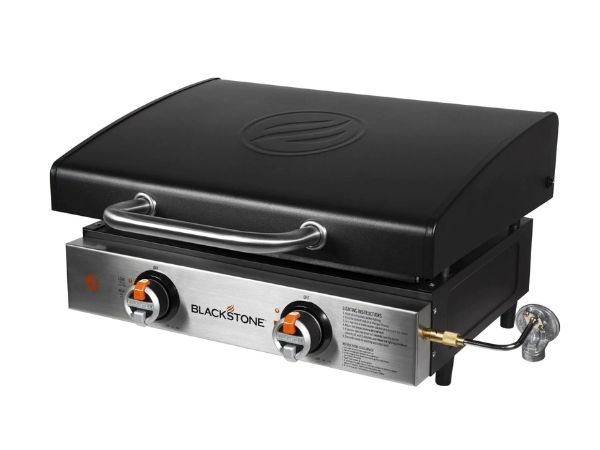 Blackstone 1813
Cooking Area: 362 sq.in
Number of Burners: 2
Total BTUs: 24,000
Weight: 38 lbs
Warranty: 1 year
---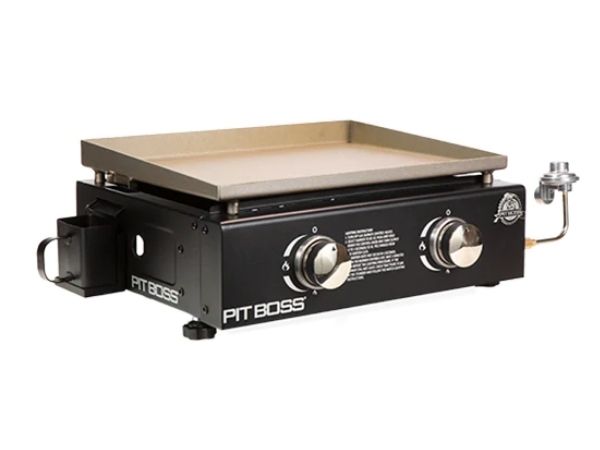 Pit Boss PB336GS
Cooking Area: 289 sq.in
Number of Burners: 2
Total BTUs: 18,000
Weight: 24 lbs
Warranty: 2 years
Design and Build Quality
A powerhouse, the Blackstone offers 24,000 BTUs of cooking power over two, independently controlled burners. The Pit Boss is a capable but underwhelming griddle with just 18,000.
Both feature solid matchless ignition and grease management systems.
Cooking Area and Heat Control
Blackstone turns the tables on Pit Boss with its original tabletop griddle. What its portable standalone griddle lacked in features, this model makes up for beginning with its massive 362 square-inch steel cooktop compared to the Pit Boss's 289-inch surface.
The Blackstone has a removable, lift-top lid and sides that are a little taller in the back than the Pit Boss. If your pancake-flipping skills aren't what they should be, the design helps prevent mishaps.
Build quality on both units is sound, but we prefer the exterior finish on the Blackstone. Powder-coated, it's chip and rust-resistant. The painted finish on the Pit Boss is more vulnerable to dings and scratches.
Ease of Use and Maintenance
Not to be outdone, the Pit Boss has several advantages for some buyers. Space-saving, its footprint is 25 percent smaller than the Blackstone's, and it's 10 pounds lighter.
If you're cooking for two, why waste storage space or lug the extra weight?
The Pit Boss also comes pre-seasoned. You'll need an hour or so to prepare the Blackstone's cooktop, but it's once and done. Both models clean up in seconds.
Portability
Both units are compact and light enough so you can easily put them in your car trunk and bring them along on your next tailgate party or outdoor adventure.
Pit Boss vs Blackstone Griddles – Final Thoughts
Despite the fact that we chose Blackstone as the winner in each category, it doesn't mean that the Pit Boss griddles are a bad choice.
It's just that Blackstone has such a laser focus on the griddle game that they can offer more consistent quality and better value for money. But ultimately the choice is a matter of personal preference and available budget.
Whichever brand you choose, I hope that you found my review of these two brands useful.
Enjoy your outdoor cooking!
If you are looking for more brand comparisons, check out this article with the battle of Camp Chef vs Blackstone griddles.