Winter is coming, with its long nights and cold days. Worst of all, your grill will be tucked away, under a cover, or in the garage, not to see the light of day until spring.
But does it have to be that way? Are you relegated to soggy stews and disappointing oven roasts?
Not at all, dear pitmaster – there is another way.
Have you considered buying a smokeless electric grill?
The newest models reviewed in this guide are safe to use indoors and get hot enough for searing.
In addition, they don't run out of fuel and are compact enough to be stored in your kitchen cabinet.
Our recommendations for Best Smokeless Indoor Grill:
Why Electric Indoor Grills Are Becoming So Popular?
Grilling means a lot of different things to different people. There is general satisfaction that comes from grilling outdoors and cooking your food over an open fire. A charcoal grill is the purists' way and gas is an excellent option for many of us.
But there's a new class of grill taking over, the kind that plugs into an outlet. For some barbecuers, they're an exciting option.
There are many reasons you might want an electric grill:
Use Indoors or Outdoors: The biggest reason to get an electric grill is that they are the only safe option to use indoors. That makes them a great everyday solution for cooking steaks or burgers, and it means you can enjoy the great taste of grilled food year-round.
While the garden BBQ is tucked up during this winter's worst snowstorm, you can be enjoying steaks and veggies from your indoor smokeless grill.
There are other advantages, too:
Price and Size: Electric indoor grills are inexpensive to purchase, small in size, and cheaper to operate since you don't have to track down propane tanks.
Quick and Easy: They turn on quickly and get you cooking in no time. And when you're done, most of them have easy-to-clean grates, some of which can go straight into the dishwasher.
Great for Balconies and Patios: In places like apartments or condos that ban gas grills, an electric unit can be the perfect solution – even on balconies or patios.
Best Smokeless Indoor Grills Reviewed
Next, let's take a closer look at our top picks for the best smokeless electric grills for indoor use.
Best Overall: Cusimax 1500W Smokeless Electric Indoor Grill
Cusimax's countertop grill is an indoor cooking powerhouse. It's got excellent temperature control anywhere from 200 to 450 degrees, and the non-stick cooking grate is the perfect size to do anything you want.
This affordable grill can do it all, from low-temperature items like fish or bacon to powerful sears on steaks and burgers. What makes the Cusimax even more versatile is the additional griddle plate that is included.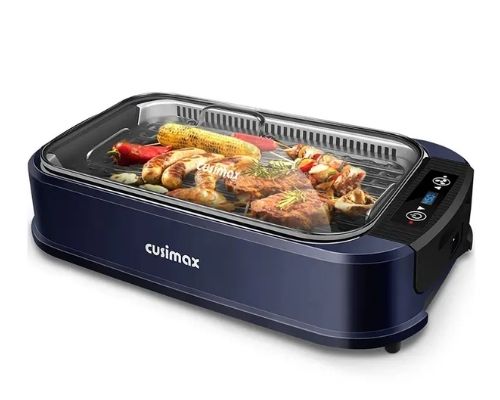 Specifications:
Wattage: 1,500
Cooking Area: 135 sq.in.
Weight: 11 lbs
Materials: Nonstick cooking surface
Dimensions: 19.69″ x 11.81″ x 5.12″ (L x W x H)
The grill is well-designed and almost completely smokeless. An inner fan keeps the air flowing to reduce smoke, and the tempered glass lid keeps all messes contained.
Check out this short video and see the grill in action:
One of the best things about this grill is that it's very easy to clean. The glass lid, heating plates, and heat reflector are dishwasher safe.
The entire unit measures about 20 by 12 by 5 inches and weighs less than 11 pounds. It easily tucks into most cabinets for storage, or it could look great on the counter if you use it often.
This Cusimax grill is available in different colors and comes with a 180-days worry-free return policy.
What We Love
Produces very little smoke
Great value for money
Precise temperature control
Comes with both grill and griddle plates
Gets hot enough for searing
Compact size
Lid, heating plates, and heat reflector are dishwasher safe
What We Don't
The instruction manual could be more clear
Most Versatile: Ninja AG301 Foodi Indoor Electric Grill
This Ninja multi-cooker offers a lot of great cooking options. Not only is it an indoor grill, but it also can roast, bake, air fry, and even dehydrate. That makes it significantly different than the other grills on our list, most of which are only grills.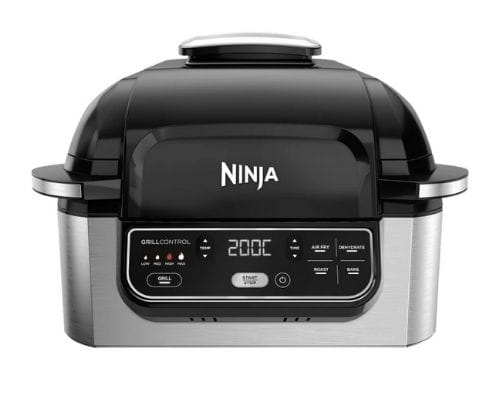 Specifications:
Wattage: 1,760
Grilling Area: 100 sq.in.
Crisper basket: 4 (qt)
Cooking pot: 6 (qt)
Weight: 14.5 lbs
Materials: Stainless steel, nonstick cooking surfaces
Dimensions: 17″ x 14″ x 11″ (L x W x H)
In addition to its versatility, one of the best things about Ninja is the digital control panel. It offers a variety of options but is still easy to use.
This grill has a multi-purpose base that contains a cooking pot, which can be used in conjunction with the included crisper basket or grill pan. The ceramic-coated roasting pan holds 6 quarts (5.6 L), and the crisper basket holds 4 (3.7 L).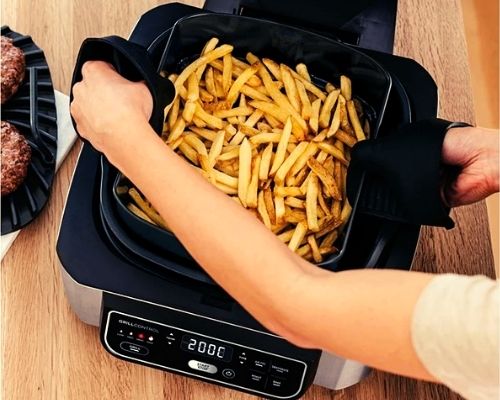 Since it's multifunctional, the actual grill area is pretty small, with a cooking grate measuring only 10 by 10 inches. The unit is powerful at 1,760 watts, though, and the grill can get up to 500 degrees Fahrenheit.
All of the parts of the Ninja Foodi Grill disassemble for easy cleanup. The grate is ceramic coated, as are the crisper basket and cooking pot. It comes with a special cleaning brush and a custom recipe booklet, too.
The Ninja might not be the best choice if you're looking for a single-purpose grill (see Cusimax above). But if you want an air fryer and an electric roaster too, then it's a great option.
Its versatility and innovative technology provide a great cooking experience and make it one of our top picks!
What We Love
Very versatile
The grill is truly smokeless
Easy-to-use digital controls
Heats up to 500°F
Gets hot fast
Great innovative design
What We Don't
The grilling surface could be a bit bigger
Best Premium Option: Kenyon Floridian Portable Stainless Steel Electric Grill
While some indoor grills look like glorified versions of grandma's electric frying pan, Kenyon makes some head-turning stainless options.
The Floridian is a gorgeous tabletop grill that can reach over 600 degrees in ten minutes, thanks to its 1,300-watt heating element. It can be used inside the house and outdoors. Both the lid and the grate are dishwasher safe.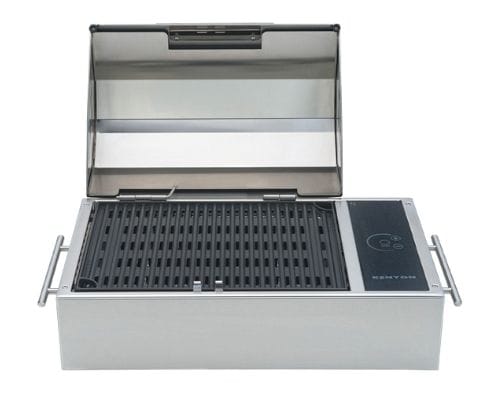 Specifications:
Wattage: 1,300
Cooking Area: 155 sq.in.
Weight: 38 lbs
Materials: 304 stainless steel, nonstick cooking surface
Dimensions: 21″ x 12″ x 9″ (L x W x H)
If you're looking for a grilling experience as close as possible to your backyard propane grill, this is it. It's the perfect solution to city-life grilling.
The grill has convenient carry handles so it's easy to move it around the house or take it along for a trip.
You can also use it without a table. Just get a free-standing cart sold separately.
What We Love
Heats up to 600°F in 10 minutes
Durable materials
Sleek design
Great for cooking steaks and burgers
Very easy to clean
Comes with a 3-year warranty
Budget Pick: Hamilton Beach Electric Indoor Searing Grill
Is your budget a little tight? Or maybe you aren't entirely sold on the idea of an electric grill?
This Hamilton Beach indoor grill is perfect for trying it out.
The unit is affordable and compact. But make no mistake, this grill is just as capable as some of the more expensive options, with high searing temperatures up to 450 degrees and a 118 square-inch cooking grate.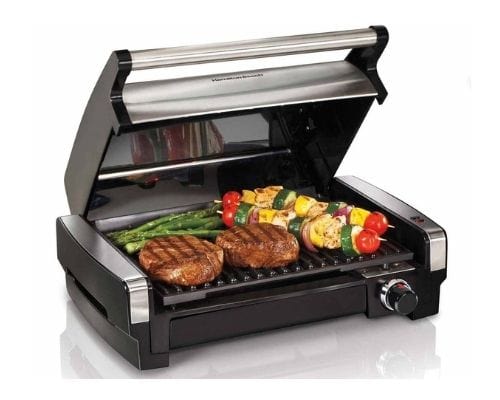 Specifications:
Wattage: 1,200
Cooking Area: 118 sq.in.
Weight: 8.14 lbs
Materials: Stainless steel, nonstick cooking surface
Dimensions: 12.4″ x 16.73″ x 6.81″ (L x W x H)
Clean up of the Hamilton Beach is also very easy, with an extra-large removable drip tray. The hood, grate, and drip pan are all removable and dishwasher safe.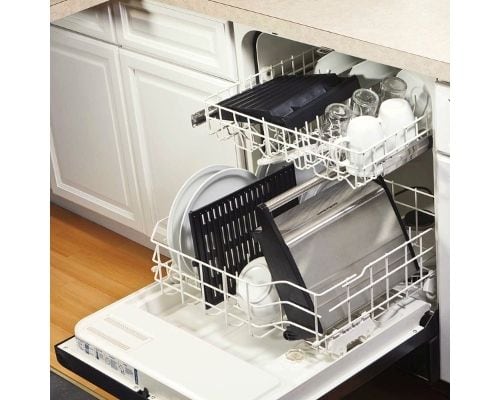 The grill is very easy and simple to use. Just turn the temperature dial anywhere between 200°F and 450°F and wait for the green light that indicates the grill has reached your selected temperature.
The Hamilton Beach electric grill is a convenient countertop size, and the stainless and black design will look sharp in your kitchen, too.
What We Love
Simple and efficient design
Affordable
Compact and portable
Fast and easy to clean
What We Don't
Relatively small grilling area
The power cord is a bit short
Best Stand-Alone Option: George Foreman Indoor/Outdoor Electric Grill
Most of these grills are tabletop units, but this George Foreman grill is built as a stand-alone.
Its single-leg pedestal stand breaks down for easy storage, and it's just the right size for small patios or balconies.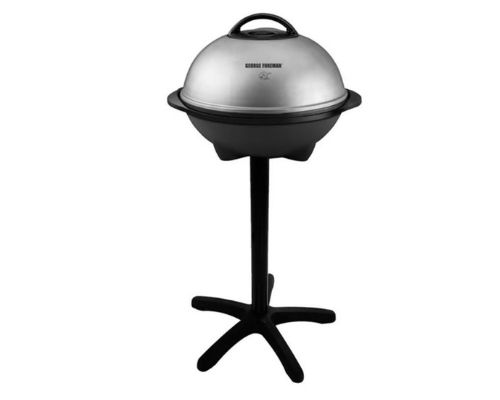 Specifications:
Wattage: 1,600
Cooking Area: 240 sq.in.
Weight: 21 lbs
Materials: Metal with nonstick cooking surface
Dimensions (without stand): 22.2″ x 20.5″ x 13″ (L x W x H)
The George Foreman is a large grill, with 240 square inches of cooking space on a circular grate. It looks like an old-school kettle grill, which has always been the best design from a heat distribution standpoint.
The grate comes off for super easy cleaning and is made of super-tough non-stick. If you want to cook for bigger groups, give the George Foreman a go. But keep in mind, its larger size will mean a little less power for searing and high-heat cooking.
The stand can also be removed, so you can use it inside on rainy days or put it on a picnic table.
What We Love
Large grilling surface
Great for indoors, balconies, and backyards
Comes with a removable stand
Easy to clean
What We Don't
The cord could be a bit longer
Best Indoor Grill with Rotisserie: ChefWave Sosaku Smokeless 5-in-1 Infrared BBQ Grill
A lot of these indoor grills are pretty small with slim profiles. They work fine for chicken breasts, steaks, or burgers, but what if you want to cook something thicker?
As with traditional grills, the best way to cook whole birds and large hunks of meat is by using a rotisserie. The ChefWave Indoor Grill uses infrared heating elements to heat the cooking area from 150 to 450 degrees Fahrenheit.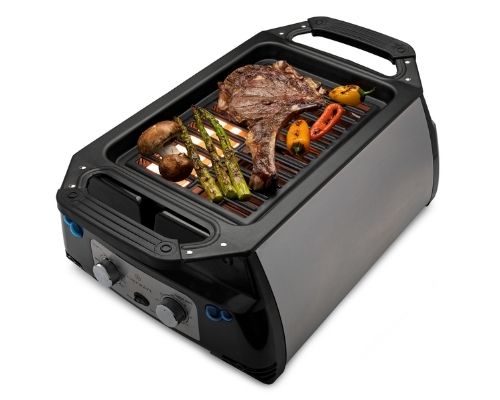 Specifications:
Wattage: 1,780
Cooking Area: 117 sq.in.
Weight: 13.2 lbs
Materials: Stainless Steel, nonstick cooking surface
Dimensions: 18.9" x 14.2" x 7.9″ (L x W x H)
The grill rack on this unit comes off and can be replaced with any of the included accessories, including the two-skewer rotisserie rack, seven-skewer kabob set, fish rack, or fry cage.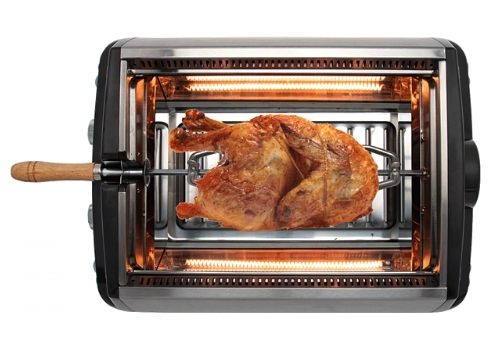 The grill features a stainless drip pan that comes out for easy cleaning. With a total of 1,780 watts of power and infrared burners, this is one of the hottest grills on the market.
The innovative design has some great features that allow it to compete with air fryers and other roasters. Even if you don't think you'd use the rotisserie very often, it's worth a look.
Keep in mind, however, that the design makes this grill harder to keep clean. Some splatter and drippings will get near the burners and on the inside of the appliance.
What We Love
Great for roasts, kebabs, and whole chickens
Plenty of heating power
Versatile
Durable stainless steel body
What We Don't
Cleaning the grill takes some effort
Buyer's Guide for Smokeless Electric Indoor Grill
When you're making the jump into getting an electric grill for indoor cooking, there are a few things you should look out for.
Smokeless Operation
If you want to use the grill inside, make sure it's rated for indoor use. The primary thing you want these grills to have is a smoke management system.
Grates: Outdoor grills use open grates and flame cooking, which allows drippings to burn and char. Indoor grills have closed grates that drain drippings away, keeping them from flaring up.
Fans and Drip Pans: There are several different techniques to keep the smoke to a minimum. Some designs incorporate fans with cooling airflow. Others use a drip pan filled with water. The goal of all of them is to keep grease off the heating elements.
Regardless of the type of indoor grill you choose, realize that none of them are entirely smokeless. There will always be little charred bits and some wisps of smoke. It's more like cooking on a griddle than cooking on a barbeque.
Easy Cleanup
One of the most significant advantages of indoor grills is that they are easy to clean.
Grease Management: Since indoor grills are designed to capture and drain away drippings, there should be a proper grease management system built in.
Dishwasher Safe: Many electric grills have grates and other components that can go right into the dishwasher. Even if they are hand-wash only, they should be made of quality non-stick material so that they wipe off with little problems.
Lid: Pay special attention to what sort of lid you get with your grill, too. Like cooking on the stovetop, greasy food can still splatter. A lid keeps the mess to a minimum, but that means that it needs to be easy to clean, too. Some lids come off and are dishwasher safe, while others are integrated into the grill body.
Size
Electric grills are usually much smaller than their outdoor propane counterparts. This is primarily due to the limitations in the amount of heat you can make from the standard power outlet.
Find the grill that suits your purposes and that can cook the right amount of food for your family. Remember, when cooking in your kitchen, you can more easily accommodate side dishes cooked on the stovetop or in the oven.
Limited Wattage: A typical American wall outlet can handle a maximum of 1800 watts (or 2400 watts in case of a 20 amp circuit breaker). To keep things safe the standard electric grills can have a maximum power of 1780 watts and there's only so much grill surface you can heat with that. It means that you might be able to get a bigger grill, but that grill may not get as hot as a smaller one.
Storage: Don't forget to figure out where you want to store your grill and make sure it will fit where you want it.
Temperature Control
Nearly all electric grills offer accurate control for cooking temperature. Since they use electric heater elements like a standard range burner, heat is easy to control with the temperature dial.
These grills do low-temperature cooking very well, but they can also get super hot for searing.
Other Important Features
There are a few more features that can make your indoor grilling experience more enjoyable:
Temperature Indicator: Almost all electric grills have an indicator light that tells you if the heating element is on or off. When the light goes off, you know that the grill has reached the set temperature. More advanced models might even have a digital display that shows you the current temperature of the grill.
Non-Slip Feet: Nothing is more annoying than a grill that slides on your table when you're tending to the food – and this can also cause a serious accident. Get a model with non-slipping feet so you one less worry while cooking.
Portability: The chances are that you will be moving the grill in and out of storage, to the balcony, or even take it along to trips. Having a compact and lightweight model with carrying handles makes moving the grill a lot easier.
Interchangeable Grates: Want to cook some pancakes for breakfast? Get a grill that has both griddle and grill grates and your unit is more versatile.
Safety: An indoor electric grill should always have an auto shut-off function so that it doesn't get too hot and cause a fire hazard. It should also be made with durable and food-safe materials that don't release any harmful chemicals to your foods.
Missing Some Flavor?
Do you feel like the food that you are cooking on your electric grill is missing some flavor, especially that smokey taste of real barbecue?
Don't worry, there are a few excellent options to better satisfy your taste buds:
Liquid smoke is a natural product that you can use for marinades and sauces or even brush a small amount directly on the meat. It's made from condensing the smoke from varieties of burning wood such as hickory, mesquite, pecan, or applewood.
Our recommended product is Lazy Kettle All-Natural Hickory Liquid Smoke available on Amazon.
Ready-made barbecue sauces that include liquid smoke for more flavor are also a good option. Try Stubb's Smokey Mesquite BBQ Sauce and you won't be disappointed.
If you like to have a Korean-style dinner cooked right on the table, you can also take a look at our guide with the best Korean BBQ grills.
For a Japanese indoor feast, you can pick one of our recommended teppanyaki grills.
Smokeless Electric Indoor Grill FAQ
Are electric indoor grills completely smokeless?
The truth is that even the best smokeless indoor grills might generate a bit of smoke, especially when cooking greasy meats and oily foods. Well-designed models drain the melted fat and oil away from the hot parts and minimize the smoking.
Are electric grills safe to use indoors?
Electric grills that are designed to be used indoors are generally safe. Still, you should always monitor the grill while it's on and make sure there are no easily flammable objects nearby.
Can I use an indoor electric grill outdoors?
Yes, you can use your indoor electric grill outdoors as long as you make sure that it's not exposed to rain. If you use an extension cord, make sure that the cord and plugs are also protected from getting wet.
Do electric grills get hot enough for searing steaks and burgers?
Most high-quality electric grills get hot enough for searing, although you might have to preheat the grill for a while.