Your backyard grill can replace almost every cooking appliance in your house. But their utility at grilling very large pieces of meat is limited.
Enter the rotisserie – a cooking method that's been used for thousands of years with perfect results. Cook whole chickens, turkeys or turkey breasts, gyros, and more at your own patio-side BBQ rotisserie restaurant.
Rotisserie is just another term for spit-roasting. It might be one of the oldest forms of cooking around, but it's an oldie and a goodie.
Our recommendations for Best Gas Grill with Rotisserie:
Why Rotisseries Rock
You can rotisserie meat over any heat source, and modular and motorized spits are available in every imaginable shape and size. Yet, gas grills with rotisserie are the most convenient because they make controlling the heat easy.
Generally, you have an electric motor outside the grill, which mounts on a special bracket. The spit passes through a hole in the lid and extends across the broadest part of the lid.
A rotisserie unit increases the versatility of your grill. It's the best way to cook large pieces of meat that require indirect heat.
Everyone thinks of whole chickens, but you can put any large poultry or roast on a rotisserie. A big enough rotisserie can even handle a whole pig or a turkey.
Advantages of Rotisserie
So what makes rotisserie-cooked food so scrumptious?
There are a few advantages, but the primary benefit is the spinning function that enables:
Even Cooking: The rotation also allows for more even cooking, and by controlling the heat and the speed of the rotation, you can achieve the level of doneness and speed of cooking that you desire. Since it's not sitting in a pan, you can baste the meat throughout the cooking process.
More Juiciness: Imagine cooking a whole chicken in the oven or on the grill. All of the juices run to the bottom of the pan. While food cooks on a spit, however, the juices stay inside the meat as it spins around.
The result is a perfectly roasted meal that is juicy and flavorful, with no burning and lots of flavor. There's no other way to get such good results on whole animals over a grill — it's just too hard to cook it evenly.
Versatility: Rotisseries also make your gas grill much more versatile making it possible to cook larger food items.
Here are some popular things that you can cook on a rotisserie grill:
Whole Chickens
Whole Turkeys
Beef Roasts
Boneless Lamb Legs
Prime Ribs
Pork Shoulders
Whole chickens are probably the most common option. They are affordable, easy to cook, and delicious!
Here is a great video with tips for perfecting your rotisserie chicken:
6 Best Gas Grills with Rotisseries Reviewed
We have chosen different types of gas grills with rotisserie in this guide. Whether you are looking for a premium grill with all the fancy features you can wish for, a more budget-friendly option, or a compact model that you can fit on your balcony, you can find something suitable here.
Some of the more affordable options don't include a separate rotisserie burner but they can still get the job done nicely.
Below you can find a few more useful guides:
Best Overall: Weber Summit S-470 Propane/Natural Gas Grill with Rotisserie
Weber's Summit series grills are their top-of-the-line models, and the S-470 is simply one of the best gas grills out there.
It's loaded with every option the backyard chef could ask for. Sear burner? Check. Tuck-away rotisserie system? Check. LED fuel tank gauge, ten-year warranty, a smoker box with its own burner, and automatic LED lights? Check, check, check, and check.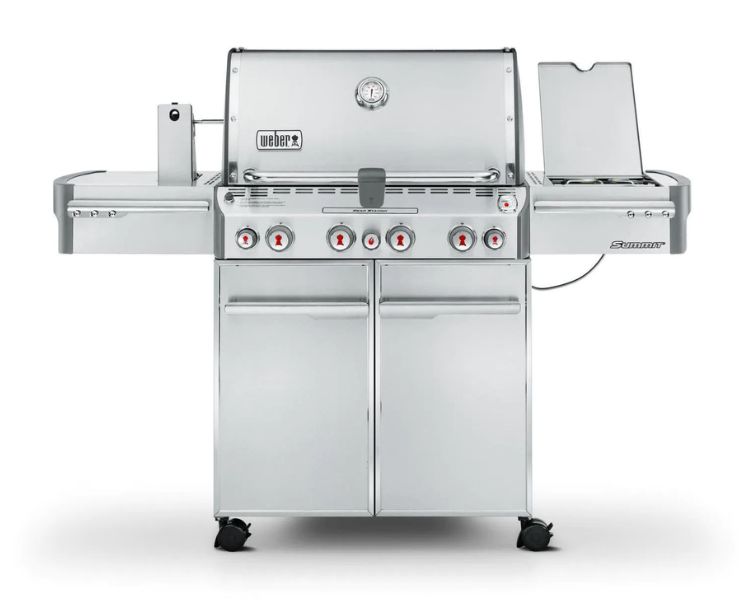 Specifications:
Fuel Type: Propane/natural gas
Number of Main Burners: 4
Rotisserie Burner: 10,600 BTU
Additional Burners: Sear burner 10,600 BTU + smoker box burner 6,800 BTU + side burner 12,000 BTU
Total BTU: 88,800
Primary Grilling Area (sq.in): 468
Warming Rack Area (sq.in): 112
Weight: 245 lbs
Build Materials: Stainless steel and painted steel
Dimensions: 66″ x 26.5″ x 50.5″ (L x W x H)
Warranty: 10 years
The Weber S-470 is a stylish and well-designed grill built with durable materials. The cabinet under the grill provides storage space for the propane and your grilling tools.
This grill features a 468-square-inch stainless cooking grate as well as a warming rack. The grate is made of 9 mm stainless steel rods.
The infrared rotisserie burner puts out 10,600 BTUs, while the traditional four main burners make a whopping 48,800 BTUs total. It also has a 12,000 BTU side burner and a 10,600 BTU sear burner. So this means the Summit has a total of 7 burners!
Probably the coolest part of this grill is the way that the rotisserie is integrated. The whole motor assembly lifts out of the side tray. When tucked away, it's not even noticeable. The grill also has a special place to store the spit when not in use.
In addition to the LED lights on the control knobs, there is the Grill Out handle light that automatically turns on when the lid is raised. And one great thing about this grill is that it arrives pre-assembled so getting it ready to use only takes minutes, not hours.
Buying Options
All Summit series grills share the same feature set but come in various sizes to suit any cook.
When you go to the BBQGuys online store, you can choose between the propane and natural gas versions of this grill. Both are available in black or stainless steel. You also have the option to get the bigger 6-burner version or the whole grill center with plenty of cabinet space.
Amazon also has the 6-burner Summit S-670 available.
What We Love
Well-designed rotisserie system
Loaded with great features
Heats up fast and gets very hot
Durable materials
Has an infrared rotisserie burner
Versatile
10-year warranty
Best Built-In Option: Napoleon Prestige 500 Gas Grill with Rotisserie Kit
Are you planning on setting up an outdoor kitchen?
This Napoleon Prestige line unit is a built-in grill with 4 stainless steel main burners and 500 square inches of primary cooking area. It comes with a rotisserie unit and a rear infrared burner and puts out an impressive 66,000 BTUs in total.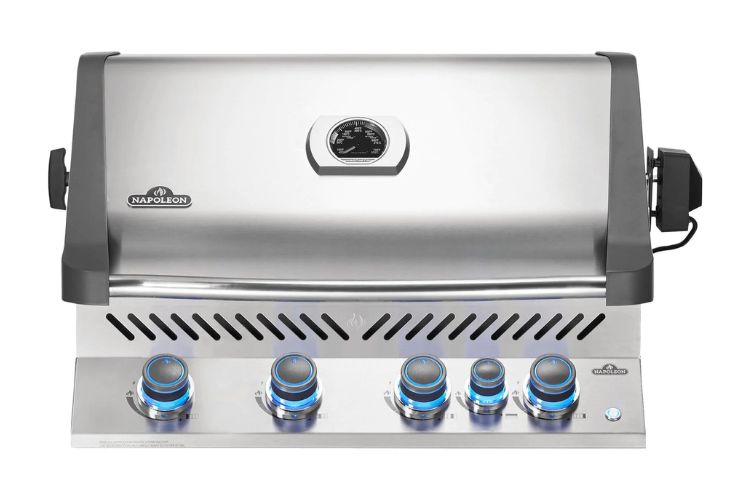 Specifications:
Fuel Type: Propane/natural gas
Number of Main Burners: 4
Rotisserie Burner: 18,000 BTU
Total BTU: 66,000
Primary Grilling Area (sq.in): 500
Warming Rack Area (sq.in): 260
Weight: 125 lbs
Build Materials: Stainless steel
Dimensions: 32.5″ x 25.5″ x 22.25″ (L x W x H)
Warranty: Lifetime (15 years for some parts)
Napoleon Prestige grills are known for their excellent overall quality and have some great features worth noting.
They have stainless grates and a unique wave pattern, which makes attractive grill marks. In addition, the Prestige gas grills use a trademarked Jetfire ignition system that ensures quick startups.
They also integrate a nifty bicolored LED system in the burner control knobs, which makes the controls glow red when they are on. There's an optional cast iron tray for charcoal or smoking, too, so you have many options with this grill.
The Prestige 500 comes with an outstanding lifetime warranty that covers almost all parts (15 years for the other parts). Since it's a built-in unit, the manufacturer recommends that it is installed by licensed professionals to ensure installations are up to code.
The Prestige 500 is also available as a standalone option that includes the infrared rear burner, so the choice between Napoleon and Weber is a matter of personal preference.
What We Love
Great features
Powerful rotisserie burner
Durable stainless steel construction
NightLigh control knobs with LED lights
Made in North America
Lifetime warranty for most parts
What We Don't
The grill can get hot to touch when used for a long time
Best High-End Rotisserie Grill: Blaze Professional LUX
The Blaze Professional LUX is a high-end gas grill that is built to last and comes fully loaded with features. It has a sleek design and durable construction with stainless steel burners and a double-lined hood.
The grill also comes with a waterproof rotisserie kit and a 10,000 BTU rear infrared burner. The sturdy rotisserie system is great for cooking anything from whole birds and roasts to lamb legs and other large items.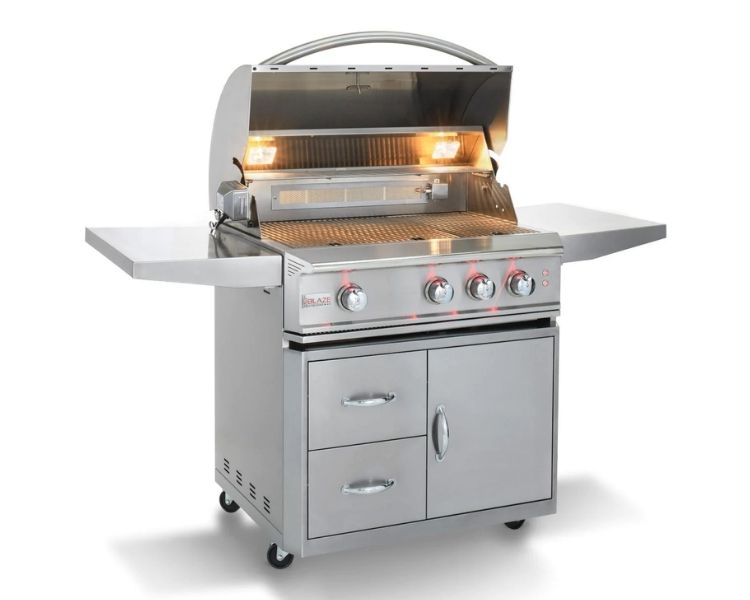 Note: In addition to the 34-inch stand-alone units reviewed here, this grill is also available in a bigger 44-inch size with 4 main burners, and as a built-in model.
Specifications:
Fuel Type: Propane/natural gas
Number of Main Burners: 3
Rotisserie Burner: 10,000 BTU
Total BTU: 64,000
Heat Flux: 88
Primary Grilling Area (sq.in): 615
Warming Rack Area (sq.in): 201
Weight: 315 lbs
Build Materials: 304 stainless steel
Dimensions: 65.5″ x 28.12″ x 50.25″ (W x D x H)
Warranty: Lifetime warranty for all stainless steel components and a 1-year warranty for electrical and ignition components
The Blaze Professional LUX has a very stylish and user-friendly design from top to bottom. It's built with high-quality 304 stainless steel that will last for a lifetime. In fact, Blaze trusts the craftmanship of this grill so much that they offer a lifetime warranty for all stainless steel parts.
One example of a well-thought design is the grease control system — the grill has a full-width grease tray to catch all drippings. This means you don't have to put a lot of effort into cleaning and maintaining this grill, just brush the grates and empty the grease whenever it starts to fill up.
The 615 square inch main grilling area is enough for even a bigger family and there is also an extra 201 square inch removable warming rack. The grill comes with three cast stainless steel burners putting out an impressive 54,000 BTUs, which is surely enough to give your food a nice sear.
And speaking of sear, the cooking on this grill grid is made of thick 12 mm hexagonal rods that will give impressive sear marks to your steaks.
The illumination system with internal halogen lights and LEDs on the control knobs adds an extra touch of style to the grill and comes in handy when grilling after dark.
Overall, the Blaze Professional LUX is a high-quality grill that is worth considering for those who are looking for a top-of-the-line gas grill.
What We Love
Professional-level grilling performance
Easy to use and clean
Includes a rotisserie kit and infrared burner
Superior built quality
Great temperature control
Halogen lights for nighttime cooking
LED-illuminated control knobs
Lifetime warranty for all stainless steel parts
Big and Powerful: Broil King Regal Pro S590 with Rotisserie & Side Burner
This bad boy has party written all over it. With a 625-square-inch main grilling area, it's the biggest grill to make our rotisserie list.
The grate is made from ultra heavy-duty 9 mm stainless rod, making amazing sear marks and distributing heat with ease. The five main burners produce 55,000 BTUs, and the 15,000 BTU rear rotisserie burner makes the package all the sweeter.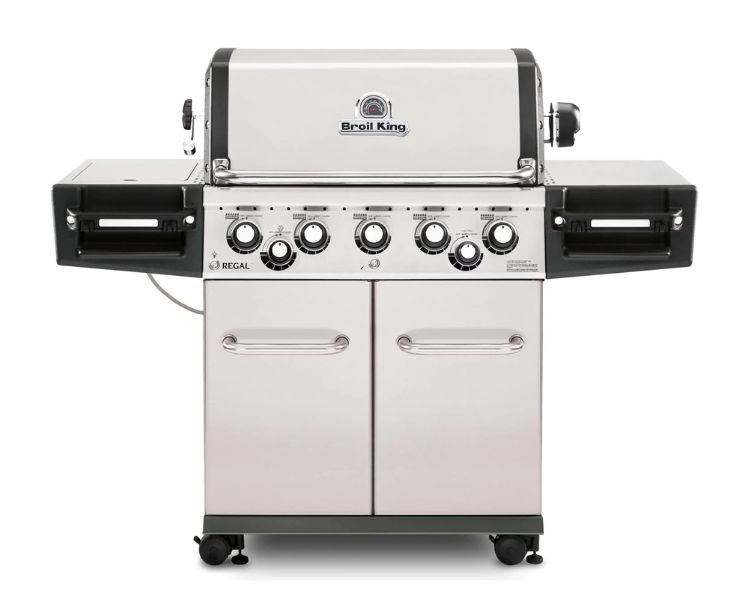 Specifications:
Fuel Type: Propane/natural gas
Number of Main Burners: 5
Rotisserie Burner: 15,000 BTU
Additional Burners: Side burner 10,000 BTU
Total BTU: 80,000
Primary Grilling Area (sq.in): 625
Warming Rack Area (sq.in): 250
Weight: 215 lbs
Build Materials: Stainless steel
Dimensions: 62.5″ x 24.8″ x 49.2″ (L x W x H)
Warranty: Lifetime, 10, 5, or 2 years (depending on part)
This unit has a motorized rotisserie that is modular and mounts on a particular side bracket. With so many burners and a high-quality integrated thermometer, it's easy to control the heat for the perfect roasted meat.
The Broil King Regal Pro comes with either a 10,000 BTU standard side burner or an infrared side burner searing station. The searing station has a large ceramic infrared element that can reach more than 1,500 degrees Fahrenheit quickly.
There are also smaller four-burner variants available.
Check out our comparison of Broil King and Weber grills for more great options.
What We Love
Large grilling area
Plenty of heating power
Sturdy and durable
LED lights on control knobs
Made in North America
What We Don't
Some parts have only a 2-year warranty
Budget Pick: Monument Grills 4-Burner Stainless Grill with Rotisserie Kit
If you're looking for a budget-friendly stainless grill with a rotisserie, meet the Monument Grills Stainless Steel unit with a rotisserie kit.
This is a big four-burner model with 513 square inches of cooking area and another 210 on the warming rack. The main burners make 48,000 BTUs together, and there's also a side burner for sauces.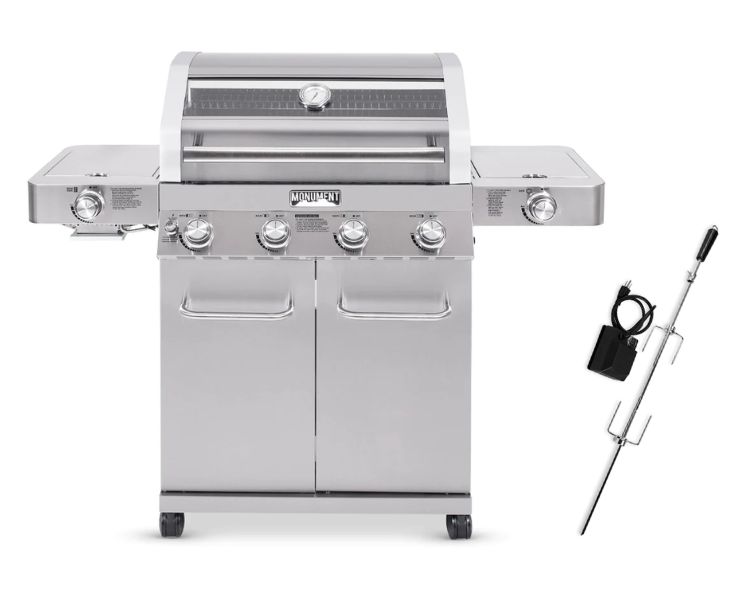 Specifications:
Fuel Type: Propane gas
Number of Main Burners: 4
Additional Burners: Side Burner 12,000 BTU and Sear burner 12,000 BTU
Total BTU: 72,000
Primary Grilling Area (sq.in): 513
Warming Rack Area (sq.in): 210
Weight: 101 lbs
Build Materials: Stainless steel and porcelain-coated cast iron
Dimensions: 54″ x 19″ x 46″ (L x W x H)
Warranty: 8 years for burners and 1 year for other parts
The Monument has a cool and stylish design with a clear view feature that allows you to observe the food without opening the lid. And what's even more important is that it provides a great cooking performance and is easy to use and clean.
This is truly an impressive grill at a modest cost. It's a solid choice for anyone who wants a reliable and high-performing grill without breaking the bank.
While this is a bare-bones model when compared to top-end units like the Weber Summit, it has everything you need to cook fantastic barbecue, and you'll be rotisserieing in no time!
What We Love
Great value for money
Heats up fast
Easy to use
Blue LED control knobs
What We Don't
No separate rotisserie burner
Best Compact Option: Weber Genesis II LX-240
The Weber Genesis line of grills is not the top-of-the-line, but they aren't cheap either.
They are built to exacting standards and have some really impressive grill features that make them an attractive option to cooks looking for the best grill they can get without spending all of their hard-earned cash.
Specifications:
Fuel Type: Propane/natural gas
Number of Main Burners: 2
Additional Burners: Side burner 12,000 BTU
Total BTU: 41,000
Primary Grilling Area (sq.in): 380
Warming Rack Area (sq.in): 114
Weight: 94 lbs
Build Materials: Stainless steel
Dimensions: 52″ x 29″ x 48″ (L x W x H)
Warranty: 10 years
The Genesis II doesn't come with a rotisserie, but you can find one on Amazon. The grill itself is a 2-burner model with a side burner for sauces and side dishes.
It's got 380 square inches of cooking real estate and a tuck-away warming rack that adds another 114 square inches.
Note that this grill lacks a rotisserie burner and has 2 primary burners. Having only 2 burner grills aren't ideal for rotisserie since it will have less heat control than the other models reviewed in this guide.
Regardless, it's big enough to use for whole chickens and large hunks of meat and puts out plenty of grilling power.
What We Love
Great overall quality
Great for small patios and balconies
Durable construction
Good grease management system
10-year warranty
What We Don't
No separate rotisserie burner
Less heat control
What to Consider When Buying a Rotisserie Gas Grill
1. Size and Capacity
Probably the biggest concern when looking at rotisserie grills is going to be the size. For a couple or small dinner parties, a standard 3 or 4-burner gas grill with a rotisserie kit is going to be sufficient.
But you'll be limited to whole chickens, game birds, and turkey breasts. If you want to roast pigs or whole turkeys, you'll need something bigger.
It's also important to note that you're not just limited by the grill's physical size, but by the capacity of the rotisserie unit. Their motors and bearings are only made to take so much. Most will have their weight limits advertised clearly.
2. Design
Speaking of the motor, balance is essential to getting a good rotisserie. Most spits have an adjustable four-spike cage for the food.
You can't have wings or legs getting loose while spinning, as they may jam in the lid of the grill. You also need to make sure that it spins smoothly and evenly, with no wobble or vibration. Many chefs use extra skewers or butcher's twine to help keep everything together.
3. Burners
Beyond the rotisserie motor and spit themselves, you also want to look at your grill's burners to make sure you can cook your food evenly. You'll want to be able to control the heat evenly, from low to high.
Number of Burners
If your grill has a lot of hot spots, it might make things difficult. 4-burner grills tend to be the minimum size with a rotisserie option because that arrangement of burners allows for good distribution of indirect heat.
Separate Rotisserie Burners
Some grills now include a vertically mounted rotisserie burner specifically for the task. While these look flashy and put out a lot of BTUs, don't lose sight of the purpose of rotisserie cooking and how it works.
It's an indirect method of roasting a large piece of meat. The regular grill burners will likely work well too, but it's nice to be able to fine-tune the heat for any size meat.
The bottom line?
Don't consider a separate rotisserie burner a must-have item.
4. Price and Warranty
Finally, rotisserie grills come in every flavor from bargain bottom-dollar to luxury high-end.
Choose a unit like the Weber Summit E-470 if you are going looking for a versatile high-end grill that's going to last for decades. Or get a more affordable option if you just want a basic unit without burning a hole in your wallet.
You can compare the rotisseries in terms of how much weight they can spin, the motor's wattage, or how high quality the components used are.
But you should also look at the warranty. What's covered, and what is not?
If you're going to use it a lot, a good warranty that will replace any parts, like the grills burners, or rotisserie motor and bearings, if needed is worthwhile.
Rotisserie Gas Grill FAQ
What are the main benefits of having a gas grill with rotisserie?
Having a rotisserie on your gas grill is especially useful for cooking large items like whole chickens and turkeys, as well as roasts and ribs. Without a rotisserie system, you will easily end up burning this type of meat on one side.
The rotisserie allows you to cook the meat more evenly and retain its juiciness. You can also baste marinade all over the meat easily while it's rotating on the spit.
Do I need a separate side burner for a rotisserie grill?
Purpose-built regular or infrared rotisserie burners are a nifty tool to help you distribute heat around the grill box. They're often mounted vertically on the back surface of the grill.
When combined with the regular burners below, they can throw out a lot of heat. They're all about giving you more control.
Yet, you can manage just fine with the regular burners on your grill. So a separate side burner for the rotisserie is optional.
Should I keep the grill lid closed while cooking with a rotisserie?
Yes, it's best to keep the lid closed so that heat will be distributed more evenly around the meat and it will be cooked faster and more evenly.
What is an easy dish to cook with a rotisserie gas grill?
You can start with cooking a whole chicken. It's affordable, easy to cook, and delicious!
Just remember to baste it well with a marinade and cook it for about 1 1/2 to 2 hours depending on the size of the chicken. Insert a meat thermometer to the thickest part of the thigh and cook until it reaches about 165 degrees Fahrenheit.
You can also find a great video in this article that gives more tips for cooking a rotisserie chicken.