Don't wilt in a hot kitchen — make this summer sizzle with one of our recommended stainless steel gas grills. They're feature-packed and as easy to use as your stovetop.
Another great thing is that stainless steel looks sleek and is very resistant to rust.
So why limit outdoor fun to the weekends when you can enjoy the rich flavor of flame-broiled food every day?
Our recommendations for Best Stainless Steel Gas Grill:
If you want even more great options, check out our comparison of Weber vs Broil King.
Are Stainless Steel Grills Worth the Money?
Stainless steel gas grills are America's favorite way to cook outdoors.
Let's take a closer look at their pros and cons and how they can transform your backyard into the ultimate outdoor oasis.
Advantages of Stainless Steel Gas Grills
Stainless steel gas grills are:
Weather-Resistant: Ordinary metal grills are prone to rust, and the problem is more than just aesthetic. While cooking on rusty grill grates is safe, irreparable holes in the firebox and housing can develop in a single season. Stainless steel is naturally weather-resistant, and with care, can look new and shiny for decades.
A Breeze to Maintain: Stainless steel grills require minimal care. Wipe them down weekly with soap and water or stainless steel cleaner on a soft cloth, and keep the grease tray clean to reduce flare-ups. Regular maintenance enhances corrosion resistance and helps the finish stay shiny. Baking soda and water make grates sparkle.
Quick Heating: Charcoal grills have a traditional appeal, but they take so long to heat that they're impractical for everyday use. Stainless steel cooking grids heat up fast and can reach 500 °F in minutes, so why limit the fun to the weekends?
Fuel-Efficient: Stainless steel gas grills cost half as much as charcoal grills to operate. Better models are also equipped with fuel-saving features rare in charcoal models, such as heat deflectors that preserve the warmth while enhancing even cooking.
Are There Any Disadvantages?
Stainless steel is a great material for both grill housings and grates. However, there are a few possible disadvantages.
Warping
Stainless steel is more likely to warp under prolonged heat than cast iron, but the risk is low and decreases as build quality improves.
Sticking
Stainless steel grates are lightweight and corrosion-resistant, but unlike cast iron, repeated heating and cleaning may roughen their surface and compromises their nonstick quality. The good news is that they're simple and affordable to replace.
Also, if you clean them carefully (don't use a metal brush), the grates will last for many years without becoming sticky.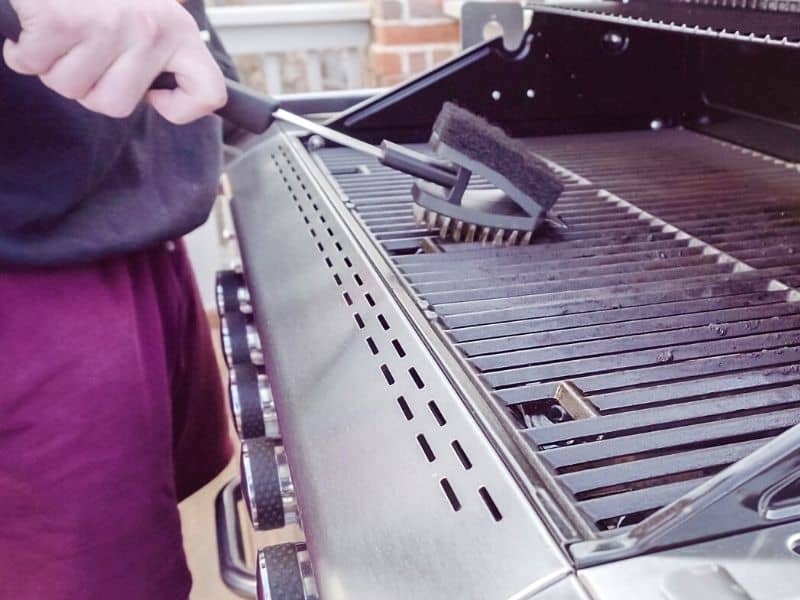 Price
Stainless steel grills are more expensive because of higher material and production costs — up to 300 percent more than cast iron. But they cost less to own long-term because they're more durable, making them a better investment.
Read also: Cast Iron vs Stainless Steel Grill Grates
6 Best Stainless Steel Gas Grills Reviewed
We have done a thorough research and picked 6 of our favorite stainless steel gas grills to be reviewed here. Each one has something different to offer be it infrared burners, a rotisserie kit, a large grilling area, or just a great overall cooking experience.
You can find some of the models from both Amazon and BBQGuys. We recommend checking out both online stores for the best price and availability of different options (such as propane/natural gas hookups).
Best Overall: Weber Genesis S-335 Stainless Steel Propane / Natural Gas Grill
Weber is the undisputed king of grills. Their engineering and innovation set the standard by which other brands are judged.
The renewed Genesis series launched in 2022 made these already great grills even better. The S-335 is a propane-powered beauty that's as sleek as it's functional for restaurant-quality meals and a professional cooking experience from preheating to clean-up.
Specifications:
Fuel Type: Propane/natural gas
Number of Main Burners: 3
Additional Burners: 12,000 BTU side burner and 13,000 BTU sear burner
Total BTU: 64,000
Heat Flux: 76
Primary Grilling Area (sq.in): 513
Warming Rack Area (sq.in): 274
Weight: 210 lbs
Build Materials: 304 stainless steel and cast aluminum
Dimensions: 62″ x 27″ x 48.5″ (W x D x H)
Warranty: 12 years (cookbox and lid assembly), 10 (burners, grill grates, flavorizer bars), or 5 years (other parts)
Why the Genesis S-335 is Our Top Pick?
Excellent Design and Durability
The Genesis S-335 is built on a stainless steel tubular frame with heavy-duty locking wheels for stability. These grills are made in the USA for the best quality assurance — although many parts are manufactured elsewhere.
Cabinets shield the fuel tank from view and protect it from the elements. The swinging doors offer easy access to a storage area below the grill that also houses a removable drip tray and catch pan.
The Weber Genesis S-Series is equipped with upgraded 9mm stainless steel grates for long-lasting performance, a 12,000 BTU side burner, and a large sear station to create the delicious brown crust that gives grilled meats their characteristic flavor.
If you're wondering how great this grill really is, check out this short video to see it in action:
Plenty of Heat and Cooking Space
Cook for a crew on the generous 513 square-inch cooking surface and an additional 274 square-inch warming rack.
Three main burners deliver 39,000 BTUs of heat. The tapered design improves temperature consistency across the grilling area, eliminating dreaded hot spots.
Flavorizer bars protect the burners from drippings, transforming them into flavorful smoke while minimizing flare-ups.
Extra Features
Additional features include a warming rack, two side tables, plus Weber's patented Infinity electronic ignition system, and a locker for your grilling gear.
And this new 2022 version is more versatile than ever — you can add anything from the new Weber Crafted Outdoor Kitchen grillware collection to the area on the right side of the grill. The options include all kinds of handy accessories from roasting baskets and pizza stones to flat-top griddles and rotisserie sets.
The grill is also compatible with Weber's app-controlled iGrill 2 temperature monitoring system (sold separately) and you can use the Weber Connect app with recipes, cook programs, timers and more.
The icing on the cake is an industry-leading warranty and superior customer service, making it our top pick for performance and value. You won't be disappointed.
Buying Options
The Genesis S-335 is available as a propane or natural gas version on both Amazon and BBQGuys.
The BBQGuys online store also gives you plenty of additional options to choose from. Get the 4-burner version if you need even more grilling space or choose a model without the side burner and sear station if you don't need them.
You can also add the excellent iGrill thermometer and cook your steaks to the right doneness every time.
What We Love
Great overall cooking experience
Large grilling area
Built to last
Fewer flare-ups
Easy to clean
Has a fuel gauge (for propane)
Made in the USA
Excellent customer service and warranty
What We Don't
Takes a while to assemble
Large and Powerful: Broil King Regal S590 Pro Stainless Steel Gas Grill
Broil King's Regal S590 Pro is guaranteed to take your backyard party to the next level!
Five stainless steel main burners plus a side infrared burner and a rear rotisserie burner offer a whopping 80,000 BTUs of firepower. And the total grilling area is nearly 900 square inches — enough to feed more than a dozen people.
Specifications:
Fuel Type: Propane/natural gas
Number of Main Burners: 5
Additional Burners: 10,000 BTU infrared side burner and 15,000 BTU rear burner
Total BTU: 80,000
Heat Flux: 88
Primary Grilling Area (sq.in): 625
Warming Rack Area (sq.in): 250
Weight: 215 lbs
Build Materials: Stainless steel, cast aluminum
Dimensions: 62.5″ x 24.8″ x 49.2″ (L x W x H)
Warranty: Lifetime, 15, or 2 years (click the link above to see details at BBQGuys)
Features of this grill rival the Weber and include a cast aluminum chassis, solid 9mm cooking grates, and Broil King's proprietary Sure-Lite ignition system. The side shelves are equipped with cast aluminum condiment bins and integrated tool hooks, so you'll feel as comfortable cooking outdoors as in your kitchen.
High-output dual-tube burners make quick work of thick steaks, while Flav-R-Wave flame tamers ensure even heat and prevent flare-ups.
Sensi-Touch control knobs offer precision heat control similar to indoor cooktops instead of the typical low, medium, and high options. And they are LED-illuminated for nighttime cooking.
The warranty isn't as comprehensive as Weber's — you'll enjoy lifetime protection on the cook box and 15 years on some other parts. But many parts are only covered for 2 years. The trade-off is the free rotisserie kit you'd have to pay for with the Weber.
No two grills are equal, but it's good to have choices. Broil King's Regal S590 Pro is a pleasure to cook on and provides outstanding features and value.
What We Love
Massive cooking area
Durable built
Great value for money
Comes with a rotisserie kit
LED illuminated control knobs
Made in the USA
Great warranty
What We Don't
Some parts only have a 2-year warranty
Best Infrared Stainless Steel Grill: Saber Cast 500 32-Inch 3-Burner Infrared Propane Gas Grill
Saber's Cast 500 is a powerful infrared grill with the same premium features you'd expect in a conventional model.
Three 8,000 BTU propane burners distribute heat evenly across a 500 square-inch cooking surface — it's fuel-efficient and convertible to natural gas. Burners, grates, and emitter plates are made of commercial-grade 304 stainless steel.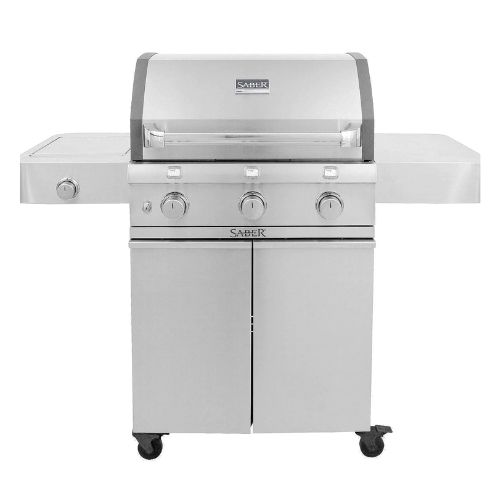 Specifications:
Fuel Type: Propane gas
Number of Main Burners: 3 (all infrared)
Additional Burners: 10,000 BTU side burner
Total BTU: 34,000
Heat Flux: 48
Primary Grilling Area (sq.in): 500
Warming Rack Area (sq.in): 175
Weight: 216 lbs
Build Materials: 304 stainless steel
Dimensions: 56.5″ x 25″ x 48.4″ (W x D x H)
Warranty: 10, 5, or 2 years depending on the part (click the link above to see details at BBQGuys)
Features of this grill include push-button electronic ignition, an enamel-coated warming rack, halogen lid lights, and a 10,000 BTU side burner. Individual burner control knobs and lid-level temperature gauges allow you to control heat output in three zones with the lid open. That's critical because infrared burners heat hot.
Low-temperature cooking isn't the Saber's strong suit. Yet, the nature of infrared versus convection cooking means you'll get the juiciest meats while limiting flame-ups.
The Saber Cast 500 comes with a full-length slide-out drip pan for easy cleaning, and it accommodates a range of popular accessories, including a griddle and rotisserie (sold separately).
The price point is higher than traditional gas grills, but it's value-priced among infrared models. You won't go wrong for the money.
What We Love
Excellent overall built quality
Heats up fast
Gets hot for proper searing
No flare-ups
Very easy to clean
What We Don't
Not so good for cooking low and slow
Quite expensive
Best Premium Option: Weber Summit S-670 Propane Gas Grill
Bring the convenience of indoor cooking outdoors with the Summit S-670. It's Weber's top-of-the-line and the titan of luxury grills.
The Summit line boasts the same superior build quality as Weber's Genesis Series, including weather-resistant stainless steel and aluminum construction, heavy-duty 9mm grates, and the Flavorizer drip evaporation system.
Specifications:
Fuel Type: Propane/natural gas
Number of Main Burners: 4
Additional Burners: 10,600 BTU sear burner, 12,000 BTU side burner, 6,800 BTU smoker burner, and 10,600 BTU infrared rotisserie burner
Total BTU: 60,000
Heat Flux: 96
Primary Grilling Area (sq.in): 624
Warming Rack Area (sq.in): 112
Weight: 289 lbs
Build Materials: 304 stainless steel
Dimensions: 74.1″ x 26.5″ x 55″ (W x D x H)
Warranty: 10 years
This grill has six premium burners that allow refined temperature control over 624 square inches of grilling area. A 145 square-inch warming rack and powerful 12,000 BTU side burner expand your workspace.
You'll also appreciate the 10,600 BTU searing station for a burst of heat when you need it, plus a 6,800 BTU wood chip smoker box with a dedicated burner — a handful of moist Applewood chips tenderizes ribs and infuses roasts with slow-cooked goodness.
The S-670 comes with the Tuck-Away rotisserie system that stores neatly in the cart when it's not in use. There is also a backlit digital propane scale that makes it simpler than ever to keep tabs on your fuel supply.
You'll also love the reliable Snap-Jet ignition system and the pull-out drip tray for effortless cleaning. Tilt sensors turn on lights in the handle when you lift the lid for barbecuing under the stars.
Predictably, the S-670's price tag is eye-popping, but don't let the sticker shock obscure its value. The Summit is overkill for making the occasional burger, but for the die-hard grilling enthusiast, it'll be the envy of the neighborhood and a practical splurge. It's a remarkable grill.
What We Love
Built with high-quality materials
Looks great
Plenty of heating power
Excellent monitoring and control options
Comes with a rotisserie kit and infrared burner
Includes a smoker box
Manufactured in the USA
10-year warranty
Budget Pick: Char-Broil Performance 4-Burner Propane Gas Grill
Char-Broil's Performance grill is an entry-level model with above-average performance. The build quality isn't quite as robust as the Weber or Saber but it's affordable and has similar features.
Specifications:
Fuel Type: Propane gas
Number of Main Burners: 4
Additional Burners: 10,000 BTU side burner
Total BTU: 46,000
Heat Flux: 85
Primary Grilling Area (sq.in): 425
Warming Rack Area (sq.in): 115
Weight: 289 lbs
Build Materials: Stainless steel, porcelain-coated cast iron
Dimensions: 74.1″ x 26.5″ x 55″ (W x D x H)
Warranty: 5, 2, or 1 year depending on the part
Four durable stainless steel burners power 425 square inches of grilling space — it's large enough for a family. Steam corn-on-the-cob or whip up a quick barbecue sauce on the 10,000 BTU side burner without leaving the rest of the meal unattended.
A side table on the opposite side offers plenty of elbow room, and clean-up is a cinch with the removable grease tray.
Of course, balancing quality and price requires compromises. The Char-Broil's grates are porcelain-coated cast iron, not stainless steel. They'll be somewhat less durable, but they're non-stick and conduct heat evenly.
Still, the burners have a full 5-year warranty — other components are covered for only 1 or 2 years. If you're on a budget, you don't have to go broke or miss out with the Char-Broil.
What We Love
Excellent value for money
Comes with a side burner
Easy to use and clean
Durable stainless burners with a 5-year warranty
Looks good
What We Don't
The grill grates are not stainless steel
The side shelves are a bit flimsy
Best Portable Stainless Steel Grill: Pit Boss Grills Two-Burner Grill
Take the quality of stainless steel on the road with the Pit Boss portable grill. Lightweight at just 27 pounds, this little grill is no underdog.
Dual burners pack a powerful punch, delivering 20,000 BTUs over 276 square inches of cooking surface. Each is independently controlled, creating two distinct temperature zones. Clean-up is straightforward with a removable grease tray.
Specifications:
Fuel Type: Propane gas
Number of Main Burners: 2
Total BTU: 20,000
Heat Flux: 73
Primary Grilling Area (sq.in): 276
Weight: 27 lbs
Build Materials: 430 stainless steel (body and lid), 304 stainless steel (grids)
Dimensions: 23″ x 19.5″ x 16″ (W x D x H)
Warranty: 5 years for burners, 1 year for other parts
Features of this grill are similar to full-sized grills, including heavy-duty construction and 304 stainless steel grates.
Propane-fueled, it's equipped with a push-and-turn ignition switch and a built-in lid thermometer. The legs fold in and the lid latches for easy storage and handling.
The pros at Pit Boss backs this competitively priced grill with a 5-year warranty for the burners and 1 year for other parts, but it's unlikely you'll need it. It's built like a tank and ready for some serious tailgating.
What We Love
Compact and lightweight
Very affordable
Great for camping and tailgating
Packs enough heating power
Sturdy and durable built
What We Don't
The igniter sometimes needs a few tries
What to Consider Before Buying a Stainless Steel Gas Grill?
A grill is an extension of your kitchen — select one with as much care as you do appliances. Buying a new stainless steel grill is a significant investment and you definitely want to choose a model that best suits your needs and will last for many seasons to come.
Consider these features before you buy a new grill:
Size
The ideal grill will fit your backyard, deck, or patio without encroaching on seating space — models with 450 square inches of surface area are perfect for most families. Keep it at least five feet away from combustible materials such as awnings. Measure before you buy, considering the grill's dimensions with the side tables extended.
Number of Burners
Stainless steel grills have multiple burners. Each can create a separate heat zone for different types of food — sear burgers over high heat and char delicate vegetables over low. More burners equal more flexibility.
Build Quality
Ordinary steel is a blend of iron and carbon. Stainless steel contains additives to prevent rust, such as chromium, molybdenum, and nickel — the types and proportions determine the steel's grade. The two most commonly used grades for grills are 304 and 430 stainless.
The least expensive is 430 grade containing 17 percent chromium. It's rugged and weather-resistant but somewhat more vulnerable to corrosion than 304 stainless with prolonged exposure to the elements. The trade-off is cost — depending on market conditions, you'll pay up to 50 percent less for 430 stainless despite comparable durability under everyday conditions.
Also known as 18/8 steel because it contains 18 percent chromium and 8 percent nickel, 304 stainless is a popular choice for eating utensils because it's acid-resistant. Burners and grates made of 304 stainless are a plus because drippings are often acidic.
Fuel Source
Most stainless steel grills are propane-powered, but select models have adapters for your existing natural gas line. Since natural gas is a little cheaper than propane and eliminates the hassle of refilling portable tanks, it's a valuable option.
If you have a gas line at your house, I recommend that you also check out our guide with the best natural gas grills.
Features
No one wants to pay for bells and whistles they don't need, but these features are worth paying attention to:
Side Tables: Don't juggle utensils — choose a grill with side tables to expand your workspace. They're sturdier than portable trays for holding plates and sauces, and there's no set-up required. Folding models are a plus over fixed tables in tight spaces.
Rotisseries: Most grills have rotisserie options for slow-roasting whole chickens, roasts, or legs of lamb. You can purchase kits separately for between $75-$150, but if it's on your wish list, it's a plus if it's included.
Side Burners: Why run in and out of the kitchen to boil rice or sauté vegetables when you can cook an entire feast on a grill with a side burner? Save the workout for the gym. You'll put dinner on the table faster, and your home will stay cooler.
Infrared Burners: Grills with infrared burners use radiant heat for cooking instead of convection, keeping delicate foods moist. The heat is powerful and the design reduces flare-ups, so they're ideal for searing steaks and burgers and for cooking in small spaces near combustible materials.
Warranty and Customer Service
The best stainless steel gas grills are backed by generous warranties and responsive customer service. You'll pay a little more upfront, but it could protect your investment when you can least afford to replace it.
Anything Else?
We have already covered the most important aspects of choosing a stainless steel grill. Yet, there are a few more things that can make your cooking experience even more convenient.
Value-added features that don't impact grilling but enhance your cooking experience include:
Digital Fuel Gauge: No more running out of fuel in the middle of grilling.
App-Controlled Temperature Monitoring: Especially useful when preparing large items that take several hours to cook.
Slide-Out Grease Trays: Makes cleaning a lot easier.
Smoker Box: Allows you to occasionally use your gas grill as a smoker.
Tool Hooks: Keeps your tongs, spatulas, and cleaning brushes within hand's reach.
Storage Shelves: Have your vessels, sauces, and spices right where you need them.
Electronic Ignition Systems: Start your grill with a push of a button. Almost all models have this feature but there are differences in how reliable the ignition is.
Built-In Lights: A must for nighttime cooking.
Stainless Steel Grill FAQ
Are stainless steel grill grates better than cast iron?
Stainless steel grill grates are more durable and weather-resistant compared to cast-iron grates. They are also very easy to clean and maintain. However, if you brush them with a metal wire brush they can get scratches over the years and the food might stick more easily. High-quality stainless steel grill grates are also more expensive than cast iron grates.

Ultimately, it's a matter of preference which type of grill grates you should choose.
How should I clean my stainless steel grill?
Stainless steel grill grates and flame tamers are easy to clean and you should clean them after each use. Just burn the excess grease and food particles away and let the grill cool down. Then you can use a nylon brush to clean them. If the burnt food seems to be hard to remove, mix some baking soda with water and a bit of vinegar in a bowl and sprinkle it on the grates. Let the solution take effect for about 10 to 15 minutes and try brushing the grates again.

You can also use a metal brush as it is a bit more efficient and you can use it on a hot grill. The downside is that the grates might get scratches and become sticky over time.

You can clean the lid and exterior of the grill by simply wiping them clean with a cloth and a mixture of water and dishwashing detergent.
Should I season my stainless steel grill grates?
Before first use, we recommend seasoning your stainless steel grates with high-heat cooking oil (e.g. canola, sunflower, grape seed) and then wiping them with a cloth for even coating. Then you can heat the grill on high heat for about 15 minutes until the oil starts to turn dark and smoke.

If you feel like the grates are getting sticky, you can season them after each cleaning by applying a light coat of oil.