If you don't have time to read the whole article and just want to find out what is the best natural gas grill, then we recommend the Weber Genesis II S-335. It is a well-designed and durable grill that provides some smooth grilling for years to come.
Nothing beats having a gas grill in your backyard. There are many advantages, from it being easy to cook on and clean, to the wonderful tasting dishes that you can prepare. 
A grill is the first step to creating a backyard oasis. It gets the heat out of the kitchen and allows you to enjoy some time outdoors. 
If your home has gas service, then it only makes sense to look for a natural gas grill. The tank will never run empty, and you'll but up and be cooking in no time.
In this article, we're going to review the following gas grills:
Natural Gas vs. Liquid Propane
So which is better, natural gas or propane? As far as the chef is concerned, there is very little difference between the two. They both heat quickly and cook foods about the same.
The difference is in your home and your preferences for how and where to set up your grill. Natural gas is delivered to the grill by your gas company. In many parts of the country, gas is a regular utility that can be used throughout the home for heating and cooking.
Getting a gas line to your new grill is no easy matter, however. You'll have to contact your gas provider and have them set it up for you. This can take some time and cost quite a bit of money. Once it's installed, you'll have a gas outlet right in your backyard or on your patio, ready to plug a grill into.
Natural gas grill is a logical choice if you have gas service already. It's also a great option when you're adding a built-in grill to an existing outdoor kitchen. 
But if your house isn't plumbed for natural gas, chances are propane grills are your best choice. In this case, I recommend that you take a look at this gas grill buying guide to find the best propane gas grill for your needs.
Propane, or LPG (liquid petroleum gas), usually comes in 20-pound cylinders that you can fill or exchange at many hardware stores or gas companies. It's easy to keep a spare tank on hand, in case it runs out. Since they carry their fuel supply with them, you can set up these grills anywhere and be grilling in minutes.
Many propane grills offer conversion kits so that they can be used with natural gas. It's important to remember that the two gases work differently and have very different chemical properties. 
Besides just the hook-up lines, the regulator and burners may not work as well with one of these kits. If you are going to use your grill exclusively for natural gas, it's worth choosing a grill made for the purpose.
How to Pick the Best Natural Gas Grill
Cooking Area
The most significant consideration when choosing any grill is the size and quality of the cooking area. Nothing will affect your cooking more than the number of burners and the space you have to cook on. 
Three burners should be the minimum number to consider since this will allow you sufficient control to set up indirect cooking.
It isn't just about square footage, however. The quality of your grill shines in how evenly it heats the cooking grates. It's the result of many factors, including high-quality burners, flavorizers, and a heavy-duty cooking grate that distributes and retains heat.
Durability
Quality components have another great advantage – they last longer whereas a cheap grill can disintegrate in a matter of months. 
After all, the grill often ends up being left outside year-round and is exposed to the elements. Even if you use a grill cover, rust and corrosion can take its toll quickly. Quality grills use stainless or aluminum components and are much more resistant to the elements.
Other Features
The other gadgets and gizmos that come with your grill are entirely up to the backyard grill master. 
Would you like a grill with an infrared burner for searing or a side burner for making sauces? How about one with a rotisserie attachment? 
Gas grills are so ubiquitous that there are many accessories, both from the manufacturer and after-market companies, to make your grilling experience better.
Best Natural Gas Grills Reviewed
Let's take a look at the best natural gas grills on the market. Here are our top picks:
Best Overall: Weber Genesis II S-335
Weber is a go-to name in grilling, and their new Genesis II series grill uses stainless steel components for a great grilling experience. The three-burner grilling area features an impressive 513 square-inch cooking grate, plus an additional tuck-away warming rack.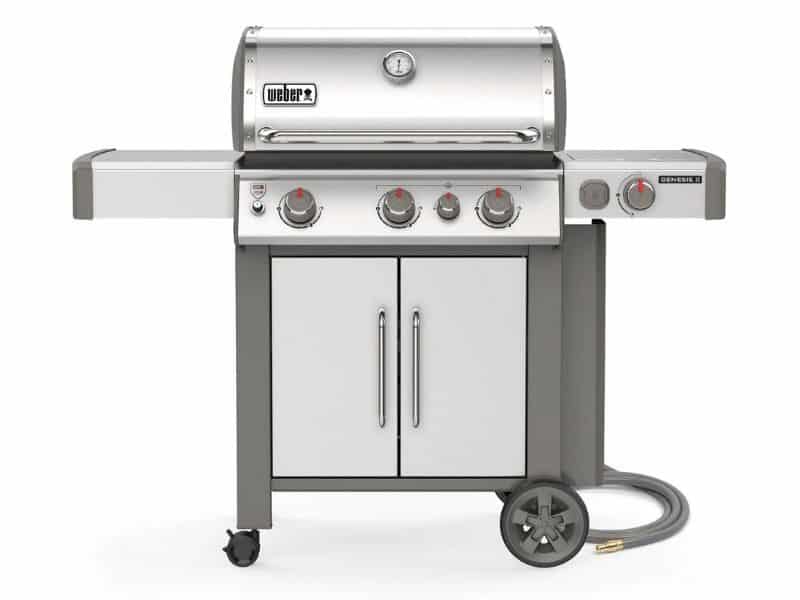 This grill features Weber's new GS4 High-Performance Grilling System. It has four different components to make the cooking experience exceptional. 
First, there is an infinity ignition system to get the grill lit on the first try. Coupled with high-quality stainless steel burners and enameled flavorizer bars, heat is then distributed evenly and quickly. Finally, the grease management system makes cleanup quick and easy.
If you're looking for a great natural gas grill that offers value for money, then go with the Genesis II S-335. This grill looks sleek, performs well, and you will surely have years of enjoyable cooking with it!
Pros:
Heavy-duty burners and heat shields

7 mm stainless rod cooking grate

Integrated grease management system

Factory-built from the ground up for natural gas

Compatible with iGrill smartphone thermometer and app

Side burner and sear station included

10-year warranty on all parts
Cons:
Takes a while to assemble
Best Built-in Natural Gas Grill: Blaze BLZ-4-NG
When you're designing a perfect outdoor kitchen, you'll want the best built-in grill you can find. Remember, since the grill will be installed on a counter, it will be there for the long run. You won't want to replace it after a few years, so opt for quality components that you know will last.
It also doesn't hurt to find a major manufacturer's grill, so you know that parts will be available should you need them.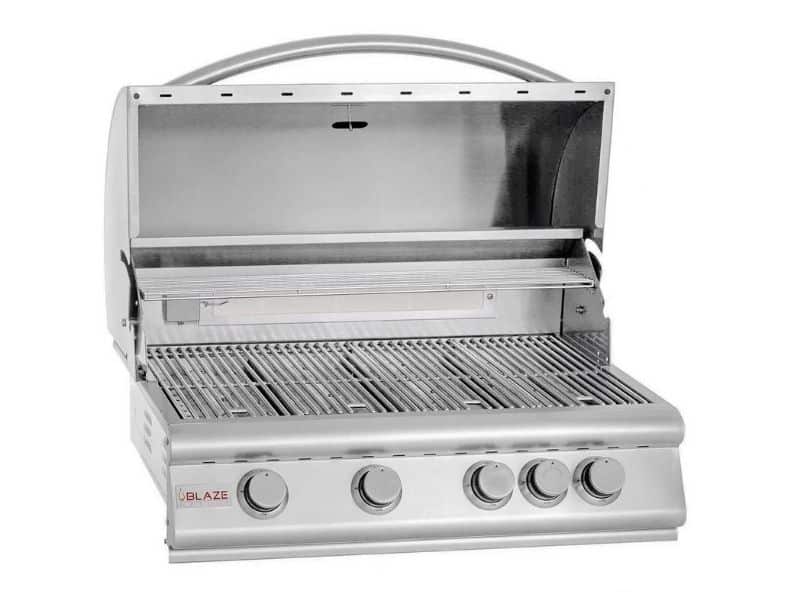 The Blaze fits the bill nicely. It's well constructed and beautiful. Furthermore, the double-lined lid will keep looking beautiful for years to come. 
This sizeable 32-inch grill features four burners and each can blast up to 14,000 BTUs of heat, making the total grilling output a whopping 56,000 BTUs! 
There's also a vertical infrared burner available that's perfect for indirect cooking or adding an optional rotisserie kit. When you order this unit from BBQGuys online store, you can choose if you want to have it with the infrared burner and/or rotisserie kit.
Looking for more options? You can find many great built-in grills in this buying guide.
Pros:
Hood is double-lined to avoid discoloration from heat

Flame stabilizing grids cover the entire surface

Removable warming rack

High-quality stainless steel components built for the long-haul, including 8 mm cooking grate

Lifetime warranty
Cons:
Side burners and storage area not included (available separately)
Best Natural Gas Grill Under 500 Dollars: Weber Q3200
Looking for a compact grill for an apartment balcony or small patio? The Weber Q3200 is a great option. This free-standing grill is based on the same popular framework as the smaller and more portable Weber Q gas grills.
The Q3200 has two burners and 393 square inches of primary grilling area plus a warming rack. Even though it's a compact grill you can still fit 12 normal-sized burgers on it.
It has a tall cast aluminum lid so you can easily fit a whole bird or a roast underneath. The stand includes two folding work surfaces and hooks for storage.
This grill doesn't have any extra gimmick but does an excellent job at what it is supposed to do, grilling those steaks, burgers, wings, and hot dogs. It's also quite affordable and offers great value for money.
If you are planning on buying it, check out our full review of the Weber Q3200.
Pros:
Cast aluminum construction

Porcelain-enameled cast-iron grill grates

Includes a grill light for nighttime cooking
Cons:
Advantages of a portable-sized grill are reduced when using natural gas–you must stay near the gas supply
Best Compact Natural Gas Grill: Fuego Professional
Fuego kettle-style grills are a great compact option. They look great, and their round design distributes heat better than most small grills. In addition, the sharp-looking integrated stand offers lots of storage potential.
The Fuego is a propane grill that comes with a conversion kit, so it may require some tinkering to get fired up. But a bonus is that this compact grill could be used as a propane grill for camping or road trips.
The innovative two-burner design can be used in three different ways. The larger outer burner ring can be used alone for slow-cooking. The same control knob can be used to turn up the heat by lighting the smaller inner ring, which is excellent for searing meats and seafood. Both burners are covered by a heat shield to avoid hot spots and flare ups.
It is really a matter of preference if Fuego is the right kind of grill for you. There is only one foldable side shelf, but this means you can easily fit in into a tight space. The round shape is also perfect for grilling pizzas!
Pros:
Porcelain-enameled cast-iron cooking grate

Two burners work together to produce an impressive 26,500 BTUs

Innovative design

Compact and stylish
Cons:
This is a propane grill with an included conversion kit
Best Special Features: Weber Summit S-470 (with Rotisserie, Smoker Box, Sear Burners, and Side Burner)
Ok, so you want all the bells and whistles and are ready to invest some serious money on your grill. This sleek and durable, stainless steel grill is the top-of-the-line option from Weber.
The Summit series grills are loaded with options. The S470 is a big four-burner grill with a sear station, and it has enough power to make any backyard grill master happy. This grill even has a handle light that automatically illuminates it so you don't have to cook in the dark. 
Of particular note is the integrated smoker box with its own burner, and an included rotisserie kit. It's big, it has all the options you could dream of, and it looks great in your backyard. What more could you ask for?
Pros:
High-quality components and heavy 9 mm grate

Purpose-built for natural gas

Tuck-away rotisserie

Included smoker box with dedicated burner

10,600 BTU sear station

Side burner
Cons: