Both Weber and Char-Broil grills can be found in retailers worldwide. These two companies have long histories and were instrumental in bringing outdoor cooking and grilling to the average Joe.
But which one makes better grills and smokers?
Weber units are famous for their excellent cooking performance and durability while Char-Broil grills and smokers are popular because of their excellent value.
So let's take a proper look at what they have to offer!
Summary of our comparison between Char-Broil & Weber grills and smokers:
Char-Broil – Brand Overview
Char-Broil is a leading grill manufacturer that has been around since 1948.
The company makes a full line of outdoor cooking appliances, from basic grills to state-of-the-art digital cooking centers. They are well known for their affordable gas grills and innovative concepts, such as their oilless turkey fryer.
For example, the best-selling Char-Broil Performance Series gas grills offer great value for money:
Char-Broil's grills are reliable and well-built but generally lack the fancy features, fit, and finish found by high-end manufacturers. Instead, the company uses stainless construction and clever designs to make affordable grills that improve your outdoor cooking experience.
Many of the company's grills feature TRU-Infrared technology, a patented cooking system that uses standard gas burners to warm a heat distributor under the grate.
It's important to realize that this is very different from the infrared sear burners you'll find in high-end grills. Nevertheless, it's an effective method to maintain even temperatures over the grill and keep the burners clean for the long run.
The company's headquarters are located in Columbus, Georgia but Char-Broil grills are made in China.
Weber – Brand Overview
Weber is one of the most identifiable grill makers on the market today.
From the basic charcoal kettle grill that made the company famous to sleek, modern gas grills, Weber makes something for everyone.
In general, Weber grills are more expensive compared to Char-Broil. However, you get grills that are durable, loaded with great features, and come with long warranties.
Even Weber's entry-level models are exceptionally well made, making for a great value on a grill that will perform reliably for years to come.
Weber is based in Huntley, Illinois. Many models are still made in the Midwest, but some are manufactured in China.
Read also: Nexgrill vs Weber – Which One Makes Better Grills?
Char-Broil vs Weber – Gas Grill Comparisons
Next, let's compare Char-Broil and Weber gas grills in entry-level and mid-range price classes.
Entry-Level Gas Grills: Weber Spirit II E-210 vs Char-Broil Performance Series 2-Burner
Both Weber and Char-Broil make entry-level grills to offer exceptional value for buyers.
These grills are basic, lacking the bells and whistles of premium models, but well constructed to stand the test of time. In short, they have everything you need and nothing you don't.
Our recommendation for an entry-level gas grill is the Weber Spirit II E-210 because of its better overall quality and grilling performance.
The Spirit II is a sturdy 2-burner grill that is made with quality parts. Compared to the Char-Broil it has thicker and more durable grill grates, a larger cooking area, more heating power, and a much longer warranty.
The Char-Broil Performance Series 2-burner is also a very popular grill that looks sleek and cooks nice. So if you are on a tight budget and want to save a few hundred bucks, it will do the job just fine.
Design and Build Quality
Both grills feature similar enameled steel frames with stainless accents — but the Weber weighs more as the materials are thicker and more robust. The lid on the Char-Broil is made of stainless steel, making it look more substantial.
The Weber is available in four colors — black, blue, red, and white. The Char-Broil features an enclosed cart, whereas the Weber has an open shelf.
Both grills have folding side tables for prep space and they can be easily folded down to save space.
Ease of Use and Maintenance/Cleaning
Even though the Weber Spirit II is an entry-level model, it features their GS4 Grilling System technology suite.
This includes easy and reliable lighting thanks to an infinity ignition, powerful burners, flavorizer bars, and a grease management system for easy cleanup. Grease is captured in a disposable tin tray, making cleanup far more pleasant than more entry-level grills.
The Char-Broil also has electronic ignition and a removable grease tray that work just fine.
Burners and Temperature Range
These are both two-burner designs featuring conventional stainless tube gas burners. The Weber puts out 26,500 BTUs while the Char-Broil makes 24,000 BTUs.
The amount of BTUs don't make much difference here but the Weber heats up faster and has better heat retention thanks to it's heavy cover and thick built.
Grilling Space
The primary cooking space on the Weber is 60 square inches larger, totaling 360 square inches. Both grills have built-in small warming racks — 90 square inches on the Weber and 100 on the Char-Broil.
The grates of these grills are made with porcelain-coated cast iron that give a nice sear and are easy to clean.
Extra Features
The Weber is compatible with a sweet of features you'll find in their lineup. Of special note is the built-in propane fuel gauge, so you'll never run out of gas unexpectedly.
The grill is also compatible with iGrill 3 — an app-connected thermometer that monitors food temperatures in real-time temperatures on your smart device.
The Char-Broil doesn't have any notable extra features besides the convenient storage cabinet on the cart.
Warranty
The Weber is covered by the company's 10-year warranty. This alone tells you something about how durable it is.
The Char-Broil is covered by a warranty that varies by part. The burners are covered for five years, the lid and firebox for two, and the remainder of the grill is covered for one year.
Mid-Range Gas Grills: Weber Genesis E-325s vs Char-Broil Performance TRU-Infrared 3-Burner
If you have a bit more budget you'll probably want to invest in one of the rigs we are going to compare next.
So what more do you get in a mid-range grill?
Obviously, you'll step up to a bigger unit with more powerful burners. But you'll also get some features you'll wonder how you ever lived without — searing burners and side burners make creating masterful meals in your backyard a snap.
Our pick is the Weber Genesis E-325s because of its better design, larger cooking area, and excellent searing capability.
This grill heats up fast and the searing station gets super hot for those nice grill marks and crispy surface. It's also built with stainless and heavy-gauge steel and comes with a long warranty.
However, you can get the Char-Broil Performance TRU-Infrared 3-burner grill for about half of the cost of the Weber Genesis. For that price, it offers excellent value for money!
As you might expect, the Char-Broil is not on the same level with Weber — it's not as sturdy and durable and has a much shorter warranty. Also cleaning the grill can be somewhat tedious.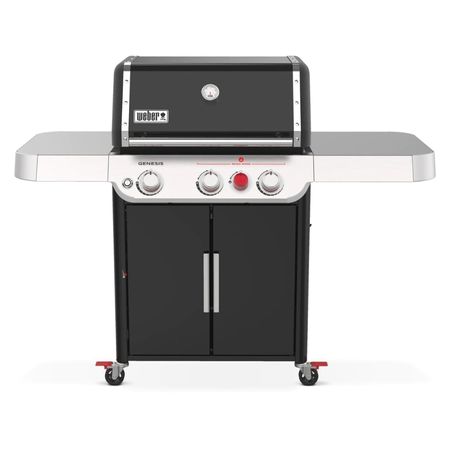 Weber Genesis E-325s
Total Grilling Area: 787 sq.in.
Number of Main Burners: 3
Main Burner BTUs: 39,000
13,000 BTU sear burner
Fuel: Propane/natural gas
---
Char-Broil TRU-Infrared
Total Grilling Area: 600 sq.in.
Number of Main Burners: 3
Main Burner BTUs: 24,000
10,000 BTU side burner
Fuel: Propane gas
Design and Build Quality
Both of these mid-range grills are three-burner designs — the Weber Genesis has a convenient storage cabinet under the grill but the Car-Broil only has a metal panel for hiding the gas tank.
While the grills are similar in size, the Weber is a bigger, heavier grill weighing 188 pounds to the Char-Broil's 85 pounds. This means it's built with much thicker and sturdier materials and offers better heat retention.
The Genesis grill has been redesigned in 2022 with a taller lid, cleaner and more accurate control panel, upgraded caster wheels, and compatibility with Weber's outdoor kitchen grillware.
Ease of Use and Maintenance/Cleaning
Both grills offer easy cooking with electronic ignition systems and plenty of heat control options.
The new Genesis has an upgraded grease management system with a pull-out tray, making cleanup even easier. The problem with the Char-Broil is that cleaning it properly takes much more effort.
Burners and Temperature Range
The Weber puts out an insane 39,000 BTUs from its grilling surface. It features Weber's PureBlu high-performance burners.
Unfortunately, it doesn't come with a side burner. If you need one, you can choose the pricier Genesis E-335 instead.
The Char-Broil has 24,000 BTUs from its primary burners plus another 10,000 BTUs on the side burner.
In addition, this grill has Char-Broil's TRUInfrared burner technology, which does a good job with preventing flare-ups and ensures even cooking temperatures.
Grilling Space
The Weber Genesis has a grate area of 513 square inches, compared to the 450 available on the Char-Broil.
The Weber also includes a large secondary cooking area with a removable grate measuring 274 square inches. The warming rack on the Char-Broil is only 150 square inches.
Bot units have porcelain-coated cast iron grates, but the Weber grates are thicker and better for searing.
Extra Features
Neither of these grills is a Cadillac overloaded with doodads and baubles. But they are both very well built and will last years with proper care and maintenance.
The Weber has a searing station with an extra burner, while the Char-Broil comes standard with a side burner.
Warranty
Weber has upgraded their warranty on the newest line of Genesis grills.
This one is now covered by a 12-year warranty for some important parts like the cookbox and lid assembly. Most other parts (burner tubes, cooking grates, flavorizer bars, and cooking grates) are covered for 10 years and some for 5.
Char-Broil covers this Performance-series grill with their standard tiered warranty — five years for the burners, two years for the lid and firebox, and one year for the rest of the grill.
Char-Broil vs Weber Smokers
In addition to gas grills, both Weber and Char-Broil make excellent smokers.
But we can't really do a direct comparison here because they focus on different types of smokers — Weber has great charcoal smokers and pellet grills while Char-Broil offers some fantastic units powered by electricity or propane gas.
Here are reviews of the best smokers from both brands:
Weber SmokeFire EX6 Gen2 Pellet Grill Review
If you are looking for a large pellet grill that can do both slow smoking and searing with high heat, then the Weber SmokeFire EX6 might be just what you are looking for.
The second generation SmokeFire EX6 has seen a lot of improvements compared to the original one. It also comes with some nice features like internal lights and support for the Weber Crafted cooking accessories.
Specifications:
Cooking Area: 1008 sq.in
Temperature Range: 200 – 600°F
Pellet Hopper Capacity: 22 lbs
Weight: 178 lbs
Build Materials: Painted steel and porcelain-coated steel
Warranty: 5 years or 3 years depending on the component
Using the SmokeFire EX6 is smooth and easy — you can control it with a smartphone app that even has a step-by-step grilling assistant helping you with getting things right from the start.
The SmokeFire delivers nice and light smoke continuously and gives your food a lovely taste.
This smoker is built sturdy and durable and has a large cooking area. It heats up to 600 degrees which is unusually high for a pellet smoker. One great thing is that it comes with two meat probes for monitoring the internal temperature of your food in real time.
If you appreciate pellet grills made in the USA then this is a great choice, although Weber also uses some globally sourced parts for the assembly.
The SmokeFire only has one thing that could still be improved — the grease drain. The can be some grease building up and catching fire but you can solve this problem by putting aluminum catch pans under the grates so that the grease will drop into them.
What We Love
Large cooking area
Heats up to 600°F
Puts out an even amount of smoke
Has a pellet hopper sensor function
Internal lighting for nighttime cooking
Made in the USA with globally sourced parts
What We Don't
The grease management system could be better
Weber 18-inch Smokey Mountain Charcoal Smoker Review
Charcoal smokers are simple and inexpensive so they are a great starting point for becoming a meat smoker.
The Weber 18-inch Smokey Mountain is a compact smoker with a smart design and durable build. This smoker is versatile and delivers excellent results — it's suitable for anyone from beginners to professionals participating in BBQ competitions.
Specifications:
Smoker Type: Vertical charcoal smoker
Cooking Area: 481 sq.in on two levels
Weight: 47 lbs
Build Materials: Painted steel and porcelain-enameled steel
Dimensions: 19″ x 21″ x 41″ (W x D x H)
Warranty: 10, 5, or 2 years depending on the part (click the link above to see details at BBQGuys)
The Smokey Mountain offers excellent value for money but there is a bit of a learning curve in getting everything right. Yet, if you read the instruction manual carefully and watch a few Youtube videos you will probably succeed with your first attempt.
One great thing about this smoker is that it's compact but you can still fit plenty of meat inside. Also, adding more fuel in the middle of cooking is easy thanks to the side-mounted door.
This smoker also comes with a built-in thermometer and well-designed air vents. Thanks to these features monitoring and controlling the cooking temperature is relatively easy.
If you want a bigger or smaller version of the Smokey Mountain, you can grab the 14-inch or 22-inch model available on both BBQGuys and Amazon.
What We Love
Great for anyone from beginners to professionals
Good air vents for temperature control
Compact design
Portable and lightweight
Made with durable materials
Great warranty and customer service
What We Don't
Takes some practice to master using it
Char-Broil Deluxe Digital Electric Smoker Review
The Char-Broil 30-inch deluxe smoker makes smoking meat super easy and straightforward. This smoker also provides plenty of cooking space and offers outstanding value for your money.
It has a digital thermostat for effortless temperature control and the double-wall insulation ensures good heat retention. The four wire racks are entirely customizable for ultimate versatility.
Specifications:
Wattage: 750
Cooking Area: 725 sq.in on 4 levels
Weight: 58.7 lbs
Build Materials: Stainless steel
Dimensions: 18.1″ x 16.5″ x 32.5″ (W x D x H)
Warranty: 1 year
The Char-Broil Deluxe smoker door has a large viewing window that allows you to observe both the food and also the wood chip tray while cooking. The extra-large tray can go as long as four to seven hours before it needs to be filled again.
If you use all four racks, this smoker has 725 square inches of cooking space. When cooking taller items like whole birds, you can remove some of the racks for more vertical space.
The smoker comes with a thermometer probe that plugs directly into the digital controls.
There is no stand included, so you have to crouch down when tending to the wood chip tray and lower racks unless you place it on an elevated platform or stand.
What We Love
Plenty of cooking space
Easy temperature control
Double-walled insulation for excellent heat retention
The front window allows you to monitor the food and wood chips
Comes with a food probe thermometer
What We Don't
The internal light of the smoker could be better
The smoker does not come with a stand
Char-Broil The Big Easy TRU-Infrared Propane Smoker, Roaster, and Grill Review
The Char-Broil Big Easy is a special appliance that can be described as a mix of a smoker, roaster, and grill. The unique vertical design is uncommon for propane smokers which usually have a cabinet-style construction.
This smoker has a lid that flips up like the ones you might have seen on kamado grills. There is a basket inside where you place the food items — it holds about 25 pounds, so you can smoke or roast a whole turkey without a problem.
Specifications:
Cooking Area: 225 sq.in
Weight: 50 lbs
Build Materials: Stainless steel, and porcelain-coated cast iron
Dimensions: 23.2″ x 23.5″ x 36.3″ (W x D x H)
Warranty: 5 years (burners) and 1 year for all other parts
The overall design of this smoker is great — the box for wood chips is located on the side and has a separate door so it's easy to load. You can adjust the heating power between 9,000 and 18,000 BTUs so you can reach higher temperatures for roasting.
If you want to use it as a grill, just use the round 180-square-inch grill grate that's above the smoker compartment.
The main problem with the Big Easy is that the cooking space is somewhat limited and you'll have to stack things vertically. But you can still fit surprising amounts of food if you organize them properly.
What We Love
Versatile – you can smoke, grill, and roast
Heats up to 500 °F (260 °C)
Easy to use and clean
Lightweight and compact
Weber vs Char-Broil Grills and Smokers FAQ
Are Char-Broil grills good compared to Weber?
Char-Broil grills are very good when you consider the value for money — most units have a price tag between 300 and 500 dollars.
However, Weber grills are more durable, have better features, and come with longer warranties. But they are also more expensive than Char-Broil grills.
Where are Char-Broil grills and Weber grills made?
Char-Broil grills are manufactured and assembled in China.
For Weber grills, it's a bit more complicated and depends on the product line. Most Weber grills are made in the USA from globally sourced components but some grills are manufactured and assembled in China.
Who makes better smokers, Weber or Char-Broil?
Weber and Char-Broil make different types of smokers so you can't compare them directly.
Weber has excellent charcoal smokers and pellet grills while Char-Broil specializes in electric and propane smokers.