It's the battle royale showdown between the two heavy-weight grill-making champions – Weber and Napoleon! Who will win your heart and a place in your backyard?
Seriously though, both companies make some outstanding grills. They both have a grill for every occasion and every budget.
Let's look at their offerings, from travel grills to high-end flagships.
Summary of our comparison between Napoleon and Weber gas grills:
Looking for more gas grill brand comparisons? Check out this one with Nexgrill vs Weber.
Weber – Brand Overview
Weber is one of the most well-known and respected names in grilling. Their ubiquitous black kettle grill is so synonymous with charcoal grilling that that type of grill is often called a Weber, even if it isn't one.
While many companies make those kettle grills now, George Stephen created the first one for Weber Brothers Metal Works in Chicago in 1952. The first grill was made from a metal buoy that was split in half.
From Kettles to Gas Grills
Weber didn't stop making great grills with those black kettle grills. They make a full range of gas grills too.
Found everywhere, from big-box retailers to grill specialty stores, they are the biggest name in grilling. This is also an advantage for consumers when it comes to parts availability and warranty service.
Today, Weber makes every kind of grill and smoker imaginable. Their popular line of gas grills includes the Q, Spirit, Genesis, and Summit lineups. Each lineup has multiple model options.
Based in the USA
Weber is still based in Chicago, and a wide assortment of grills is built at their manufacturing facility in Huntley, Illinois. Like most companies, however, some Webers are assembled in China or Taiwan, and all grills use some internationally-sourced parts.
What makes Weber grills so popular?
For one thing, Weber has better name recognition than any other grill company. They also have a full line of well-equipped grills to suit a variety of cooking styles and budgets.
Weber makes high-quality grills that are often more expensive compared to department store brands but inexpensive compared to boutique and premium brands.
That puts them in a sweet position that isn't quite "middle of the road" but isn't luxury-premium either.
Napoleon – Brand Overview
Napoleon Grills is a subsidiary of Wolf Steel Ltd of Canada. The company manufactures heating appliances of all sorts, from grills to stoves and heaters and fireplaces.
Napoleon has been recognized as one of Canada's Best Managed Companies and has been in business for over 40 years.
Like Weber, Napoleon makes a range of gas grills that include the Rogue, Prestige & Prestige PRO, and Travel.
Turning Up the Heat
Napoleon's grill lineup has gained traction in the past few years as a direct competitor to Weber. They offer a similar range of grilling products, especially when you compare gas grills.
Both brands make excellent looking, high-quality options, and generally, Napoleon grills are priced a bit higher.
Grills from the Canadian grill maker are sharp-looking with the latest gadgets. Their grills come with some of the industry's best warranties, and their quality is second-to-none, which allows them to compete with Weber's greater brand recognition.
Most Napoleon grills are manufactured in Canada, though some are assembled in China.
Napoleon vs Weber: Grill Comparisons
Next, let's compare different gas grills in 4 categories, from entry-level, mid-range, and high-end options to portable models.
I recommend that you also check out our Broil King vs Weber comparison for more interesting options.
Entry-Level Gas Grills: Weber Spirit E-330 vs Napoleon Rogue 365
The competition between Weber and Napoleon is very even in the entry-level category of gas grills. Both brands offer durable and stylish options that have everything that is needed for an enjoyable grilling experience.
Our pick in this price class is Weber Spirit E-330 because it has a larger grilling area and comes with a total of 5 burners providing great value for money.
This grill with 3 main burners is a solid product with excellent overall quality. It has a user-friendly design and is praised by both grilling experts as well as thousands of happy users.
Napoleon Rogue 365 is also a great option that has 2 main burners and a slightly smaller cooking area. Yet, it's a very stylish grill that comes with a longer warranty compared to Weber.
There is not much price difference between these 2 products.
Weber Spirit E-330
Total Grilling Area: 529 sq.in.
Number of Main Burners: 3
Main Burner BTUs: 32,000
Side & Sear Burner
Fuel: Propane gas
---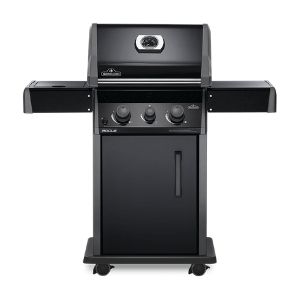 Napoleon Rogue 365
Total Grilling Area: 495 sq.in.
Number of Main Burners: 2
Main Burner BTUs: 32,000
Side Burner
Fuel: Propane gas
Design and Build Quality
Weber and Napoleon both produce crowd-pleasing grills for their entry-level models. Overall they're very similar to one another, and your final decision may come down to one more of style rather than substance.
Both manufacturers have a very high build quality.
These two grills appear very similar, with fully enclosed carts to hide tools and the fuel tank and side shelves for extra prep space. They both have enameled exteriors that are robust and will last years.
Ease of Use and Maintenance
Both the Napoleon Rogue 365 and Weber Spirit E-330 are designed from the ground up to provide an exceptional grilling experience. They are not fancy units with a lot of flashy extras but simple grills built exceptionally well.
The lids have a low profile for heat retention and easy opening. The knobs are ergonomically designed for better control, and the ignition systems are reliable and light the grills quickly.
The Napoleon has the company's signature battery-free Jet Fire ignition system, while the Weber grill uses an electronic crossover ignition for easy lighting. The Spirit E-330 also has a front-access grease tray and a catch pan system for easy cleanup.
Burners and Temperature Range
The Napoleon grill has 2 burners that produce 32,000 BTUs, while the Weber unit comes with 3 stainless steel burners that also total 32,000 BTUs.
That's enough horsepower for a smaller grill, so you'll never have to worry about having enough heat to cook whatever you want, but the Napoleon does squeeze a considerable amount of extra heat per one burner. On the other hand, Weber has 3 main burners for more versatility plus an extra 7,500 BTU sear burner.
Grilling Space
Both grills have high-quality cooking grids — porcelain-coated cast-iron on Weber and stainless steel on Napoleon. Where Weber trusts in the traditional straight design, Napoleon comes with the signature wave-shaped grates.
The Rogue has 495 square inches of total cooking area, divided between the 365 square-inch cooking grate and a large, extra-deep 130 square-inch warming rack. The main cooking grate measures 18 by 20 and holds about 14 burgers.
The waved cooking grates, made with 7.5 mm thick stainless rods, are easy to clean and leave amazing and unique sear marks.
The Weber has a 424 square-inch cooking grate with a 105 square-inch warming rack. That brings the total cooking area to 529 square inches.
Extra Features
These are entry-level grills that don't have a lot of fancy extras. Both come with a handy side burner for sauces, side dishes, or even for boiling some rice.
Warranty
Napoleon Rogue-series grills are covered by a 15-year "bumper to bumper" warranty, one of the industry's best. Considering this is an entry-level grill, you should feel great knowing that the company will stand behind their product for so long.
The Weber offers a 10-year warranty on most parts, though it is not as comprehensive as it is on the higher-end grills. The cook box and lid assembly are covered for 10 years, while the cooking grates and flavorizer bars are covered for 5 years. All remaining parts are only covered for 2 years.
You might also be interested in reading our comparison of Weber Spirit E 310 and Genesis E 310.
Mid-Range Gas Grills: Weber Genesis E-335 vs Napoleon Prestige 500
It's a tough battle between Weber and Napoleon again when we look at the mid-range price class of gas grills. Both options are large and sturdy units loaded with great features.
Our recommendation is the Weber Genesis E-335 because of its great value and excellent features.
This is one of the best and most popular 3-burner gas grills on the market, and for a reason. It's made with premium materials, it's more affordable than the Napoleon, and comes with a long warranty.
And the renewed 2022 model is even better than its predecessors.
If you want more grilling space and accessories like an included rotisserie kit, the Prestige 500 is a great option. It's made in North America and comes with a lifetime warranty for the major components (15-years for some parts).
The only problem is that it seems to be hard to find – for some reason it's often out of stock in most places.
Also, you might want to check out the prices of both units because sometimes you can find great bargains on the Genesis while the Prestige 500 might be out of your budget range.
Weber Genesis E-335
Total Grilling Area: 787 sq.in.
Number of Main Burners: 3
Main Burner BTUs: 39,000
Side & Sear Burner
Fuel: Propane/natural gas
---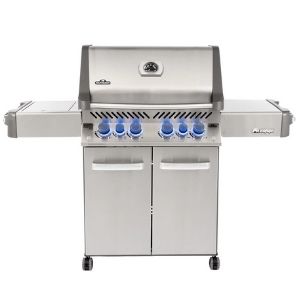 Napoleon Prestige 500
Total Grilling Area: 900 sq.in.
Number of Main Burners: 4
Main Burner BTUs: 48,000
Infrared Rear & Side Burners
Fuel: Propane/natural gas
Design and Build Quality
The renewed Weber Genesis line of grills features a larger sear station and upgraded metal swivel casters that can be locked.
The Genesis E-335 has a painted steel finish, unlike the stainless-finished Napoleon. But you can upgrade to the Genesis S-335 (just choose it from the drop-down menu on BBQGuys online store) if you want to have a stainless steel exterior instead.
The Genesis also features high-quality porcelain-coated cast iron grates, which are spectacular for retaining and distributing heat.
The Napoleon Prestige 500 is a stainless 4-burner grill that's as pretty as it is powerful. It's a stylish grill that is built to last with the industry's best warranty.
Among the many great features packed into the Prestige, the wave cooking grates and folding side shelves make it stand out. Another great feature is the balanced lid, which opens and closes smoothly with no effort at all.
Ease of Use and Maintenance
Weber's new and improved grease management system is one of the best out there. The large drip pan slides out easily and is quick to clean and it funnels most of the grease into an aluminum tray.
The Napoleon grills also use a replaceable foil tray for straightforward cleanup.
The Weber is designed to stow the fuel tank to the side in its own dedicated space where it's out of sight. The LP tank also hooks onto a gauge for quick fuel-level info before you get cooking.
One thing I really like about this grill is the handy side compartment that you can use for storing anything from Weber Crafted grillware and grilling tools to aluminum foil and condiments.
Burners and Temperature Range
The Genesis has 3 main burners that put out 39,000 BTUs, which is plenty. And if you need even more heat to get that nice sear for your steaks, there is an additional 13,000 BTU sear burner.
The 12,000 BTU side burner comes in handy when cooking sauces and side dishes.
The Napoleon has 4 main burners that produce a total of 48,000 BTUs. It also includes a 14,000 BTU side burner and an 18,000 BTU rear burner, but you must shop carefully.
They sell each feature under a different model number, so you can pick and choose precisely the grill you want. The grill linked here includes infrared rear and side burners.
The Infrared Sizzle Zone side burner offered by Napoleon is one of the most impressive side burners you'll find, and it includes a wave-shaped cooking grate. The burner can get up to 800 degrees Celcius in 30 seconds.
Grilling Space
The Weber has a total of 787 square inches of cooking space, including a 274 square-inch tuck-away warming rack. This is enough space for a large family or even a backyard barbecue party.
The Prestige has a 17.75 by 28-inch cooking grate, giving it 500 square inches for your pit boss to practice their art on. According to Napoleon, that's enough space for 31 burgers.
The Prestige 500 has Napoleon's signature 7.5 wave-shaped stainless rod cooking grates.
Extra Features
The new 2022 Genesis is more versatile than ever because it's designed so that you can combine it with the grillware in the new Crafted Outdoor Kitchen collection. Just remove the other grill grate and insert a grillware of your choice.
The options range from flat top griddles and roasting baskets to pizza stones and rotisserie sets that can be purchased separately.
The Napoleon doesn't leave you cold in the feature department wither. One of its coolest features is the backlight system that illuminates the knobs. The knobs change colors when a burner is lit, so you can instantly see if you've left it on.
The Napoleon also comes with an infrared rotisserie burner and system that is a must for grilling whole birds, roasts, and lamb legs. The grill features a super-accurate Accu-Probe Temperature Gauge in the lid and dual-level sear plates under each burner for better heat distribution.
Warranty
Napoleon Prestige-series grills are covered by an industry-leading lifetime bumper-to-bumper warranty. The grill's outer components, like the hood, lid, castings, and even the cooking grates and burners, are covered for the product's lifetime.
A few items are limited to 15 years, including the sear plates, infrared burners, and some other parts not listed.
In contrast, the new Weber Genesis comes with a 12-year warranty for the cookbox and lid assembly and a 10-year warranty for the stainless steel burners, flavorizer bars, and porcelain-enameled cast-iron cooking grates. A few remaining parts are covered with a 5-year warranty.
The two product lines offer a very similar quality, but the Napoleon warranty system bests Webers.
High-End Gas Grills: Weber Summit S-470 vs Napoleon Prestige PRO 500
When you want a grill including all the features you can imagine and made with the most durable materials, you need to look at the high-end options from both brands. We chose the smaller 3- and 4-burner versions for the comparison here, but there are also larger options available.
The versatile Weber Summit S-470 is our pick for a high-end grill.
It has excellent overall quality paired with superior features including a sear station, tuck-away rotisserie system with infrared burner, and a smoker box with a separate burner.
The Prestige PRO 500 is also an amazing grill but it doesn't offer much more compared to the more affordable Prestige 500.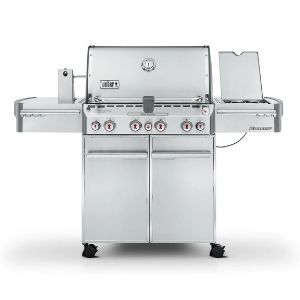 Weber Summit S-470
Total Grilling Area: 580 sq.in.
Number of Main Burners: 4
Main Burner BTUs: 48,800
Sear Burner & Side Burner
Rotisserie Kit & Infrared Burner
Smoker Box & Burner
Fuel: Propane/natural gas
---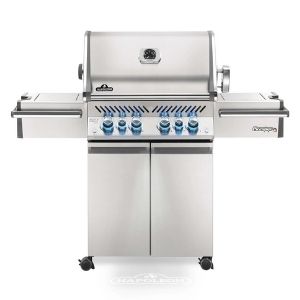 Napoleon Prestige PRO 500
Total Grilling Area: 900 sq.in.
Number of Main Burners: 4
Main Burner BTUs: 48,000
Infrared Rear & Side Burners
Includes a Rotisserie Kit
Extra Thick Stainless Grates
Fuel: Propane/natural gas
Design and Build Quality
The Summit S-470 boasts the same superior build quality as the Genesis E-335 with an upgraded weather-resistant stainless steel exterior, heavy-duty 9mm grates, and the Flavorizer drip evaporation system.
What makes the Weber Summit such a great grill is the versatility it offers to your outdoor cooking experience.
Sear station for steaks and burgers, a side burner for anything from cooking side dishes to frying eggs or boiling tea, and a great rotisserie system for chickens, turkeys, and bigger chunks of meat. And then there is the smoker box with a separate burner for adding some authentic barbecue flavor that normally lacks from foods cooked on a gas grill.
The Napoleon Prestige Pro 500 is an upgraded version of the same Prestige grill that doesn't include any major changes to Napoleon's already stellar equipment.
Ease of Use and Maintenance
From a usability standpoint, both of these grills are very similar. These are high-end grills that make cooking out a true pleasure.
The most significant difference between them is in the side burner, which on the Prestige Pro doubles as a super-high-powered sear station. The Weber features a traditional gas burner.
One of the coolest features of the Weber Summit grill is the flip-down rotisserie motor, which is flush with the left-hand shelf when not in use. You'll never go searching for it again, and it's entirely out of sight when not in use. There are also integrated storage places for the spit and fork when not in use.
For cleanup, the Weber comes with a front access grease tray with a catch pan while the Napoleon has a removable and replaceable foil tray.
Burners and Temperature Range
The Prestige Pro makes over 48,000 BTUs of heat from its 4 main burners. This is the same setup as the Prestige, but with much more total output. The rear burner is 18,000 BTU, and the side sear burner is another 14,000 BTU.
The Weber Summit puts out 48,800 BTUs from its 4 main burners and includes a 10,600 BTU sear station, 6,800 BTU smoker box burner, 12,000 BTU side burner, and 10,600 BTU infrared rotisserie burner.
Grilling Space
The Prestige Pro line comes with extra-thick 9.5 mm stainless steel grates shaped in the company's iconic wave pattern. The main cooking area measures 17.75 by 28, enough for 31 burgers.
This version of the Prestige Pro includes the high-powered infrared sear station side burner and the infrared rotisserie rear burner.
The Summit has a primary cooking grate of 468 square inches and is made of nine-millimeter stainless rods.
Extra Features
The Prestige Pro features an LED Spectrum-colored night light control knob system that can change colors to suit the chef's mood or the patio's ambiance. It also features the same safety light system that the Prestige does.
The grill also includes a motion-activated lighting system that comes on as you approach, including interior grill lights for perfect visibility at night. The side shelf opposite the sear burner features an integrated ice bucket and cutting board.
For its part, the Weber also has lighted control knobs and a handle light for nighttime cooking.
Warranty
Like the Prestige, the Prestige Pro is covered by a lifetime bumper-to-bumper warranty. On the other hand, the Weber comes with their best 10-year warranty that covers all items on the grill.
Portable Options: Weber Q 2200 vs Napoleon TravelQ 285
When it comes to portable grills, both Weber and Napoleon offer simple and affordable models that you can take along on trips or use in your balcony, patio, or backyard.
And if you don't need a bigger grill but are planning to use one of these as your main barbecue, you can get a cart to make it a standalone unit.
Our choice for a portable grill is Napoleon TravelQ 285 because it has more to offer when looking at features and warranty.
Yes, it also costs a bit more. But if you are willing to put in a few more bucks, the TravelQ is a superb grill for smaller outdoor cooking sessions.
Weber Q 2200 is a more affordable option with only one burner. Yet, it offers a seamless cooking experience tried and tested by thousands of users.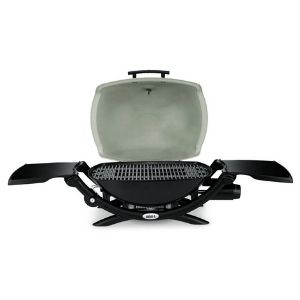 Weber Q 2200
Total Grilling Area: 280 sq.in.
Number of Main Burners: 1
Main Burner BTUs: 12,000
Fuel: Propane gas
---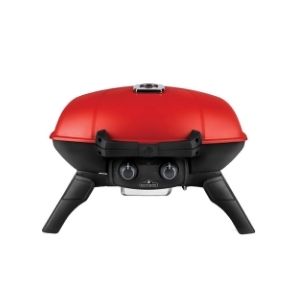 Napoleon TravelQ 285
Total Grilling Area: 285 sq.in.
Number of Main Burners: 2
Main Burner BTUs: 12,000
Fuel: Propane gas
Design and Build Quality
Both travel grills are made of cast aluminum, making them lightweight and strong. The two grills appear very similar, except that the Weber Q 2200 comes with folding side tables.
If you want side tables for the Napoleon, you'll have to get the stand. Having no side tables could also be a plus since it keeps the overall grill dimensions smaller for travel.
These grills are designed for use on a sturdy table or on the ground, but you can also get stands if you want to use them at home as a stand-alone grill.
The Napoleon features a much higher lid top, whereas the Weber has a sleeker, low-profile design. The Napoleon can hold a whole chicken for roasting or other large items, though, so in this case, low-profile might not be the best solution.
Ease of Use and Maintenance
These are both simple and small travel grills that work great on the road or for small backyards or patios. They both run off of one-pound disposable camping propane cylinders.
You can purchase a kit to hook up to a 20-pound propane tank at home in both cases.
While the Weber features a simple piezo spark ignition, the Napoleon retains some of its premium features like the instant Jetfire ignition and the Accu-Probe temperature gauge.
Maintaining the grill is also very easy. Check this guide for properly cleaning your Weber Q.
Burners and Temperature Range
The Napoleon strikes a clear win over the Weber in one regard – it features two separate burners. The Weber Q-series has a single 12,000 BTU burner which produces plenty of heat. But with only one, it's more challenging to control.
The two burners in the TravelQ Pro 285 total up to the same 12,000 BTU amount that the Weber has. Incidentally, this is about the maximum you can squeeze out of those little portable propane camping cylinders.
But having two burners means that indirect grilling becomes more manageable and controllable, opening up a wide range of new cooking options.
Both grills use porcelain-enameled cast-iron cooking grates to better distribute heat, a fantastic feature on a small grill.
Grilling Space
Between the two grills, the cooking space is nearly a draw. The Napoleon wins by a hair with 285 square inches over Weber's 280 square inches.
Warranty
The TravelQ comes with a 10-year limited warranty that covers the aluminum castings. The burner and cooking grate is covered for five years, and all other parts are covered for two.
The Weber Q 2200 is covered by a 5-year warranty that includes the cook box, lid, burner tube, cooking grates, and all plastic components. Everything else on the grill is covered for only two years.
Napoleon vs Weber – Final Thoughts
The bottom line is that both of these brands offer excellent options in all of the gas grill categories we included here. It really comes to the personal preference of choosing between the iconic and popular Weber and the underdog Napoleon that offers Canadian-made premium grills with even longer warranties.
Whichever brand you choose, it's very likely that you will be satisfied!
If you are building an outdoor kitchen, you might also want to check out our guide with the best built-in gas grills.