Weber is one of the best-known grill manufacturers, so it's not surprising that they have several product lines for different budgets and preferences.
Sure, they have the classic kettle-style charcoal grills and the wonderfully tailgate-ready Q-series. But if you want the best possible gas grill for your next barbecue, read this comparison.
So let's take a proper look at two of the most popular Weber gas grills, the Spirit II E-310 and Genesis E-325s.
Note: This article previously compared the Spirit II E-310 and Genesis II E-310, which were the most popular and affordable 3-burner units in the Spirit and Genesis product lines. However, in 2022 Weber introduced the renewed Genesis grills and the old Genesis II models have all been discontinued and are not available anymore.
Weber Spirit vs Genesis Product Line Comparison
Before we go into more detailed reviews of the two gas grills, here is a short overview of the Spirit and Genesis product lines.
The Spirit Series offers affordable and sharp-looking standalone grills that are relatively compact. There are 2 and 3-burner models available that are great for smaller families.
The Genesis Series has great options when you have a bit more budget and want a bigger grilling area and more features. Genesis grills come in 3 and 4-burner versions that have more firepower and are sturdier built compared to the Spirit models. Renewed in early 2022 the Genesis line is now even more versatile with the Smart grill option and Weber Crafted grillware that includes anything from rotisserie and roasting baskets to pizza stones and skewers.
Weber Genesis E-325s Review
In the Weber hierarchy, the Genesis grills are nearly top-of-the-line. They come loaded with features and are only out-classed by the exclusive Weber Summit series.
That makes the newly upgraded Genesis grills a great value — they have a great overall design, are built exceptionally well, and are still middle-of-the-road when it comes to price.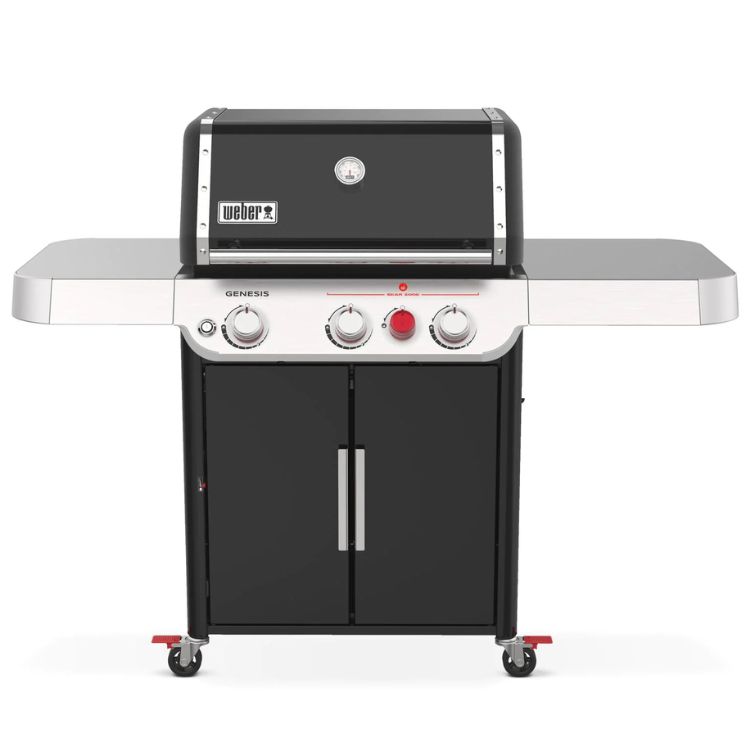 Specifications:
Fuel Type: Propane/natural gas
Number of Main Burners: 3
Additional Burners: 13,000 BTU sear burner
Total BTU: 52,000
Heat Flux: 76
Primary Grilling Area (sq.in): 513
Warming Rack Area (sq.in): 274
Weight: 210 lbs
Build Materials: Painted steel, stainless steel, and porcelain-coated cast iron (cooking grates)
Dimensions: 62″ x 27″ x 48.5″ (L x W x H)
Warranty: 12 years (cookbox and lid assembly), 10 (burners, grill grates, flavorizer bars), or 5 years (other parts)
Design and Build Quality
Weber grills have a reputation for outstanding quality, and the upgraded Genesis is certainly no exception. The lid is porcelain-enameled for long life. The rest of the grill is made of stainless steel components.
The cart is powder-coated steel. It has a cabinet design so the propane gas tank can be placed behind closed doors under the cookbox where it's out of sight but still quite accessible.
Speaking of the propane tank, the Genesis features Weber's super-slick fuel gauge system. So you'll know how much fuel is left in the tank at a glance. It's a super simple yet super handy device.
Cooking Area
The Genesis E-325s is a bit larger than the Spirit II E-310. Its total cooking area tops out at 787 square inches — enough for about 20 burgers by Weber's math.
The tuck-away warming rack is 274 square inches, meaning that 513 square inches are available on the primary grilling grates.
The grates are porcelain-enameled cast iron, which provides excellent heat distribution and retention. Plus, the coating makes them easy to clean and less prone to rust.
Ease of Use and Maintenance/Cleaning
This grill also has an excellent grease management system where the redesigned grease tray catches all the drippings that flow into the aluminum drip pan. An easier cleanup wouldn't even be possible to imagine!
The flame tamers and grease management system also help prevent dangerous flare-ups that might also ruin your food.
Burners and Temperature Range
The Genesis E-325s is a 3-burner grill that puts out 39,000 BTUs from the main burners. The burners are made of durable stainless steel and are warrantied for ten years. There is also an additional 13,000 BTU sear burner for getting that nice sear on your steaks.
When topped out, the grill can get up to about 550 degrees Fahrenheit which is enough for any dish you would want to cook.
The only downside of this model is the lack of a side burner. If you are willing to pay a bit more and need it, consider the Genesis E-335. In addition to the side burner, it also comes with a sear burner.
Both versions are available in propane or natural gas versions.
What We Love
Excellent quality and design
Durable construction
Consistent heat
Easy to clean
Large grilling surface
Comes with a fuel gauge (for propane)
Long warranty
Weber Spirit II E-310 Review
The Spirit II line of grills from Weber is their value-priced entry-level model. It shares many features with the old Genesis II E-310 — indeed, the two grills look very similar. But compared to the renewed Genesis, there are plenty of differences.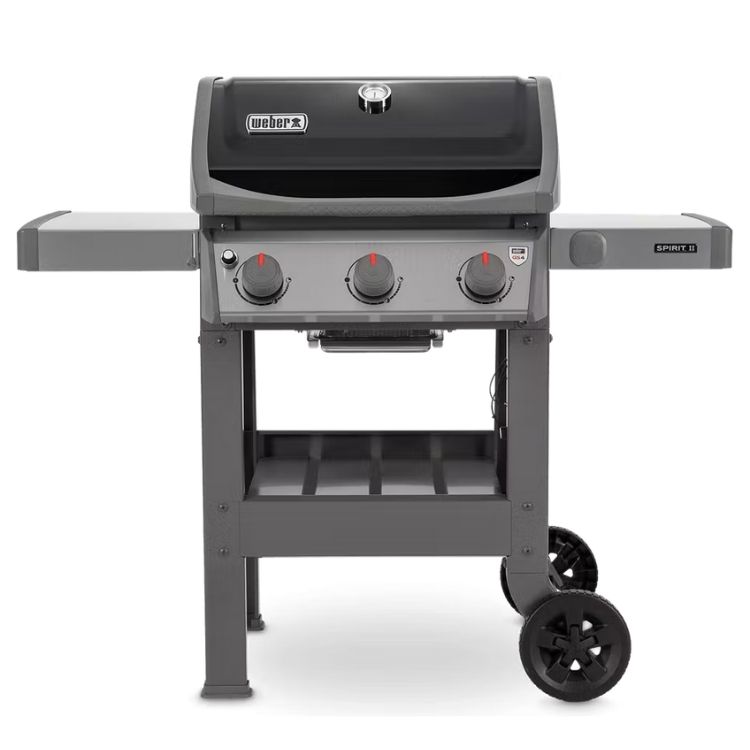 Specifications:
Fuel Type: Propane/natural gas
Number of Main Burners: 3
Total BTU: 30,000
Heat Flux: 71
Primary Grilling Area (sq.in): 424
Warming Rack Area (sq.in): 105
Weight: 114 lbs
Build Materials: Stainless steel, porcelain-coated steel, and porcelain-coated cast iron (grates)
Dimensions: 52″ x 27″ x 44.5″ (L x W x H)
Warranty: 10 years
Design and Build Quality
The Spirit II is a conventional-looking gas grill with an open cart design and a single shelf for storing goods.
The side tables on the cart fold down, which is nice if you need to fit the grill on compact patios or store it in the garage. The cart has two large wagon wheels for easy moving and 6 tool hooks for storing your grill tongs and brushes.
Cooking Area
The total cooking area of the Spirit II E-310 is 529 square inches, 105 of which are found on the warming rack. The remaining 424 square inches are on the primary cooking grates, which are made of porcelain-enameled cast iron. That's about enough real estate for about 15 burgers or so.
Ease of Use and Maintenance/Cleaning
Although the design is a bit different, using and cleaning this grill is as smooth as with the Genesis. There's a slide-out grease tin mounded under the grill — access is quick and easy.
Like the old Genesis II, the Spirit II has the GS4 grilling system that ensures a seamless grilling experience and great flavors.
Burners and Temperature Range
The 3 burners output a total of 30,000 BTUs. This isn't quite as much as the bigger burners in the Genesis, but they make more than enough heat to get the job done.
This model lacks side and sear burners but you can get the older Spirit E-330 if you need them.
What We Love
Great ignition system
Gets hot fast
Even heat distribution
Excellent value for money
Strong and solid frame
10-year warranty
Weber Spirit II E-310 vs Genesis E-325s – Main Differences
Here's a quick look at the primary differences between the two grills:
Design: The main difference in design is that the Spirit has an open cart design while the Genesis comes with a cabinet that has doors. Also, the Spirit has only two wheels but the side tables fold down, which may make it better for smaller spaces. The Genesis has four metal caster wheels treaded with rubber, which means that it will move easily on level surfaces.
Cooking Area and Grates: The Genesis line of grills have a larger total cooking area — about 30 percent more. The grates are made of the same materials.
Heating Power: The Genesis has three main burners that put out more BTUs — 39,000 compared to the Spirit's 30,000. And the Genesis also has an additional 13,000 burner for a great sear.
Materials: Weber grills are built for long life, so you won't find quick-rusting steel on either. The lids are enamel-coated, and the carts are powder-coated. The trays and many grill components are stainless.
Features: Both grills have three conventional burners and no side burner. The Spirit features Weber's excellent GS4 grilling technology package and is iGrill 3 compatible. The renewed Genesis grills are compatible with the Weber Crafted Outdoor Kitchen grillware collection.
Warranty: The Spirit comes with Weber's outstanding 10-year warranty. The Genesis also has an excellent warranty that covers most parts for 12 or 10 years.
Weber Spirit II E-310 vs Genesis II E-310 (-> Genesis E-325s) – Final Thoughts
Weber grills represent some of the nicest options on the market. The company has gone to lengths to make superior products that will take your grilling to the next level. Features like the Crafted Outdoor Kitchen collection, GS4 grilling system, and the iGrill 3 accessory make any backyard cookout a blast.
These two grills are more alike than different. Both are high-quality grills that will last a decade or more if taken care of properly. Both are loaded with just the right features to make grilling fun and to help you create some outstanding meals.
The choice ultimately comes down to your budget and which design you prefer. The Genesis is a larger grill with more firepower while the Spirit fits a smaller space and is more affordable.
If you want to see how Weber compares to other brands, check out our articles Napoleon vs. Weber and Nexgrill vs. Weber.