Are you looking for a new gas grill for cooking that perfect dinner steak? Or maybe you are planning to have a party and need to grill a bunch of burgers and hot dogs?
Well, the good news is that with 500 bucks you have plenty of great options to choose from.
Whether you are looking for a large grill for big parties, an infrared unit, a portable model, or just straight up the best rig for the money, you can find something nice here!
Our recommendations for Best Gas Grill Under $500:
The Best Gas Grills Under $500 Reviewed
Out of hundreds of options available in this price class, we picked the 6 best ones to suit different kinds of needs.
Most units here are only available as propane-powered versions. However, we have included a great natural gas option as well.
Next, let's take a look at our top picks in this price class.
Best Overall: Weber Spirit II E-210 Propane Gas Grill
Weber has been making grills for over 50 years and their products are known for quality, great design, and durability. Spirit II is their new product line featuring the unique GS4 grilling system familiar from the more expensive Genesis models.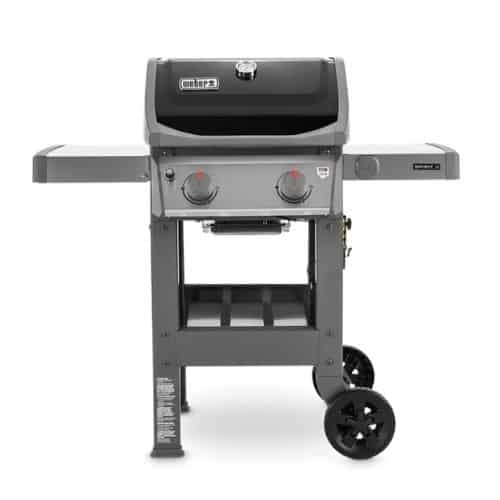 Specifications:
Fuel Type: Propane gas
Number of Main Burners: 2
Total BTU: 26,500
Heat Flux: 74
Primary Grilling Area (sq.in): 360
Warming Rack Area (sq.in): 90
Weight: 103 lbs
Build Materials: Stainless steel, porcelain-coated steel, and porcelain-coated cast iron (grates)
Dimensions: 48″ x 27″ x 44.5″ (L x W x H)
Warranty: 10 years
Weber Spirit II E-210 is a solid 2-burner gas grill with 26,500 BTUs of heating power and a 360 square inch grilling area (+ 90 sq.in warming rack). It heats up fast and delivers a nice sear to your steaks, burgers, or pork chops.
Next, let's take a closer look at what the GS4 system has to offer:
GS4 Grilling System
Ignition: It all starts from the ignition, and Spirit II E-210 makes it fast and easy. The infinity ignition system lights up the grill with a push of a button. Every time.
Burners: One of the most annoying things about gas grills is that they often have cooler spots where the food doesn't cook properly. The two burners of Spirit II E-210 are designed to provide a consistent gas flow and even cooking temperature across the grilling surface.
Flavorizer Bars: The flavorizer bars placed above the burners catch and vaporize drippings. This reduces the risk of flare-ups and adds a bit of smoky flavor to your food.
Grease Management: I have always liked the easy grease management of Weber grills. The extra grease that is not vaporized is directed into a disposable drip tray that can be easily replaced when it starts to get full.
This grill has reversible grill grates that are thicker on one side and thinner on the other side. The two side tables have hooks for hanging your grilling tools. You can also integrate the unit with a Weber iGrill 3 temperature probe that allows you to monitor its temperature with a smartphone app.
The E-210 is a durable and conveniently designed gas grill with a 10-year warranty on all parts.
This is our top pick for a gas grill you can get at this price class!
If you are interested in reading more about Weber models, check out our comparison of Weber Spirit II E-310 vs. Genesis II E-310.
What We Love
Great ignition system
Gets hot fast
Even heat distribution
Strong and solid frame
Premium quality parts
Long warranty
Looking for a Natural Gas Option?
If you have a gas line at your house, the most convenient option might be to connect your grill straight to it. Unfortunately, there is only a propane gas version of Spirit II E-210 available on Amazon at the moment. You might be able to find it somewhere else, but natural gas versions of smaller gas grills are hard to come by.
What you can do is just go for the model that is one notch bigger, the Spirit II E-310. You can choose between propane and natural gas versions and you will also get one more burner plus a bigger cooking area.
Then why didn't we recommend it in the first place?
It doesn't quite fit in the budget of 500 dollars so you need to cough up a few more bills to bring it home.
Large with Great Features: Monument 4-Burner Stainless Steel Propane Gas Grill
This 4-burner gas grill from Monument is the largest and most powerful unit in our line-up.
With 72,000 BTUs of total heating power and an impressive 723 square inches (513 main + 210 warming rack) of cooking space, this grill can deliver even for a bigger group of people!
Specifications:
Fuel Type: Propane gas
Number of Main Burners: 4
Additional Burners: 12,000 BTU Lidded Side burner and 12,000 BTU Sear Side Burner
Total BTU: 72,000
Heat Flux: 94
Primary Grilling Area (sq.in): 513
Warming Rack Area (sq.in): 210
Weight: 108 lbs
Build Materials: Stainless steel and porcelain-coated cast iron (grates)
Dimensions: 54″ x 22.5″ x 46″ (L x W x H)
Warranty: 8 years (burners), 1 year (other parts)
The grill is made of stainless steel and offers a comprehensive list of features. It comes with two side burners, fixed tool hooks, and a one-button ignition system.
In addition, its control knobs have LED backlights, which come in handy when cooking after the sunset.
If you like cooking whole chickens, turkeys, and roasts you can also order a version of this grill that has one less side burner but includes a rotisserie kit with a motor (click here to check it out on Amazon).
The reason why this is not our number one option in this price range is the overall quality compared to Weber. Although it's made of stainless steel, it can get rusty after a few years of use and the warranty only lasts for a year for most parts.
When you want the maximum amount of cooking space and heating power with a full stack of features, this is the way to go.
What We Love
Large cooking area
Even heat distribution
Stylish design
LED-lights in control knobs
Reasonably priced for its size and features
What We Don't
The metal is a bit thin and can rust
Best Design: Fuego F24C Propane Gas Grill
Are you looking for a gas grill that stands out with its design?
Here comes Fuego F24C. It looks like a space shuttle ready to take off, but turns out to be a very capable gas grill.
Specifications:
Fuel Type: Propane gas
Number of Main Burners: 2
Total BTU: 26,500
Heat Flux: 64
Primary Grilling Area (sq.in): 415
Warming Rack Area (sq.in): 110
Weight: 90 lbs
Build Materials: Stainless steel and porcelain-coated cast iron (cooking grates)
Dimensions: 24″ x 24″ x 56″ (L x W x H)
Warranty: 3 years (burners), 1 year (other parts)
One of the main advantages of this design is the low space requirement and a large cooking area. Also, with its four wheels, you can easily move it around on an even surface.
This 2-burner gas grill is easy to assemble and heats up very quickly. It has a dual-zone heating system that allows you to easily cook on direct or indirect heat. The outer area is great for slow-cooking roasts and ribs, while the center spot provides more intense heat that is perfect for steaks and burgers.
The Fuego F24C is a unique-looking grill that also delivers a solid cooking experience. If you are short on space, but still want to cook big, then Fuego is the solution.
What We Love
Compact
Easy to assemble
Innovative design
Easy to move with 4 wheels
What We Don't
Tall foods might not fit in
Best Infrared Option: Char-Broil Performance TRU-Infrared Propane Gas Grill
There are not many infrared grills that you can get for under $500. However, Char-Broil allows you to enter the world of infrared grilling without sucking your wallet dry.

Specifications:
Fuel Type: Propane gas
Number of Main Burners: 3
Additional Burners: Side burner 10,000 BTU
Total BTU: 34,000
Heat Flux: 53
Primary Grilling Area (sq.in): 450
Warming Rack Area (sq.in): 150
Weight: 98 lbs
Build Materials: Stainless steel and porcelain-coated cast iron (cooking grates)
Dimensions: 54.1″ x 23.4″ x 45.5″ (L x W x H)
Warranty: 5 years (burners), 2 years (firebox and lid), 1 year (other parts)
This 3-burner gas grill features TRU-infrared technology that results in evenly cooked and juicy meats. The stainless steel plate forms a barrier between the burners and the grilling grate. The hot steel spreads the heat evenly, emits infrared radiation, and prevents flare-ups.
It has a large 600 square inch (450 main + 150 warming rack) cooking area and features a handy side burner.
The downside of this product is that it can be quite tedious to clean it properly. The infrared grates tend to get clogged with grease and food particles and cleaning them takes some effort.
One of the best things about this unit is that it heats up fast and gives you an excellent sear.
What We Love
Heats up fast
High, even heat
Fewer flare-ups
Has a side burner
Best Budget Option: Char-Griller E3001 Grillin' Pro Propane Gas Grill
Char-Griller E3001 is an affordable 3-burner gas grill with a big 630 square inch (438 main + 192 warming rack) cooking area. It has plenty of heating power with 40,800 BTUs on the main burners and an additional 12,000 on the side burner.

Specifications:
Fuel Type: Propane gas
Number of Main Burners: 3
Additional Burners: Side burner 12,000 BTU
Total BTU: 52,800
Heat Flux: 93
Primary Grilling Area (sq.in): 438
Warming Rack Area (sq.in): 192
Weight: 100 lbs
Build Materials: Steel and porcelain-coated cast iron (cooking grates)
Dimensions: 48″ x 28″ x 48″ (L x W x H)
Warranty: 5 years
Considering the price, this grill comes with an impressive set of features. The electronic ignition provides a quick and easy start-up.
It also has porcelain-coated cast-iron grates that are double-sided. The other side is for grilling and you can flip them over for searing.
Want to grill a steak while searing a salmon fillet? No problem, just flip one grate over so you can do both at the same time.
The E3001 is made of powder-coated steel that starts to rust over time, if not properly taken care of. Also, it doesn't have any heat shields between the grates and burners, which results in a higher chance of flare-ups.
If you are looking for an affordable and easy-to-use grill with a large cooking area, this could be the perfect option for you.
What We Love
Gets hot fast
Large grilling area
Excellent value for the money
Comes with a side burner
What We Don't
Can start rusting after a few years if not maintained well
No heat shields results in more flare-ups
Best Portable Option: Coleman RoadTrip 285 Propane Grill
We also wanted to include an option that is portable, easy to set up, and can be stored in a small space when not in use.
Coleman RoadTrip 285 fits the bill and still manages to provide 20,000 BTUs of heating power and a 285 square inch grilling surface.

Specifications:
Fuel Type: Propane gas
Number of Main Burners: 3
Total BTU: 20,000
Heat Flux: 70
Primary Grilling Area (sq.in): 285
Weight: 53 lbs
Build Materials: Metal, plastic, and porcelain-coated cast iron (cooking grates)
Dimensions: 45.6" x 19.5" x 35″ (L x W x H)
Warranty: 3 years
Each of the three burners on this grill has a separate temperature control knob for creating heat zones. It also features push-button ignition and a thermometer.
It is a freestanding grill, so you don't need a separate table or another type of platform to use it.
Considering the relatively low price and portability, it's not a surprise that the RoadTrip 285 also has a few drawbacks.
The water tray under it is shallow, which makes it flow over easily unless placed on a completely even surface. It is also hard to empty the tray without spilling the liquid. In addition, the side handles are not very durable and the latch that holds the lid shut opens easily when it's being moved around.
Despite a couple of shortcomings, this grill is ideal for tailgating, camping, and traveling. If you have limited space and only use it occasionally, you can quickly fold it for storage. Then you can set it up fast again when needed.
What We Love
Good price point
Easy to set up, store, and transport
Adequate grilling space
Heats up fast
What We Don't
The water tray is shallow: spills easily, hard to empty
Poor quality latch on the lid
Side handles are not very durable
Advantages of a Gas Grill
It's not a wonder that gas grills have become very popular. Using a gas grill is easy and convenient, while a good one will also give you great cooking results.
You can ignite a gas grill by pressing a button, and they usually heat up in a matter of minutes. Depending on how often you use it, you might be able to grill for the whole summer with just one propane tank.
Furthermore, the best gas grills pack enough heating power for grilling steaks, reduce the risk of flare-ups, and are easy to clean.
If you want to bring your gas grillin' to the next level, check out these tips from Cowboy Kent Rollins:
Get Better Flavor from your Gas Grill
Buyer's Guide for Gas Grill Under $500
In order to find the best grill for your needs, there are some important aspects to consider before making the purchase.
Below, we have listed the most important features to think about:
Size and Space Requirement
One of the first things to consider is where you are going to place the grill and how much space you have. If you're tight with space, make sure that the grill can fit and that there is enough space around it.
Cooking Area
If you have a large family or plan to throw big parties, you will probably be cooking for plenty of people on a regular basis. This means you need a grill with a big cooking area.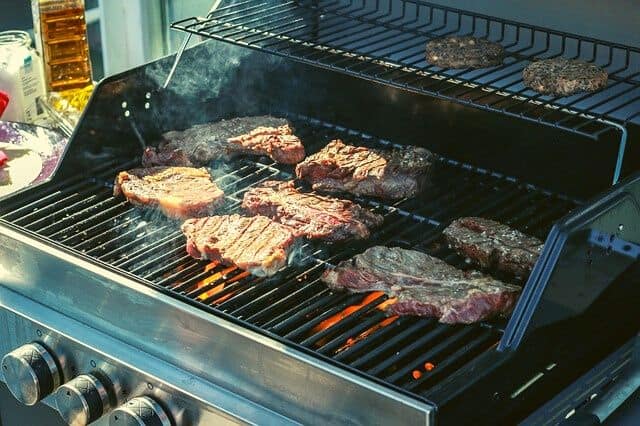 Yet, if you are mostly cooking for just a few people, there is no need to get a huge grill that consumes a lot of gas and is harder to clean.
Heating Capability: BTUs and Heat Flux
BTU, or the British thermal unit, tells you how much heat your gas grill can generate and how much fuel it consumes. If you have a large cooking area but low BTU, it will be hard to make the grill hot enough for burgers and steaks.
Heat flux is perhaps a more useful way of measuring the heating capability of a gas grill. Divide the amount of BTUs produced by the grill's main burners by the size of the primary grilling surface and you have the heat flux value.
The heat flux tells you directly how much heating power the grill puts out per every square inch. A proper value can be anything between 50 and 100.
Some newer grills are more efficient and can manage to get hot enough with less heating power. These types of units are well-designed to retain the produced heat, which makes them also more fuel-efficient.
Number of Burners
The more burners you have the more control you get over creating different heat zones on the grilling area. If you are going to sear some burgers while cooking some wings on the other side, you need enough control to make it happen.
Having at least three burners on the grill makes cooking different items at the same time much easier. You can also turn some of the burners off completely for indirect slow cooking for foods like ribs, briskets, or roasts.
Build Quality and Warranty
It might be worth investing some extra to get a grill that is built with durable and rust-proof materials and a good warranty.
Some of the cheaper models are great for the short term but might start rusting after a few seasons. Also, it's not nice to notice that one of the burners or the ignition has stopped working when bringing the grill out of the winter storage.
Storage and Transport
Are you going to keep the grill in one place, or do you need to move it around frequently?
Some grills are quite big and heavy, and it's not easy to move them.
There are more portable options that can be moved without too much effort. Some gas grills can also be easily folded. This will be convenient if you are planning to pack the grill in a car and take it with you on a trip. It's also much easier to put this type of grill to winter storage.
Extra Features
Do you need any kind of special features or just a high-quality basic gas grill?
Here are some features that you might find useful:
Side-Burner: A side burner can be very useful for cooking side dishes. You can use it to make sauces, boil rice or potatoes, or even fry bacon and eggs. And you can do all this at the same time while grilling.
Warming Rack: A separate warming rack is useful for keeping foods warm without burning them. Meanwhile, you can grill other things in hotter temperatures.
Infrared:

Having a gas grill with infrared technology allows you to use heat radiation for faster cooking. Infrared grills heat up quickly and achieve a more even heat distribution compared to regular gas grills. Many of the best steak houses use grills with infrared burners.

Rotisserie: When you're cooking whole birds or large pieces of meats a rotisserie can come in handy. It allows you to cook the meat more evenly without burning it and makes basting easier.
Best Gas Grills Under $500 – Final Thoughts
As you can see, you don't have to spend a fortune to get a good gas grill. However, you might have to choose between a smaller quality grill and a larger unit with more features.
We hope that this guide has provided you with the advice that you need for choosing your next grill.
If you are still looking for more options check out the buying guides below:
Have a great barbecue!