Flat top gas grills are popular both in restaurants and backyards because they are versatile and easy to use.
The larger models are great for having barbecue parties and cooking for big families. If you're planning to take your griddle along on a trip or camping adventure, you can choose a more portable option.
One of the best things about flat top grills and griddles is their versatility. You can cook almost anything with them. A flat top gas grill also heats up fast and is easy to clean.
Our recommendations for Best Flat Top Grills and Griddles:
What's Great About Flat Top Grills
What I love most about flat top grills is their versatility.
You wake up on a Sunday morning craving some bacon and eggs. Maybe some pancakes too?
Just light up that flat top gas grill and your breakfast will be done in no time.
Well, soon it's time for lunch. Maybe some burgers? Or how about some Mexican food this time — maybe fajitas or tacos?
Whichever you choose, one of the best ways to cook it is on a flat top grill.
Then later in the evening, you might wanna surprise your family with a steak dinner. On the other hand, something lighter, like a fish fillet could also be nice. With a flat top grill, you can cook either one!
Next, I recommend that you watch this short video with great tips for flat top grilling:
5 Best Flat Top Gas Grills and Outdoor Griddles Reviewed
Now, let's take a proper look at our list of the recommended flat top grills and griddles:
Best Overall: Royal Gourmet 4-Burner Flat Top Gas Grill and Griddle Combo
Royal Gourmet grill and griddle combo is our number one pick from the full-sized flat top gas grills. This sturdy propane gas unit is made of quality materials.
It's a versatile cooking gadget that has enough space for preparing a meal for a small army!
Specifications:
Fuel Type: Propane
Number of Burners: 4
Total BTU: 48,000
Grill Area (sq.in): 314
Griddle Area (sq.in): 292
Weight: 94.6 lbs
Build Materials: Stainless steel, ceramic coated steel (flat top), porcelain-enameled cast iron (grill grates)
Dimensions: 66.1″ x 21.7″ x 36.6″ (W x D x H)
Warranty: 1 year
Why the Royal Gourmet is Our Top Pick?
Of dozens of great options available on the market, we chose this one as our number one recommendation.
Let's take a closer look at what makes this griddle and grill combo so good:
Great Design and Versatility
This 4-burner flat top grill features 2 large cooking surfaces — one with regular grill grates and the other with flat top griddle.
The griddle cooktop is made of ceramic-coated steel, which is a great material for the purpose. It provides even heat and your eggs, fish, or pancakes won't stick to it when frying them.
The porcelain-enameled cast iron grill grates are excellent for grilling steaks and burgers. You can also place a frying pan or a removable griddle on it if you need more frying space.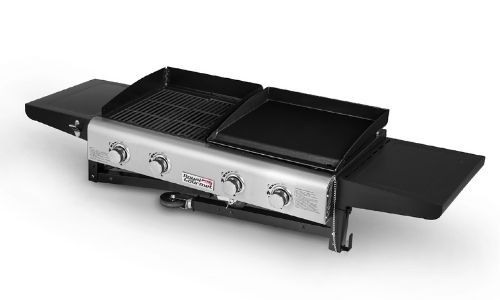 The Royal Gourmet has legs and side tables that can be folded to make it a compact and portable package. This allows you to take it along for camping trips and minimizes the required storage space.
High-Quality Burners
The grill has 4 durable stainless steel burners that put out 48,000 BTUs. That's enough heating power to make it hot in no time!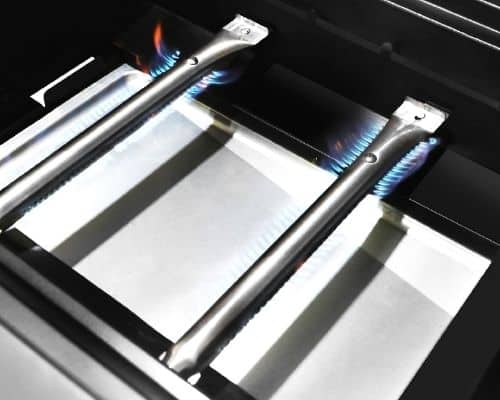 You can control each burner individually — just use the griddle side to fry some eggs and bacon or set everything to full blast and cook for a crowd!
Grease Management and Usability
The grease management system is well designed, and cleaning the cooking surfaces takes only a few minutes.
Other useful features include two side shelves for extra working space, a matchless ignition system, and a propane tank holder on the side.
The grill also has a hanging bar with hooks to place your tools and accessories out of the way but within hand's reach. The lockable caster wheels allow you to easily move it around on flat surfaces.
Conclusion
Overall, the Royal Gourmet 4-burner flat top grill is a great option for any backyard chef. Especially if you're looking for an all-around cooking station that can handle large amounts of food.
What We Love
2-in-1 design: Grill and griddle
Heats up fast
Great value for money
Large cooking area
Easy to clean
Good grease management system
Separate control for each 4 burners
Foldable legs make it portable
What We Don't
The side tables can't be folded
The Runner Up: Blackstone 4-Burner Outdoor Grill and Griddle Station
With a 720 square inch cooking surface and 60,000 BTUs of heating power, the Blackstone 4-burner griddle station is the biggest and most powerful unit included in this review.
Just like with the Royal Gourmet grill, the stainless steel burners can be controlled independently. This allows you to create different heat zones or use only one burner when you are cooking just a few portions.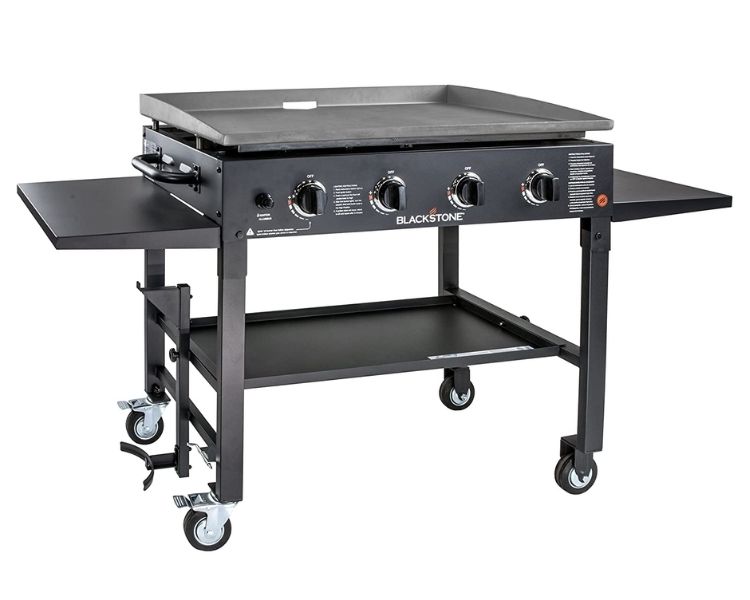 Specifications:
Fuel Type: Propane gas
Number of Burners: 4
Total BTU: 60,000
Cooking Area (sq.in): 720
Weight: 120 lbs
Build Materials: Painted steel, stainless steel, and cold-rolled steel
Dimensions: 62.5″ x 22″ x 36″ (W x D x H)
Warranty: 1 year
The grill is easy to assemble and, despite its large size, it's portable. You can remove the griddle top and fold the legs for transportation or storage. This comes in handy if you are planning to bring it around for tailgating or other outdoor events.
The Blackstone has all the basic features, including push-button ignition and folding side shelves. However, the grease drain could be improved as it sometimes lets a dribble of hot blubber down the leg.
Overall, this is definitely one of the best Blackstone griddles on the market and makes a great choice for cooking on your terrace or backyard.
The cold-rolled steel cooking surface is big enough for hosting parties and with those 4 wheels, you can move it around easily. And this griddle has an even larger cooking area than the Royal Gourmet model reviewed earlier in this guide.
What We Love
Easy to assemble
Large cooking area
Plenty of heating power
Easy to move around with 4 wheels
Good value for the money
Portable design
What We Don't
The grease drain is not always working as intended
Compact Stand-Alone Option: Cuisinart CGG-888 Stainless Steel Outdoor Cooking Center
Cuisinart is a brand mainly known for its kitchen appliances, like coffee makers and food processors. I didn't even know that they also make grills. However, this is not a reason to ignore the CGG-888 outdoor cooking center.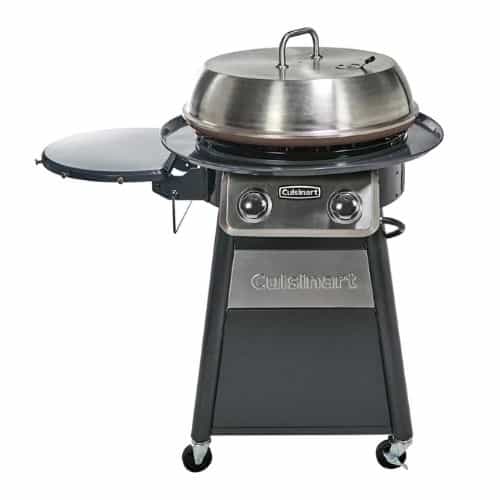 Specifications:
Fuel Type: Propane gas
Number of Burners: 2
Total BTU: 30,000
Cooking Area (sq.in): 380
Weight: 60 lbs
Build Materials: Stainless steel and cold-rolled steel
Dimensions: 31.75″ x 40.13″ x 43.63″ (W x D x H)
Warranty: 3 years
We really like the compact circular design of this flat top grill. It has a big cooking surface with a 19-inch diameter and 2 burners providing plenty of heating power. Yet, you can fit it in a quite small space, especially if you fold the side tray down.
This gas griddle also includes a lid that makes it even more versatile. You can use it for roasting, steaming, baking, and with a bit of imagination, even for smoking. The downside of the lid is that it's quite low, so you can't fit a whole turkey under it.
The CGG-888 is easy to set up and heats up fast. It is convenient to use and fast to clean. In addition, it has some nice features like a paper towel holder and a removable grease cup.
If you have limited space and need a versatile cooking station that can be easily moved around, this stainless steel griddle from Cuisinart might be just what you're looking for.
What We Love
Sleek and convenient design
Heats up fast
Easy to clean
Fits in a small space
Comes with a lid
3-year warranty
What We Don't
Tall foods don't fit under the dome
Best Tabletop Griddle: Royal Gourmet PD1301S 3-Burner Propane Gas Griddle
You don't necessarily need big and expensive equipment to prepare tasty food. Royal Gourmet PD1300 is a great example of a well-designed and compact gas griddle that delivers a solid cooking experience.
This portable tabletop griddle is ideal for camping, tailgating, and traveling. It has a porcelain enamel coated 312 square inch griddle, that is big enough to fit about 10 burger patties. It also packs enough heating power to give you a proper sear.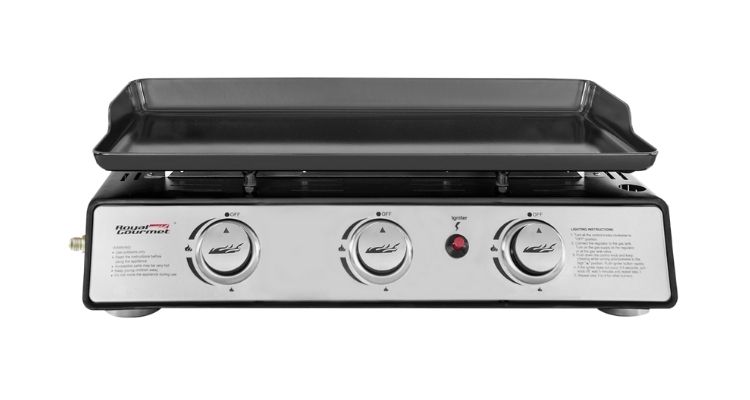 Specifications:
Fuel Type: Propane gas
Number of Burners: 3
Total BTU: 25,500
Cooking Area (sq.in): 316
Weight: 35 lbs
Build Materials: Stainless steel and porcelain-enameled cast iron
Dimensions: 25″ x 16.3″ x 7.9″ (W x D x H)
Warranty: 1 year
One of the main advantages of this portable 3-burner tabletop griddle is the fast and easy setup. Getting it out of storage, or the trunk of your car, and making it hot and ready to use happens in a matter of minutes. A cover for convenient storage and transport is included.
Its 3 burners can be individually controlled and provide an evenly heated cooking surface. However, reaching the right temperature is not that easy at first. You need to pay attention as it might get too hot and burn your food.
This Royal Gourmet gas griddle is very affordable. Yet, it features a push-button ignition system, a heavy-duty cooking surface, and an adequate grease management system.
What We Love
Easy to transport and store
Fast and easy setup
Great value for money
What We Don't
Temperature regulation can be a bit touchy
Small and Portable: Blackstone Portable 17 Inch Tabletop Flat Top Grill and Griddle
Looking for something small and portable? Here we have a convenient mini-griddle from Blackstone. This is one most convenient options to take along for camping or tailgating. It's lightweight and you can cook for several hours even with a small 1 pound propane bottle.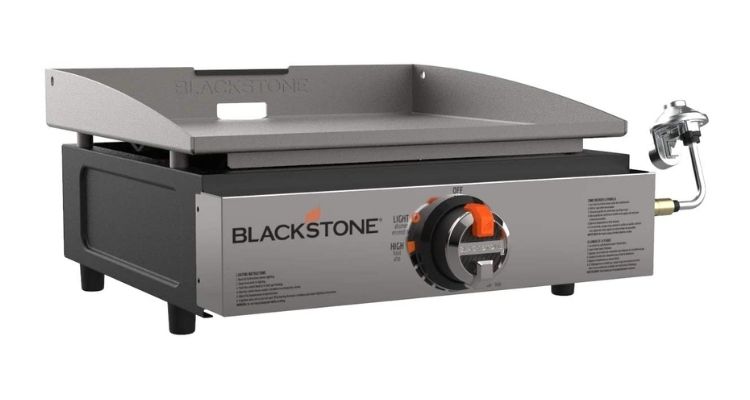 Specifications:
Fuel Type: Propane gas
Number of Burners: 1
Total BTU: 12,500
Cooking Area (sq.in): 267
Weight: 21 lbs
Build Materials: Stainless steel and cold-rolled steel
Dimensions: 17.5″ x 18″ x 8.5″ (W x D x H)
Warranty: 1 year
This 17-inch tabletop griddle takes very little space and is easy and fast to set up. It still has 267 square inches of cooking space, which is big enough for cooking a nice lunch for a family of 5.
It heats up fast, and your eggs, bacon, burgers, or pancakes will be ready in no time. Cleaning it up takes no more than a minute. In addition, this portable griddle offers very good value for the money.
What We Love
Affordable
Lightweight and portable
Easy to use and clean
What We Don't
Relatively small cooking area
How to Choose a Flat Top Grill
Here are the most important things to consider before buying a flat top grill or outdoor griddle:
Size and Heating Power
Your Grilling Area: The first thing to think about is the area where you are going to use the grill. Ýou would want to have a unit that will conveniently fit in the designated area. It's also good to have some space around it and make sure that no flammable objects are nearby. So sometimes a small grill can be the best option.
Heat and Cooking Surface: You'll definitely want to have a cooking surface that is suitable for your needs. Are you mostly just cooking for yourself and your spouse? Or do you like to host big gatherings and cook 20 burgers at the same time? In that case, getting a big enough grill with decent heating power will make things a lot easier.
Durability and Warranty
A cheap grill that is easy to use and cooks tasty food is nice. Yet, it can be very disappointing if it starts rusting or malfunctioning after a few years.
If you think about your wallet and the environment, in the long run, it's better to get a high-quality grill with durable parts.
Choosing a brand with reliable customer service and a long warranty is also a good idea. In case of problems, you won't be left alone but you can get the needed advice and replacement parts.
Portable or Not?
Planning to put your flat top grill in a certain place and keep it there? Then a bigger and heavier option might be the best choice.
If you want to use it for tailgating and camping, a portable model will be more convenient. In general, the portable tabletop griddles are fast to set up and easy to use. They are also very affordable.
We have included the best options for both full-sized and portable types of gas grills in this guide.
Brand Comparison: Royal Gourmet vs Blackstone Griddles
Royal Gourmet and Blackstone are the biggest names in the outdoor griddle game, so let's take a quick look at these two brands to help you choose.
Whether you are looking for a larger standalone unit or a more portable option, both brands offer some reasonably priced options with great cooking performance.
The main difference is that Royal Gourmet cooking surfaces are made with porcelain-coated cast iron while Blackstone uses cold-rolled steel. Both options are durable and work great, so which type of cooking surface you choose is a matter of personal preference.
Cold rolled carbon steel has better heat conductivity and volumetric heat capacity than cast iron or air so it heats up faster and provides a great sear. On the other hand, porcelain-coated cast iron doesn't need seasoning so it's easier to maintain.
Whichever brand you choose you can't really go wrong — both offer quality products with excellent value for money. The choice is more about what specific model best suits your needs.
Flat Top Grill and Griddle FAQ
Should I season my new flat top grill before using it?
Most flat top cooking surfaces are made of cast iron or cold-rolled steel and they should be cleaned and seasoned before using them for the first time.
Start by cleaning the cooking surface with warm water mixed with a bit of dishwashing soap. Then dry the surface and spread a thin layer of cooking oil (e.g. canola oil, sunflower oil, flax oil) on the surface. Next, turn up the heat and wait until the oil starts smoking. Keep the heat up until there is no more smoke and then turn the heat off and let it cool down. You can then wipe the surface with a damp soft cloth.
For more specific instructions, see the user manual of your flat top grill or griddle. Some brands recommend repeating the seasoning process several times to create many thin layers of seasoning.
How to clean flat top grill with rust?
If you keep your flat top grill well seasoned and clean, it shouldn't rust easily. Yet, sometimes the layer of seasoning might get damaged and allow the cooking surface to start rusting.
You can clean the rust by first heating the grill to loosen the layer of rust and then letting it cool down a bit. Next, scrape the rust off and then add some cooking oil and scrub the surface with a grill stone or steel wool. Wipe it clean with a cloth. If there is still rust, repeat the process.
When the griddle surface is clean, season it properly to avoid rusting. Also, store the unit in a cool, dry place to avoid corrosion.
What are the pros and cons of flat top grills and outdoor griddles?
Flat top grills are very versatile and you can use them for searing steaks, burgers, chicken breasts, and hot dogs. They can also be used to cook things that normal grills can't handle such as pancakes, eggs, and small pieces of meat and vegetables. Flat top gas grills and griddles are also easy to use and clean making them a great choice for beginners.
When it comes to big pieces of meat that require slow cooking, a flat top grill or griddle is not the best option. They usually don't have a lid so cooking items like ribs, briskets, or whole chickens is not possible. In addition, you can't get a smoky flavor when cooking on a flat top grill.
Final Thoughts
Whether you're looking for a large flat top unit that can handle a crowd of hungry people or a small portable grill, we have laid out our best options in this article. One great alternative is an electric teppanyaki grill because you can also use it indoors.
Choose between a full-sized flat top gas grill is or get a more portable tabletop unit.
The standalone units come with a big cooking area and great features. The smaller flat-top grills are super fast to set up and easy to use. Also, you can take them with you on the road and cook tasty foods wherever you go.
Choose the one that best suits your purpose and have a great time cooking with it!
Want to read more outdoor griddle brand comparisons?
See also our guide with the battle of Blackstone vs Camp Chef.