Teppanyaki grills are a fun way to cook Japanese-style food at home. Create healthy, exciting dishes on these functional cooktops for a fraction of the price of takeout.
One great thing is that teppanyaki grills and hotplates are very versatile and can be used for many other things than just Japanese foods.
You can fry your breakfast omelet, sear your burger patties, make pancakes, and cook countless other things on these flat-top grills.
So why settle for just an ordinary dinner when it can be an event? Make it happen with one of our recommended teppanyaki grills.
Our recommendations for Best Japanese Teppanyaki Grills and Hotplates:
What Exactly Is a Teppanyaki Grill?
Teppanyaki grills are solid metal, or ceramic, griddles — the term teppanyaki is Japanese and means "cooked on an iron plate."
Developed about two centuries ago in rural Japan, teppanyaki-style cooking captured imaginations in restaurants like Benihana where fresh, flavorful ingredients are tossed tableside by talented chefs.
Teppanyaki grills are electric or gas-powered. They're similar to the pancake griddle you may have at home, but with a larger precision surface and features that make them ideal for a wider range of foods. There's almost nothing you can't cook on a teppanyaki grill.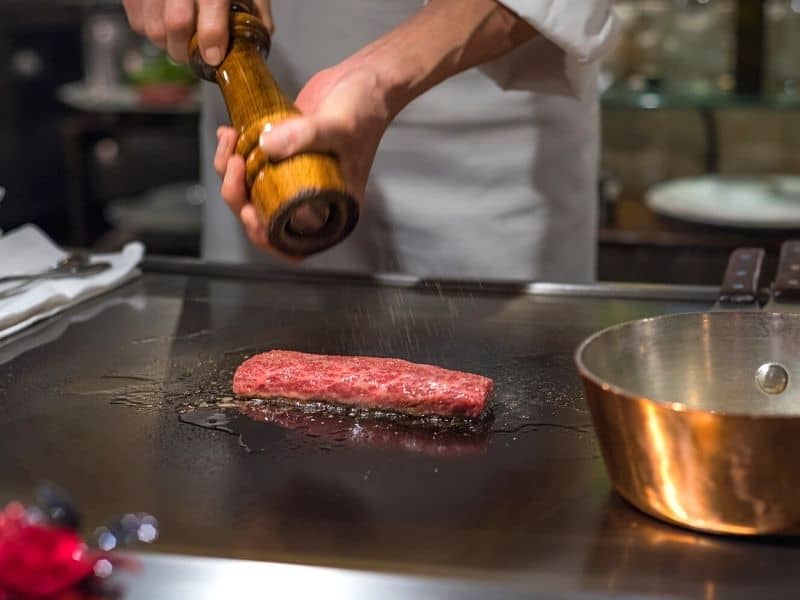 In America, teppanyaki is sometimes called hibachi-style cooking. But if we want to be precise, hibachi grills are actually small, portable barbecue grills made from cast iron that feature an open-grate design and use charcoal to produce heat.
Another similar type of grill called yakitori is specifically used for cooking skewers.
Types of Teppanyaki Grills
There's a teppanyaki grill for every home and budget.
In this guide we will cover all common types teppanyaki grills available on the market:
Electric Tabletop Teppanyaki Grills and Hotplates: Ideal to be used as an indoor grill and often affordable, lightweight, and portable. Create a Japanese-style meal at the table, on your patio, or take it along for trips. When not in use, just store it in the kitchen cabinet.
Teppanyaki Griddles for Gas Grill: If you already have a gas grill, a teppanyaki hot plate is a must-have accessory. It's a durable metal griddle, complete with sidewalls, that fits over your grates to create a solid grilling surface. Some models can also be used on top of other heat sources like gas or electric stoves.
Teppanyaki Tables: Restaurant-style teppanyaki tables complete with a flat top grill, table, and seating are usually heated with propane gas burners. They are often portable although large and heavy, and provide a unique and way to entertain guests.
What Makes Teppanyaki Grills Great?
A teppanyaki grill is an investment you won't regret. It's a great addition to any kitchen and in addition to the traditional Japanese delicacies, it can be used to cook many other things too.
Teppanyaki grills are:
Versatile: Appliances that make only one type of food have limited value. Teppanyaki grills can cook meats, vegetables, pancakes, and more, serving as a primary cooktop or expanding your existing cooking space.
Easy to Use and Clean: There's no learning curve with a teppanyaki grill. It'll take you a while to hone your grilling skills, but the cooking is foolproof. Clean-up is straightforward. Nonstick versions wipe clean. Stainless steel grills require care similar to a skillet.
Affordable: Prices for teppanyaki grills vary with size, features, and quality, but you can purchase a capable model for less than a hundred bucks. Go to your favorite Asian bistro and you cant even get a dinner for 4 with that budget!
Best Teppanyaki Grills, Tables, and Hotplates Reviewed
Best Electric Teppanyaki Grill: Zojirushi EA-DCC10 Gourmet Sizzler
Creating delicious meals is a breeze with the electric tabletop teppanyaki hotplate from Zojirushi.
Engineered for performance and safety, it's lightweight and portable but with the features you'd expect to find in a gourmet kitchen appliance.
Specifications:
Power Source: Electricity (1,350 watts)
Cooking Area: 237.5 sq.in
Weight: 12 lbs
Build Materials: Aluminum, ceramic cooking surface
Dimensions: 23.63″ x 15″ x 4.38″ (L x W x H)
This portable teppanyaki grill has a generous 19-inch x 12.5-inch ceramic cooking plate that can handle any food, from steaks to a big breakfast for four. Titanium-enhanced, its diamond-patterned non-stick coating is durable and a cinch to clean. Stir-fry a healthy dinner in minutes using less fat — nothing adheres to the surface.
Even heat distribution eliminates hot and cold spots, so you can use the entire surface of the griddle with consistent results. For steaming, the Gourmet Sizzler comes with a lid to trap moisture and speed cooking. Vegetables stay crisp and retain their nutrients.
Unique among teppanyaki grills, the removable cooking plate sits in frame to prevent scalding. The low-profile design and heat-resistant handles limit accidental contact with hot metal. You can move it from the countertop to the tabletop for serving with ease. The temperature control plug keeps the grill at a just-right temperature from warm to 425°F.
The Gourmet Sizzler costs a little more than average griddles, but it's bargain-priced considering its impressive capabilities, one-year warranty and complimentary stainless steel spatula. It's our best and most versatile teppanyaki grill — you won't be disappointed.
What We Love
Easy to use and clean
Large cooking surface
Provides even heat
Non-stick ceramic cooking surface
Portable and lightweight
Comes with a lid
Includes a stainless steel spatula
What We Don't
A bit more expensive compared to other brands
Large and Durable Teppanyaki Grill: ALDKitchen Flat Top Griddle
Cook like a pro with ALDKitchen's Teppanyaki Grill. It's similar to the electric grills used in teppanyaki bars but compact enough for personal use. The huge 21-inch x 16-inch surface with splash guard makes a complete feast for family and guests. Teppanyaki-style cooking at home has never been easier.
Specifications:
Power Source: Electricity (1,500 watts)
Cooking Area: 336 sq.in (also bigger options available)
Weight: 38.8 lbs
Build Materials: Stainless steel
Dimensions: 21,5″ x 16″ x 8″ (L x W x H)
The features of this unit include all-stainless steel construction, a scratch-resistant non-stick surface and single control knob with a 50°– 300°C temperature range suitable for searing.
Just plug it in, select the temperature and allow it to preheat. The red light shows it's on, and the green light tells you it's ready — there's no guesswork. It's the easiest kitchen appliance you'll ever use with no confusing functions.
You can cook a whole meal on a single surface without dirtying a half-dozen dozen pots and pans. The built-in catch tray tames drippings, so food isn't greasy, and clean-up is a snap.
This extra-large griddle may be overkill for 2, and at nearly 40 pounds, it's not designed to be portable. But it's ideal for aspiring chefs who want to cook for larger crowds and master the art of teppanyaki cooking. It's not the cheapest option around but offers remarkable value.
What We Love
Huge cooking surface
Very simple to use
Durable stainless steel construction
Easy temperature control
Excellent grease management system
Best Teppanyaki Griddle for Gas Grills: Little Griddle SQ180 Stainless Steel Griddle
Little Griddle's SQ180 transforms any gas grill into a complete outdoor kitchen. This unique accessory fits over the grates to create a solid surface ideal for teppanyaki. The great thing is that its use is not limited only to gas grills, you can also use it on top of your gas or electric range.
Specifications:
Cooking Area:

230 sq.in (also bigger options available)

Weight: 9 lbs
Build Materials: Stainless steel
Dimensions: 13″ x 18″ x 3″ (L x W x H)
Made of heavy- gauge steel with a full backsplash, it resembles the ALDKitchen Flat Top Griddle but can go anywhere. Weighing just nine pounds, it's ultra-portable for tailgating and more. Rated for temperatures up to 600°F, it's as flexible as your grill is.
What makes the Little Griddle one of our best grills is its quality construction and attention to detail. Two features stand out — the ventilated cross brace system that encourages airflow and even heating while adding side-to-side stability. And an integrated grease well that captures oils and prevents flareups.
Whether you want to experiment with teppanyaki cooking or add a solid surface to your grilling options, the Little Griddle is a premium product at an eye-popping low price. With a limited lifetime warranty, you're getting more than your money's worth.
What We Love
Made with high-quality stainless steel
Affordable
The surface heats evenly
Compact and portable
Comes with a lifetime warranty
What We Don't
Needs a separate heat source
Affordable Portable Teppanyaki Grill: Presto 20-inch Cool-Touch Electric Griddle
Presto specializes in making quality small appliances, and its Cool-Touch Electric Griddle is no exception. The cast aluminum base is durable yet lightweight for portability or table service. You'll spot these in RVs and homes across the country.
Specifications:
Power Source: Electricity (1,500 watts)
Cooking Area: 210 sq.in
Weight: 5 lbs
Build Materials: Aluminum, ceramic cooking surface
Dimensions: 11.31″ x 22.43″ x 2.37″ (L x W x H)
The 10.5-inch x 20-inch eco-friendly, nonstick surface heats evenly to 400 °F for grilling a variety of meals. It's PTFE and PFOA-free — a rare find in such an affordable griddle. It features a slide-out drip tray and single master heat control. The low-profile design makes it a convenient buffet server.
Compared to the Zojirushi Gourmet Sizzler and the ALDKitchen Flat Top Griddle, the Presto doesn't get quite as hot or heat as quickly, and it lacks a lid so it can't function as a steamer. But for a fraction of the price, it's a fine griddle that expands your cooking capability and a good investment.
What We Love
Simple and user-friendly design
Portable and easy to store
Great value for money
Slide-out drip tray for grease management
What We Don't
The cooking surface gets scratches easily
Has some hot and cooler spots
Best Option with a Hot Pot: YU-TOPQSC Teppanyaki Grill and Shabu Pot
Shabu is a traditional Japanese dish featuring meat and vegetables with savory dipping sauces. So why settle for teppanyaki alone when you can enjoy the best of both worlds with this all-in-one grill and hot pot. It's a fun and practical way to enjoy a range of intriguing flavors.
Specifications:
Power Source: Electricity (2,400 watts)
Cooking Area: about 130 sq.in + hot pot
Weight: 12.17 lbs
Build Materials: Stainless steel, glass, aluminum alloy
Dimensions: 30.5″ x 14″ x 6.25″ (L x W x H)
For a relatively affordable unit, it's remarkably well-equipped. On one side, the grill cooks meats, seafood, and vegetables. On the other, a dual-compartment hot pot with a lid warms your choice of soups or sauces. Each side has independent temperature controls.
Lightweight, it's packable for a party and an offbeat way to spice up a potluck. With 2400 watts of power, it reaches temperature in a jiffy with excellent thermal conduction for even heating. Nothing sticks to the healthy non-stick coating, making quick work of clean up. A slide-out grease tray catches oil.
For ever day use, you may prefer a simple grill with more surface area, but what are meals without cheer? Gather your friends and put out a spread. The TOPQSC Teppanyaki Grill and Shabu Pot is a satisfying spend.
Just remember that this appliance uses a lot of power when it's heating up. Make sure that your circuit breaker can handle it. Otherwise, you might need to use 2 outlets that are connected to separate circuit breakers.
What We Love
Easy to use and clean
Heats up fast
Very versatile
Convenient grease catcher
Wide temperature range
What We Don't
Uses a lot of power and might overload some circuit breakers
Best Teppanyaki Table: My Hibachi BBQ Table Set
Nothing offers an authentic Japanese experience at home quite like My Hibachi's sit-around teppanyaki grill. Designed for outdoor use, the set features a stainless steel gas grill, solid-surface griddle, and barbecue rack for hibachi-style grilling.
The cooking area is surrounded by three fold-out tables and four comfortable stools with a 300-pound weight capacity. Tables are made of rich, heat-resistant birch with inlaid ceramic tiles designed to help keep your food warm on a cool evening.
Specifications:
Fuel: Propane gas
Cooking Area: 540 sq.in
Weight: 200 lbs
Build Materials: Stainless steel, cast iron, wood
Dimensions: 38.1″ x 58.7″ x 35.4″ (L x W x H)
Setting up the table is effortless. It's designed to be portable and fits in most standard car trunks, yet it has the look and feel of a high-end appliance. No tools are required, but the griddle plate is heavy at almost 50 pounds, so have help for safety.
Dual, 40,000 BTU cast-iron burners are molded to prevent cracks and come with a lifetime warranty. Independent temperature control knobs let you create hot and cool zones for different types of foods. Sear burgers on one side and warm buns on the other.
The My Hibachi BBQ isn't cheap, but if you don't already have a gas grill and seating, it's a compact, all-in-one solution with a portability advantage at a competitive price.
What We Love
All-in-one solution for cooking and grilling
Powerful propane burners with lifetime warranty
The food can be cooked right on the table
Includes teppanyaki griddle and grilling rack
Portable – Great for camping and tailgating
Best Teppanyaki Accessory Set: OUII Teppanyaki Griddle Accessories Set
What's a teppanyaki grill without the tools to make the most of it? Get everything you need and more with OUII's premium stainless steel accessory set.
The kits contains:
Two 14.5-inch griddle spatulas
Two flat spatulas
A six-inch chopper
12-inch griddle tongs
Four silicone egg rings
Two chef's squeeze bottles for your favorite sauces
A cleaning kit, complete with a scraping tool and brush
A free griddle cookbook featuring dozens of mouthwatering recipes
Everything fits in the convenient, soft-sided carry case. Tools are ergonomically designed for comfort and dishwasher-safe for quick clean-up. It's the perfect complement for your new teppanyaki grill.
How to Choose the Best Teppanyaki Grill for Your Home?
It's important to choose the kind of teppanyaki grill that best fits your lifestyle.
Here are some features that you should consider before buying one:
Size: Capacity is everything when you're hungry or in a hurry, so select a grill large enough to serve the entire family without eating in shifts. But beware of buying too big. It needs to fit comfortably where it will be used and stored.
Portability: Compact teppanyaki grill lightweight, easy to carry, and fit in your trunk. Sit-around teppanyaki tables are larger but collapsible and also offer seating. Gas-powered models can be used in places charcoal grills are prohibited due to fire risks.
Fuel Source: Teppanyaki grills are powered by electricity or propane. Hot plates require an external heating source, usually an existing propane or natural gas grill. Choose portable models based on fuel availability where you roam.
Ease of Use: Teppanyaki grills aren't rocket science, but simplicity enhances your cooking experience. The good news is — our top teppanyaki grills are no more complicated than your stovetop.
Cleaning and Maintenance: Non-stick teppanyaki grills are wipe-down clean and require no scrubbing. Stainless steel models are best cleaned when hot. Pour a little hot water on the grill to create steam and stuck-on food comes right off. Grease trays are a plus.
Durability: An investment should last, so choose a grill with a quality build. Stainless steel materials and non-toxic ceramic grill plates are exceptionally durable with regular care.
Temperature Range: A wide temperature range is ideal for grilling the greatest variety of foods — 300°– 500°F is ideal for searing meats to seal in flavor. Moderate temperatures are better for delicate foods and keeping things warm.
Safety: Safety features for teppanyaki grills include non-slip feet and a full backsplash or recessed griddle tray. Models that are UL- or CE-listed comply with stringent US or European Union consumer protection standards.
Tasty Japanese Foods You Can Cook on a Teppanyaki Grill
Some popular Japanese dishes cooked on a teppanyaki grill include Yakisoba (stir-fried noodles) and Okonomiyaki (a savory pancake).
But you don't need to follow a complicated recipe. You can prepare tasty and authentic Japanese food on your teppanyaki grill simply by having the following ingredients:
Protein: Thinly sliced meat, for example, short rib. The more well-marbled the meat the better. You can even go for such an exclusive treat as Wagyu or Kobe beef. Pork, chicken, or seafood are also excellent choices.
Vegetables: Popular choices include cabbage, bean sprouts, carrots, shiitake mushrooms, and oyster mushrooms. But you can add almost anything you like from zucchini and eggplant to sweet potatoes and bell peppers.
Teppanyaki Sauce: For dipping the meat and veggies. You can buy ready-made sauce or prepare your own by following this excellent recipe.
Then you can simply stir fry the ingredients in cooking oil with some kosher salt, black pepper, and maybe a bit of grated garlic.
Serve the meat and veggies with Japanese rice, teppanyaki sauce, and some soup and seaweed salad. Add some cold Japanese beers or sake and you have a real feast!
Teppanyaki Grill FAQ
How should I clean my teppanyaki grill or hotplate?
If you have an electric teppanyaki hotplate with a non-stick surface, you can simply add some water and a bit of dishwashing solution and then wipe it clean with a soft sponge or a cloth.
For stainless steel teppanyaki grilling surface it's best to scrape it clean with stainless steel scraper while the surface is still warm. If there is still some residue stuck on the surface, you can spray some cooking oil on it and then scrub again. After the surface is scraped clean wait until it has completely cooled down and use a paper towel or a damp cloth to wipe any remaining grease off.
Where can I buy a teppanyaki grill for my home?
I recommend ordering your teppanyaki grill from Amazon because they have very competitive prices, a large selection, and you can read the user reviews before buying the product. Just check out the products recommended in this guide and follow the link buttons to check out the product on Amazon.
You can also find some sort of teppanyaki hotplate or grill in many big-box stores that have home appliances and grills.
Can I use a teppanyaki grill indoors?
Most electric teppanyaki grills and hotplates are suitable for indoor use. They might produce some smoke but the best ones have a grease management system that eliminates most of it.
If you have a propane gas teppanyaki grill, you should not use it indoors. Using a propane grill indoors causes carbon monoxide, a toxic gas, to build up in the room. Yet, many restaurants use gas grills in their kitchen or even have teppanyaki grills right in front of the customers, but this means that they have installed a proper ventilation system that removes the carbon monoxide.