Flat-top restaurant-style griddles are becoming more and more popular with backyard and camp chefs.
They are versatile and easy to scrape clean after cooking. Prepare anything from traditional grill foods like steaks, burgers and hot dogs to fried eggs, pancakes, or fajitas.
Blackstone and Camp Chef make some of the best outdoor griddles on the market — so which one to choose?
Let's take a proper look at both brands and see what they have to offer for your backyard or next camping trip. At the end of this guide, we will also see what essential cooking accessories these brands have in store.
Summary of our comparison between Blackstone and Camp Chef griddles:
Blackstone Griddles – Brand Overview
One unique thing about Blackstone is that they make nothing but outdoor griddles. So while other companies in the marketplace also produce some great griddles, Blackstone can be considered the griddle company.
So why does the company focus solely on flat tops?
It's built into the company ethos. In their own words, they wanted to make an outdoor cooking appliance that could do everything outside so no family members were stuck inside cooking and missing out on the experience.
Blackstone griddles range from around 20 to 60 inches wide. Some units are made with hoods and others without; some are portable tabletop models, and others are built on carts as standalone units. There are even Blackstone indoor griddles that run on electricity.
All of their griddles are designed and engineered in the US. However, the products are manufactured in China to cut costs.
Focusing on doing one thing well seems to have paid off since Blackstone commands 80% of the U.S. outdoor griddle market.
Are you wondering why the Blackstone griddles are so popular?
Check out this 1-minute video and find out:
Blackstone has carved itself a unique niche with its functional griddles in the competitive world of grills and outdoor cooking appliances. It's proven a popular recipe with customers, and Blackstone recently became a publically-traded company on the Nasdaq (ticker: BLKS).
If you want to see how this brand fares against other competition, check out our comparison of Evo vs Blackstone flat top grill.
Camp Chef Flat Top Grills – Brand Overview
Camp Chef is a top manufacturer of griddles and regular grills, pellet grills and smokers, cast-iron cookware, and fire pits. The company has always put its focus on sharing good times with friends around the fire, whether that's on the road, tailgating, or in your home backyard.
Camp Chef was founded in 1990 by Ty Measom, who became frustrated with the outdoor cooking equipment available at the time. He wanted a portable and powerful product that can cook a feast and still fit in the trunk of his car. This fundamental focus holds true to this day.
The company's current lineup includes grills, smokers, portable cooktops, cast iron pots and pans, fire pits, and accessories for outdoor cooking. The company is based in Cache Valley, Utah and their products are designed and tested in the US but manufactured in China.
Blackstone vs Camp Chef: Griddle Comparisons
Here's a look at the best options for griddles from these two stellar companies. Each company makes a superb selection of full-size, portable, and tabletop models to choose from.
Large Flat Top Grills: Blackstone 1554 vs Camp Chef FTG600
Both companies have amazing offerings if you're looking for a top-of-the-line griddle big enough to cook for a crowd.
These are full-size griddles suitable for a restaurant, with enough space to cook multiple dishes and side dishes simultaneously. A big griddle like this gives you all the benefits of cooking outside.
Our recommendation for a full-sized flat top grill is the Camp Chef FTG600.
The competition here is tough but the Camp Chef outguns the Blackstone in one aspect — in addition to the griddle, it comes with regular grill grates for direct-heat cooking.
However, if you don't care about the grill grates and only want the maximum amount of griddle surface and heating power, then the Blackstone might be a better choice. It's also the more affordable option and its legs fold up nicely making it somewhat portable.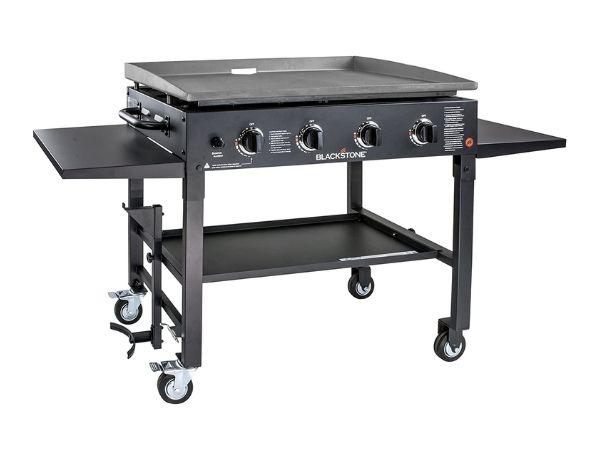 Blackstone 1554
Cooking Area: 720 sq.in
Number of Burners: 4
Total BTUs: 60,000
Weight: 120 lbs
Warranty: 1 year
---
Camp Chef FTG600
Cooking Area: 604 sq.in
Number of Burners: 4
Total BTUs: 48,000
Weight: 142 lbs
Warranty: 1 year
Design and Build Quality
These griddles are built to last with a powder-coated steel frame, stainless steel burners and a thick cold rolled steel griddle surface.
Cold rolled carbon steel is a great material for a griddle top because it has a considerably higher conductivity and volumetric heat capacity compared to cast iron. This provides you with a better cooking performance with crustier sears.
Both of these griddles have similar looks and features. They have more than 600 square inches of cooking space — enough to rival some really big backyard grills.
They also have side shelves to help with prep, and stand on sturdy frames that don't sway or shake when you are preparing food or scraping them clean.
Cooking Area and Heat Control
In terms of cooking area and power, the Blackstone 1554 is a bit larger, with a total of 720 square inches of cooking space.
If you prefer the Camp Chef but need a larger cooking area, go for the 6-burner version with 877 square inches of griddle surface.
Both grills are controlled with four separate burners to give maximum control over the cooktop. The Blackstone has 15,000 BTU burners, while the Camp Chef uses four 12,000 BTU units.
Ease of Use and Maintenance
In terms of cooking, it doesn't get much more simple than working with a big griddle. There's enough real estate to spread out dishes and prepare a whole meal on the one cooktop. Neither has a hood nor a side burner.
Ignition is via a continuous spark lighter on both units, so you'll get a quick startup and reliable ignition. Both work off a standard 20-pound propane tank.
Cleaning is made easy with effective grease management systems on both Blackstone and Camp Chef units.
Portability
Given their size, neither of these units can really be considered portable. Both stand just under 40 inches tall and measure 65 inches wide. The Blackstone has legs that can be folded but it weighs around 120 pounds making it a bit too heavy for most camping trips.
The Blackstone stands on four caster wheels, while the Camp Chef has two wagon-style plastic wheels on the cart. If your goal is a portable model, check out the next two units in our guide.
Portable Standalone Griddles: Blackstone Adventure Ready vs Camp Chef FTG600P
Looking to hit the road?
Neither company will leave you stranded once you get to camp. Portable models offer a great combination of maneuverability and useability, no matter where you happen to be cooking.
Our pick for a portable standalone griddle is the Blackstone Adventure Ready simply because it's much more portable and still has a large-enough cooking surface.
This griddle folds up for easy transport, is relatively lightweight, and has everything you need for cooking a great meal while camping or in your backyard. It's also nearly 50 percent cheaper than the Camp Chef.
Camp Chef FTG600P is very similar to the FTG600 introduced earlier in this guide. It has the exact same cold-rolled steel cooking surface and the same burners.
There are two notable differences though. First, the folding legs make this unit quite easy to transport and second, there is no grill grate included. This is a great option if you want a large portable flat top grill and don't mind hauling a unit that weighs over 120 pounds.
Blackstone Adventure Ready
Cooking Area: 448 sq.in
Number of Burners: 2
Total BTUs: 34,000
Weight: 66 lbs
Warranty: 1 year
---
Camp Chef FTG600P
Cooking Area: 604 sq.in
Number of Burners: 4
Total BTUs: 48,000
Weight: 122 lbs
Warranty: 1 year
Design and Build Quality
Both Blackstone and Camp Chef models feature folding legs. These units provide you with a big griddle surface but are easier to transport than the standard backyard models.
They are somewhat similar in design, with side tray tables that fold and legs that collapse.
The Blackstone has a sturdy powder-coated steel frame with caster wheels on the other end. This makes it easy to move the grill around on a smooth surface but you have to find a level spot for cooking since you can't adjust the height of each leg.
The Camp Chef has no wheels so you need to carry it but it comes with adjustable leg levelers so you can always make your cooking surface even.
Cooking Area and Heat Control
In the middle range of "portable but not small," you'll have to find a balance that works for the adventures you have in mind. For example, how many people will you be cooking for, and what size limitations do you have?
In terms of cooking area, the Camp Chef FTG600P is hard to beat with its folding legs. This 604 square inch, four-burner griddle folds down into a package that is compact but quite heavy.
The Blackstone, on the other hand, is a smaller griddle. Its 448 square inch cooktop has two burners. The total power is 34,000 BTUs. That's still plenty of space and power for most groups and provides a smaller overall footprint in your car.
The cooktops on both units are made with durable cold-rolled steel while the burners are stainless steel.
Ease of Use and Cleaning/Maintenance
One of the great things about cooking on a bigger flat top griddle is the easy cleanup. You can clean most messes with a simple spatula or scraper.
In addition, the grease-catching system on both griddles is easily emptied at the end of the day.
Portability
Both of these griddles feature folding legs that make transport easier.
Since they're still pretty big they work great when you need to cook for a crowd no matter where you go. They're perfect for tailgating from a pickup but hard to squeeze into the trunk of a car.
But if you need to carry your grill anywhere, note that the Blackstone only weighs about half of the Camp Chef.
And, of course, don't forget that both still use a standard 20-pound propane cylinder that you need to bring along.
Tabletop Griddles: Blackstone 1813 vs Camp Chef FTG400
Since the portable standalone griddles above are still quite large, you may want to see the tabletop options here if you're cooking for smaller groups.
So when you're looking to cook for just yourself or as a couple, a tabletop griddle can give you the benefits of outdoor cooking with none of the size and fuss of a full-size model.
And in fact, you can still fit about a dozen burgers on either of these little beasts!
The versatile Blackstone 1813 is our recommendation for a tabletop griddle.
This compact and lightweight unit comes with a hood that protects the cooking surface and allows you to use a variety of cooking techniques.
The Camp Chef FTG400 is also a great option and has a slightly larger cooking area and a bit more heating power compared to the Blackstone. When it comes to price and other specs these griddles are very similar.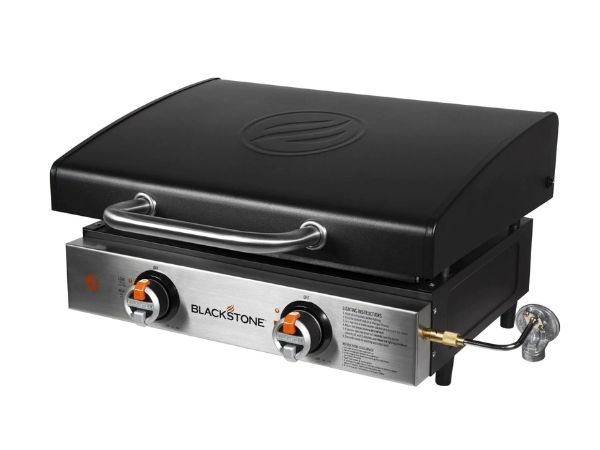 Blackstone 1813
Cooking Area: 362 sq.in
Number of Burners: 2
Total BTUs: 24,000
Weight: 38 lbs
Warranty: 1 year
---
Camp Chef FTG400
Cooking Area: 416 sq.in
Number of Burners: 2
Total BTUs: 32,000
Weight: 39 lbs
Warranty: 1 year
Design and Build Quality
Both griddles have a simple design and they are built to be lightweight but durable.
One key difference here is the hood built into the Blackstone which allows closing the heat in for indirect or slower cooking. That's a nice addition to give your appliance a little more versatility, although the hood is fairly low.
Planning on cooking some chicken legs on a griddle?
I wouldn't normally try it because the might turn out raw inside or burnt outside. But Blackstone can handle them easily by not letting the heat espace so they cook more evenly all over.
The hood also protects the cooking surface from dust and dirt.
The Camp Chef tabletop model is a standard open griddle design. Both units need a table to sit on as they include no cart or stand.
Cooking Area and Heat Control
These griddles are two-burner designs, but the Camp Chef squeezes a little more space into theirs and also has more fire power.
The Camp Chef has 416 square inches of griddle surface and 32,000 BTUs, whereas the Blackstone has 362 square inches and 24,000 BTUs.
Ease of Use and Cleaning/Maintenance
Unlike the larger flat top grills, these units can be used with smaller one-pound propane camping gas cylinders. This is a big plus since they are more available and easier to carry around.
If you're setting it up at home, you can also get an adapter hose that will run off a standard 20-pound tank.
Portability
A tabletop model is hard to beat if you're moving your griddle around. These units have a footprint of around 24 by 24 inches and stand only about 13 inches tall.
Both the Blackstone and the Camp Chef tip the scales at just under 40 pounds and since they both use small camping gas cylinders you don't have to lug a big tank around.
Flat Top Grill and Outdoor Griddle Accessories
When you buy a new griddle you probably want to get some essential tools and accessories as well. These will make cooking easier and more fun. They will also help you keep the grill clean and in top shape.
But first things first, when your new griddle arrives remember to season it with a griddle seasoning and conditioner.
Follow these instructions to get it right:
If you choose a Camp Chef griddle, this step is not necessary as they feature True Seasoned Finish and are ready use right out of the box. This one of the reasons that the Camp Chef models are often more expensive compared to Blackstone.
So how about the cooking and cleaning tools?
Get a complete set like this Blackstone Professional 22-Piece Tool Kit that includes everything from spatulas, tongs, and a basting brush, to an appron as well as a cleaning scraper and scour pads.
Or if you just want a basic set, get this affordable Camp Chef Flat Top Tool Kit with the most vital cooking and cleaning items.
And one more thing about accessories.
Are you a pizza lover?
Then consider buying the excellent Camp Chef Artisan Outdoor Pizza Oven that is compatible with the Camp Chef FTG400 tabletop griddle introduced above.
Blackstone vs Camp Chef – Final Thoughts
An increasing number of backyard chefs are choosing a flat top grill for cooking their meals. And that's no wonder since there are several advantages to these griddles over regular grills.
First, they're easier to clean — just scrape them and empty the grease catcher when you're done. They're also less prone to hot spots and flare-ups that can ruin your cooking.
But the biggest advantage is their versatility. You can cook so many things on a flat top grill — pancakes and eggs for breakfast, steaks, fish, or chopped veggies to go on your burger. You can even boil water on the griddle for making pasta or rice.
Or why not use it as a teppanyaki grill and make some Japanese-style food.
The possibilities are endless, and they are hard to beat for quick, high-heat cooking.
Both Blackstone and Camp Chef make excellent propane griddles for outdoor use and the competition between them is tough. All of the units introduced in this guide are of great quality and the choice mostly comes to personal preference.
So just choose the right type of griddle for your needs and start cooking!
Looking for more griddle comparisons? Check out our article on the battle of Pit Boss vs Blackstone.