Is it possible to cook and eat smoked chicken thighs at the tailgate party?
You bet it is — all you need is a portable smoker.
These are the smallest smokers you can get, and they are available with all of the same features and options that full-size backyard models are.
But just because they're portable doesn't always mean that they're able to go anywhere. Picking the right smoker for your getaway means taking a careful look at the sizes and capacities that will work, as well as the fuel source available.
Our recommendations for Best Portable Smoker:
5 Best Portable Smokers Reviewed
We have picked the best portable option for each type of smoker to be reviewed here.
Choose the one that best fits your needs, and you can enjoy a tasty barbecue while camping or tailgating. Or why not bring the smoker over to your friend's house and cook an amazing dinner for everyone!
Best Portable Charcoal Smoker: Weber 14-Inch Smokey Mountain Charcoal Cooker
The Weber Smokey Mountain is a small bullet-style charcoal smoker. It stands 32 inches tall and weighs just over 20 pounds, making it not too big to throw in the back of your truck.
Yet, you can still fit one whole chicken or even a small turkey in this smoker.
Specifications:
Smoker Type: Vertical charcoal smoker
Cooking Area: 286 sq.in on two levels
Weight: 24 lbs
Build Materials: Painted steel and porcelain-enameled steel
Dimensions: 14.7″ x 14.7″ x 31.4″ (W x D x H)
Warranty: 10, 5, or 2 years depending on the part (click the link above to see details at BBQGuys)
This cooker has two cooking racks that are 13 1/2 inches across, giving a total cooking area of 286 square inches.
There's not enough space to put a substantial piece of meat since everything will need to be only about a foot long. You can cut rib racks in two and trim briskets down, of course.
One thing we love about this smoker is the simple, yet effective design. It's built with quality materials and workmanship.
Its body is made of powder-coated steel that can withstand the elements and the chrome-plated cooking grids are durable and easy to clean.
It doesn't take long to get the Smokey Mountain hot enough for cooking and it can get up to 400 degrees Fahrenheit. Thanks to the well-designed dampers, controlling the temperature and keeping it within a range of 20 degrees is quite easy.
The beauty of this smoker is that it is dead simple. There are no fancy electronics, no electricity required, no nothing. It's a smoker version of the world-famous Weber black kettle grill, and it's just as dependable and straightforward.
What We Love
Lightweight and compact
Made with durable materials
Affordable
Easy and simple to use
Adjustable air vents for temperature control
Includes a protective cover
Good warranty
What We Don't
Can't fit big pieces of meat
Best Portable Pellet Smoker: Green Mountain Grills Davy Crockett Trek WiFi Controlled Pellet Grill
Green Mountain's Davy Crockett Trek is likely one of the smallest pellet grills on the market, but that doesn't mean that it's all that small. What adds to its "portable" label is its light weight and short legs, which means that it can pack away in a pretty small space.
Specifications:
Smoker Type: Wood pellet grill
Cooking Area: 219 sq.in on two levels
Weight: 63 lbs
Build Materials: Painted steel and stainless steel
Dimensions: 24″ x 16″ x 32″ (W x D x H)
Warranty: 3 years
The cooking grate of the Green Mountain Trek holds 219 square inches of food, and the systems run on a 12-volt car battery, car accessory outlet, or 110-volt household outlet. That's great for tailgating or RVers since you can pull power right from your vehicle. On average, the system uses only 60 watts of power.
The overall dimensions of this smoker are 24 by 16 by 32 inches, and it weighs 63 pounds.
Pellet grills have the extreme advantage of fool-proof temperature control. This one can heat your food anywhere between 150 and 550 degrees.
The Green Mountain Trek comes fully loaded too, with Wi-Fi app control from your phone. In addition, it includes a probe thermometer that talks directly to the app.
What We Love
Wide temperature range: Great for both smoking and searing
Easy to use with WiFi control
Keeps the set temperature well
Dual voltage control for several power options
Includes a meat probe
What We Don't
Relatively small cooking area
Read our article with a comparison with Green Mountain vs Traeger pellet grills to find more interesting options.
Best Portable Propane Smoker: Masterbuilt MPS 20B Patio-2-Portable Smoker
As cabinet smokers go, there is nothing particularly stand-out about the Masterbuilt MPS 20B except its small size. It weighs just 22 pounds and measures 16 by 24 by 23 inches.
Specifications:
Cooking Area: 273 sq.in on two levels
Weight:

22 lbs

Build Materials: Painted steel, stainless steel, and chrome-plated steel
Dimensions: 23.4″ x15.9″ x 23.2″ (W x D x H)
Warranty: 1 year
This portable smoker has a 5,000-BTU burner designed to run off one-pound camping propane cans, but you can pick up an adapter to use larger standard cylinders.
According to the company, the two racks have enough space to hold a turkey, two rib racks, four chickens, or two pork butts. Most specifically, the rack has a surface area of 272 square inches on two wire racks. Side handles help with carrying it around.
What We Love
Compact and lightweight
Great for camping and tailgating
Good price point
Adequate cooking space
What We Don't
Uses one-pound gas cylinders which don't last long
You might have to modify it a bit to get great results
Best Portable Electric Smoker: Smokin-It Model #1 Electric Smoker
This 120-volt electric smoker draws about three amps with its 400-watt heating element.
According to the company, that's enough to cook up to 22 pounds of meat. It can stay anywhere between 100 and 250 degrees Fahrenheit.
Specifications:
Cooking Area: 468 sq.in on three levels
Weight:

60 lbs

Build Materials: Stainless steel
Dimensions: 15″ x 19″ x 20.4″ (W x D x H)
Warranty: 3 years
This is a relatively small smoker with an all stainless steel cabinet that stands on three-inch caster wheels. The three-wire shelves measure 12 by 13 inches.
The entire unit stands 21 inches tall and weighs 60 pounds. While it doesn't use much power, you'll still have to have a standard wall outlet nearby to run the Smokin-It #1.
What We Love
Very easy to use
Convenient temperature control with a thermostat
High-quality materials and workmanship
Double-wall insulation
Easy to move around with the wheels
What We Don't
Needs 120-volt electric outlet
Best Portable Kamado Smoker: Char-Griller Akorn Jr. Charcoal Grill and Smoker
Most kamado-style smokers are too large and heavy to be considered portable by any stretch of the imagination. There are exceptions, though, and the Char-Griller Akorn Jr. is a great one.
Specifications:
Cooking Area: 153 sq.in
Weight: 37 lbs
Build Materials: Powder-coated steel, porcelain-coated steel, and cast iron
Dimensions: 20.5″ x 21.5″ x 25″ (W x D x H)
Warranty: 1 year
The Akorn Jr. is made of triple-walled powder-coated steel, with a porcelain-coated interior finish. The grate has a diameter of 14 inches, giving it a cooking area of 153 square inches.
You can easily control the temperature anywhere between 200 and 700 degrees with the large and easy-to-use vents. This smoker weighs only 37 pounds and stands only 25 inches tall, making it one of the smallest, most versatile units on our list.
To make it easier to carry, the Akorn Jr. features side handles, although they could be a bit more sturdy. The lid has a hefty gasket to keep the smoke in, and the body comes in a selection of colors.
All in all, this is an attractive kamado available at a reasonable price, and it will prove its worth as both a smoker and a grill.
What We Love
Compact and lightweight
Affordable
Great thermal insulation
Fuel efficient
Easy to assemble
What We Don't
The side handles could be more sturdy
Small cooking area
Key Features of a Portable Smoker
Finding a smoker that has the right balance between usability and portability is a challenge. Smokers are, by nature, large and bulky items. They generally are designed to hold larger loads of meat.
Low and slow is the motto of the smoking pitmaster. Once you realize the limitations of a portable smoker, you'll also want to consider precisely how you want to use it and how portable you need it to be.
A portable grill that only holds a few burger patties can be very compact and lightweight, but a smoker is still going to be asked to cook a rack of ribs or a whole chicken.
Some of the most important aspects to consider when buying a portable smoker are:
Weight: Smokers are often quite bulky and heavy since they must have a proper enclosed area for the food plus an airtight door or lid. Consider how much you need to actually carry the smoker around and choose accordingly.
Size and Capacity: There needs to be enough space for the fuel source to burn, space for the food, and space for the smoke to circulate around it. All of this means that smokers are generally pretty big, stretching the definition of "portable." Choose a model that allows you to cook enough food but still fits inside your trunk or RV.
Portability: Some smokers are designed with fold-out handles and legs, which makes it easier to carry them around and fit them inside your car.
Ease of Use: When you're on a road trip or camping, you want to cook the barbecue smooth and without any extra hassle. This means the smoker should be reliable and easy to set up and use.
Versatility and Temperature Range: Smoking is usually done with temperatures hovering around 250 degrees, far below average oven baking temperatures. This means that even small pieces of chicken or fish will take an hour or two to smoke. You can make things cook on the fly a bit faster by cranking up the heat to 300 or 350 degrees. That's probably more palatable for a tailgate party or a day at the beach. If this is your goal, versatility is the feature you want — you're looking for a small smoker/grill that has a good temperature range and control.
Fuel Source: The final aspect you'll need to consider is what fuel source you'd like to use. Each has its own list of advantages and disadvantages. But again, it comes down to how you are going to use your portable smoker and where.
Types of Portable Smokers
Smokers are fired using either charcoal, pellets, propane gas, or electricity.
In this section, we will take a closer look at different types of smokers and how they fit the requirement of being portable.
Charcoal Smokers
Charcoal is the traditional choice for smoking meats, but it's also the hardest to work with. Getting coals to burn slowly at a lower temperature is challenging.
You need to master the vent setup, and you need to have a technique to get the coals to ignite one after the other instead of all at once.
While charcoal does impart a little bit of a smokey taste, it's nowhere near enough to make your food "smoked."
To get the tasty results you desire, you would still want to mix the charcoal fuel with soaked hardwood chips or chunks. These make smoke as they slowly smolder, but they also make managing the coals' temperature even more complicated.
Needs Monitoring: Regardless of how good you are at it, charcoal smokers require a lot of monitoring as you cook. You need to watch the coals to ensure they're burning slowly and refill or reorganize the coal grate as necessary. There is more fiddling around and management required with a charcoal smoker than with any other type.
Awesome for both Backyards and Camping: The great thing about charcoal smokers is that they are often compact and lightweight, and there is no need to worry about electricity or gas tanks.
Pellet Smokers
Pellet smokers are fired by hardwood pellets available in many types of wood. The advantage here is that the fuel source and the smoke source are the same.
An electrically controlled auger feeds the pellets into the burner box, controlling temperature and burn rate automatically.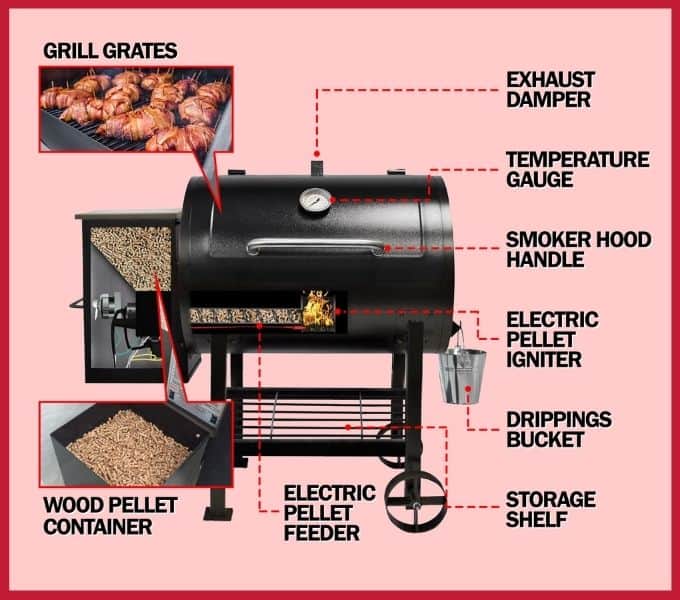 Easy Temperature Control: Pellet smokers are suitable for beginners because they have electronic controls to maintain their temperature. Besides refilling the pellet canister, there's not much work for you to do. Since the heat control is mostly automatic, it can also be packaged smaller than many other types of smokers.
Versatile: The electronic controls also mean that you can set these units to smoke or grill with great accuracy, making them very versatile.
Requires Electricity: For portability purposes, it's important to realize that pellet grills require a power connection. Some may have built-in batteries to run off of but most units need to be plugged into some type of outlet.
Propane Smokers
Propane gas smokers are usually built into a cabinet that looks a little like a small refrigerator.
At the bottom, and standard propane burner heats a wood pan. You put soaked wood chips or chunks into the pan, and as the burner heats it smoke is released.
The food sits on wire shelves mounted above, and of course, the cabinet is sealed to keep much of the smoke and heat in.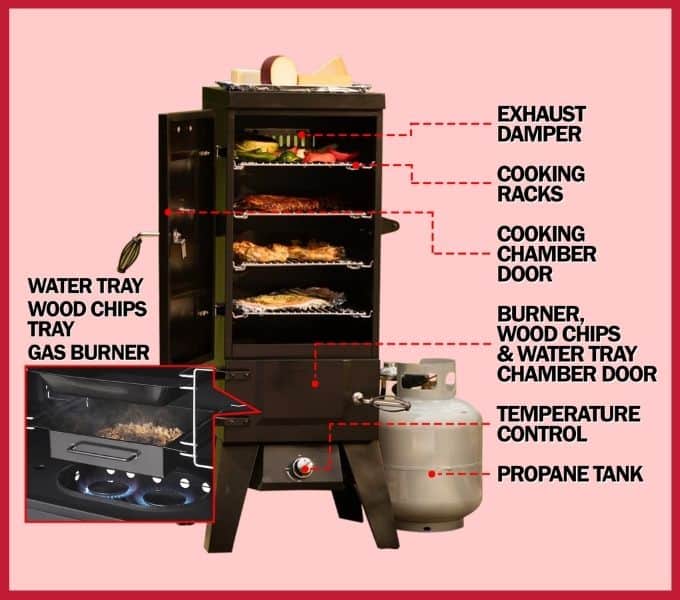 Good Temperature Control but Limited Range: Adjusting temperature in the cabinet is relatively easy with the propane regulator. Most have built-in thermometers in the doors. But gas smokers aren't usually designed to get the food very hot, so many will have trouble heating above the standard smoking temperatures of around 275 degrees.
Fueled by Gas Cylinder: The smallest portable smokers will be fueled using the one-pound camping propane cylinders. These are available at many big-box retailers or hardware stores, but they are expensive. They're also disposable, which may be discouraging if you are using your smoker a lot. You can buy adapters to run your smoker off of standard exchangeable 20-pound cylinders.
Electric Smokers
Electric smokers work nearly identically to propane ones, but instead of using a propane canister, it plugs into a wall outlet. An electric element heats the wood pan and releases the smoke.
There are also many affordable electric smokers available on the market, making them a great budget option.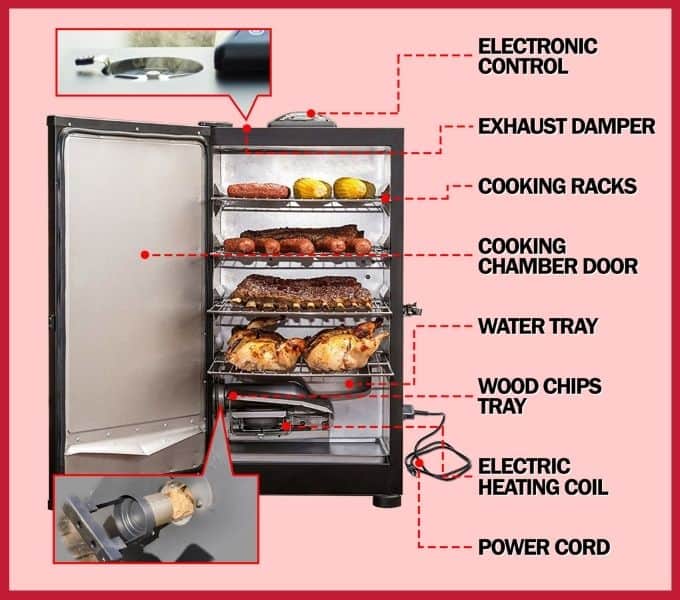 Beginner Friendly: The heat level of an electric smoker is controlled simply with a thermostat, just like a stovetop. This allows beginners to smoke like veterans.
Needs and Outlet: These can be useful and inexpensive options if you plan to have power available. The electric heating element is pretty power-hungry, though, so you can't run this off of a battery pack or car outlet.
Kamado Smokers and Grills
Kamado-style grills are some of the most versatile smokers/cookers you can purchase. They are usually not portable, though, with thick ceramic bodies that weigh more than 100 pounds.
But there are a few kamado-style grills that are made out of double or triple-walled steel. They have smaller form factors and can be transported more easily.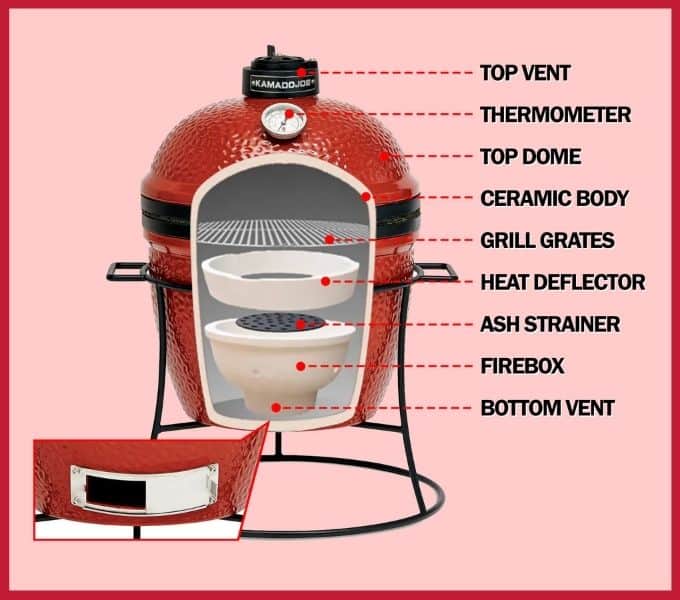 Excellent Heat Retention: Kamados use charcoal as their fuel source, and they function similarly to a charcoal kettle grill. But their thick walls retain heat better, and their vent designs are far superior. The result is that controlling temperatures is much easier in a kamado grill than in any other type of charcoal cooker. This makes them versatile, which means you can smoke or grill easily.
Portable Smoker FAQ
What type of wood chips or pellets should I use for smoking?
In general woods with stronger and more savory flavors, such as mesquite and hickory, are considered best for briskets and pork.
Pecan, maple, apple, and cherry wood produce milder and sweeter flavor and are often used for chicken and fish.
But it's really a matter of personal preference and you can also use the milder woods for briskets, ribs, and pork meat. And why not try mixing different woods for a more balanced and complex taste.
What is the best portable smoker for camping?
Weber Smokey Mountain is a great option for a portable camping smoker. It's compact, lightweight, and affordable. All you need to cook some delicious smoked foods is the smoker, charcoal, and some wood chips for a smokier flavor.
Another excellent option is the Green Mountain Grills Davy Crocket pellet smoker. It's easy to use but in addition to wood pellets, you need electricity to use it.
If you want a gas smoker, then our recommendation is Masterbuilt MPS 20B. This gas smoker only weighs 22 pounds and uses handy one-pound propane cylinders as fuel.
Are electric smokers good for camping?
Electric smokers are very easy to use and are good for beginners. The only problem with using them when camping is the power requirement. Most units need a 120-volt electric outlet.