Pellet grills are an exciting way to up your cookout game. They offer easy temperature control, remarkable technological features, and great tasting results.
Many companies have entered the market with fancy pellet grill offerings, but Camp Chef has proven to have some of the best out there.
Here's a look at what makes Camp Chef pellet grills an excellent choice and what are the best options from their wide product range.
Our recommendations for Best Camp Chef Pellet Grills and Smokers:
What Makes Camp Chef Pellet Grills So Popular?
Pellet grills offer an amazing and flavorful cooking experience, but many backyard chefs hesitate to make the leap.
Is mixing so much technology into the grilling game really a good idea?
Companies like Camp Chef and Pit Boss are changing the game, and pellet grills are getting more user-friendly and reliable.
Here are a few reasons why this brand is so popular:
User Experience: The best thing about Camp Chef pellet grills is that they are easy and fun to use. Where gas grills are easy to light, they require careful monitoring to maintain any specific temperature. In other words, lighting the burner is only step one. Getting the grill to cook evenly and predictably every time is the hard part.
Temperature Range & Control: Camp Chef pellet grills have a digital controller that monitors temperatures in the grill. By controlling how fast the fuel pellets are fed into the fire, grill temperatures can be fine-tuned even during long cookouts or changing outdoor temperatures. And since it's digitally controlled, they allow you to dial in any temperature you like, from 160 to 500 degrees.
Versatility: A classic complaint about pellet grills is that they don't get hot enough for searing. Camp Chef answers this problem by providing a flame broiling option. Simply pull a lever to reveal the firebox, allowing searing temperatures up to 650 degrees on most of their grills. This makes Camp Chef grills even more versatile than their competition.
Product Range: Another great thing about Camp Chef — they offer a huge variety of ways to use pellets for fuel. If your game is full-time smoking, check out their excellent vertical smoker. Or consider the Apex combo unit with the gas kit if you need something to add a smoky flavor to a traditional gas grill.
Various Smoke Flavors: What's great about all pellet grills is the single-fuel source. You can purchase hardwood pellets in many varieties for diverse flavor profiles. We recommend using Camp Chef Premium Hardwood Pellets for the best result, but you can also try using other brands in your Camp Chef pellet grill.
Top 5 Best Camp Chef Pellet Grills and Smokers Reviewed
Camp Chef makes a wide range of pellet grills to suit every outdoor kitchen.
Their Apex and Woodwind pellet grills are the top-of-the-line options, while DLX, SG, and SGX, models offer similar features but are more budget-friendly.
We have also included a Camp Chef cabinet-style pellet smoker and a portable pellet grill option.
Best Overall: Camp Chef Woodwind WiFi 24-Inch Pellet Grill with Sidekick Searbox
The Woodwind is Camp Chef's top-of-the-line pellet grill. It's durable, easy to use, and effortless to clean and maintain. In addition, the Woodwind has WiFi and Bluetooth connectivity and comes with 4 meat probes.
And even if you aren't sold on using a pellet grill all the time, or you want a little extra versatility to use a propane grill as well, this combo with the Sidekick Searbox is for you. If you already have a separate gas grill, you can also leave the Searbox out of the equation to save some money.
Note: You can also order this pellet grill on Amazon but instead of the Sidekick Sear Box it comes with the Sidekick Griddle accessory.
Specifications:
Cooking Area: 797 sq.in (+ 231 sq.in sear box)
Temperature Range: 160 – 500°F
Pellet Hopper Capacity: 22 lbs
Weight: 162 lbs
Build Materials: Painted steel, stainless steel, porcelain-coated steel, and cast iron
Warranty: 3 years for the grill and 1 year for the sear box
Mounted on the side shelf of this amazing pellet grill is a 28,000-BTU 231-square-inch propane grill.
Camp Chef calls it a sear box, but you could use it any number of ways. For example, do you want to cook a quick veggie side on a weeknight but don't want to bother with smoking it?
The sear box has got you covered!
The pellet side of things is no slacker, however. It features a 19.5 by 22-inch enameled-steel cooking grid with a two-piece upper rack, giving you plenty of space for big smoked barbecue meals.
The total cooking space comes to 797 square inches.
The 22-pound capacity hopper in this pellet grill holds enough pellets for any size or length of the smoking recipe.
Temperature is controlled with a WiFi and Bluetooth-enabled PID controller that includes four meat probe thermometers. Like all Camp Chef grills, it can maintain consistent, even cooking temperatures anywhere from a low 160-degree smoke to a 500-degree sear.
The controller also has a smoke setting, so you can fine-tune the amount of flavor you want to add.
In addition, the Woodwind also has a direct flame searing option for even higher temperatures. So this pellet grill is the perfect option if you want to both sear and smoke!
What We Love
Direct flame searing feature
Comes with a sidekick sear box
Great value for money
Easy to clean
The smoke level can be adjusted
Includes 4 temperature probes
What We Don't
No enclosed cabinet under the grill
Best Grill and Smoker Combo: Camp Chef Apex 36-Inch Pellet Grill with Gas Kit and Sidekick
Camp Chef Apex grill is a really interesting combo grill. It's a true hybrid grill, not just a pellet grill with a separate propane burner.
You can cook anything from simple grilled hot dogs or burgers to slow-smoked briskets in the same chamber!
Specifications:
Cooking Area: 1236 sq.in (+ 231 sq.in sidekick)
Temperature Range: 160 – 500°F
Pellet Hopper Capacity: 30 lbs
Weight: 349 lbs
Build Materials: Stainless steel and porcelain-coated steel
Warranty: 3 years for the grill and 1 year for the sidekick
The interior of the Apex is a traditional six-burner, 36-inch gas grill with 1,236 square inches of cooking space divided between the primary and secondary grilling surfaces. It also has a 28,000-BTU propane-powered griddle mounted on the right-hand shelf.
Camp Chef includes a pellet grill assembly mounted to the left-hand shelf to add pellet smoker capabilities. The unit comes with the company's excellent digital PID controller for perfect temperature control and it also has WiFi control.
The smoker inserts smoke through the side of the grill, which includes a rear ventilation system that ensures even smoking in the entire cooking chamber.
So there are at least four different ways to use this grill and smoker combo:
You can use it for slow-smoking foods like you would use any other pellet grill.
Use it for grilling like a regular gas grill.
Smoke your food first and then add a final sear by lighting up the gas burners.
Use both pellets and gas burners while cooking to add some smoky flavors to your grilled food.
The Apex is well-designed and high-quality product through and through. It's built with durable stainless steel and cleanup is easy — thanks to a slide-out grease tray that runs the grill's length.
Check out this short video to see the Apex in action:
Camp Chef Apex is a fascinating option for backyard chefs who love their gas grill cooking but are intrigued with the idea of smoking with a pellet grill. If you want to cook with the simplicity of gas but also want to enjoy the genuine smoke flavor, give the Apex a serious look.
What We Love
Large cooking area
Ultimate versatility
Twin wall insulated lid for better heat retention
Controller has a user-friendly full-color display
Comes with a sidekick griddle
Budget Pick: Camp Chef SmokePro DLX Pellet Grill
If you're looking to get into pellet grilling but don't need an enormous luxury grill unit, Camp Chef has got you covered.
The SmokePro DLX has just the bits you need to make delicious food for smaller groups. This is definitely one of the best pellet grills that cost under $500.
Specifications:
Cooking Area: 570 sq.in
Temperature Range: 160 – 500°F
Pellet Hopper Capacity: 18 lbs
Weight: 140 lbs
Build Materials: Painted steel, stainless steel, and porcelain-coated steel
Warranty: 3 years
This is a classic pellet grill. It includes an 18-pound-capacity pellet hopper, which provides plenty of cooking time.
Unfortunately, the digital controller is an older model so you won't get WiFi or Bluetooth connectivity. But it still does a great job controlling temperatures between 160 and 500 degrees Fahrenheit in 15-degree increments.
The controller also includes two meat probe thermometers.
The grill's main cooking area is 429 square inches, with 141 square inches on the secondary grate — just the right size to cook dinner for most families. Cleanup is easy, too, thanks to the Camp Chefs ash cleanup system and integrated drip catcher.
What We Love
Simple temperature settings
Affordable
Easy to clean
Includes 2 meat probes
Compatible with Sidekick and Searbox attachments
What We Don't
No WiFi or Bluetooth connectivity
Best Vertical Smoker: Camp Chef XXL Vertical Smoker
If smoking is your aim, a smoker with a vertical cabinet design is the most efficient kind to get.
These types of smokers have optimal airflow, which ensures that your meats get the maximum flavor, and they have more cooking space than your typical grill layout.
Camp Chef XXL has a tall cabinet that lets you hang things like whole rib racks or sausages. Or you can open the space up with removable shelves for big items like pork shoulders or big briskets.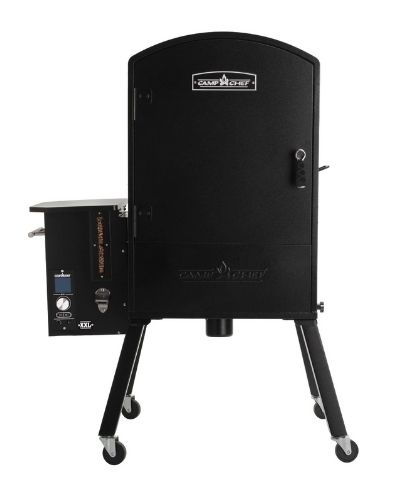 Specifications:
Cooking Area: 2408 sq.in (on 8 levels)
Hopper Capacity: 18 lbs
Temperature Range: 150 – 350°F
Weight: 145 lbs
Build Materials: Powder coated steel
Warranty: 3 years
This smoker has a total of eight shelves, each measuring 21.5 by 14 inches. Four shelves are stainless rod smoking racks, while the remaining are jerky racks with finer grates to hold small items. Finally, there's a hanging rack with 12 hooks for big pieces or sausages.
You can organize the shelves any way you like, or you can store them all in the smoker when not in use — there are eight shelf positions built in. The total cooking area is tremendous at 2,408 square inches.
The XXL vertical pellet smoker includes a new WiFi PID controller and two meat probe thermometers. It talks to the Camp Chef app for fully connected smoking, with temperature settings between 150 and 350 degrees.
What We Love
Excellent features for affordable price
Large cooking capacity
Easy to clean
Set and monitor with a phone app
Comes with 4 meat racks, 3 jerky racks, and a sausage rack with 12 hooks
What We Don't
The heat insulation could be better
Not the best option if you want strong smoke flavor
Best Portable Option: Camp Chef Pursuit Portable Pellet Grill
The Pursuit is Camp Chef's smaller offering, making it perfect for patios, small backyards, as well as tailgating and camping with RV. The cart has folding legs that lock down, making storing and transporting it a snap.
Specifications:
Cooking Area: 501 sq.in
Hopper Capacity: 10 lbs
Temperature Range: 160 – 500°F
Weight: 82 lbs
Build Materials: Painted steel, stainless steel, and porcelain-coated steel
Warranty: 3 years
The Pursuit has all the features you'd expect from any other Camp Chef pellet grill. It has a Gen 2 digital PID controller, a direct-flame broil mode option, and temperature selections anywhere between 160 and 500 degrees Fahrenheit.
Two meat probe thermometers are included, and the controller also lets you select your preferred smoke intensity level.
The unit includes a smaller hopper than other grills — it only holds ten pounds at a time. But with its smaller cooking area, only 501 square inches total, the hopper should last for plenty of long cookouts.
Compared to portable gas grills, the Camp Chef Pursuit isn't small or easy to carry — and luckily you don't have to! When it's folded, you can just stroll the Pusuit around with its two wheels.
The grill is quite compact when the legs are folded but it weighs over 80 pounds. The only complain about the design is that you have to flip the whole grill upside down to unfold the legs.
And remember, you'll also need to carry pellets with you and have 110-volt power available to run the auger and firebox.
While the Pursuit is fantastic for tailgating or RV camping, it will require a little more space and planning than some camp chefs would like.
What We Love
Compact design and folding legs
Great option for tailgating or RV camping
Large enough cooking space
Direct flame searing function
What We Don't
Needs to be flipped over to extend the legs
I'm sure that one of these Camp Chef pellet smokers will be a great choice for you — so just choose the one that best suits your budget and needs.
Have a great barbecue!