There's a lot to consider when investing in a new grill or smoker. While shopping around, you'll inevitably see marketing about pellet grills that are made in the USA.
Brands are rightfully proud to boast when their grills are domestically made. But do these pellet grills really have an advantage over their competition?
Let's take a proper look at American-made pellet grills and how they compare to the big brands that have moved production overseas.
The reality is that some of the most popular American brands, including Traeger, don't make their pellets grills in the USA anymore.
Why Buy a Pellet Grill Made in the USA?
While there are some fine-quality pellet grills made in China, buying products made in the USA has clear advantages:
Stronger Consumer Protection Standards: Products made in the United States usually have higher environmental and safety standards. Pellet grills made in China might have components that are unsafe or pollute the environment. All grills made in the USA must meet consumer protection standards.
Better Quality: In general, manufacturers based in the US have stricter quality control processes resulting in more dependable products (more about this in the chapter below).
Supports Your Community: Making pellet grills and smokers in the USA creates jobs and the business profits stay in the country and support the economy.
Why American-Made Pellet Grills Are Better?
Pellet grills and gas grills made in the USA are often better than their imported competitors for a few reasons:
1. Manufacturing Standards
The United States has stricter standards regarding appliance manufacturing than many other countries.
Meeting these standards means that you'll be buying a better-designed and longer-lasting grill and that it will be safer to use. That's a big bonus for anyone shopping for an appliance they hope will last a long time.
2. Quality Control
One of the primary reasons for companies not to offshore production is to maintain their own quality control and manufacturing standards. Letting a Chinese factory build the grills for you may be cheaper, but it means dealing with a different company and culture.
As the seller, you can find factories making good-quality grills. But internal things at the factory could change without you knowing it. Suddenly, your product might have changed in terms of quality, and your customers will be unhappy.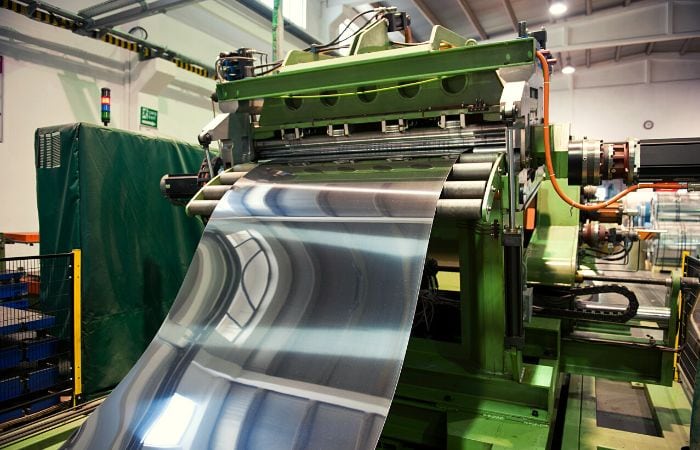 Try as they might, US companies cannot control many internal issues with offshore manufacturing. For example, labor practices, component providers, and raw materials quality are impossible for a US company to exercise much control over.
For all these reasons, a pellet grill made in the USA is far more likely to last a long time. This is because the company that makes a grill in the USA is committed to maintaining a quality product that they can stand behind.
If that weren't their goal, they would've offshored manufacturing already. It's expensive to make grills in the US, so you would only do so because it's your goal to create a product that's better than the other options out there.
For the consumer, all of this means that the company is likely to stand behind its grills with longer warranties, better customer service, and better availability of replacement parts.
Unfortunately, getting parts for Chinese grills can be extremely difficult or impossible since suppliers come and go, and some items may not be manufactured anymore. In some cases, the grills made by offshore companies are seen as "throw-away items."
But Are There Any Pellet Grills Still Made in the USA?
Many companies have moved production to China and other low-cost countries to cut costs. If you are in the business of selling a $1,000 grill, your manufacturing costs can be $100 or $400 depending on where it's made.
Big companies often reduce their costs when they can, and the difference in cost between China and the US is extreme.
Yet, there are still several companies out there that understand that money is not the only issue. Consumers want American-made products, especially with appliances like pellet grills and smokers.
These are often smaller brands that build their image on the "Made in the USA" ideal — that you can support the local economy, get a better product, and not waste money in the process.
List of American-Made Pellet Grills
Finding a pellet grill made in the USA is more challenging than you might think. There is some confusing marketing used, and you need to dig to find the details on the precise make and model grill you want to buy.
Many manufacturers are based in the US and made all or some of their grills here at one point or another. But they may have started making their cheaper models offshore in the years since.
The bottom line?
You've got to do your research to be absolutely sure. Or actually, we already did it for you!
Here's a list of the best options when you're looking for a pellet grill made in the USA:
---
Weber
Made in Huntley, Illinois (from "US and globally sourced components")
Weber is a name associated with quality grills, and for years their grills were famously made in the USA. Their website makes a special point that the company was "proudly founded in the USA" and is based in Huntley, Illinois.
But, as their website clearly states, Weber is now a global brand that uses a variety of suppliers and parts sources. As a result, some of their grills are made overseas now.
Weber SmokeFire wood pellet grills are still assembled in Illinois but are done so with components that come from both the US and other countries.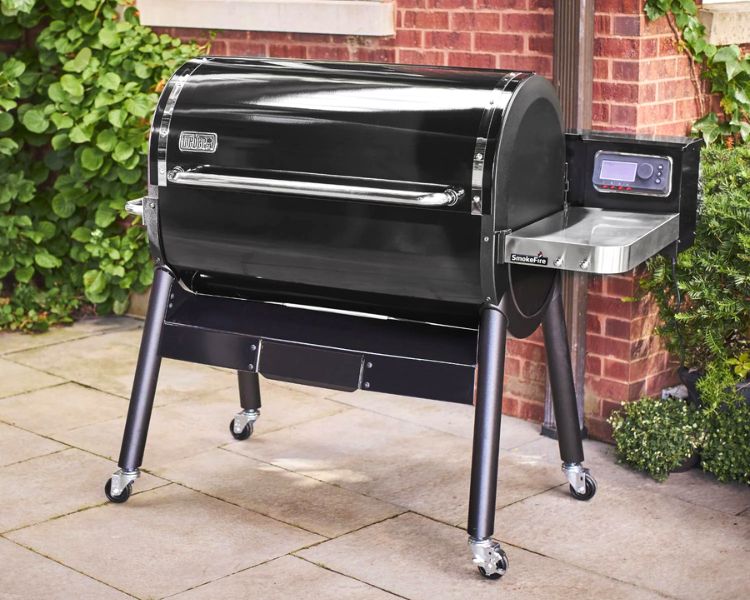 There are two models available — SmokeFire EX4 and the bigger SmokeFire EX6. Both are excellent pellet grills with a sturdy build and some advanced features like a cooking assistant mobile app that works through WiFi or Bluetooth connection.
These grills come with a robust PID controller that supervises the DC-powered auger motor and fan. They also have a wide temperature range for low smoking, searing with high heat, or anything in between.
Availability: You can find the SmokeFire pellet grills on BBQGuys online store and Amazon.
---
Cookshack/Fast Eddy
Made in Ponca City, Oklahoma
Cookshack is a company that makes electric smokers but they also offer some of the best pellet grills and smokers on the market. These products are sold under the name Fast Eddy's by Cookshack.
Besides a few stainless pellet grills, most of their smokers are cabinet designs with stainless construction. They've been in business for over 50 years, but the company is better known in the restaurant and meat market circles than with backyard chefs.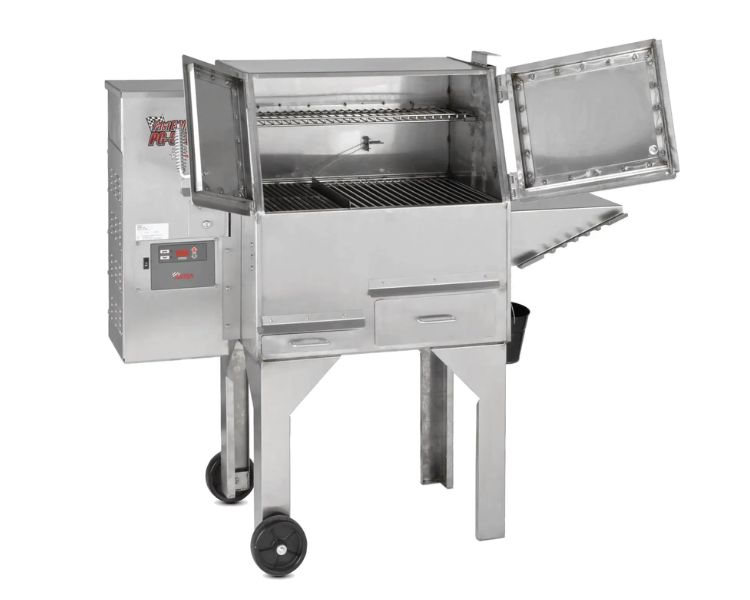 Cookshack pellet grills are built with robust 304 and 402 grade stainless steel and have advanced features like four cooking zones for more versatility. They also fully automated electronic temperature control you will have minimal heat fluctuations.
Availability: You can buy Cookshack Fast Eddys pellet grills on BBQGuys.com.
---
Twin Eagles Grills
Made in Cerritos, California
Twin Engles is a Dometic-owned brand based in California. They build high-end, stainless built-in pellet grills and gas grills for luxury outdoor kitchens. If you don't have an outdoor kitchen, their beautiful grills can also be mounted onto a freestanding base.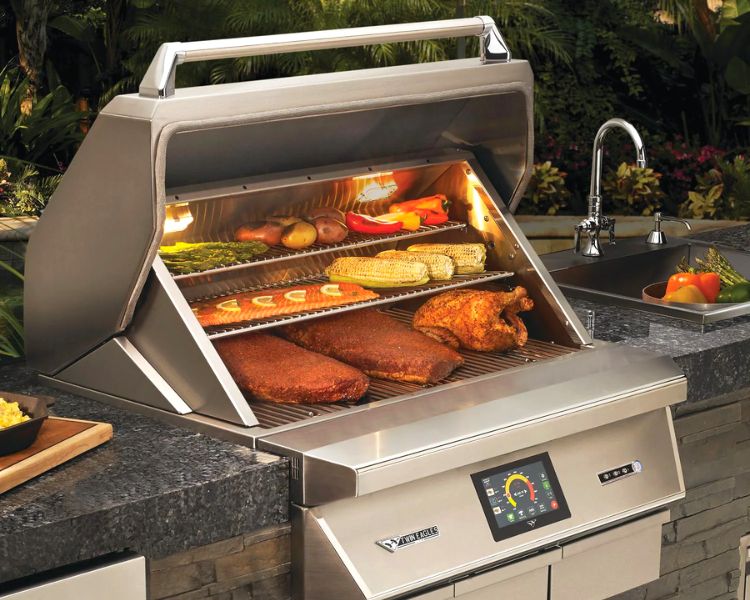 These grills are some of the most functionally designed and certainly one of the most eye-catching. They feature touchscreen controllers with WiFi connectivity, two drip trays, and three meat probes.
In addition, a Twin Eagles pellet grill can be set anywhere from 140 to 725 degrees Fahrenheit.
Availability: You can buy Twin Eagles pellet grills on BBQGuys.com.
---
Yoder Smokers
Made in Yoder, Kansas
Yoder Smokers makes beefy charcoal grills, offsets, pellet smokers, and the sorts of trailerable smokers you'd see at barbecue competitions. They make serious grills for serious pitmasters.
According to their website, winning the competition is their goal — even if the judges are your family and neighbors. The smallest grill they make weighs a whopping 255 pounds, and the largest is a trailerable version at over 1,200 pounds.
Availability: atbbq.com
---
Blaz'n Grill Works
Made in Beatrice, Nebraska
Blaz'n Grill Works, not to be confused with Blaze Grills, makes a high-end line of residential wood pellet smokers that are distinctive and beautiful.
The company's owner has a background in metal fabrication, and grills are proudly American-made with American-sourced steel.
Availability: mgrills.com
---
KANDO Gear
Made in Red Rock, Texas
Kando makes three types of pellet grills, each with a selection of features to suit your backyard kitchen. They also make 80-quart boilers.
This is a quintessential small business, making a quality product with US-built parts. They focus on getting customers the most bang for their buck, with quality smokers "built to withstand."
Availability: kandogear.com
---
Smokin Brothers Inc.
Made in Cape Girardeau, Missouri
Smokin' Brothers makes traditional pellet grills, Premiew PLUS grills, and commercial series grills. Sizes range from the portable 20-inch Little Brother to the trailer-mounted competition and commercial grills.
The company also sells gear, parts, sauces & rubs, and its own brand of wood pellets.
Availability: smokinbrothers.com
---
Royall Grills
Made in Reedsburg, Wisconsin
Royall Grills and Smokers makes a line of high-end pellet grills and cabinet-style vertical smokers. Everything in their lineup is pellet fired, and the company aims to make the gold standard pellet grills. They focus on innovating the product for better results and useability to make the "grill of a lifetime."
The Royall Grills selection includes units with sizes ranging from the smallest Tailgater to The Backyard, The Whole Block, and The Master Series. Their competition cabinet smokers have a wide temperature range and can cold smoke or get searing hot at 600 degrees.
Availability: royallgrills.com
---
Pitts & Spitts Grills
Made in Houston, Texas
Pitts & Spitts has a great lineup of pellet grills, smokers, and charcoal grills. Their designs feature stainless hoods and full stainless construction on some models. The Maverick 1250 and 2000 also have the option of coming with a side-mounted upright smokebox for even more cooking area.
Pitts & Spitts has been in business for over 40 years. Their motto is to make the best-looking and best-cooking grills out there. Their product quality has been described as "bombproof" and "one of the best pellet smokers on the market" by Field and Stream Magazine.
Availability: pittsandspitts.com
---
Lone Star Grillz
Made in Conroe, Texas
Lone Star Grillz makes hand-built custom grills in Texas. Their lineup includes smokers (offset and cabinet), firepits, traditional grills, and pellet smokers. Their two pellet smokers are 36 or 42 inches long, made with US heavy-gauge steel and US-built PID controllers.
These smokers are extremely well-built and well-thought-out. All the little touches are right, from their direct grilling option that heats up to 700 degrees to the externally-removable firepot that makes cleaning up easier.
Availability: lonestargrillz.com
---
MAK Grills
Made in Dallas, Oregon
Mak Grills makes four models of pellet grills, the Mini-Mak, and the One, Two, and Three-Star Generals. The Two-Star General is also available in an all-stainless version.
As is obvious from their branding, Mak is a veteran-owned company proudly making their grills in Oregon. The company only makes pellet grills and has applied a love for the technology and 50 years of precision sheet metal fabrication experience to make the perfect pellet smoker.
There are quite a few things that set Mak apart from its competitors, but primarily this is a company that works to perfect pellet technologies. For example, they were the first to incorporate a FlameZone funnel to get hotter cooking temperatures at the grate, as well as the first company to have WiFi-enabled controllers and ceramic ignitors.
Availability: makgrills.com
---
Myron Mixon Smokers
Made in Unadilla, Georgia
Myron Mixon makes a variety of types of smokers, including water smokers, gravity smokers, commercial smokers, and pellet smokers.
There are two models of BARQ pellet smokers: the BARQ-2400 and the BARQ-3600. The model number indicates the amount of cooking surface in square inches–so these are big smokers!
Unlike typical backyard pellet grill smokers, these massive smokers are more like big cabinets. They have multiple shelves that can be arranged and are designed to hold standard hotel pans. The newest models are their third-generation design, which includes heavy steel construction and a Que-View WiFi-enabled controller.
Availability: myronmixonsmokers.com
---
Other Popular Pellet Grill Brands – Where Are They Made?
Most of the bigger brands make their pellet grills overseas, usually in China. As mentioned earlier, this allows them to cut manufacturing costs to make more profit and offer more affordable products.
Some popular pellet grills that are not made in the USA include:
Traeger
Pit Boss
Camp Chef
Green Mountain Grills
Z Grills
REC TEQ
This doesn't necessarily mean they are low-quality products. For example, Traeger and Pit Boss offer some of the best and most reliable pellet grills on the market for a reasonable price.
Where Are Traeger Grills Made?
Traeger is a US-based company the first one to use wood pellets as a cooking fuel and they patented the technology in 1986. Their products are currently made in China.
The company's patent for pellet grills expired in 2006, and after that Joe Traeger and his son Brian sold all rights to Traeger products to investors. That's when the manufacturing was moved to China, which allowed fast expansion and cost-cutting.
The company is still one of the biggest players in the pellet grill market and has headquarters in the US even though the manufacturing is done overseas.
Where Are Pit Boss Grills Made?
One of Traeger's biggest competitors, Pit Boss, is a US-based company and a subsidiary of Dansons Inc. Pit Boss Started as a family-owned business but now their products are made in China.
They offer a wide range of pellet grills and smokers as well as gas and charcoal grills, griddles, and barbecue accessories.
One of the advantages of Pit Boss pellet grills is that they have higher maximum temperatures than most competitors, including Traeger. They are also known for the high-heat open flame searing feature.
Where Are Camp Chef Grills Made?
The company is based in Cache Valley, Utah but Camp Chef pellet grills and other products are manufactured in China. However, the designing and testing are done in the US to maintain great overall quality.