If you are in a hurry and just want to find out what is our choice for the best kamado grill, then we recommend the Kamado Joe Classic II. This high-quality ceramic unit is versatile, durable, and easy to use.
You've probably noticed them in your favorite grill store – those egg-shaped charcoal grills that look like they've just landed from outer space. They're called kamado grills, but what's the deal with them? Are they worth the price?
Read this guide to learn the basics of kamados and find the 5 best products on the market.
In this article, we're going to review the following kamado grills:
What is a Kamado Grill?
Kamado is the Japanese word for a stove, but this grill style goes back to the clay ovens used in ancient China and Asia. They are similar to the Indian tandoor oven. 
Most kamado grills are now made out of ceramics, making them fundamentally different from nearly every other type of grill on the market. They retain heat much better than metal grills, so they're perfect for holding their temperature and using their fuel effectively. You can use them to smoke, roast, or grill. They also make great pizza ovens.
There are many benefits to building grills with ceramic bodies. Since the structure keeps the heat locked inside, they heat up and are ready for cooking faster than other grills. They have tight-fitting lids, which means you can lock in more smokey goodness for longer recipes. And the outside of the grill stays cooler to the touch and won't rust.
In addition to holding onto heat well, kamados are also the perfect shape for cooking. That strange-looking egg allows the air to circulate effectively, and it makes the dampers super effective at controlling temperature. Since hot air isn't escaping through gaps and thin-metal construction, it is very efficient.
Metal Kamados
There are also many conventional grill manufacturers making metal grills that look like ceramic kamado grills. They come at an attractive price point, and there are still many benefits to the design.
The shape still circulates air efficiently, and the makers add hefty gaskets around the lid to keep the heat in. With thick double or triple-walled steel, metal kamados can also retain heat far better than conventional kettle or charcoal grills.
What to Consider Before Buying a Kamado Grill
Build Quality and Materials
Like all grills, the cooking experience you get from your kamado will have a lot to do with its build quality and accessories. Ceramics don't last forever, especially when they're heated and cooled repeatedly. Tiny microcracks will eventually form, and that will begin to break down the ceramic.
The best solution is an interior firebox made of ceramics, which takes all of the abuse. This saves the grill itself, and the firebox is replaceable.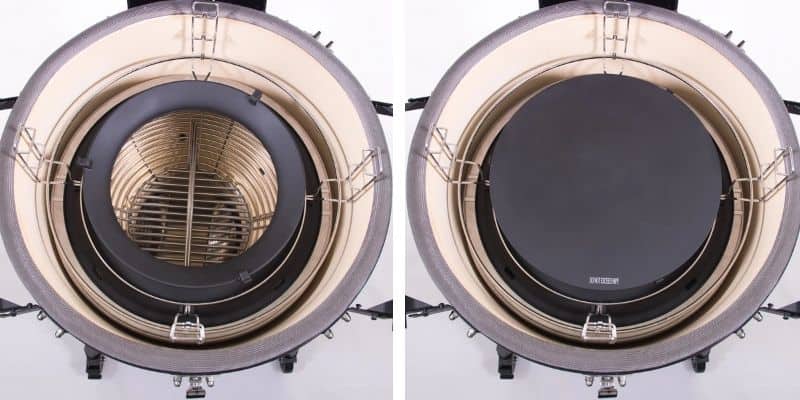 With that said, grill manufacturers are making kamado grills out of super heavy-duty reinforced ceramics, and they're built for the long-haul. They should outlive any metal grill if adequately cared for.
If you're looking at metal kamados, you need to make sure that the materials used are strong, thick, and double-walled. The double-walled design is critical to maintaining heat. Most manufacturers use steel, which will rust if not properly cared for. Make sure any paint chips are mended immediately with the proper high-temp paint.
The rest of the grill is conventional. For the band and cart, you'll want as many components as possible to be stainless steel or aluminum to avoid problems with rust. The cooking grates in kamado grills are usually made of enameled cast iron.
Size and Accessories
Picking the right kamado for you will likely come down to two factors – how big a grill area you need and what accessories are available. The grate size is a factor of how many people you cook for and how oven. 
Like most charcoal grills, you can arrange your fuel in one area to downsize the cooking area if you need to. But what you can't do is add more real estate to the cooking grate when the entire family stops by.
Since these grills' design is less modular than metal grills, there are far fewer universal accessories on the market for them. It's not easy to slap on a rotisserie kit, so if something like that is a priority, you should shop for it to begin with.
You'll also want to consider the design of your kamado. How does air flow in and out of the grill? Are the vents adjustable enough to effectively control the combustion? Is the lid tight-fitting enough to use it as a smoker? 
A kamado is a significant investment that should last decades, so try not to rush into any decisions. For this guide, we have only picked products that have proper vents and are designed for optimal airflow.
Warranties
Warranties vary from manufacturer to manufacturer, and they're somewhat relative to the quality of construction. Better grills should have longer warranties. 
The grill body should have a warranty of at least ten years as a rule of thumb. Ceramic parts usually come with lifetime warranties.
Check the warranty policy carefully because each component may be listed separately. For example, gaskets and high-wear items might only be covered for one or two years.
Cooking on a Kamado
There are some notable differences when cooking on a kamado that you should be aware of. However, one thing that's not too different from other charcoal grills is that you can arrange your coals for direct or indirect cooking.
Charcoal selection is essential with a kamado since you will be closing the lid and trapping all the smoke inside. You don't want to use briquettes with lots of chemicals like the easy-lighting ones do. 
Instead, shop for natural hardwood lump charcoal. This type of charcoal burns more efficiently and hotter anyway, which is perfect for the kamado. You can get away with using quite a bit less charcoal fuel than you would in an open metal kettle grill.
Besides taste, another fundamental reason to avoid briquettes, and all lighter fluids and chemicals in general, is that the walls of a ceramic grill will absorb those chemicals over time. The smell and taste will eventually wind up in your food. Your best bet to get the charcoal lighted is either an electric starter or a chimney starter.
Safety
An important safety consideration when using a kamado is understanding the possibility of a flashback. A flashback occurs when the charcoal has been starved for oxygen–a real possibility with the kamado's tight-fitting lid, and if the dampers are closed too much. If the lid is opened, the charcoal will likely send a powerful and dangerous flame suddenly out the lid!
Prevent flashbacks by burping your kamado every time you open it. It's pretty simple. Start by making sure the lower vent is open and then stand to the grill's side at arms distance. Ensure the lid opening is clear, and open it just a few inches to let more air in. Once any charcoal flare-up has occurred, open the lid and proceed with your cooking. 
Flashbacks are rare anyway, but with this procedure, you'll never have to worry about them.
Besides regular cleaning, you'll also want to tighten the band that holds the lid in place occasionally. This is usually accomplished by tightening down on a few bolts, but it's essential to ensure that the lid stays in place.
5 Best Kamado Grills Reviewed
Best Overall: Kamado Joe Classic II
Kamado Joe has nailed the kamado grill design. Their grills are sturdy and heavy, with thick ceramic bodies and cast iron carts. But using them is easy, thanks to innovations like their patented air lift hinge, which makes the lid feel 96 percent lighter.
Quality design comes throughout this grill, from the Advanced Multi-Panel (AMP) firebox to the Kontrol Tower Top Vent. The vent system is especially nifty, allowing you to adjust from smoking temps around 225 degrees Fahrenheit to super hot 750-degree sears.
The Classic II is an 18-inch grill on caster wheels. It's an attractive grill, too, in a bright red finish. The two-tiered cooking grate allows you to control your food placement better. There's a pull out ash drawer for easy cleaning, and accessory side shelves you can use as prep space.
Pros:
Superb quality and design

Sturdy construction
Great vent system for temperature control
Versatile: Good for grilling, smoking, and baking
Lifetime warranty on ceramic parts (3-5 years for most other parts)
Cons:
Best Metal Kamado: Broil King Keg 5000
The Broil King Keg 5000 is a steel-bodied kamado-style grill. It uses heavy, double-walled steel and cast iron to retain heat better.
Indeed, Broil King claims that the grill will use half the charcoal that regular grills need. As a bonus, the steel won't absorb moisture or odors as ceramics do.
The Keg 5000 has a 280 square inch cooking rack with a secondary swing-out 200 square inch rack. That's a lot of cooking space compared to many kamado-style units. 
It's a sturdy grill backed by a 10-year warranty, so it should outperform pretty much any other metal charcoal grill on the market. And like ceramic kamados, it has a tight-fitting lid that will trap in heat and flavor.
Pros:
Works well with both low and high heat

Heats up fast
Sturdy and durable construction
Easy to use and clean
Cons:
The grate is quite high which makes searing a bit difficult
Best Budget Option: Char-Griller Akorn
A great budget-friendly option comes from Char-Griller. It's also a steel-bodied kamado made of 22-gauge steel, which is powder-coated to protect it from the elements. The cart and frame are tubular steel, and the cooking grate is cast iron.
It features 314 square inches of cooking area, plus a 133 square inch warming rack. The steel cart features folding side prep and storage shelves. 
At 97 pounds, the Char-Griller is also a heavy and sturdy grill. With proper maintenance, it can last years.
Pros:
Durable steel construction

Great quality for the price
Lighter weight compared to ceramic units
Cons:
Some users have reported issues with the product quality

The stand could be more solid
Best Large Kamado: Kamado Joe Big Joe II
Need space to cook for a crowd? Look no further than the Kamado Joe Big Joe II. It shares all of the great innovative features of the smaller Classic II but is bigger for bigger feasts. At 394 pounds, it's a monster!
Kamado Joe offers some great accessories, too, including a rotisserie kit that can hold up to 20 pounds of meat. Their tiered cooking grate system also allows for an unmatched versatility level, with extra stainless grates available, or with griddles or soapstones.
Pros:
Great design

High-quality materials
Large grilling area
The went system is highly adjustable for precise temperature control
Very versatile
Lifetime warranty on ceramic parts
Cons:
Best Small Option: Char-Griller Akorn Jr.
But what if you have a small patio, or are just cooking for two? The Char-Griller Akorn Jr. is a great starter kamado.
Its 14-inch grate only has 153 square inches of cooking space, but that's just the right amount for occasional cookouts. The triple-walled steel structure makes it much lighter and more affordable than ceramic models. The dual dampers allow complete temperature control. And at just under 40 pounds, this is the only kamado-style cooker that is practical for RVs or tailgating.
Pros:
Very affordable

Compact and lightweight
Heats up fast and provides even heat
Fuel efficient
Easy to assemble
Cons:
The side handles could be more sturdy