Electric smokers are a great, easy way to cook smoked foods on a regular basis. It doesn't cook any faster than other methods, but their super-easy setup and push-button simplicity mean that you'll use it with greater frequency.
Where grills and charcoal smokers need to be babied along and monitored for proper temperatures, electric smokers hold a uniform heat.
And all you need to operate them is a little electricity and some wood chips.
Our recommendations for Best Electric Smokers Under $300:
Read also: Propane vs. Electric Smoker – Which One is Better for You?
Electric Smokers: What Can You Get for Under 300 Bucks?
While 300 dollars might not seem like a lot of money for an appliance, it can buy you a high-quality and fully functional electric smoker. Indeed, you'll have quite a few choices to pick from in this price range.
An electric smoker is really quite a simple device so even the more affordable models are very easy to use and produce tasty foods.
It has a heating element that heats the wood chips on a tray that releases the smoke. Airflow is controlled with an exhaust damper.
A water tray produces moisture and prevents the meat from drying too much. Most units also have a separate drip pan that catches the drippings and a grease tray that can be easily emptied.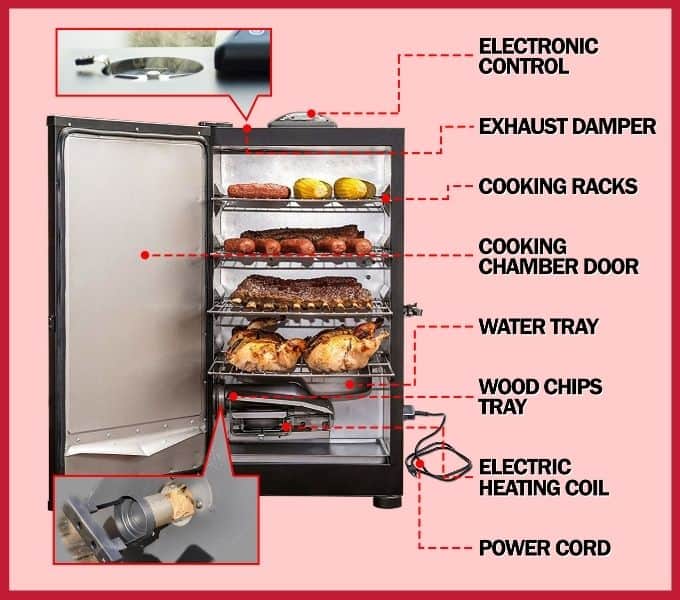 The best electric smokers have several advantages over other types of smoking rigs.
Here are just a few of the reasons you might prefer an electric unit:
Simple to Use: Electric smokers are dead simple and make a great option for beginners.
Easy Temperature Control: The best electric smokers hold their temperatures very well over the course of cooking. This means they need very little monitoring beyond occasionally refilling the wood chip tray.
Large Capacity: An electric smoker can hold a lot of food, usually more than a typical backyard grill. They aren't always large, but their cabinet design allows for a number of shelves to be stacked inside. You can put lots of shelves in for small stuff or just one shelf for something big like a turkey or whole chicken.
Hot and Cold Smoking: Electric smokers can be used at lower temperatures than charcoal or gas units. This makes them a great choice for cold smoking bacon and delicate items like fish or cheese. Yet, you often need a separate cold smoker attachment to keep the temperature low and generate enough smoke.
Of course, shopping in the entry-level smoker market means that you won't get all the bells and whistles.
High-end smokers usually have better overall construction and fit-and-finish. They also have quality seals and will generally maintain their temperatures better while consuming fewer watts of electricity.
But for the occasional backyard user, you're unlikely to notice these things enough to warrant spending twice the money.
One of the things you won't find on the more affordable units is Bluetooth functionality. Yet, some brands have accessory probe thermometers available to give you cooking information from anywhere.
You can get all sorts of aftermarket tools, too, which can make your cooking experience more connected. However, none of these tools are necessary for making outstanding smoked meats any day of the week.
5 Best Electric Smokers Under $300 Reviewed
From dozens of budget-friendly electric smokers available on the market, we chose 5 of our favorite models to be reviewed in this guide.
These units are easy to use and come with all the essential features that you need for cooking a great barbecue.
Best Overall: Char-Broil Deluxe Digital Electric Smoker
If you're looking for one smoker that does it all, this is your best choice.
The Char-Broil 30-inch deluxe model features a digital thermostat for perfect temperature control, double-wall insulation for excellent heat retention, and 4 adjustable wire smoking racks for ultimate versatility.
Specifications:
Wattage: 750
Cooking Area: 725 sq.in on 4 levels
Weight: 58.7 lbs
Build Materials: Stainless steel
Dimensions: 18.1″ x 16.5″ x 32.5″ (W x D x H)
Warranty: 1 year
The smoker door has a large viewing window, from which you can see not only your food but also the wood chip tray. Speaking of the tray, it's extra-large and can go four to seven hours between fill-ups.
The 4 racks are entirely customizable, meaning you can fit nearly anything in this smoker. Its internal cabinet has 725 square inches of cooking space when all 4 racks are in use. So if you are into smoking briskets and other large food items, this is an excellent choice.
As an added special treat, the smoker has a food probe thermometer that plugs into the digital controls and has an integrated storage place in the cabinet when not in use. The smoker stands about 33 inches tall, but if you'd like to get it a bit higher for easier loading, Char-Broil sells a custom stand.
The Char-Broil Deluxe smoker is easy to use, provides plenty of cooking space, and has excellent features. All in all, this unit offers outstanding value for your money.
What We Love
Large cooking space
Has a thermostat for easy temp control
Double-walled insulation for better heat retention
The front window allows you to monitor the food and wood chips
Comes with a food probe thermometer
What We Don't
The internal light of the smoker could be better
The Runner Up: Masterbuilt Analog Electric 3-Rack Smoker
With all these flashy toys and digital controls, there's something to be said about a smoker that keeps it simple and analog.
If that sounds more like your style, check out the Masterbuilt 3-Rack Smoker. Ditching that fancy electronic wizardry saves you quite a few pennies, and the functionality is much the same.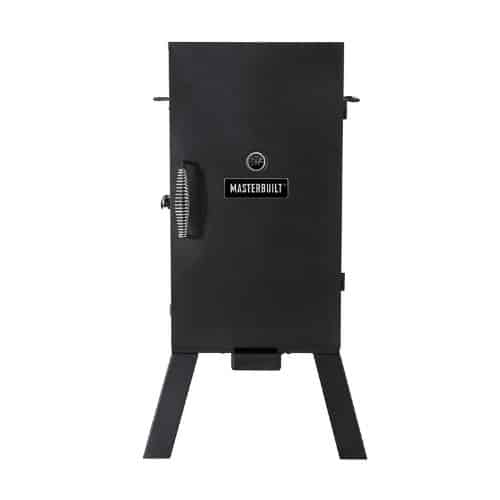 Specifications:
Wattage: 1500
Cooking Area: 536 sq.in on 3 levels
Weight: 50 lbs
Build Materials: Painted steel and porcelain-enameled steel
Dimensions: 20″ x 21.69″ x 40.15″ (W x D x H)
Warranty: 1 year
This unit is simple to use and easy to clean making it a great smoker for beginners.
It's made of painted steel and weighs about 50 pounds, so it's a relatively substantial and heavy 30-inch class smoker. It stands 40 inches tall on legs and has three adjustable shelves.
According to Masterbuilt, it can hold three whole chickens, two turkeys, three racks of ribs, or three pork shoulders. The unit has a simple rheostat-controlled 1,500-watt heating element and an analog thermometer in the door.
What We Love
Easy to use and clean
Great value for money
Quick and easy to assemble
Well-designed adjustable air dampers
What We Don't
The built-in thermometer is not very accurate
Simple and Stylish: Pit Boss 2.2 Analog Smoker
The Pit Boss Blue Blazing 2 Series is as eye-catching as it is capable. Its 593-square inch cooking area is divided over 3 fully customizable shelves.
According to Pit Boss, it can hold 5 full racks of ribs, 6 chickens, or 4 pork shoulders. Now that's a lot of food!
Note: The price of this product has increased and is now over 300 dollars.
Specifications:
Wattage: 1500
Cooking Area: 593 sq.in on 3 levels
Weight: 58 lbs
Build Materials: Painted steel and porcelain-coated steel
Dimensions: 21.5″ x 23″ x 41″ (W x D x H)
Warranty: 5 years
By far, this smoker is the most attractive of the bunch, with a bright blue porcelain-coated exterior and large viewing window. The unit stands 41 inches tall on an integrated stand.
It has a large temperature control dial right on the front that can maintain anywhere between 150 and 325 degrees. That's enough range to cover all smoking activities, from light fish to quick roasting larger meals.
What We Love
Good overall built quality
Has a front window for observing the food
Includes a meat thermometer
Stylish semi-gloss blue finish
Comes with a 5-year warranty
What We Don't
The thermal insulation could be better – the smoker doesn't heat up to 300°F in cold weather
Budget Pick: Landmann Smoky Mountain 26-Inch Electric Smoker
Need big capacity at a bargain price?
The Landmann Smokey Mountain is easy on your wallet but still has a large capacity and lots of versatility.
Specifications:
Wattage: 1500
Cooking Area: 442 sq.in on 3 levels
Weight: 33 lbs
Build Materials: Painted steel and steel
Dimensions: 26.7″ x 16.6″ x 13.2″ (W x D x H)
Warranty: 1 year
This smoker uses a simple rheostat heating control that plugs into the side, making clean up easy.
The door has a viewing window and a large thermometer built in, and the cabinet has 3 removable shelves. The bottom has a 3-in-1 combination wood chip tray, water pan, and grease catcher.
Unlike some of the other models on our list, the Landmann lacks a stand. It sits on four adjustable leveling feet so that it can sit on slightly uneven surfaces.
What We Love
Easy to clean
Very affordable
Lightweight and portable
Has viewing window
What We Don't
The door needs to opened to refill wood chips
Best for Salmon, Bacon, and Sausage: Smokehouse Products Big Chief Electric Smoker
The Big Chief is a simple box smoker with few frills.
It's lightweight and small too, only standing 27 inches tall. This means it's a very portable smoker that you can take along on your trips with an RV.
Specifications:
Wattage: 450
Cooking Area: approx. 900 sq.in on 5 levels
Weight: 17.57 lbs
Build Materials: Aluminum and steel
Dimensions: 26.7″ x 16.6″ x 13.2″ (W x D x H)
Warranty: 2 years
The unit is made with thin aluminum paneling, which keeps your food in but does let quite a bit of heat and smoke out. But that's the purpose of the design, which is only built to smoke at 165 degrees.
It's perfect for low and slow cooking of delicate items, especially fish, cheese, or sausage. If this is the sort of smoking you want to do, this is the perfect unit.
While other heavier insulated smokers have trouble staying at these low temperatures, this one was actually built to do nothing else.
You can choose whether you want a top-loading or front-loading Big Chief. Most people will find the front-loading unit easier to deal with, but this is a matter of personal style. They both operate in a similar manner.
What We Love
Perfect for smoking fish, cheese, and sausages
Very simple to use
Bargain price
Made in the USA
What We Don't
Only one temperature option
Doesn't get hot enough to cook pork and chicken properly
The Most Important Features of an Electric Smoker
Once you've decided to get an electric smoker, it's not that hard to find one that will meet your needs. Nearly all of them are simple metal cabinets with a conventional electric burner at the bottom.
There isn't a lot of variation between manufacturers and designs, but there are still a few important factors to consider when shopping.
Size and Capacity
Probably the most significant thing to consider is how big you need your smoker to be. Or perhaps more accurately, how much food you need it to hold.
Will you be cooking whole turkeys or pork shoulders? Or are you looking for something to use with smaller items like fish fillets?
Besides the smoker box's actual internal dimensions, you'll also want to consider the shelves that come with it.
How many are there, and how many different ways can they be installed?
You should be able to operate the smoker with only one shelf inside for when you're cooking something tall and with more shelves when you're cooking shorter, smaller items.
The shelves themselves matter, too. If you're smoking delicate things like flaky fish, you want a shelf with thinly spaced grids. Regular wire racks with one direction may allow food to fall through.
Temperature Control
Most electric smokers have a simple rheostat on the electrical cord that controls how hot the heating element gets. This, when taken in conjunction with the cabinet temperature gauge, should give you a pretty easy-to-use and fool-proof temperature control.
Since the electric element just holds steady heat constantly, few variables could cause trouble.
To use this system, though, you'll need a little patience. Practice and experience will teach you which settings result in what temperatures. The units may only be marked "high" and "low."
Thermostats
Some units have thermostats built-in that will cycle the electric element on and off to maintain the desired cooking temperature. This really is set-it-and-forget-it cooking at its best.
Is it worth the extra money?
That depends on the type of chef you are and how much attention you want to give the smoking process.
The thermostats can either be analog or digital. They both can be very accurate, but analog ones typically need a little calibration from time to time.
Overall Quality and Design
You get what you pay for when it comes to smokers. So the question becomes how much do you care about the extra quality you might be giving up?
An electric smoker uses a certain amount of watts to heat the cabinet up. If the cabinet is thickly built and well insulated, fewer watts will hold its temperature throughout the cooking process.
A cheaper unit, with thin metal and less insulation, will use more watts overall.
So, do you care?
It's always good to conserve energy where you can, but most people use their smoker a few times per week at the most.
It's already a small appliance that doesn't consume a lot of power. If you are in an RV and running your smoker off of battery power or a portable generator, watts are a big deal. But at home, most people just won't notice.
Unless, of course, your smoker can't hold the temperature you want it to. If it's frigid outside, the loss of heat through poor insulation and thin walls means that even running at full power, your smoker might not be able to keep up.
If you think you'll be using it in extreme temperatures, look into one with excellent insulation.
Finally, look at the overall design of your smoker.
How easy is it to load in more wood chips quickly? Do you have to open the main cabinet door and let all of the smoke and heat out? When it's time to clean up, how hard is it to take it all apart for a good scrubbing?
Extra Features
Some models have added features that might attract your attention. Some add functionality that's nice to have, like lights for nighttime cooking or built-in timers.
These might sway you to one smoker over another, but remember that these functions are easily added to any smoker cabinet for a few bucks.
Some have doors with viewing windows built-in, which look cool and do come in handy for monitoring your wood chip pan. Yet, you should spend your time looking at the quality, fit-and-finish, and insulation before these little things.
Warranty and Brand Reputation
Do pay attention to the brand name and their reputation with customer service.
Most smokers come with at least a one-year warranty. Usually, more extended warranties mean a higher build quality and a longer-lasting appliance.
You can also browse the spare parts available on their website to get an idea of how easily you can acquire replacement parts.
Electric Smoker FAQ
Should I buy an analog or digital electric smoker?
Analog electric smokers are very simple to use and are a great choice for beginners. You can simply adjust the temperature level with a control knob and read the smoker's current temperature from a temperature gauge. They are also generally more affordable than digital models.

Digital electric smokers are a modern option with a control panel that provides finer temperature control. These types of smokers are recommended for more experienced users because they tend to be a bit more complicated to use and also cost more.
Can I use an electric smoker indoors?
Most electric smokers should only be used outdoors. Using an electric smoker indoors is dangerous because it can cause a fire hazard or carbon monoxide poisoning. It can also cause a very strong smell of smoke to linger in your apartment.

However, there are some electric smokers available that are specifically designed for indoor use.
How often should I clean my electric smoker?
It is best to clean the racks and grease pan of your electric smoker after each use. You should also perform a more thorough cleaning frequently. In general, cooking with an electric smoker is not as messy as using a charcoal smoker, so a complete cleaning is required after using it about 5 times.