Propane smokers are all about convenience. While purists may like charcoal, there are few advantages to sticking with an old-school smoker. After all, the flavor comes from the wood, something that any smoker is designed to use lots of.
Propane units feature "set it and forget it" controls that need very little monitoring or tinkering. These smokers hold lots of food, and they make the job quick and easy.
For someone who wants to smoke large amounts of food regularly with ease, a propane unit is a great option.
Our recommendations for Best Propane Smokers:
6 Best Propane Smokers Reviewed
Before we go into the reviews, let's take a quick look at how these gas-powered beasts work.
The design is quite simple — you have a propane tank feeding a standard gas burner at the bottom. The burner heats a tray with wood chips that produce the smoke.
Then you have a control knob, similar to gas ovens and grills, which you use to adjust the burner. This way you can increase or lower the temperature in the smoking cabinet.
The exhaust damper is another important part — it controls the airflow. When you open it, the smoke production will increase and the temperature inside the cabinet will decrease.
Here are a few good reasons to get a propane smoker:
They are easy and convenient to use
Produces authentic barbecue flavor
You can use it anywhere — no need for power outlet
Cooks plenty of food in one smoking session
Whether you are looking for a high-quality propane smoker for regular use, a more affordable unit, or the most portable option, you can find something suitable in this guide.
Here are the reviews of our top 6 recommended propane gas smokers:
Best Propane Smoker Overall: Broil King Smoke 28-Inch Vertical Gas Smoker
Broil King's 28-inch smoker is sturdy and reliable. Four adjustable cooking grates make a total of four cubic feet of space. That's plenty to smoke pretty much anything you like, from full rib racks to whole turkeys.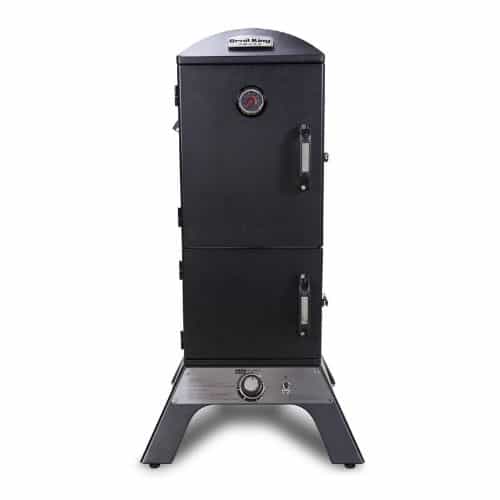 Specifications:
Cooking Area: 770 sq.in (on 4 levels)
Weight: 73 lbs
Build Materials: Painted steel and stainless steel
Dimensions: 28.5″ x 25.5″ x 48.5″ (W x D x H)
Warranty: 5 years (steel cookbox) and 2 years for all other parts
Why the Broil King is Our Number One Pick?
Ease to Use
Assembling and using the Broil King smoker takes a bit of practice, but once you get the hang of it, it's straightforward and easy. It features a Sure-Lite ignition for easy starts and a control knob for adjusting the burner output.
The smoker has two adjustable dampers to control airflow, giving you everything you need for the perfect smoked meats in one tidy package.
Design and Build Quality
One of the things that set this smoker apart from the competition is overall built quality. It has sturdy double-walled construction for better heat retention and the propane burner is stainless steel for long life.
The stainless steel cooking grids are sturdy and can be freely adjusted to different levels according to your needs. The well-designed grease management system and dishwasher-safe grids and drip tray make cleaning easy and fast.
The smoker has two doors so you can add wood chips and water without letting the smoke out from the cooking area.
Accessories
In addition to the 4 cooking grids, the smoker includes an excellent roast/rib rack and 16 stainless steel meat hooks. This allows for more versatile cooking options without the need to buy extra accessories.
Warranty
Many cheap smokers only have a 1-year warranty. The Broil King comes with a 5-year warranty for the steel cookbox and a 2-year warranty for all other parts. Although it's unlikely that you will experience any issues with this smoker, it's nice to know that your investment will not be wasted if something stops working.
Conclusion
The only thing that should be improved with this unit is the built-in thermometer on the door. You can do just fine with it, but it's not very accurate.
You can get a digital dual probe thermometer if you need more precise temperature monitoring. Place one probe on a rack next to the meat and another one inside the meat — this allows you to keep an eye on both the smoker and the meat.
If you are looking for a well-designed quality smoker that will last for several years, then the Broil King is our top pick. The propane version is available on BBQGuys online store and there are also natural gas and charcoal versions of this smoker available on Amazon.
What We Love
Built to last
Well-designed dampers for accurate temperature control
Double-walled construction for better heat retention
Sturdy stainless steel cooking grids and water bowl
Easy to clean
Durable stainless steel burner
Comes with a roast rack and meat hooks
What We Don't
The built-in thermometer is not very accurate
The Runner Up: Masterbuilt 40-Inch Thermotemp XL Propane Smoker with Thermostat
Very few smokers or grills have thermostatic controls, making this Masterbuilt stand out. Set your desired cooking temperature, and the sensors adjust the 15,750 BTU burner to maintain it just like your indoor oven.
Specifications:
Cooking Area: 961 sq.in (on 4 levels)
Weight: 92 lbs
Build Materials: Painted steel and stainless steel
Dimensions: 22.8″ x 28.7″ x 53″ (W x D x H)
Warranty: 1 year
The Masterbuilt is a big smoker, standing 53 inches tall and weighing close to 100 pounds. It comes with four smoking racks for an impressive 961 square inches of cooking space.
This means that it has enough space for 16 chickens, eight racks of ribs, six turkeys, or eight pork shoulders in one smoking session!
Just like the Broil King, this smoker has a double door design to let you refill the wood chip pan without letting the heat out of the cooking chamber. It also features a built-in fuel gauge, so you'll have a little notice before the fire goes out.
Some users have reported issues with the temperature control and receiving bent or damaged product. The smoker has a 1-year warranty so it's best to test it properly right away and contact Masterbuilt customer service in case of any issues.
A minor problem is that the burner is not very well protected from wind, so the flame goes out easily. The good thing is that the safety valve shuts out the gas immediately if this happens.
Overall, the Thermotemp XL is an excellent smoker that makes setting the right temperature very easy and allows you to cook enough barbecue for half of the neighborhood. What makes smoking even more fun and convenient is the front window that allows you to observe the food without opening the door.
What We Love
Allows direct temp control with a thermostat
Plenty of cooking space
The glass window allows you to observe the meat
Comes with a built-in fuel gauge
Safety valve shuts off the burner if flame goes out
What We Don't
Short warranty
The burner flame goes out easily if it's windy
Some users have experienced issues with the product quality
Budget Budget Propopane Smoker: Dyna-Glo 36-Inch Vertical Gas Smoker
The Dyna-Glo is a simple, no-frills gas smoker. It has 784 square inches of cooking space on four adjustable racks so that you can smoke just about anything in it.
Specifications:
Cooking Area: 784 sq.in (on 4 levels)
Weight: 54 lbs
Build Materials: Cast iron, stainless steel, and porcelain-enameled steel
Dimensions: 27″ x 19.2″ x 46.46″ (W x D x H)
Warranty: 1 year
This cabinet smoker has a handy two-door design, so you can refill the wood chip try without letting all of the heat and smoke out of the main compartment.
The 15,000 BTU burner has an electric ignition, and it heats up a porcelain-enameled wood chip box. Dampers on the top and sides allow for good heat control.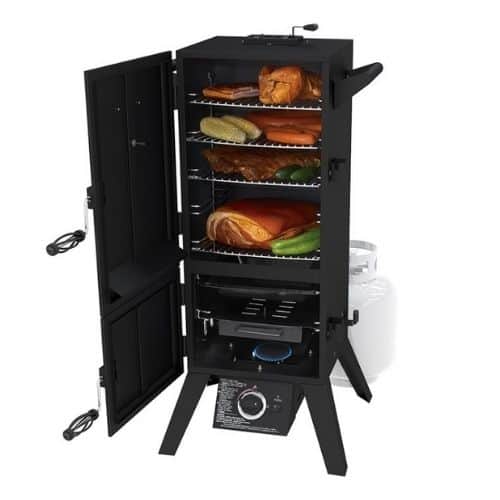 For under less than two hundred bucks, you really can't go wrong with the Dyna-Glo. Although you might want to add a bit of insulation tape to make the door airtight.
This smoker allows you to enter the world of tasty and smoky meats without breaking the bank.
What We Love
Affordable
Great option for beginners
Easy to assemble and use
Lightweight
What We Don't
The door is not well insulated (can be fixed with insulation tape)
Most Versatile Gas Smoker: Char-Broil The Big Easy TRU-Infrared Smoker, Roaster, and Grill
The Char-Broil Big Easy is a unique blend of smoker, roaster, and grill. Unlike most dedicated smokers, this isn't a cabinet design. Instead, this is a vertical barrel that almost looks like a Kamado-style grill but much smaller and lightweight.
Specifications:
Cooking Area: 225 sq.in
Weight: 50 lbs
Build Materials: Stainless steel, and porcelain-coated cast iron
Dimensions: 23.2″ x 23.5″ x 36.3″ (W x D x H)
Warranty: 5 years (burners) and 1 year for all other parts
The lid flips up like a kettle grill or Kamado, and you can then put goods to be smoked into a dedicated basket that fits down inside. The basket holds up to 25 pounds, so roasting a whole turkey shouldn't be a problem.
Organizing foods in this unusual space is the biggest issue since you'll have to stack things vertically. Even though it's unconventional, it does have plenty of space, and there are two removable half shelves to help you stack smaller items.
The smoker box is located on the side with its own door for easy loading. Since the regulator will let you adjust the flame between 9,000 and 18,000 BTUs, you can turn up the heat in the smoker area for roasting, too.
To turn the unit into a grill, a round 180-square inch grill grate sits atop the smoker compartment. The result is a versatile unit that can do everything in one small, 50-pound, and 36-inch tall package.
What We Love
Versatile: you can smoke, grill, and roast
Heats up to 500 °F (260 °C)
Easy to use and clean
Stylish Single Door Propane Smoker: Camp Chef 24-Inch Vault
The great thing about this little Camp Chef smoker is its versatility — it can get up to 350 degrees for roasting or baking, too. With adjustable heat control and three dampers, you can control just about everything about it.
Specifications:
Cooking Area: 903 sq.in (on 3 levels)
Weight: 75 lbs
Build Materials: Painted steel and stainless steel
Dimensions: 24″ x 16″ x 44″ (W x D x H)
Warranty: 1 year
The large thermometer on the door makes keeping an eye on the temperature easy. It has an 18,000 BTU burner and sturdy wood chip and water trays. Food cooks on two smoker racks plus an additional jerky rack with a tight mesh to hold smaller objects.
The Camp Chef is also one of the better-looking smokers. It's cleverly disguised as a bank vault, with little touches like the thermometer being mounted in the combination dial. No matter what you're smoking, if some robbers nab this smoker off the stagecoach, they won't be too disappointed when they open it up.
What We Love
Great value for money
Wide temperature range
Easy to use
Stylish design
What We Don't
The built in thermometer is not accurate
Best Portable Propane Smoker: Masterbuilt MPS 20B Patio-2-Portable Smoker
Even though it's small and portable, the Masterbuilt MPS 20B still packs a punch.
The 5,000 BTU burner runs off one-pound camping gas cylinders, widely available at hardware and big-box stores. You can also pick up an adapter to run the smoker off of regular 20-pound tanks at home.
Specifications:
Cooking Area: 273 sq.in (on 2 levels)
Weight:

22 lbs

Build Materials: Painted steel, stainless steel, and chrome-plated steel
Dimensions: 23.4″ x15.9″ x 23.2″ (W x D x H)
Warranty: 1 year
The smoker has a time-tested and reliable click-to-ignite system. There are large dampers and a built-in temperature gauge for controlling the temperature. Best of all, it folds away into a 23-by-23 inch package that weighs less than 25 pounds!
One downside of this pint-sized smoker is the fuel source, though. With the expensive and disposable one-pound camping bottles, it's not going to last long enough to smoke any substantial amount of meat. You'll want to invest in the adapter kit or at least many spare camping cylinders. Yet, this is the best option when you want a gas smoker that you can take along for road trips or tailgating!
What We Love
Easy to take along for camping and tailgating
Compact and lightweight
Very affordable
Even it's small you can make some real BBQ with it
What We Don't
Might need a bit of tweaking to get great results
The one-pound gas cylinder runs out fast
Looking for more options that fit in your car trunk? Check out our guide with the best portable smokers.
Propane Smokers Explained and Analyzed
Advantages of Propane Gas Smokers
Propane gas, or liquid petroleum (LP), smokers are some of the most reliable and easy to use smokers on the market.
Nearly all of them are cabinet-style smokers with a simple propane burner at the bottom. A hose attaches it to a standard 20-pound propane cylinder, just like a regular grill.
The cylinder can be exchanged or refilled at many hardware stores and gas stations. Since the plumbing is all pretty standard, you can usually find replacement parts readily.
Easy to Use
The best thing about the best propane smokers, though, is how easy they are to use.
The smoking cabinets hold adjustable metal racks, and you can easily stow any sized food in any orientation. At the bottom, there is a wood chip tray and sometimes a separate water pan.
Fill them up, light the burner, and then adjust the burner control knob for heat production and the dampers for the best airflow. Once you've gotten it stable at your desired temperature, you can walk away.
It's as close to "set it and forget it" as any smoker gets. Some units even have built-in thermostats that will hold your desired temperature, just like a home oven.
Here is a short video that explains the basics of using a propane smoker:
Great Results
While some grilling purists may frown upon propane grills, propane smokers are a different story. Consider for a moment the fundamentals of smoking. You need to maintain a low heat, somewhere around 250 degrees, for many hours.
Yes, you can do this with charcoal, but getting charcoal to burn that slowly and at low temperatures takes a lot of planning and monitoring. The charcoal doesn't impart much of the wood smoke flavor anyway, so most often you would want to also use wood chips.
It makes far more sense to use a steady and low-burning heat source, and that's precisely the strength of propane and electric smokers. They'll make as much smoke as you like, and all of that smoke will be from high-quality chips or chunks, not cheap briquettes.
Most professionals use propane smokers because they hold a lot of food and produce tasty results.
Do Propane Smokers Have Any Cons?
Despite all of the advantages described above, propane smokers still have some disadvantages:
Might run out of fuel: It's worth noting that propane smokers do run out of gas sometimes. Unlike grills, which are only on for a few minutes at a time, smokers run all day long. If it goes out, you might not realize it for some time. It's always a good idea to have a spare propane cylinder on hand so that you can swap it out quickly.
Built quality: You will often find the cheaper models to be somewhat cheaply built. Since the propane burner puts out a constant heat level, little though it put into the cabinet's construction. They usually have decent airflow and sufficient heating, but there can be cool areas. A thin steel frame can rust quickly if left outside in harsh environments.
Limited use: For outdoor cooks limited on budget or space, propane smokers are a single-purpose appliance that might not be used enough to warrant its presence. While they do have a small overall footprint, most chefs don't do that much smoking. Before you invest in a purpose-built smoker, ask yourself how often you're honestly going to use it.
Many grills can be made to smoke on a limited basis, so if you only occasionally want to smoke items, there might be other solutions such as smoker and grill combos worth looking into.
Another great option is to buy one of our recommended offset smokers because they are capable of doing both smoking and grilling, even at the same time.
Propane Smokers Versus Other Types of Smokers
If you are still thinking about whether a propane smoker is the right choice, take a look at the comparisons below. This will help you with choosing the right type of smoker for your needs.
Propane vs. Charcoal
When you compare propane smokers to charcoal smokers, propane units are much easier to use.
While many backyard chefs enjoy cooking with charcoal for the occasional steak or burger, cooking with charcoal is an all-day affair. The fire must be tended and babied, with more briquettes being added every few hours. Heat control is also a constant problem.
Propane smokers fix most of these problems since you can pretty much walk away once you light the burner.
Propane vs. Electric
Electric smokers are very similar in design to propane ones, but electric smokers require a power outlet. That makes them less than ideal for camping and some outdoor applications.
They also tend to produce less power and heat than propane smokers are capable of. This probably isn't a problem unless you also want to do high-temperature roasting in your smoker, which some propane models let you do.
If you want to read more about this topic, check out our article with a thorough comparison of propane vs. electric smokers.
Propane vs. Pellet and Kamado
Finally, pellet smokers are another option. Like Kamado grills, they are often expensive, but they are also multi-taskers that can function as a grill.
Pellet grills must be loaded with pellets made from the hardwood of your choice. But once loaded and started, pellet grills are electronically controlled to maintain a steady fire temperature.
Kamado grills require a little more work and operate much like a traditional charcoal barbeque, but they have excellent heat retention and airflow that make smoking a lot easier. Both pellet and Kamado-style grills are very expensive, making a propane smoker a much less pricey option if you already have a grill that you love.
For those who want a combination grill and smoker, these are their best bets since they excel at doing both things.
How To Choose the Best Propane Smoker
Since the designs of different propane smokers are very similar, the most significant factors affecting your purchase will be the size and construction quality.
Here are some things to consider before buying a propane smoker:
Width: Double check that the smoker is wide enough to fit what you want to cook. If you want to smoke whole turkeys, briskets, or other large items, make sure that they'll fit the way you want them to.
Insulation: Some smokers have better insulation and a better fit-and-finish than others. It's worth choosing the best one you can afford. Remember, most smokers are going to last many years.
Two Doors: One feature that is very nice to have is multiple doors. Some of the cabinet smokers on the market have one big door, which means that you will let out smoke and heat from the cooking area when you want to check the pan or add wood chips. A two-door design allows you to add wood or water while leaving the cooking area sealed.
Easy Cleaning: It's also worth noting how easy your smoker will be to clean. Some have removable shelves that are even dishwasher safe. The biggest problem is going to be the area around the burner. Is it possible to use a foil liner? Does it have a grease drip pan included, and if so, how easy is that to clean?
Customer Service and Warranty: Check out the company and its customer service reputation. How easy will it be to get replacement parts if you need them? Look at the details of the warranty to see what sort of things are covered. Are there any components that aren't covered?
5 Tips for Using a Gas Smoker
Check for gas leaks regularly: You can do this easily by preparing a mixture of water and dishwashing soap and brushing it on the hoses and connecting parts of the smoker. Turn the gas on and if you see any bubbles, it means there is a leak and you should have it fixed before using the smoker.
Don't leave the smoker door open and flame on after you take the food out of the smoker. When the door is opened the burner gets more airflow and sometimes the flames can get too big and damage the smoker.
Clean the smoker after each use: After cooking, let the smoker cool down and then clean all parts that have some charred food or drippings.
Cook low and slow for more flavor: The longer you cook the meat the more tender and flavorful it will be. A good rule of thumb is to set the smoker at 225°F (107°C) and allow about 70 to 80 minutes of cooking time per pound of meat. This means that smoking a whole brisket or turkey can take anywhere from 8 to 12 hours.
Try different wood chips for different foods: Experiment with different types of wood chips for different foods and find your favorites. You can start with hickory, applewood, or cherrywood.