Pellet grills are great for cooking all kinds of barbecue foods from ribs and briskets to chicken wings. They are easy to use and give a nice smokey flavor to your meat.
Even when you need to hold a steady 250-degree temperature for several hours, it's not a hard task when you have a good pellet smoker. And one great thing is that wood pellets come in various flavors that you can choose according to the dish you are cooking.
In addition to being user-friendly, pellet grills are often marketed as versatile.
But what if you need a proper sear on your steaks or burgers?
The truth is that most pellet grills don't get hot enough and can't provide direct heat for searing. Fortunately, there are some great models that are designed to do that as well.
So let's see what are the best pellet grills that can sear and in what different ways they can achieve this.
Our recommendations for Best Pellet Grill for Searing:
How to Pick the Best Pellet Grill for Searing?
There are many different aspects that you need to consider when buying a pellet smoker.
Some of the most important are:
Overall cooking performance
Ease of use and maintenance
Cooking space
Materials and durability
Extra features (e.g. WiFi connectivity)
All of the models we have chosen in this guide are solid and perform well in the areas that matter.
But since now we are especially interested in the searing capability, let's look at what can make a pellet grill good at that:
1. Maximum Temperature
Pellet grills are typically designed to be good at indirect low and slow cooking.
To understand this better, you can take a quick look at the infographic below that presents the typical structure of a pellet grill:
When you think about searing, it is usually a charcoal or gas grill where the meat is directly above the heat source. This can be a very hot area and that's how you get that crispy and slightly charred surface that we all love.
So how can you get a nice sear with indirect cooking?
If your pellet grill simply has a high enough maximum temperature, the surface of the grill grate will get so hot that it will sear the meat. This means at least 450 degrees Fahrenheit but preferably more.
Most pellet grills can indeed reach 450 degrees temperatures, but when you place the meat on the cooking grate it will immediately cool down and you are unlikely to get nice grill marks and a crispy surface.
That's why you want to choose a pellet grill that can get as hot as possible — some units, like the Coyote (reviewed later in this guide), can reach as high as 700 degrees.
For example, if you are thinking about buying a Pit Boss or Traeger pellet grill, then Pit Boss is often the better option for searing because they heat to higher temperatures.
In addition, they usually come with the flame broiler slider that allows searing directly in the flame — a feature we will discuss more a bit later.
2. Cooking Grate Material and Thickness
Heavy cast-iron cooking grates can store a lot of heat energy. So if you preheat them properly, they can give a nice sear to your meat.
Just like with a cast-iron pan, you can hear the meat sizzle when you place it on them!
On the flip side, thin steel wire cooking grates are the opposite and are not good for searing. Think about something that your typical oven has — yeah you might be able to roast, but not sear with those.
Some expensive models have grates made with thick stainless steel bars that can also absorb plenty of heat for a nice sear.
3. Direct-Flame Searing Feature
Even if your pellet smoker can't get super hot, or doesn't come with extra thick grates, there is another feature that allows searing — this feature is called direct-flame cooking.
Pit Boss and Camp Chef pellet grills are most known for this feature.
Check out this short video and see how a steak gets seared on a Pit Boss grill:
This is indeed a great option for searing one or a few items at a time. But the open flame searing area is usually quite small. This means that you can't sear a big batch of meat at one time.
4. Pellet Grills with Sear Box
Some pellet grills come with a dedicated box on the side for searing, or sometimes you can buy them separately. They are usually powered by propane gas — so it's basically just an additional small gas grill attached to your pellet smoker.
The downside of this solution is that you need to have a propane tank to use them.
Which raises the question, why not just buy a separate compact gas grill?
Or how about a pellet and gas grill combo? Let's dig into that next.
5. Pellet and Gas Grill Combos
There are some models like the Pit Boss Sportsman PB1230SP pellet and gas combo grill (reviewed later in this guide) that are exactly what they sound like — a combo unit with both full-sized pellet and gas grill.
Now, here you might ask the same question again, why not buy these appliances separately?
The trick here is that there is a connecting tube that lets the smoke generated from the pellets flow into the gas grill side as well. In addition, it is quite handy to have both a smoker and a gas grill built into the same unit.
Best Pellet Grills for Searing Reviewed
After discussing the different aspects of searing with pellet grills, it's time to get to the actual reviews. We have picked units of different sizes that also feature different techniques to achieve searing.
When you are looking for the best pellet grill for searing, one of our top 6 picks below is sure to fit the bill!
Best Overall: Camp Chef Woodwind WiFi 24-Inch Pellet Grill with Sidekick Sear Box
Camp Chef Woodwind is a perfect choice if you want to both sear and smoke — it has a wide temperature range, an open flame searing function, and a separate Sidekick propane sear box.
This pellet grill is also durable, easy to use, and effortless to clean and maintain. What's more, it has WiFi and Bluetooth connectivity and comes with 4 meat probes.
Note: You can also order this pellet grill on Amazon but instead of the Sidekick Sear Box it comes with the Sidekick Griddle accessory.
Specifications:
Cooking Area: 797 sq.in (+ 231 sq.in sear box)
Temperature Range: 160 – 500°F
Pellet Hopper Capacity: 22 lbs
Weight: 162 lbs
Build Materials: Painted steel, stainless steel, porcelain-coated steel, and cast iron
Warranty: 3 years for the grill and 1 year for the sear box
If you are looking for versatility, usability, and value for money, the Campchef Woodwind is definitely one of the best pellet grills on the market today!
This video does a job of introducing all the great features of the Woodwind WiFi pellet grill:
The Woodwind pellet grill frame is made with a sturdy powder-coated steel while the lid and firebox are stainless steel. The main grilling area is 429 square inches and the cooking grid is porcelain-coated so it's easy to clean. There is an additional 368 square inch upper rack.
If you need more space, just choose the larger 36-inch model (you can choose the grill size on the BBQGuys online store) with 1236 square inches of total cooking space.
The pellet hopper has a viewing window and holds 22 pounds of pellets — enough for long cookouts. There is also a handy purge option for emptying the hopper.
The clean-out system on this pellet grill is very well designed and emptying ashes is easy and fast.
The 231-square-inch Sidekick Sear Box is great for cooking additional items while slow-smoking some meat. You can also remove the sear box and use it as a gas stove. Just note the Sidekick needs a standard 20 lb propane tank to work.
In addition, the new and improved PID controller can be managed through WiFi and Bluetooth and allows you to set the cooking temperature, adjust the smoke level, receive notifications, and set timers. What we also really like is that this unit comes with 4 temperature probes for monitoring the doneness of several pieces of meat simultaneously.
What We Love
Direct flame searing feature
Comes with a sidekick sear box
Great value for money
Easy to clean
The smoke level can be adjusted
Includes 4 temperature probes
What We Don't
No enclosed cabinet under the grill
Overall, the Pit Boss Navigator 850 is just an excellent pellet grill — it's the right size for most backyard chefs, it's easy and fun to use, and has an attractive price point.
When it comes to searing, this pellet grill heats up to 500 degrees and features Pit Boss's unique and straightforward direct-flame cooking function for super-high temperatures.
Specifications:
Cooking Area: 879 sq.in
Temperature Range: 180 – 500°F
Pellet Hopper Capacity: 28 lbs
Weight: 164 lbs
Build Materials: Painted steel and porcelain-coated cast iron
Warranty: 5 years
The Navigator is built with robust steel protected by a high-temperature powder-coated finish. The grates are made with porcelain-coated cast iron and provide 879 square inches of cooking space.
The pellet hopper is huge — with a 28-pound-capacity it won't run out easily when fully loaded. The window makes monitoring the pellet level easy.
The Navigator comes with one remote meat thermometer probe that connects to the control panel. Setting the temperature with the digital control panel is very easy.
One downside of this pellet grill is that it doesn't have much insulation so this is not an optimal smoker to be used in cold and windy weather. If you are planning to use it in colder months, it's best to get an insulating blanket.
This Pit Boss pellet grill has a 5-year warranty and a cover is also included in the package.
What We Love
Large cooking area
Versatile — Great for both smoking and grilling
Affordable
Easy temperature control
Built to last
Comes with a meat probe and grill cover
Has a 5-year warranty
What We Don't
Doesn't work very well in rainy, windy, or cold weather
The Premium Choice: Coyote 36-Inch Pellet Grill
If you are ready to invest some serious cash then look no further — the Coyote 36-inch pellet grill is made with thick stainless steel, heats up to 700 degrees, and has interchangeable grates for smoking and searing.
This luxurious grill and smoker looks stylish and is built like a tank. It will last you a lifetime if you take good care of it!
Note: You can also choose a built-in configuration on the BBQGuys online store.
Specifications:
Cooking Area: 808 sq.in
Temperature Range: 175 – 700°F
Pellet Hopper Capacity: 15 lbs
Weight: 328 lbs
Build Materials: 304 Stainless Steel
Warranty: Lifetime, 5 years, or 3 years (depending on part)
In addition to being durable, the Coyote pellet grill is also very convenient to use and easy to clean and maintain. The grease management system is well-designed and wiping the stainless steel surfaces clean is a breeze.
The hood and fire pit are made with double-walled stainless steel and provide excellent heat retention. This means that you consume fewer pellets and can cook even during the cold winter months.
There are two large pull-out drawers for keeping your tools and accessories at hands reach. The grill also comes with 3 temperature probes and built-in lights for nighttime cookouts.
What We Love
Built with high-grade 304 stainless steel
Excellent heat retention
Precise temperature control
Easy to clean
Interchangeable grates for searing and smoking
High maximum temperature
Has built-in lights
Includes 3 meat probes
What We Don't
Pricey
No WiFi functionality
Best Combo:

Pit Boss Sportsman PB1230SP Wood Pellet and Gas Combo Grill
Want to smoke some ribs and grill a dozen burgers at the same time? No problem!
Here is a real powerhouse that allows you to cook almost anything you can imagine. And the best thing about the Pit Boss Sportsman combo unit is that both the smoker and grill side provide an excellent cooking performance.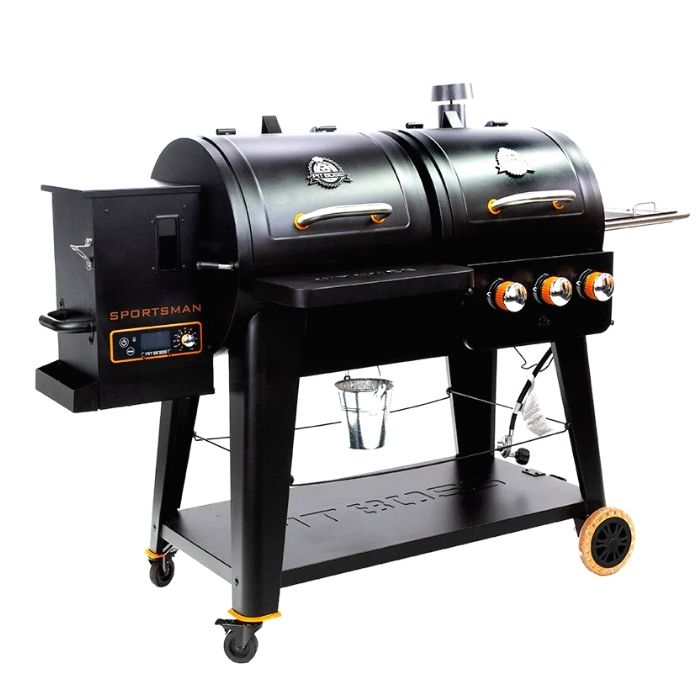 Specifications:
Total Cooking Area: 1260 sq.in
Temperature Range: 180 – 500°F
Pellet Hopper Capacity: 21 lbs
Weight: 203 lbs
Build Materials: Painted steel, stainless steel, and porcelain-coated cast iron
Warranty: 5 years
This 2-in-1 appliance has two separate hoods, one for the pellet smoker and one for the gas grill. Both sides provide about 600 square inches of cooking space.
If you want to have backyard parties and serve large quantities of different types of foods, then this is a perfect choice.
The design is very smart since there is a tube that connects the smoker to the grill side. This allows you to generate smoke on the smoker side and feed it to the gas grill for extra flavor.
The grill comes with two meat probes that plug in directly to the digital control board allowing you to monitor the internal temperature of your food without opening the lid.
Built sturdy and covered with a 5-year warranty, this is definitely one of the best smoker grill combos out there!
What We Love
Super versatile
Grill and smoke at the same time
Plenty of cooking space
Large hopper capacity
Comes with 2 meat probes
5-year warranty
What We Don't
Takes some effort to assemble
Large and Powerful: Weber SmokeFire EX6 Gen2 Pellet Grill
With the second generation of the SmokeFire EX6, Weber has fixed most of the problems that plagued the original one. The new version also has some nice additional features like internal lights and support for the Weber Crafted cooking accessories.
And if you're looking for that nice sear, this bad boy heats up to 600 degrees and provides even heat across the large cooking area.
Specifications:
Cooking Area: 1008 sq.in
Temperature Range: 200 – 600°F
Pellet Hopper Capacity: 22 lbs
Weight: 178 lbs
Build Materials: Painted steel and porcelain-coated steel
Warranty: 5 years or 3 years depending on the component
As usual with Weber grills and smokers, the SmokeFire EX6 provides a smooth overall cooking experience.
Controlling the smoker with a smartphone app is effortless and you will even have a step-by-step grilling assistant helping you with getting things right from the start. These American-made pellet grills also put out nice and light smoke continuously and give your food a beautiful taste.
The EX6 is built sturdy and durable and comes with two meat probes — so all in all this is a pretty solid unit from Weber.
The only thing to complain about is the grease drain. The mix of pellet dust and grease can easily build up near the drain holes and catch fire. The solution is to place aluminum catch pans under the grates so that the grease will drop into them.
What We Love
Large cooking area
Heats up to 600°F
Produces even amount of smoke
Pellet hopper sensor function
Has internal lighting for nighttime cooking
Made in the USA with globally sourced parts
What We Don't
The grease management system could be better
Best Portable Pellet Grill for Searing: Green Mountain Grills Trek Prime WiFi Pellet Grill
When you are looking for a portable pellet grill there really aren't too many great options. But the Green Mountain Trek Prime is loaded with nice features and is compact enough so that you can take it along for camping and tailgating.
The Trek Prime can use either 12-volt car power or a standard wall outlet with 110-volt AC. This small but powerful unit heats up to 550 degrees so you can also get a nice sear on those steaks and burgers.
Specifications:
Cooking Area: 219 sq.in
Temperature Range: 150 – 550°F
Pellet Hopper Capacity: 9 lbs
Weight: 63 lbs
Build Materials: Painted steel and stainless steel
Warranty: 3 years
First off, as portable pellet grills go, the Trek Prime offers great cooking performance. The digital temperature controller is easy to use and holds the set temperature well. The cooking grates hold 219 square inches of food, and the hopper fits nine pounds of pellets.
The Trek Prime is a bit heavy to carry around at 63 pounds but it does have a small footprint that measures only 24 by 36 inches.
You can control and monitor this pellet smoker through a WiFi connection with the GMG app. One meat temperature probe is included in the package.
What We Love
Wide temperature range — Good for grilling and smoking
Great for camping and tailgating
Very affordable
Comes with a meat probe
WiFi control option for smartphones
Works with both 12V and 110V power
Has a 3-year warranty
What We Don't
Relatively small cooking area
I hope this guide was useful for choosing your next pellet grill. Whichever unit you choose, I hope you enjoy cooking with it.
Have a great barbecue!
-Joonas