Do you like both grilling and smoking, but don't want to get a separate unit for each style of cooking?
Luckily, there are many good smoker grill combos that handle both.
I love grilling steaks, burgers, and pork chops. It's a perfect way to cook tasty food that will be ready fast.
But when I'm not in a hurry, I like to spend time smoking larger chunks of meat like briskets or racks of ribs. Sausages and whole chickens, turkeys, or salmon are also excellent when smoked.
With a combo rig, you can save money and space by having one unit capable of delivering the best of both worlds. Also, you don't have to worry about maintaining several different appliances and keeping different types of fuel in storage.
Continue reading this guide to find a smoker and grill combo that's perfect for your backyard.
Our recommendations for the Best Smoker Grill Combo:
11 Best Smoker Grill Combos Reviewed
Below you can find the reviews of the top smoker grill combos on the market today.
We have included all types of options from large units with two separate hoods to portable pellet grills and charcoal smokers to kamados. So whatever you're looking for, one of these models will fit the bill for sure!
If you are more interested in just smoking, or already have a grill, check out our guide with the best smokers for beginners.
Best Pellet Smoker and Grill Combos
Wood pellet grills are great for preparing smoky BBQ dishes and most of them can get hot enough for grilling and searing as well.
The best thing is that they usually have automatic ignition and temperature control so you can chill back instead of manually adjusting the level of heat.
Get a good pellet grill and you're all set up for some serious BBQ!
Just be prepared to cough up some dollars as the best ones don't come cheap.
Best Pellet Smoker Grill Combo: Pit Boss Sportsman PB1230SP Wood Pellet and Gas Combo Grill
The Pit Boss Sportsman Series Pellet and Gas Combo Grill is a real powerhouse that allows you to cook almost anything you can imagine.
Smoke a turkey while grilling burgers at the same time or slow-cook a tomahawk steak and then sear it on the gas grill — the possibilities are endless!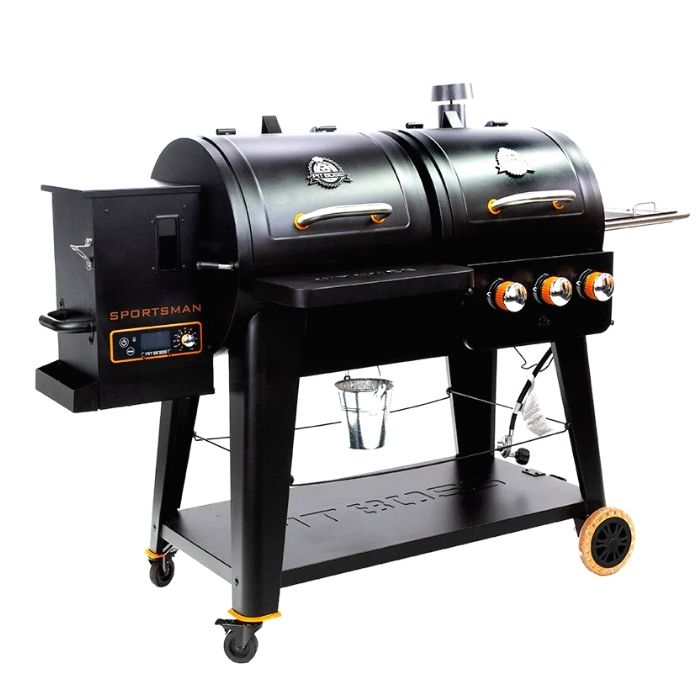 Specifications:
Type: Wood pellet and gas combo grill and smoker
Total Cooking Area: 1260 sq.in
Weight: 203 lbs
Build Materials: Painted steel, stainless steel, and porcelain-coated cast iron
Warranty: 5 years
The Sportsman 1230 has two separate hoods, one for the pellet smoker and one for the gas grill. Each one has about 600 square inches of cooking area consisting of the main grate and a warming rack. That's over 1200 square inches of cooking real estate!
Well-designed from top to bottom, the Sportsman has a large 21-pound pellet hopper with a viewing window to monitor the level. Temperature control of the pellet smoker is effortless and it has a wide temperature range —180 to 500 degrees Fahrenheit.
On the right side is a gas grill with three powerful stainless steel burners that put out 30,000 BTUs of heat.
The grill comes with two meat probes that plug in directly to the digital control board. This means you can monitor the internal temperature of your food without opening the lid.
Built sturdy and covered with a 5-year warranty, this is our top recommendation for all the smoke chefs out there!
What We Love
Super versatile
Grill and smoke at the same time
Plenty of cooking space
Large hopper capacity
Comes with 2 meat probes
5-year warranty
A Versatile Pellet Grill: Camp Chef SmokePro DLX
SmokePro DLX is a versatile wood pellet smoker and grill. It has many unique features and is more affordable than other comparable options on the market.
This smoker has a big enough cooking space for 3 whole turkeys. The 429 square inch primary cooking area is complemented with a 141 square inch warming rack.
Specifications:
Type: Pellet grill & smoker
Main Cooking Area: 429 sq.in
Warming Rack: 141 sq.in
Weight: 140 lbs
Build Materials: Painted steel and porcelain-coated steel (grates)
Warranty: 3 years
You can easily adjust the temperature of the grill by turning a knob. It has a temperature range of 160 to 500 degrees, so you can use it for anything from slow smoking to grilling. You can also use it for baking, braising, and roasting.
An automatic auger dispenses the right amount of pellets to reach the target temperature. This is very convenient, as you don't have to constantly monitor it and add the pellets manually.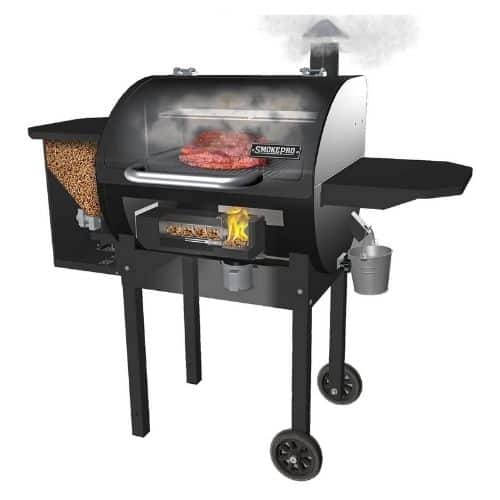 The temperature sensor monitors its internal temperature. The grill does a good job of keeping it within 20 degrees of the target. The pellet hopper holds 18 pounds of pellets.
The SmokePro DLX has a unique ash collection system that you don't normally see in this price range. However, you might still have to vacuum some fine ash out of it a few times per year, as the system only gets the bigger particles.
The grill also comes with a handy meat probe for monitoring internal meat temperature. Another great feature is the automatic shut down, which makes sure it turns off after the cooking cycle is finished.
This grill has a sturdy build with a distinctive stainless steel lid. You can also choose a black or bronze-colored option.
If you don't want to get the large and expensive Pit Boss, then the Camp Chef SmokePro DLX is our number one recommendation. You simply can't find a better pellet smoker in this price class.
What We Love
Easy to use
Durable materials
Versatile
Stacked with useful features
Accurate temperature control
Includes a probe for monitoring meat temperature
What We Don't
The finer ash has to be cleaned with a vacuum
Affordable Pellet Grill & Smoker: Z Grills 450A (2020 Upgrade)
This model is a direct competitor of our number one choice (Camp Chef SmokePro). The main difference is that the ZPG-450A lacks the precise temperature control and some of the features that the Camp Chef model has.
The ZPG-7002B is a more simple grill but comes with a lower price tag as well. With 452 square inches of primary cooking surface, it's also slightly larger than the SmokePro.
Specifications:
Type: Pellet grill & smoker
Cooking Area: 452 sq.in
Weight: 84 lbs
Build Materials: Stainless steel and porcelain-coated steel
Warranty: 3 years
The temperature can be set between 180 and 450 degrees and the grill will take care of the rest. However, it can't always maintain the set temperature very accurately and some fluctuations are not uncommon.
The grill has a sturdy construction made of stainless steel. Thanks to the grease management system, cleaning is fast and easy. There is no automatic ash cleaning system though.
Overall, this is a good and affordable smoker. It is a great option for beginners as well as more advanced pitmasters.
What We Love
Good value for money
Durable build
Easy to use
Good grease management system
Includes a cover
What We Don't
No ash cleaning system

The temperature sometimes fluctuates
Best Portable Pellet Grill: Green Mountain Grills Davy Crockett
Are you a smoking enthusiast who also loves camping or tailgating? Then check out this portable pellet grill from Green Mountain.
It has a surprisingly wide temperature range starting from 200 degrees and is able to reach 550 degrees. Some smokers don't really get hot enough for grilling, but Davy Crockett does a good job at both.
Specifications:
Type: Pellet grill & smoker
Cooking Area: 219 sq.in on two levels
Weight: 57 lbs
Build Materials: Painted steel and stainless steel
Warranty: 3 years
The grill has short legs, making it great for tailgating. If you use it in the backyard it's better to place it on a stand, unless you want to be kneeling or crouching.
Despite being portable, this grill has a robust build and a nice set of features. It comes with an automatic temperature control system that works through a WiFi connection. The related app has both iPhone and Android versions available.
What I really like about the Davy Crockett are the features designed specifically for tailgating. There is no need for additional connectors as it comes with a standard 110 V AC plug and a car cigarette lighter plug. You can also use it with a 12 V battery by connecting the included alligator clips.
As expected, the grilling surface is not very big. At 216 square inches, it's still enough for a dozen burgers or 2 whole chickens.
If you want to have a great wood pellet smoker that you can take out for camping or tailgating, then this is the best option.
What We Love
Very easy to use and control the temperature

Quick to assemble

Lightweight and

portable

WiFi control

Sturdy build
What We Don't
Relatively small cooking area
Best Premium Pellet Grill: REC TEC Grills RT-700 Bundle
RT-700 is the flagship model of REC TEC, known for its premium quality smokers. This spacious wood pellet grill looks great and is made of reliable parts.
The stainless steel firepot and cooking chamber are very durable and resistant to heat and moisture. The grill is also well sealed for keeping the moisture in, which prevents the meat from drying too much.
Specifications:
Type: Pellet grill & smoker
Cooking Area: 702 sq.in
Weight: 200 lbs
Build Materials: Stainless steel
Warranty: 6 years
This pellet grill and smoker can be controlled with a WiFi connection and an app that is available for both iPhone and Android. The app is easy to set up and simple to use.
You can choose a cooking temperature between 200 and 500 degrees. The grill will reach the set temperature automatically and holds it well.
The RT-700 has a huge 702 square inch primary cooking area and an additional warming rack. The hopper holds 40 pounds of pellets good for about 40 hours of cooking.
This smoker comes with a couple of nice extra features. It has dual meat probes for monitoring 2 dishes separately. In addition, there is a light inside so that you can observe the foods even when it's dark.
The bundle includes a cover, 200 pounds of wood pellets, and 2 non-stick grill mats. The grill mats can be used for creating an even surface for cooking, so you can use it just like a flat top grill. This is ideal for smaller items like shrimp and vegetables.
If money is not an issue and you want a high-quality pellet smoker with a host of great features, then the RT-700 might be just what you need.
What We Love
Looks stylish
Durable parts
Easy and convenient to use
Heats up fast
Large cooking space
6-year warranty
Best Charcoal Smoker and Grill Combos
Charcoal smoker grill combos are usually inexpensive and simple to use.
They require you to manually add the right amount of charcoal and light it up. You also need to make sure that the temperature is right by adjusting the airflow inside the grill.
If you feel like you don't get enough smoky flavor, you can try different kinds of charcoal. You can also add some wood chips or chunks to get more smokiness to your foods.
Here are our top picks for a charcoal grill smoker combo:
Best Charcoal Smoker Grill Combo: Pit Barrel Classic Cooker Package
Pit Barrel has become a very popular charcoal cooker. The idea is very simple. It's basically a steel drum where the charcoal is in the bottom and the meat is hung above. You can also use the grid for grilling.
Then what makes this metal barrel so popular?
It's easy to use and keeps the temperature consistent for as long as 6 to 10 hours. With the meat hooks, you can utilize the space very well and fit up to eight racks of ribs inside the barrel. Despite being hung vertically, the heat inside the barrel cooks the meat evenly.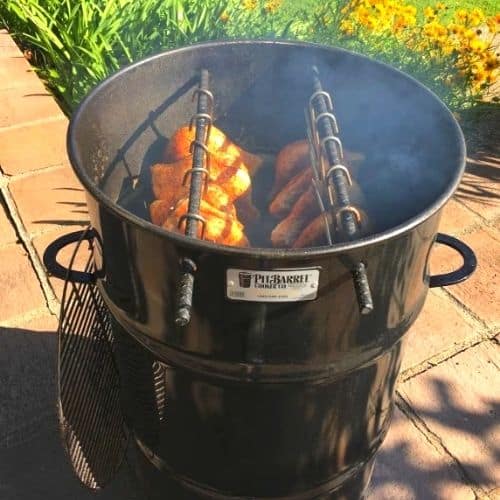 Specifications:
Type: Charcoal smoker & grill
Dimensions: 25 x 25 x 36 inches
Weight: 57 lbs
Build Materials: Porcelain-enameled steel
Warranty: 1 year
Learning how to use the Pit Barrel is quite easy. And once you do, everything from ribs, chicken, and turkey to salmon on a tray can be cooked with very little effort.
For some reason, the ash pan is not included in the package. So if you prefer to use one, you have to buy it separately.
The problem with using Pit Barrel as a grill is that you have to reach deep inside the barrel to get to the meat. You can do it with long tongs, though, but the design is not optimal for grilling.
This is a simple and durable smoker that produces great food. Get this bad boy started in your backyard, hang the meat on the hooks, and chill while it takes care of the cooking!
What We Love
Easy to assemble and use
Holds steady temperature
Solid and durable
Large capacity with the hooks
What We Don't
Not so great as a grill
The ash-pan is sold separately
Budget Charcoal Option: Royal Gourmet BBQ Charcoal Grill and Offset Smoker
This charcoal grill from Royal Gourmet is a compelling and very affordable product. It has a large 443-inch main cooking surface and a spacious swing-away warming rack. There is also a 189 square inch offset smoker box attached on the side.
Specifications:
Type: Charcoal offset smoker & grill
Main Cooking Area: 443 sq.in
Warming Rack: 169 sq.in
Secondary Cooking Area: 189 sq.in
Weight: 54.2 lbs
Build Materials: Painted steel and porcelain-coated wire (grates)
Warranty: 1 year
Despite being inexpensive, this smoker and grill combination has all the basic features you need for cooking tasty barbecue. It comes with porcelain-enameled cooking grates and a thermometer.
The height of the charcoal pan can be adjusted easily for high heat searing or slower cooking. It also has a side access hatch for tending the coals. The ash pan can be removed, which makes ash disposal more convenient.
The smoker box is quite small and not sealed very well but you can add some silicone to the places that leak smoke. In addition, the build of the unit could be more sturdy and durable.
Prepare to spend a while assembling the grill. It has many parts and the instructions are not very clear.
This is a nice budget option for beginners who like both grilling and smoking
What We Love
Very affordable
Simple and functional design
Big-enough cooking area
Easy to move around
What We Don't
Could be more sturdy and durable
Takes some effort to keep the temperature steady
Portable Charcoal Option: PK Grills Original Grill & Smoker Combination
PK Grills has come up with an award-winning (consumers digest Best buy 2017, amazing ribs Best value pitmaster 2015 – 2018) portable solution for both grilling and smoking.
This charcoal grill has a simple, yet innovative, design. The 4 vents allow you to control the temperature and use it for both slow-smoking as well as grilling at high temperatures. You can adjust the top and bottom vents to control how fast the charcoal burns.
Specifications:
Type: Charcoal smoker & grill
Cooking Area: 300 sq.in
Weight: 45 lbs
Build Materials: Cast aluminum
Warranty: Up to 20 years depending on the part
The portable design makes it an excellent option for camping and tailgating. It's made of thick cast aluminum but weighs only 45 pounds. You can also choose a more expensive option with a stainless steel cooking grid.
It's not a large grill but big enough to cook for 2 to 4 people. The size of the cooking area is 300 square inches.
This is a great all-around grill that is built to last!
What We Love
Portable and lightweight

Smart design for temp control

Durable design

20-year warranty for the cast aluminum bowl and lid
Best Vertical Charcoal Smoker & Grill: Dyna-Glo Signature Series Vertical Offset Charcoal Smoker & Grill
If you are looking for a vertical smoker and grill combination, here is an interesting product from Dyna-Glo. The design of this model allows you to fit a huge amount of meat inside while it doesn't take up much space in your backyard.
Specifications:
Type: Vertical Offset charcoal smoker & grill
Primary Cooking Area: 1,098 sq.in (on 5 levels)
Grilling Area: 284 sq.in (on 5 levels)
Weight: 124.3 lbs
Build Materials: Painted steel and chrome-plated steel (grates)
Warranty: 3 years
This vertical offset smoker is designed more for smoking than grilling. This unit has five racks with a total of over 1000 square inches of cooking space.
So how about grilling and searing those steaks?
Yes, you can do that also. The offset firebox can be used as a grill. It has porcelain-coated steel grates that provide 284 square inches of grilling surface.
Considering its size and performance, this smoker offers great value for money. The low price tag also comes with a few drawbacks. Some users complain that the paint starts bubbling or chipping off after a while. It might also have some leaks, but you can fix those with lava tape or silicone.
The body of the smoker is made of sturdy and durable steel. It's also quite easy to move it around with the big wheels. The pre-installed sausage hooks on the ceiling are a nice touch.
What is most important, you can cook a ton of great-tasting barbecue meat with this smoker!
What We Love
Large cooking capacity

Fits in a small area

Easy to clean

Great value for money
What We Don't
Might need some additional sealing

The paint can start chipping off
Affordable Kamado Grill & Smoker: Char-Griller Akorn Kamado Charcoal Grill
This is a great little kamado-style grill that can be used for smoking as well. It has triple-walled insulation for maintaining the right temperature for slow smoking. Yet, you can also make it very hot for grilling steaks and burgers.
Specifications:
Type: Kamado-style grill & smoker
Cooking Area: 447 sq.in (on two levels)
Weight: 97 lbs
Build Materials: Painted steel and porcelain-enameled steel
Warranty: 1 year
This grill has a very durable build made of steel. It's still much lighter than the ceramic kamado grills, so moving it around is not a problem.
The grill has an adjustable top damper for regulating airflow and controlling heat. You can monitor the heat level with a built-in temperature gauge. A simple design with a removable ash pan makes cleaning very easy.
The primary cooking space of this grill measures at 314 square inches, which is just big enough to cook for 3 to 4 people.
Overall, Char-Griller Akorn is a very versatile cooker. Using it takes a bit of practice, but once you get the hang of it, you can use it for a variety of dishes. Thanks to its great insulation it holds the right temperature for hours without the need for manual adjustments.
What We Love
Great for smoking and grilling

Durable

Holds the heat well

Easy to clean
What We Don't
Limited cooking space

The included thermometer is not accurate
Best Gas Grill and Smoker Combos
Gas grills are convenient and easy to use. They are great for grilling but lack the smoky flavor produced by wood pellets or charcoal.
When using gas as the fuel source, you need to have a smoker box and wood chips to get that smoky flavor.
Premium Gas Grill with a Smoker Box: Weber Summit S-470
We wanted to include a few gas-powered smoker grill combos in this guide but had a hard time finding any good products.
Weber Summit S-470 is an excellent gas grill that includes a smoker box. And not just that, it's loaded with great features that allow you to cook almost anything you can think of.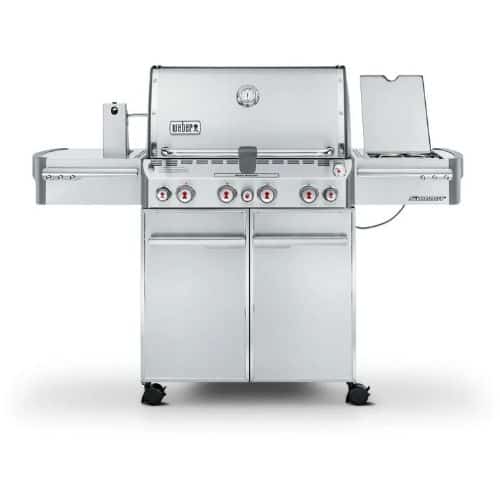 Specifications:
Type: Gas grill with smoker box
Main Cooking Area: 468 sq.in
Warming Rack: 156 sq.in
Weight: 245 lbs
Build Materials: Stainless steel
Warranty: 10 years
The S-470 is a 4-burner gas grill with 468 square inches of primary cooking area and plenty of heating power. On top of the 4 main burners, it has a side burner, a sear burner, a smoker box with a separate burner, and an infrared rotisserie burner.
That's 8 burners with a separate lighted control knob for each one of them!
This grill is as versatile as anything I have seen. In addition to being a great gas grill, you can roast a turkey on the rotisserie, or make your morning coffee on the side burner.
But how about smoking?
It has a nice smoker box that works well if there is no wind. The box is not very well sealed though, so if it's too breezy some smoke might leak out of the box. If you're more into smoking than grilling, this might not be the best option.
The S-470 offers top-notch quality and is made in the US. Both propane and natural gas options are available.
This is one of the best and most versatile gas grills on the market. It's hard to come up with anything to complain about except the price.
What We Love
Very versatile

Great features

Sturdy and durable

10-year warranty
How to Choose the Best Smoker Grill Combo
Before buying a new smoker and grill combo, consider these factors:
Materials and Durability
If you want a unit that will last for years, look for one that is made with durable materials such as stainless steel or sturdy powder-coated steel. The grates should be made of porcelain-coated cast iron or stainless steel.
Some aluminum-made products can also be surprisingly durable if they are thick enough.
Cooking Space
Are you usually cooking for just a few people? Or do you need a big unit that can handle six racks of ribs at one time?
Make sure to get a large enough unit that can still fit nicely in your backyard or patio. We have included all sizes of smoker grill combos in this guide for you to choose from.
Temperature Range and Control
Although all of the products reviewed in this article can do both grilling and smoking, they are often better at one or the other.
For smoking, you would usually want to have a temperature somewhere between 200 and 250 degrees Fahrenheit. If you're more into grilling, look for a model capable of reaching at least 500 degrees.
When smoking meat, it's important to be able to maintain a constant temperature. Some products have automatic temperature control while others require you to do manual adjustments to maintain the right level of heat.
Fuel
The main types of fuel used for smoker grill combos are wood pellets and charcoal. There are also some gas-fueled options available. In this guide, we have divided the products by their fuel source.
Which One is Your Favorite?
Now that we have introduced a wide range of different types of smoker grill combos, you can choose the best one for your needs.
However, if you are more interested in grilling than smoking, you can also check our recommended gas and charcoal grill combos.
Do you have any comments or questions? Please don't hesitate to post them below.
Have a great barbecue!