If you're looking for an authentic barbecue experience in your backyard, nothing can replace a proper smoker. While some grills provide a smoke box to add a little flavor, real smokers are all about low and slow heat with lots of smoke that permeates the food.
The result is unlike anything else — and it's so worth the time and effort.
When you are looking for your first smoker, it's important to choose one that is easy to use, holds the right temperature, and enables creating the smoky flavor that you're looking for.
We have done the research for you and picked the best options for each type of smoker.
So all you need to do is choose one of the models reviewed in this guide, and start smoking!
Our recommendations for Best Smoker for Beginners:
Photo credit for the featured image: zgrills.com.au
Best Smokers For Beginners Reviewed
One important choice to make is to choose the type of smoker best suitable for your needs.
Are you going to use it only for smoking or do you want a more versatile unit capable of grilling, searing, and even baking?
Charcoal is the traditional fuel of choice, which makes sense because it is already starting from hardwoods. Kamados and pellet smokers are great for both grilling and smoking. Propane gas or electric smokers are more convenient and keep the temperatures more uniform, but they are usually single-purpose appliances.
No matter which type of smoker you are looking for, we have picked the best ones to be reviewed below.
Best Charcoal Smoker for Beginners: Weber 18-inch Smokey Mountain Cooker
This vertical smoker from Weber is a great place to start. It's a simple charcoal smoker with a smart design.
The 18 inch Smokey Mountain weighs just under 40 pounds and stands 41 inches tall. It has porcelain-enameled steel cooking grates with all-metal construction and will last decades if properly cared for.
Specifications:
Smoker Type: Vertical charcoal smoker
Cooking Area: 481 sq.in on two levels
Weight: 47 lbs
Build Materials: Painted steel and porcelain-enameled steel
Dimensions: 19″ x 21″ x 41″ (W x D x H)
Warranty: 10, 5, or 2 years depending on the part (click the link above to see details at BBQGuys)
When it comes to charcoal smokers, the Smokey Mountain is so well designed that it can be used by anyone from beginners to professionals in BBQ competitions. If you read the instruction manual carefully you will succeed with your first attempt, although it takes a while to master the finer aspects of smoking different types of meats.
One thing that we really like about this smoker is that it takes very little space but you can fit plenty of meat inside. If you need to add more fuel in the middle of cooking, the side-mounted door allows you to do it easily.
The smoker also has a built-in thermometer and well-designed air vents, which make it easy to monitor and control the cooking temperature.
Buying Options
In addition to the 18-inch model, Weber makes the Smokey Mountain in two additional sizes as well — 14-inch, and 22-inch.
The 14-inch model's cooking grates are on the small side for some smoking applications. It's fine for a pork shoulder or chicken, but anything larger isn't going to fit.
On the other hand, if you have a big family or like to host BBQ parties, the 22-inch version is big enough to meet your needs. But the 18-inch model is the Goldilocks of the lineup — not too big and not too small.
All three size options are available on both BBQGuys and Amazon.
What We Love
Great for anyone from beginners to professionals
Well-designed air vents for temperature control
Fits in a small space
Large enough cooking area
Portable and lightweight
Durable materials
Includes a cover for protection
Great warranty and customer service
What We Don't
Takes a bit of practice to master using it
Great Alternative Option: Barrel House Cooker/Smoker
Another excellent option for beginners is the Barrel House Cooker/Smoker. Its barrel design allows you to take the pieces apart for easier loading and setup.
This smoker is more affordable than the Weber 18-inch Smokey Mountain, and it has a simple design that is easy to use. Plus, it's slightly smaller and lighter than the Weber, which is a plus if you're tight on space.
Best Pellet Smoker for Beginners: Z Grills 450A Wood Pellet Grill & Smoker
The Z Grills Pellet grill and smoker is a wonderful multi-purpose item if you want one appliance that can do it all.
It's digitally controlled, so all you do is load the pellet chamber with fuel and set the temperature you want. An auger moves fuel into the burn chamber automatically. The type of pellet you use will dictate the flavor of the smoke you get.
Specifications:
Smoker Type: Offset pellet smoker and grill
Cooking Area: 452 sq.in
Weight: 84 lbs
Build Materials: Stainless steel and porcelain-coated steel
Dimensions: 45″ x 28″ x 49″ (W x D x H)
Warranty: 3 years
This grill is an all-around 8-in-1 cooking machine. It can grill, smoke, sear, braise, bake, roast, barbecue, and char-grill. The last two are examples of some marketing wizardry, but this grill is about as versatile as you can get.
Wood pellet grills and smokers are a great option if you like the authentic flavors of a charcoal grill, but want the convenience of a gas grill. Their temperature regulation is hard to beat.
Buying Options
Z Grills sells four sizes to meet any need — the 450 square-inch model is the smallest. They also have 500, 550, and 590 square-inch versions. You can order one directly from Z Grills online store or Amazon.
What We Love
Easy to start with one push of a button
Effortless temperature control
Versatile: great for both smoking and grilling
Well-designed pellet hopper
Crafted from heavy-duty steel
Includes a protective cover
Z Grills has great customer service
What We Don't
The legs could be more sturdy
Alternative Option: Green Mountain Grills Davy Crockett Portable Pellet Smoker with WiFi Control
If you want to look into more pellet grills, another great option is the Davy Crockett Pellet Grill from Green Mountain Grills. This cast iron grill weighs in at 57 pounds and it's darn near indestructible.
The Davy Crockett has built-in wifi which allows you to monitor your cooking from anywhere. Despite its weight, this is a small portable smoker designed for tailgating or camping. It can run on 12 volt or 120-volt power.
Best Gas Smoker for Beginners: Cuisinart Vertical 36-Inch Propane Smoker
Cabinet-style smokers are great because you can load in a lot of food.
The Cuisinart 36-inch model has 5.45 square feet of cooking space on four cooking racks. You can move the racks to suit your needs, so if you're cooking something big like a whole turkey, you can just remove a few shelves.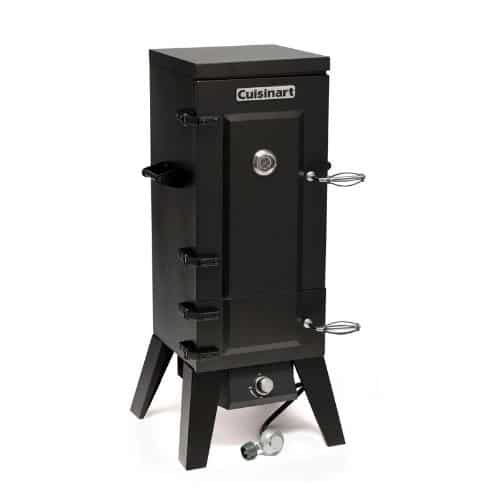 Specifications:
Smoker Type: Vertical gas smoker
Cooking Area: 784 sq.in on four levels
Weight: 40 lbs
Build Materials: Painted steel and porcelain-enameled steel
Dimensions: 20″ x 20″ x 46″ (W x D x H)
Warranty: 3 years
This unit weighs only 40 pounds and stands 46 inches high. It's a large appliance, but in reality, it takes up a minimal amount of space.
The smoker has a tight-fitting door, adjustable gas valve, and vent controls to provide excellent temperature control. There is a smaller door for adding more wood, so you don't have to worry about the smoky goodness escaping should you need a refill.
What We Love
Plenty of cooking space
Fits in a small area
Great value for money
Lightweight and portable
Excellent customer service in case of issues
What We Don't
Temperature control takes some practice
Only good for smoking
Looking for more gas smoker options? You can find the best propane smokers reviewed here.
Best Electric Smoker for Beginners: Masterbuilt Analog Electric 30-Inch Smoker
The Masterbuilt electric cabinet-style smoker makes smoking as easy as it gets.
If you want to start cooking great barbecue without any extra hassle this could be the perfect choice. All you need is a source of electricity and some wood chips. This is also the most affordable unit included in our guide.
Specifications:
Smoker Type: Vertical electric smoker
Cooking Area: 536 sq.in on three levels
Weight: 50 lbs
Build Materials: Painted steel and porcelain-enameled steel
Dimensions: 20″ x 21.69″ x 40.15″ (W x D x H)
Warranty: 1 year
Operating this analog smoker is very simple. The bottom of the smoker holds a tray for water and wood chips. You load it up, close the door, and plug in the unit. The 1,500-watt heating element does the rest of the work.
The door fits tight and comes with a built-in thermometer. The unit stands 40 inches tall and weighs 50 pounds. It has three racks that can hold three chickens, two turkeys, three rib racks, or three pork shoulders.
What We Love
Very easy to use and clean
Affordable
Fits in a small space
Quick and easy to assemble
Best Premium Kamado Smoker: Kamado Joe Classic III 18-Inch Ceramic Kamado Grill
Kamado Joe makes some of the nicest grills around. These ceramic-bodied beasts are a premium item, making them the most expensive type of smoker on our list. But it is one appliance that does all things well.
Specifications:
Smoker Type: Ceramic Kamado-style grill and smoker
Cooking Area: 510 sq.in on two levels
Weight: 282 lbs
Build Materials: Stainless Steel and ceramic
Dimensions: 47″ x 30.2″ x 50.5″ (W x D x H)
Warranty: Lifetime, 5, 3, or 1 year depending on the part (click the link above to see details at BBQGuys)
If you're serious about charcoal grilling and smoking, a ceramic Kamado is well worth the money. It will last decades, and you will never be disappointed.
The Classic Joe III stands 50 inches tall and weighs 316 pounds. It has an 18-inch grill grate with an innovative split design. You can also purchase griddles that fit in the same space for both sides or just one side.
What We Love
Superb heat retention
Great for grilling and smoking
Excellent air vents for temperature control
Nearly indestructible
Consumes very little charcoal
Includes plenty of accessories
Best Budget Kamado Smoker: Char-Griller Akorn Kamado Charcoal Grill
If you like the idea of a Kamado but don't want to invest in the Kamado Joe, Char-Griller makes an exciting option. Their Kamados aren't ceramic — instead, they are made from 22-gauge powder-coated steel.
Specifications:
Smoker Type: Metal Kamado-style grill and smoker
Cooking Area: 447 sq.in on two levels
Weight: 97 lbs
Build Materials: Painted steel and porcelain-enameled steel
Dimensions: 26.60″ x 24.80″ x 21.65″ (W x D x H)
Warranty: 1 year
The inside of the grill is porcelain coated for easy cleanup and long service life. As long as any chips in the finish are tended to and rust is prevented rather than treated, this grill will last decades.
The Akorn weighs 97 pounds and stands 47 inches high. It has an 18-inch cooking grate with 314 square inches of space, plus a separate 133 square-inch warming rack.
What We Love
Works as a grill and smoker
Affordable for a Kamado grill
Good heat retention
Easy to clean
Much lighter than ceramic Kamados
What We Don't
The included thermometer is not accurate
Using the air dampers requires some practice
What Makes Smoking a Great Cooking Method?
Smoking is a type of cooking that involves low heat over a long period of time. This method of cooking produces a result that is unlike any other form of cooking.
The low and slow heat application means that proteins have lots of time to break down. The result is moist, succulent, fall-off-the-bone goodness.
It's the only way to cook real barbecue meals, like pork butt or brisket. It's delicious for many other proteins, too, from fish and chicken to ribs and turkeys.
True smoking brings out the flavor notes of the meat and the wood smoke, and when it's done well, each different type of wood will produce a different flavor profile.
Types of Smoking
What most people think of as smoking is done at temperatures exceeding 150 degrees Fahrenheit (65 degrees Celsius) and it is the type of smoking that can be done with smokers reviewed in this guide.
However, there are different temperature levels of smoking:
Cold Smoking is done under 90 °F (32 °C) and often takes about 12 to 24 hours or even several weeks. This method is typically used for cheeses, fish, or cured meats like bacon. If you want to use your smoker for cold smoking, you usually need a separate cold smoke generator.
Warm Smoking is done at temperatures of 77–104 °F (25–40 °C) and can be used for meat and sausages.
Hot Smoking occurs somewhere in the neighborhood of 200 to 250 °F (93-121 °C). The smoking time varies depending on the dish — large chunks of meat take at least 5 hours, while cuts of meat or fish (or small fish) can be ready in 1 to 2 hours.
Smokers vs. Grills
Many people use their backyard barbecue grills with a smoker box to imbue a little bit of smokey goodness in their food. But there's a big difference between grills and smokers.
Grills can be forced to cook below 250 degrees, but it's usually a struggle to get them to maintain temperature.
When you cook above that temperature, as with most backyard grills, you may get a little smokiness. But things cook so fast that the woods' flavors don't fully permeate the meat.
It's also tricky to cook roasts or pork butts on a hot grill. Such large pieces of meat will tend to overcook on the outside before the inside has reached your desired temperature.
Smokers solve these problems by creating a perfect space for the food to remain at the low smoking temperatures for many hours. Their designs allow for slow-burning wood or charcoal and just the right airflow, so lots of smoke and heat stays in the cooking chamber, and temperatures are maintained throughout the process.
Note: You might also want to check out our guide with the best smoker grill combos.
Buying Guide For Your First Smoker
As with any grill or appliance purchase, you should weigh several considerations when looking to buy a smoker.
One of the first and foremost things to think about is how often you plan to use it. Is this an occasional hobby or a weekly tradition to feed your family?
If you're starting out smoking and don't have a grill yet, it could make sense to buy something that also grills. If you already have a grill that you love, then getting a separate appliance that smokes well is the best option.
A few factors you should weigh in your decision include the following:
Which type of smoker would best suit your needs — vertical, offset, cabinet?
What type of fuel do you want to use — charcoal, pellets, gas, or electric?
How easy is it to use and maintain?
Size and capacity
Customer support options (in case of questions or problems)
Durability and warranty
To make things a bit easier, let's take a look at the different types of smokers available in the market. This will help you with choosing the right kind of product for your needs.
Types of Smokers
Smokers vary in their design and fuel source. Some can be used as grills, too, depending on how the fuel source is loaded and distributed.
Regardless of the fuel source used, all smokers work by getting hardwoods to smolder. Wood chunks are usually soaked in water to ensure they don't burn and then added to the hot coals or propane burner chamber.
In essence, the fuel source provides the heat to get to around 250 degrees, and the wood chunks provide the smoke for flavor.
Charcoal Smokers
Charcoal-burning smokers come in two main types, offset and vertical.
Offset barbecues are a traditional design that looks much like a standard backyard grill. On the side, it has a burning chamber where your fuel and wood go. Air flows through that, over the cooking area, and out a chimney on the other side.
Most offset smokers can be loaded with the coals underneath the food for grilling, as well.
Vertical charcoal smokers are becoming more common. These designs look a little like Kamado grills, with a round egg shape.
A small number of coals (and wood) go in the very bottom, which heats the food above. They have a smaller footprint in your backyard than offset smokers do, but they are generally single-purpose items that can't grill very well.
Pros:
Charcoal is already a hardwood and imbues an extra layer of flavor
Because there is no need for power, charcoal smokers are portable and can be used anywhere from a backyard to a camping area
You can smoke with just charcoal — wood chips are not necessary
Cons:
Takes some effort to maintain the right temperature
Harder to set up, light, and clean than other fuel options
Pellet Smokers/Grills
Pellet smokers take a different tack from other grills. Instead of burning charcoal or gas, they use special hardwood pellets as the fuel source.
The pellets are metered into an electric burn chamber, which provides both the heat and the smoke.
Pellet smokers are generally offset designs, and their designs make keeping a steady temperature easy. They are often combination units that can grill and smoke.
This means you can sear your steaks and burgers or smoke a whole turkey on your pellet grill.
Pros:
Single fuel and smoking source means fewer supplies to purchase
Easier to light than charcoal
Excellent heat control with no work on your part
Most pellet smokers can grill well
Cons:
Needs electricity to run
Requires buying wood pellets for fuel, which are harder to find than propane or charcoal
Read also: Green Mountain vs Traeger Pellet Grills – Which Brand is Better?
Gas Smokers
Gas smokers usually come in vertical cabinet designs. They hook up to a propane tank, which fuels a burner that heats a tray of soaked hardwood. Food is cooked on metal racks above the smoldering wood.
Pros:
Easy and quick setup
Effortless ignition and temperature control
Cabinet design provides more cooking space compared to grill racks
Cons:
Electric Smokers
An electric smoker looks very much like a cabinet-style gas smoker, but it is powered by electricity. Just like the gas unit, it heats the wood below the food.
Pros:
Excellent temperature control
Fast set up, just plug in and start cooking
The only other supply you will need is wood chunks
Best option if you want to cold smoke items
Cons:
Requires access to electricity, so it's not portable
Single-purpose appliance that cannot be used for anything but smoking
Kamado-Style Smokers/Grills
Kamado-style grills are uniquely suited for smoking because they have excellent heat retention. Where standard charcoal grills fail is in their thin metal skins and wide air gaps that let all the delicious smoke and heat out.
Kamado grills work by insulating the heat in and carefully controlling airflow. Their lids seal better than any other type of grill.
So if you load them with just the right amount of fuel and keep the temperature in the 250-degree range, you've got yourself a great smoker.
Pros:
Versatile — grill, smoke, or sear foods easily
Excellent heat control
Cons:
Expensive to purchase
Not portable, extremely heavy
Best Smoker for Beginners – Final Thoughts
This guide has introduced several easy-to-use and affordable smokers for beginners.
The Smokey Mountain charcoal smoker is something that won't disappoint you. It takes a while to master the art of charcoal smoking, but once you do, you will have hundreds of delicious barbecue feasts ahead of you.
If you are looking for the ultimate convenience and lowest price, an electric or gas smoker might be the best option. For more versatility, we recommend a pellet or kamado grill.
Whichever is your choice, we hope you enjoy your barbecue!