The center of any outdoor kitchen is a beautiful, built-in grill.
For years, the go-to has been the stainless gas workhorse. But pellet grills are catching on, and now there are plenty of options to add to your backyard countertop if you desire.
Pellet grills offer a myriad of advantages over charcoal or gas grills. If you like to experiment with your cooking, try a little slow smoking, or appreciate the hint of hardwood smoke flavor that they add to your grilled foods. A pellet grill is definitely worth considering on your patio!
In this guide, you can find some useful tips on choosing the best built-in pellet grill for your outdoor kitchen. We will also review the top 6 built-in pellet grills available on the market.
Our recommendations for Best Built-In Pellet Grills and Smokers:
Why Built-In Pellet Grills Are Great
Most built-in pellet grills vary from standalone cart models only in their dimensions and how they are sold. Often, you can purchase these grills with a cart or stand if you aren't building them into a cabinet.
But grills designed this way do have differences. For one, they must have cleaning and pellet loading options from the front instead of the sides or back.
So, what makes pellet grills so great anyway? And, if you're building a high-end grill into your outdoor kitchen, is a pellet grill a good choice?
Here are a few reasons why pellet grills are perfect for an outdoor kitchen:
Ease of Use: Pellet grills are some of the easiest grills to use, with digital controls and automatic ignition systems that maintain their cooking temperatures within five degrees.
Versatility: These grills can do anything, from slow smoking to fast searing on high heat settings (more than 700 degrees on some models).
Great for Outdoor Kitchens: Stainless steel pellet grills are durable, and easy to clean and maintain, making them perfect for permanent installation in an outdoor kitchen.
Max Cooking Space: Built-in pellet grills are large, featuring huge cooking grates and large-capacity hoppers. You can get a bigger, more functional grill than most cart models by having a built-in unit in your outdoor kitchen.
Digital Controls for Hands-Off Cooking: Pellet grills allow you to be as involved in the grilling process as you want. Controllers are often WiFi or Bluetooth-enabled and work with meat probe thermometers to carefully control the cooking temperature and time.
6 Best Built-In Pellet Grills and Smokers Reviewed
Here are our recommendations and reviews of the best built-in pellet grills:
Best Overall: Memphis Grills Elite ITC3 Built-In Pellet Grill
The Memphis Grills Elite pellet grill and smoker is a large, stainless, built-in model with many great features. It's extremely well constructed and designed so cooking a great barbecue will be easy and fun.
This stylish and durable unit is great for cooking anything from steaks to ribs and briskets and will make a perfect centerpiece for your outdoor kitchen.
Specifications:
Cooking Area: 848 sq.in
Temperature Range: 180 – 700°F
Pellet Hopper Capacity: 24 lbs
Weight: 250 lbs
Build Materials: Stainless steel
Dimensions: 46.7″ x 29″ x 28″ (L x W x H)
Warranty: 7 years (3 years for electric components)
The Elite ITC3 (Intelligent Temperature Control 3.0) is a large unit with 848 square inches of total cooking space and a huge 24-pound pellet hopper. The digital control can set cooking temperatures anywhere between 180 and 700 degrees Fahrenheit and is both WiFi and Bluetooth enabled.
In addition to the regular convection-type cooking, you will also have a direct flame searing option. All you need to do is change the plate covering the burn pot into a searing plate with holes.
Check out the video below to see the Elite ITC3 in action:
This pellet grill has a variable-speed blower that circulates the air for excellent smoke penetration and even cooking, making it a true convection grill. It also features the company's patented IntelliBurn Technology, which has a secondary combustion chamber to burn the wood pellets more efficiently.
Updated in 2022, the new Elite ITC3 has a touch screen attached to the side of the grill. In addition to controlling the grill, the control panel has some nice advanced options like a self-cleaning function and diagnostics, that allows you to check that everything is working properly.
The Memphis Elite grill has three meat probe inputs, but only one probe is included. The grill or the connected smartphone app can control all settings and readings.
A seven-year warranty covers Memphis Grills against defects in workmanship, with three-year coverage on electronic components.
If you want to create an outdoor kitchen with matching storage units, there are several Memphis Grills branded stainless steel drawers and access doors available on BBQGuys online store.
What We Love
Durable and stylish stainless steel construction
Wide temperature range makes it very versatile
Direct flame insert for high heat searing
Double-walled design offers excellent insulation
Easy and precise digital temperature control
Large pellet hopper
Fast and easy to clean
What We Don't
Quite pricey
The meat probe only has a 30-day warranty
Best High-End Built-In Pellet Grill: Twin Eagles TEPG36G Pellet Grill and Smoker
If you're looking for the best-of-the-best, the Twin Eagles 36-inch pellet smoker should be on your shortlist. This gorgeous American-made pellet grill is built to meet the highest standards and will shine in any outdoor kitchen.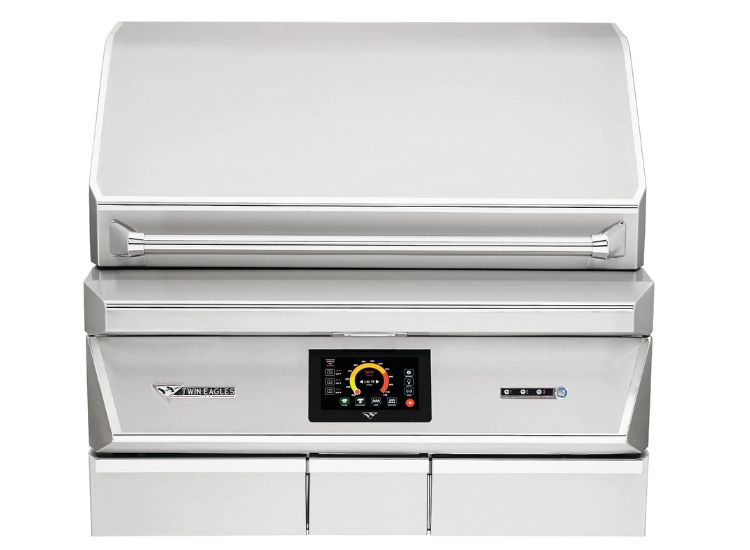 Specifications:
Cooking Area: 939 sq.in
Temperature Range: 140 – 725°F
Pellet Hopper Capacity: 13 lbs
Weight: 320 lbs
Build Materials: Stainless steel
Dimensions: 36″ x 25″ x 31.64″ (L x W x H)
Warranty: Lifetime warranty for most parts and 5 or 2 years for some parts
Beyond its good looks, everything about this grill shines.
The easy-sliding front-loading 13-pound hopper and pull-out drip trays make setup and cleanup a snap. A unique multi-purpose tray sits atop the fire pot and can be set up for direct searing over ceramic briquettes or even charcoal.
For regular grilling and smoking, this area is covered with a stainless vaporizer tray. Searing temperatures can reach 725 degrees, and smoking temperatures can be as low as 140. An optional rotisserie is available.
The touchscreen controller has WiFi for controlling cooking mode and monitoring meat probe temperatures from your device. The ability to cook with charcoal makes this grill unique, and its quality of materials and craftsmanship is second-to-none.
A lifetime warranty covers the Twin Eagles for materials and workmanship. The grates, trays, and most internal components are covered for five years, while the remainder of the grill is covered for two years for most residential users.
What We Love
Large cooking space
Durable stainless steel build
Extremely wide temp range
Comes with a heat briquette tray and lump charcoal tray
Made in the USA
Lifetime warranty for most parts
Large with Excellent Features: Traeger Timberline XL Built-In Wood Pellet Grill
Traeger fans need not feel left out when shopping for a built-in outdoor kitchen grill. The Timberline XL is customizable and can be worked into any counter.
Unlike many other built-in pellet grills, this one retains the classic look with black powder-coated steel construction instead of the modern stainless. However, the grill's interior components are made from stainless steel.
Specifications:
Cooking Area: 1320 sq.in
Temperature Range: 165 – 500°F
Pellet Hopper Capacity: 22 lbs
Weight: 289 lbs
Build Materials: Powder-coated steel and stainless steel
Dimensions: 71″ x 25″ x 51″ (L x W x H)
Warranty: 10 years for most parts and 3 or 1 years for some parts
This grill is made as a standalone unit, but with an available trim kit, it is easy to build into your counter space.
The grill has a total cooking area of 1,320 square inches and a 22-pound hopper. The two secondary cooking grates can be set up in any of the five available positions, making them much more useable for large items during smoking recipes. Temperatures can be set anywhere up to 500 degrees.
To make this grill easier to use in an outdoor kitchen, Traeger has integrated a fan that kicks the ash up and into the drip tray. As a result, cleanup is as simple as sweeping any excess ash into the drip tube, then dumping the grease catcher. There's also a quick release to dump the hopper chamber of excess pellets for storage or cleaning.
Sitting on top of the hopper is a magnetic bamboo cutting board. Under that is an outdoor-rated electric induction side burner. The rail around the entire front edge of the grill accepts Traeger's new PAL snap-on accessories, which include hooks and prep shelves. The controller has two traditional wired meat probes and two Bluetooth meat probes that work with the integrated touchscreen controller and the Traeger app.
The new Timberline grills have Traeger's best warranty. They're covered for ten years against rust on all exterior components. In addition, the grates, controller, and auger system are covered for three years.
What We Love
Huge cooking space
Double-walled interior for maintaining heat
Large pellet hopper
Induction side cooktop
Excellent smartphone app with Wi-Fi connectivity
Comes with 2 wired + 2 Bluetooth meat thermometers
10-year warranty on external components
What We Don't
Maximum temperature is only 500 degrees
Good Mid-Range Option: Coyote C1P36 Built-In Pellet Grill
Coyote makes a range of outdoor kitchen appliances with the popular and beautiful stainless steel aesthetic. For example, their pellet grill looks much more like a traditional built-in gas grill than a typical pellet grill.
The company also makes outdoor flat-top grills, storage drawers, and refrigerators for a full outdoor kitchen.
Specifications:
Cooking Area: 939 sq.in
Temperature Range: 175 – 700°F
Pellet Hopper Capacity: 13 lbs
Weight: 320 lbs
Build Materials: Stainless steel
Dimensions: 36″ x 27″ x 31″ (L x W x H)
Warranty: Lifetime warranty for most parts and 5 or 2 years for some parts
This 36-inch pellet grill has 808 square inches of cooking space, and a digital touchscreen controller that can set the cooking temperatures anywhere from 175 to 700 degrees.
It has a front-loading 15-pound pellet hopper that feeds a dual auger system for more even burning. The grill comes with three meat probe thermometers.
The company's Versa-Rack is moveable, so you can get more space for smoking or use it as a warming rack.
Coyote products are warranted on a tiered system. The stainless exterior and frame are guaranteed for life, the interior stainless for five years, and the grates, heat shields, and electric components for three years.
What We Love
Stylish and durable design
Large cooking area
Great for both searing and smoking
Comes with 3 temperature probes
Excellent warranty
Great Value for Money: Memphis Grills Beale Street Built-In Pellet Grill
If you don't need the biggest or fanciest grill, the Memphis Beale Street 26-inch grill offers great value for your money. This stainless grill is built with 430 stainless and dual-walled construction.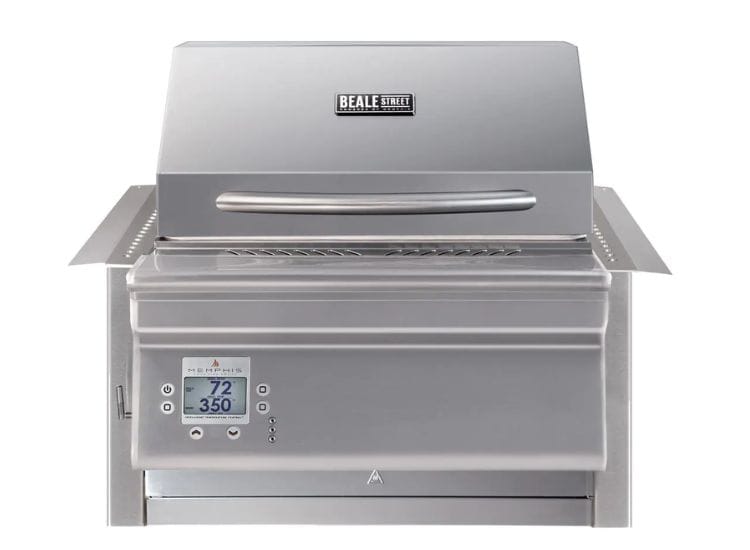 Specifications:
Cooking Area: 817 sq.in
Temperature Range: 180 – 550°F
Pellet Hopper Capacity: 12 lbs
Weight: 148 lbs
Build Materials: Stainless steel
Dimensions: 34″ x 32″ x 29″ (L x W x H)
Warranty: 5 years (2 years for electric components)
The WiFi controller will set temperatures anywhere from 180 to 550 degrees and can read from three separate meat probes. In addition, it has a 12-pound hopper which will last up to 18 hours at 350 degrees.
This grill has 817 square inches of cooking space in total, divided between a 558 square-inch main rack and a 259 square-inch warming rack.
The Beale Street grill has a five-year warranty against defects and a two-year replacement warranty for electrical components.
What We Love
Durable 430 stainless steel construction
Great overall cooking performance
Nice price point
Direct flame insert for high heat searing
Best Budget Option: Recteq RT-1070 Built-In Pellet Grill
For around $1,000, you can get a built-in pellet grill that will meet most, if not all, of your outdoor cooking needs. This beautiful stainless model comes in built-in or with an optional cart for standalone use.
Specifications:
Cooking Area: 817 sq.in
Temperature Range: 180 – 700°F
Pellet Hopper Capacity: 30 lbs
Weight: 155 lbs
Build Materials: Stainless steel
Dimensions: 32.5″ x 31.5″ x 25″ (L x W x H)
Warranty: 5 years (2 years for electric components)
The Recteq features a 30-pound, front-loading hopper. The flip-up lid of the hopper doubles as a prep shelf, a convenient and simple design. It has 1,070 square inches of total cooking space, divided among the main and secondary cooking racks.
The digital controller allows you to set your temperature anywhere between 180 and 700 degrees. It also connects to the two included meat probes and talks to their free smartphone app.
What We Love
Wide temp range
Huge pellet hopper
Affordable
Two meat probes included
6-year warranty
What We Don't
No grill lights
Some users have experienced issues with the grease management system
How to Choose the Best Built-in Pellet Grill for Your Outdoor Kitchen
Buying a built-in pellet grill is quite a big investment, so it makes sense to put some time into choosing a unit that best suits your needs.
As a permanent part of your outdoor kitchen, you want the pellet grill to be easy and fun to use but it should also be durable and look great.
This step-by-step buyer's guide will help you choose the right built-in pellet grill for your outdoor kitchen:
1. Dimensions, Installation and Cooking Space
The first thing is to think about where you're going to position the pellet grill and how it will fit there.
You should also remember that pellet grills need electricity to work. So you need to have a regular wall socket (120 VAC) available near the grill.
The widths of built-in pellet grills range from about 30 inches to as much as 71 inches on the Traeger Timberline XL.
All grills included in this guide are big enough to cook for a crowd. But if you regularly host barbecue parties, you should still consider getting one of the larger options.
2. Materials and Durability
Most built-in pellet grills are made with stainless steel — but there are differences in the quality. Get a unit made with thick premium quality 304 stainless steel and it can last you a lifetime.
Having a double-lined hood will help maintain heat and lowers pellet consumption, but it will also be more durable and stay shiny and nice on the outside.
3. Cooking Performance and Temperature Range
In order to cook various dishes from slow-smoked briskets to seared steaks, you would want to have a pellet grill with a wide temperature range. The grill should also be reliable in holding the set temperature and providing even heat and smoke across the whole cooking area.
Some grills also have a direct-flame searing option, which is great for getting that nice crust on your steaks.
4. Design and Features
The design of your pellet grill should be both stylish and user-friendly.
Most built-in pellet grills only include the grill head, which means you can buy the cabinets separately and install them according to your preference. But there are also models, like the Traeger Timberline Xl, that have cabinets and shelves under the grill.
Pay attention to the grease management system and how easy it is to clean the unit. You don't want to worry about leaking drippings or spend a lot of effort cleaning the grill after every cookout!
Pellet smokers that work with smart apps through WiFi can make things super easy and convenient. This is especially useful with long cookouts because you can monitor and control the grill from a distance.
5. Warranty and Customer Service
It's really important that your new grill comes with a long warranty — especially on parts that you can't easily change (e.g. housing). A long warranty means that the manufacturer trusts the quality of the product and is ready to back it up.
Responsive and helpful customer service is another essential thing. You don't want to be left alone if something breaks or jams, or if you simply need some advice on how to use some features of the grill.