Hibachi grills are portable and potent cookers perfect for everything from a sophisticated feast on the patio to a tailgate celebration before the big game.
In fact, it's a top choice if you're looking for a big flavor with a little footprint. Hibachis are also affordable, simple to use, and easy to store.
This will make you wonder why it took you so long to add one to your bag of tricks for entertaining!
If you're ready to shop for a hibachi grill that truly sizzles, take a look at this A-to-Z guide to hibachi.
Our recommendations for Best Hibachi Grill:
Why Hibachi is the Way to Go
Cooking doesn't have to be a complicated process involving fancy devices. When I'm looking to relax and whip up some tasty food, I pull out the good old hibachi grill.
The word "hibachi" is Japanese and translates to "a portable charcoal vessel."
While styles vary quite a bit, a 'standard' hibachi grill is a small, lightweight, and portable grill made of cast iron.
The signature of a hibachi grill is its open-grate design.
These grills are intended to be placed on a tabletop or surface for fast, easy cooking that delivers meats and vegetables with tons of sizzle!
Advantages of Hibachi Grills
Here are a few good reasons to get a hibachi grill:
Portable: While some hibachi grills have heft, most are designed to be portable. Many grilling enthusiasts love hibachi grills because they can make world-class meals anywhere from the parking lot of a stadium to a remote campsite.
Small: A hibachi grill is typically a fraction of the size of a standard grill. That makes this a perfect option for someone without a lot of space on a deck or patio. Even people who live in apartments with balconies can enjoy a true barbecue experience (although charcoal grilling might not be allowed).
Easy to Store: The small footprint of a hibachi grill makes it easy to tuck one away in a garage or basement during the "off-season."
Fun to Use: Creating sizzling combos of meats and vegetables is very exciting! In fact, many hosts actually hand out skewers to allow guests to make custom kebabs.
Affordable: Unlike standard gas, wood, and pellet grills, hibachi grills don't cost hundreds or thousands of dollars. Most people also prefer the flavor and texture of food prepared on a hibachi because of the ultra-hot, direct heat.
Great Gift: If you know someone who just got married, got their first apartment, or purchased their first home, you might not feel like a large grill is not an appropriate gift. However, a hibachi grill is a perfect present for all of these scenarios!
The Best Outdoor and Indoor Hibachi Grills Reviewed
Best Overall: Giantex Outdoor Cast Iron Charcoal Hibachi Grill
The Giantex hibachi grill looks and feels substantial due to its stout, grounded build. Offering the classic cooking experience of heating your food over charcoal, this grill stands out for its durability and solid cooking performance.
Specifications:
Fuel: Charcoal
Total Cooking Area: 106 (sq.in)
Weight: 20 lbs
Build Materials: Cast iron
Dimensions: 15.5″ x 10.5″ x 7″ (L x W x H)
The double-sided grilling net allows you to adjust the height easily. In addition, you can increase and decrease firepower by simply sliding the grill's air regulating door to the left or right.
A sturdy grill with a low profile, this model stabilizes nicely on a picnic table or flat outdoor surface without any worries of wobbling.
The Giantex has a detachable grilling grid and charcoal net for easy cleaning. There is also a front fire gate that makes it easier to remove or replenish charcoal safely.
The only downside is that the whole grill gets very hot and takes a while to cool down. So after grilling, you have to wait for some time before emptying and cleaning it.
The beautiful conductivity and heat retention generated by the heavy-duty cast iron and deep fire basin on this model make for even, thorough cooking. This grill allows the flavors of your food to manifest to full capacity!
What We Love
Very sturdy and durable
Compact and portable
Simple design that is easy to use
Cast iron is great for searing meat
What We Don't
The whole grill gets extremely hot
The Runner Up: Marsh Allen Cast Iron Hibachi Tabletop Grill
Designed to be a simple grill for people who are new to hibachi grilling, this gorgeous design can easily accommodate 8 burgers or hot dogs.
It features grates with beautiful wooden handles to help you control the cooking experience like an experienced chef!
Specifications:
Fuel: Charcoal
Total Cooking Area: 181 (sq.in)
Weight: 18 lbs
Build Materials: Cast iron and porcelain-coated steel
Dimensions: 18″ x 10″ x 3.4″ (L x W x H)
The grates of the Marsh Allen grill are made of porcelain-coated steel and clean up easily. These grates are also resistant to wear and tear from acidic and alkaline chemicals.
While this hibachi grill fits smoothly on a tabletop surface, it is designed to be used strictly in outdoor environments. Two wooden side handles of the grill make it easy to lift it as a single unit.
Overall, this is a solid pick if you're looking to create a classic grilling experience in the great outdoors using a charcoal grill.
The Marsh Allen hibachi grill is made of durable materials, has a large enough grilling surface, and is very affordable. Its performance stands up to more expensive options and allows you to cook generous helpings of delicious staples like steaks, chicken, and veggies!
What We Love
User-friendly design
Simple to use
Great value for money
Porcelain-coated grates are durable and easy to clean
Wooden handles stay cool to touch
What We Don't
The assembly instructions could be more clear
Tabletop Gas Hibachi Grill: Cuisinart CGG-180T Petit Gourmet Portable Tabletop Propane Gas Grill
A great option for a modern hibachi cooker that's fast to set up, simple to use, and easy to transport.
The Cuisinart CGG-180T Petit Gourmet gas grill combines the concept of the classic hibachi grill with some user-friendly updates.
Specifications:
Fuel Type: Propane gas
Number of Burners: 1
Total BTU: 5,500
Grilling Area (sq.in): 145
Weight: 13.5 lbs
Build Materials: Aluminum, stainless steel, and porcelain-coated cast iron (grates)
Dimensions: 16.5″ x 16″ x 13″ (L x W x H)
The grilling capacity of this model really impresses if you're looking to get food for a medium-sized group at a campsite cooked up. The grill easily accommodates 8 burgers, 6 steaks, 2 pounds of fish, or up to 8 chicken breasts.
The twist-to-start ignition provides a more convenient option than lighting up charcoal for anyone who isn't experienced in getting grills started.
Unlike a traditional charcoal grill, this grill won't leave the fate of your grilling quality up to factors like managing the amount of fuel and airflow. There's also no need to lug around extra charcoal or matches with this option!
The rugged alloy-steel casing on this portable grill makes it sturdy enough to toss in the trunk of your car with all of your camping gear without a second thought. It also stores easily.
The stabilizing legs create peace of mind when you have the grill propped up on a picnic table while people are moving all around the campsite!
What We Love
Extremely portable
Easy to use
Lightweight
Fast to set up
Comes with a 3-year warranty
Best Electric Indoor Hibachi Grill: TecTake Nonstick Electric Indoor Smokeless Grill
If you're looking for a hibachi grill that you can use inside, this affordable smokeless grill combines the exoticness of a hibachi grill with the convenience of an electric griddle.
While you're getting that crisp, delectable sizzle that hibachi cooking is known for, you don't have to deal with any smoke, charcoal, or propane tanks.
Specifications:
Power Source: Electricity (1,000 watts)
Total Cooking Area: 176 (sq.in)
Weight: 5.3 lbs
Build Materials: Stainless steel, Non-stick grill surface
Dimensions: 16″ x 13″ x 3.6″ (L x W x H)
The strong 1000-watt heating element on this grill ensures even grilling with predictable temperatures for foods ranging from steaks and burgers to sausages and seafood. The grill heats up fast and has 5 temperature modes to choose from.
The TecTake smokeless electric grill offers great versatility. The smooth, non-stick grilling surface is a breeze to clean. Combined with adjustable heat settings, it allows you to grill steaks and burgers or heat up anything from chicken fingers to frozen pizza.
As a bonus, this grill toasts hot, crispy grilled cheese sandwiches to perfection!
The best thing about this smokeless hibachi grill is that you can use it in a kitchen indoors. If your deck or patio has an electrical outlet, you can use it outdoors as well.
What We Love
Smokeless indoor operation
Heats up fast
Very affordable
Easy to clean
Versatile
Lightweight and portable
What We Don't
The non-stick coating can wear off over time
Best Hibachi Grill Table: Backyard Hibachi Flattop Propane Gas Grill
The most decadent hibachi grill on the list, this patio centerpiece is a true showstopper!
Designed for a lifetime of use, this high-end hibachi grill offers a generous cooking surface where guests can gather around to raise their skewers over great conversation.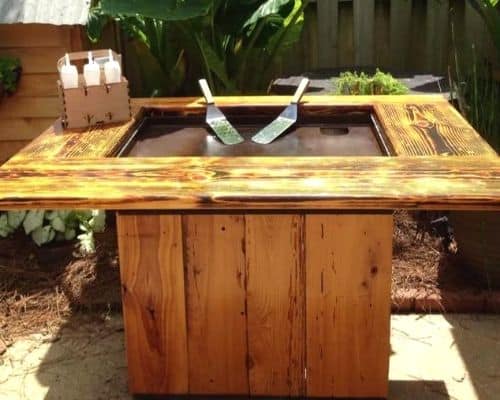 Specifications:
Fuel: Propane Gas
Total Cooking Area: 693 (sq.in)
Weight: 162 lbs
Build Materials: Cast iron and wood
Dimensions: 56″ x 38″ x 37″ (L x W x H)
The huge, flat cooking surface capable of cooking large cuts of meat, piles of vegetables, and mountains of rice at the same time recreates the experience of visiting a hibachi restaurant.
The high-quality wood on the grill's base is covered with a gloss finish to prevent warping. The grilling surface is made of commercial-grade steel.
There's also a removable drip pan under your cooking space that will catch any fat and food particles that trickle down. After each grilling session, the unit's removable waste tray can be placed in your dishwasher for easy cleaning.
Designed to be a cooking island on your patio, this beautiful grill has caster wheels that allow you to set up your grilling station wherever you please.
What We Love
Huge cooking area
High-quality construction
Looks stylish
Excellent grease management system
Easy to move around with the caster wheels
Stylish Japanese Tabletop Hibachi: Noto Dia Table-Top Charcoal Grill
This unique grill is truly a work of art that will become the conversation piece of all of your future dinner parties.
Specifications:
Fuel Type: Charcoal
Grilling Area: 70 (sq.in)
Weight: 5 lbs
Build Materials: Diatomaceous earth (grill), Paulownia wood (base), and Iron with zinc plating (mesh)
Dimensions: 6.3″ x 11.4″ x 5.1″ (L x W x H)
While you can only fit about 5 or 6 skewers or a few steaks at a time, each item cooks in minutes due to the heat concentration. If you need more cooking real estate, just get two of these grills.
Built as a traditional Hida tabletop charcoal grill, this design demands some cautiousness because the body gets very hot while you're grilling.
The Noto Dia is a beautiful, delicate grill that requires special care during transport and storage. The ceramic body made of diatomaceous earth can easily shatter after being bumped or dropped.
It also has special cleaning instructions. Unlike traditional hibachi grills, this niche grill should be wiped with a damp towel after it's been allowed to cool down. It's also common for stains to linger to give each grill its own signature look.
If you're looking for a stylish Japanese hibachi grill to create an authentic atmosphere and learn the traditional grilling methods of high-end hibachi restaurants, this is the best pick!
What We Love
Easy to transport and store
Authentic Japanese hibachi grill
Looks beautiful
Lightweight with sturdy wooden base
What We Don't
Not the most durable grill
Small Cast Iron Hibachi: ChefMaster Mini Hibachi Grill
A great novelty pick, this tabletop grill is perfect for s'mores and kebabs. Get one or more of these, a few Sterno fuel cans, and start the party!
Specifications:
Fuel: Chafing fuel
Total Cooking Area: 9 (sq.in)
Weight: 2.53 lbs
Build Materials: Cast iron, Wood
Dimensions: 3.74″ x 3.4″ x 5.32″ (L x W x H)
Users can mount their favorite meats, veggies, or sweets to skewers to roast over the hibachi's heat source. While this is more of an "accent" grill that won't replace a full-size grill, it is fun for parties and gatherings.
Anyone considering this grill should keep in mind that it's only the size of a large coffee cup.
What We Love
Fun to use
Made of durable cast iron
Can be used indoors
Basics of Japanese Hibachi Grills
So what should you know about hibachi grills?
While you may think of the hibachi craze as a modern fad that all of your friends and colleagues are into, there's a hidden world to this old Japanese style of grilling you need to know about.
Get ready for some hibachi 101!
Let's start all the way from the beginning.
The History of Hibachi
Hibachi has a long and treasured history that brings us to Japan.
However, the origins of hibachi are shrouded in some mystery. While some stories claim that hibachi grilling in Japan goes back more than 200 years, other experts claim that hibachi was invented in the 20th century.
The actual invention of the cooking technique of using a "fire bowl" dates back to somewhere between 794 A.D. and 1185 A.D.
One thing that historians do agree on is that the world's first modern hibachi restaurant opened in Japan in 1945. Called Misono, this restaurant was famed for its unique flair and ambiance that often included condiment-juggling chefs and culinary volcanoes.
Following the opening of Misono, it would be another 20 years before the first hibachi restaurant opened in the United States. It's hard to round a corner in any major city today without seeing a thriving hibachi restaurant.
Of course, you don't need to visit a restaurant to enjoy the art of hibachi.
Personal hibachi grills allow you to recreate the essence of the hibachi technique even if you're grilling up all-American burgers and hotdogs!
Some other popular grills invented by the Japanese are yakitori and teppanyaki grills.
What to Consider When Buying a Hibachi Grill
Are you weighing the pros and cons of going with a cast iron charcoal hibachi over an option like gas or electric?
Your best bet comes down to your cooking style. Take a look at what to consider before buying a hibachi grill.
Charcoal vs Gas vs Electric
If you prefer an authentic experience, a charcoal hibachi is a simple and affordable option that's easy to find. Just keep in mind that you'll be lugging your extra charcoal to your camping site if you're buying a grill for vacations.
Also, starting the charcoal and waiting for a proper ember takes a while. And depending on the depth of your grill's fire basin, you may need to refill charcoal if you have a larger group.
Propane hibachi grills are nice if you want no-fuss outdoor grilling without the concerns of igniting charcoal. Temperature control will also be as simple as turning a knob.
An electric hibachi grill is a no-fuss option if you're looking for a grill that you can use in your kitchen whenever the mood strikes. And it's also a great option for balconies and small patios.
Outdoors or Indoors
Generally, hibachi grills that operate with charcoal or gas are strictly for the outdoors.
However, not all hibachi grills are camping grills. Both portable and stationary hibachi grills are perfect for decks, yards, and patios.
Materials
Generally, an authentic hibachi grill is going to be made of cast iron. They provide amazing heat retention and flavor.
Look for porcelain-enameled grates for you want easier cleaning.
Some modern versions that are designed to be lightweight and portable incorporate materials like alloy, wood, and plastic.
If you're looking for a nice grill built in the traditional hibachi style, look for the rare ceramic grill.
Size and Portability
Almost every mainstream hibachi grill is designed to be a tabletop grill that you can bring along on a picnic or camping trip.
If you're looking for a hibachi that's just for s'mores or appetizers, ultra-small versions that are about the size of a lantern are also available.
Then there are island-style grills with large bases designed to recreate the same hibachi tables that you see in restaurants right on your own patio!
Features
Every brand puts its own touches on hibachi grills. You have to decide just how "modern" you want your grilling experience to be.
If you are camping with your hibachi, look for touches like nonstick grates and wooden handles to cut down on the time and effort needed to clean your grill and utensils.
Keep in mind that the rudimentary nature of hibachi cooking means that you won't find touches like built-in thermometers on most models unless you go for an electric, smokeless version. You're instead relying on things like adjustable heat vents to use intuition to cook your food to perfection.
What to Cook on a Hibachi Grill
First, many people simply use a hibachi in place of a regular grill. While there aren't any official rules about what you can or can't cook on a hibachi, there are some common practices that will allow you to get the best flavor.
The first tip is always to prepare what you'll be grilling ahead of time. This will allow you to feel ready without the need to walk away from your sizzling grill.
Generally, small chunks are preferred when adding items to your hibachi grill. However, grilling up large thin-cut slabs of meat as appetizers is also a hibachi tradition.
If you want to add touches like sesame seeds, you should add them immediately after removing the meat from the grill instead of during the grilling process.
Check out this video to learn more about cooking with a hibachi grill:
Next, let's take a look at how to cook some popular hibachi dishes:
Chicken
When cooking chicken on a hibachi grill, the secret is to thoroughly marinate it before placing it on the grill.
Marinades like soy sauce and sesame oil do wonders!
You'll want to let the chicken soak in the marinade for at least an hour before placing it on the grill.
You can start with this easy and delicious chicken skewer recipe.
Beef
The beauty of hibachi is that you can turn even a "mediocre" cut of beef into a culinary beauty using the right marinade. If you have a high-end cut, you can simply place it on the grill without any fixings to get that searing effect.
Seafood
Like chicken and beef, a hibachi companion like shrimp works best when it's allowed to soak in a marinade first.
However, shrimp and fish only require about 15 minutes of marinating in the fridge to deliver full flavor. Cooking time also tends to be much quicker than thicker meats.
Vegetables
With vegetables, you can choose marinade, seasoning, or a combination of both.
If you're cooking light, a dash of fresh pepper with squeezed lemon can be enough to make grilled vegetables flavorful. You can cut larger vegetables into cubes or strips for bites that are easy to grab!
Get a Japanese Hibachi Grill for Your Home
Are you excited to get a hibachi grill and start cooking?
Great!
When choosing a hibachi, the most important thing is to think about whether you are goingto use it outdoors or indoors (or both). Remember that most units are only suitable for outdoor use unless you have some heavy-duty ventilation system installed.
Just pick the type of grill that best suits your needs and start cooking!
Hibachi Grill FAQ
Where can I buy an authentic Japanese hibachi grill?
When you are looking for a genuine Japanese hibachi grill, our recommendation is the Noto Dia table-top charcoal grill available on Amazon.
What is the best outdoor hibachi grill?
Our recommendation for the best outdoor hibachi grill is the Giantex cast iron charcoal hibachi grill.
It's a durable grill with great cooking performance. You can easily take it along for tailgating and camping trips.
What is the most portble hibachi grill?
If you are looking for something that is very compact and lightweight, the Cuisinart CGG-180T Petit Gourmet gas grill reviewed in this guide might be a perfect option.
For a more traditional choice, we recommend any of the charcoal hibachis included in this guide.