We've adopted a number of delicious trends from the Japanese, sushi, and ramen, to name a few. Yakitori grilling is another culinary concept worth trying. And it's definitely going to make your backyard barbecue party a hit!
Follow this guide and get one of the best yakitori grills on the market so you will be all set up for a Japanese grilling experience.
Essentially, a yakitori grill is a unit specifically designed for cooking up small skewers of chicken all brushed with a delightfully flavored glaze. But you can use it for all kinds of skewers with meat and vegetables too.
Come on, who doesn't like food on a stick?
Our recommendations for Best Yakitori Grill:
What Exactly Is a Yakitori Grill?
In the US people grill skewers, often made up of chunks of meat, along with onions, peppers, tomatoes, mushrooms, and tofu. We're also familiar with a Thai satay, usually dipped in a peanut sauce.
Well, the Japanese have their tasty version too, and it's been popularized over many decades to be commonplace and a way of life.
What we know as skewers or kebabs is called Yakitori in Japan, and it actually means grilled chicken.
Yakitori grill is a rectangular open grill that can be wide but the depth is often only some inches.
This type of grill is specifically designed with skewers in mind, so you can make them without burning your fingers or flaming the sticks to ashes. Perfect for cooking many small skewers at the same time!
How to Cook Yakitori?
When cooking with a Yakitori grill, the traditional way is to use slow-burning Binchotan charcoal (more about this later) and grill the chicken on low heat.
The basic version of this delicacy is usually pieces of chicken grilled on a stick glazed for extra taste. Then having different types of dipping sauces, including soy and rice wine, while eating them.
There are little Yakitori joints all over Japan where people can pop in to grab a quick skewer and a cold beer.
Now, since there are so many quality Yakitori grills on the market, you could have an experience like that in your own backyard. A fun, accessible treat that is also healthy and flavorful finger food that satisfies like a full meal should.
Are you excited to start cooking already?
I recommend you watch this excellent video that shows the basics of making delicious Japanese grilled chicken skewers:
The Best Yakitori Grills Reviewed
What kind of yakitori grill are you looking for?
Tabletop, stand-alone, or the most affordable option? Charcoal, gas, or electric grill?
Well, whichever is your preference, we got you covered. We have carefully selected the best product for each type.
Note: Below you can find a few more guides that we think you will find interesting:
Best Tabletop Yakitori Grill: The Bincho Grill GR610S
Here is a top-notch yakitori grill made in the USA. This grill is made to last a lifetime and has an innovative design that resembles the traditional Japanese yakitori.
The Bincho Grill GR610S is perfect for grilling chicken, meat, seafood, and veggies in 7-inch bamboo skewers. Actually, this grill is so good that it was featured in the new Iron Chef Television Show!
Specifications:
Fuel Type: Charcoal
Grilling Area: 144 (sq.in)
Weight: 23 lbs
Build Materials: Stainless steel and aluminum
Dimensions: 24″ x 6″ x 6.75″ (L x W x H) – with stand
Features
Size: The grill is 24 inches long and only 6 inches wide. This means that the grilling area is not that large when measured in square inches but it's perfect for grilling as many as 20 to 30 small skewers at a time.
Portable: It's super easy to grab this grill along on a camping or tailgating trip. There is no need for setup — just carry it from the wooden handles, place it on any sturdy surface, and start grilling!
Vents and Insulation: The Bincho Grill has two adjustable windows for controlling airflow and grilling temperature. The double-walled construction provides excellent heat retention so you don't need to burn a lot of charcoal to keep the grill searing hot.
Cleaning: The smart design of this grill makes cleaning easy. You can simply lift the aluminum insert up and then empty the ash catcher.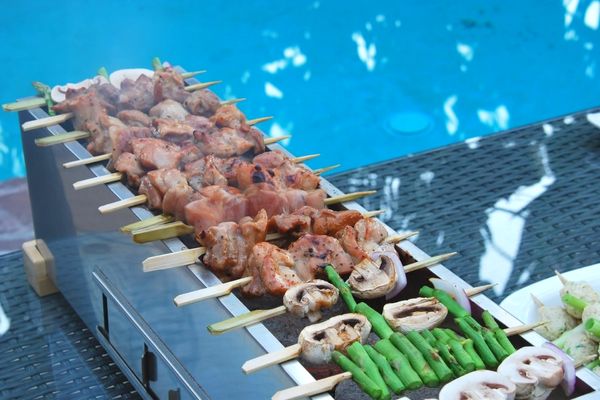 Conclusion
The Bincho Grill GR610S yakitori grill uses charcoal as fuel. It's the original way of cooking these tasty skewers producing flavorful aromas wafting around your food.
If you really want to prepare some authentic Japanese yakitori, be sure to stock up on the Binchotan variety of charcoal. It ensures a long and clean burn and great sear.
Check out this short video to see The Bincho Grill in action:
Just note that this grill is specifically designed for yakitori skewers and there is no grill grate included. If you want a similar unit with a grill grate, consider getting The Bincho Grill MG-168.
Have fun with this grill because overall, it's definitely one of the best Yakitori grills available on the market. Make it a priority to have a gathering as soon as you can to show off your new specialty purchase.
Enjoy the delights that skewers can bring – alongside your friends and family. It will definitely be a lovely time!
What We Love
Perfectly designed for grilling small skewers
Made of durable stainless steel and aluminum
Can be used on almost any surface
Easy to clean
Portable
Made in the USA
What We Don't
Grill grate is not included
Best Freestanding Yakitori Grill: Ironwalls Charcoal Kebab Grill
This charcoal grill from Ironwalls is your basic all-around winner when it comes to freestanding yakitori grills. It's made of stainless steel, so it looks sharp and sleek with its glistening silver exterior.
The cool thing is, it's rust-proof, so this color will last even through season after season of exposure. It's also warp-proof, so it won't develop those bends and kinks you see in other grills.
Specifications:
Fuel Type: Charcoal
Grilling Area: 256 (sq.in)
Weight: 15 lbs
Build Materials: Stainless steel
Dimensions: 32.28″ x 11.81″ x 31″ (L x W x H) – with stand
Features
Size: The grill is long and lean, with enough room to really fill it up with skewers. With about 250 square inches of grilling area, it's the largest unit in this review.
Portable: This grill is portable, too, so you can bring it to the next tailgating party, and it will be a hit. It only weighs about 15 pounds and can be folded to fit into a small space.
Vents: You've got a flexible vent-control door on both ends so you can control the heat that way.
Conclusion
The Ironwalls yakitori grill comes almost completely pre-assembled so it's easy and fast to start grilling.
The only complaint we have about this product is that it could be a bit more sturdy. So be careful not to let anyone bump into it while you're in the middle of cooking.
If you are looking for a freestanding yakitori grill, then this is our top pick. It's an affordable, yet durable, unit that is perfect for your next backyard or tailgate skewer party!
What We Love
Large grilling area
Great value for money
Portable and lightweight
Made of durable stainless steel
Easy to assemble
Uses charcoal for an authentic taste
Best Gas Yakitori Grill: Nomadiq Portable Propane Gas Grill
The Nomadiq is a nice and convenient gas Yakitori grill. It's a portable unit that is one of the best options for hassle-free cooking in your backyard or while camping, tailgating, or even on a boat trip.
Specifications:
Fuel Type: Propane Gas (standard 1lb / 16oz tank)
Grilling Area: 226 (sq.in)
Weight: 12 lbs
Build Materials: Powder-coated steel and stainless steel
Dimensions (assembled): 25.6″ x 16″ x 7.5″ (L x W x H)
Features
Size and Power: This grill is surprisingly large when assembled as it has 226 square inches of cooking space. It boasts a total of 9,200 BTUs of heating power (4,600 per side) on 2 stainless steel burners.
Portable: The innovative design allows you to fold the grill into a very small package. Its lightweight and carry handle make it even more portable. The grill only weighs about 12 pounds.
Easy and Fast: Setting up the grill and starting it with the electric ignition is done in a matter of seconds. And because you don't need to wait for coals to heat up, you're basically able to turn this guy on and have skewers ready in no time at all.
Conclusion
The Nomadiq is a gas Yakitori grill ideal for those who don't like to mess with charcoal. Also, the heat control is super user-friendly so even a beginner chef will have an easy time with it. One great thing is that it's also versatile and works well on burgers, steaks, and almost anything else that you want to have a nice sear on.
It is meant to be used on a table only, so you need to be aware of that if you're planning on having a Yakitori zone in your yard. Make sure that you have a nice spot designated for it because it doesn't have its own legs to stand on.
Consider bringing this grill along to your next picnic, road trip, or tailgating. With a 1 lb tank of gas, you can have over 3 hours of grill time, which is an ample opportunity to cook up something delicious.
What We Love
Easy to set up and use
Large-enough grilling area
Push-button ignition
Long burning time with 1 lb gas tank
Portable and lightweight
Good grease management system
Stylish Tabletop Charcoal Yakitori Grill: Noto Dia Shichirin Hida Konro
This is an absolute treasure of a grill because it's so authentic looking AND it's a great performer.
Specifications:
Fuel Type: Charcoal
Grilling Area: 70 (sq.in)
Weight: 5 lbs
Build Materials: Diatomaceous earth (grill), Paulownia wood (base), and Iron with zinc plating (mesh)
Dimensions: 6.3″ x 11.4″ x 5.1″ (L x W x H)
Features
Size: If you're cooking for a large group of people, you might want to have another bigger grill as well. Or you could have one of these for each table since the grilling area of this unit is only about 70 square inches.
Design: It has a beautiful pearl-colored backdrop with lovely Japanese lettering and whimsical artistic touches.
Materials: It's enameled so it is smooth to the touch and will not overheat during the cooking process. Another slick thing is, it's got a wooden base so you don't have to worry as much about the surface of the table you're cooking on. The insulation is built in here.
Conclusion
The Noto Dia is a table-top charcoal grill that is sure to be the center of attention at your next family dinner or backyard party because of the decorative Japanese exterior.
It uses charcoal, so you'll get a great sear and that subtle flavoring from the smoke.
This grill is not just eye-candy, it's the real deal!
What We Love
Easy to transport and store
Authentic Japanese charcoal grill
Looks beautiful
Lightweight with sturdy wooden base
Made in Japan
What We Don't
Small grilling area
Not the most durable grill
Best Electric Yakitori Grill: Zojirushi Indoor Electric Grill
Zojirushi grill might be small, but it's a true powerhouse.
This is a table-top model that uses electricity, so if you're looking to cook some skewers but don't want to go outside or "fire up" anything, this could be your ideal grill.
Specifications:
Power Source: Electricity (1,500 watts)
Grilling Area: 158 (sq.in)
Weight: 10 lbs
Build Materials: Stainless steel, ceramic
Dimensions: 21″ x 14″ x 4″ (L x W x H)
Features
Size: It's a very compact unit, but don't let that fool you into thinking it can't handle a decent amount of food. All black in color, this grill can be easily stashed away in your kitchen after you're done using it. You don't need to waste precious counter space leaving it out. Instead, tuck it away out of sight in a cabinet.
Materials: It's got a nice ceramic nonstick grill surface ideal for all types of meats, vegetables, and other tasty treats.
Easy and convenient: Since it's electric, you don't waste any time with coals or gas bottles either.
Conclusion
The Zojirushi is also nice because it's suitable for other types of food, like burgers and steaks.
You can cook that up just as easily as a yakitori stick, and all in the comfort of your own kitchen. Just plug it in and you're ready to roll!
What We Love
Easy to use
Versatile
Can be used indoors
Dishwasher-safe drip tray
Cast iron grates
Compact and lightweight
Want to check out more options for indoor use? Take a look at our guide with the best smokeless electric indoor grills.
Budget Pick: Isumer Portable Charcoal Grill
Isumer has got the traditional look and feel of a Japanese grill but is easy on the wallet.
Specifications:
Fuel: Charcoal
Grilling Area: 175 (sq.in)
Weight: 4 lbs
Build Material: Stainless Steel
Dimensions: 15.9″ x 11″ x 8.8″ (L x W x H)
Features
Size: This grill has a nice 175 square inch cooking area good for preparing food for 4-6 people.
Portable: This grill is lightweight and travels well – it would make for a wonderful companion when you're camping or grilling up at the lake.
Design and Materials: The stainless steel exterior is super slick looking, and the grating and size make this perfect for skewers, burgers, and steaks alike.
Vents: Side vents help you to control the heat, but you can also access the coals via the grate to adjust the temperature.
Conclusion
If you've got your heart set on a Yakitori style grill, but you're on a budget, this Isumer grill could be the perfect option for you.
The best news is that it's totally affordable, so you can try it out and see if it suits your grilling style.
What We Love
Very affordable
Decent sized grilling area
Portable and lightweight
Easy to clean
What We Don't
Short legs only
Not the most durable body
How to Choose the Best Yakitori Grill?
From hundreds of options available we have already picked up the best yakitori grills and reviewed them in this guide. Now it's up to you to consider which one is the most suitable for your needs.
Here are some important things to consider:
Size and Shape of the Cooking Surface:
Most yakitori grills are long and narrow which makes them excellent for cooking skewers. If you want to cook other things as well, you might want to get a model with a wider cooking area.
Also, if you want to organize bigger parties, it makes sense to get a unit like the Party Griller Charcoal Yakitori Grill which has a large grilling area that can fit dozens of kebabs.
Dimensions and Portability:
When you are only using the yakitori grill occasionally, it is convenient to have a small unit that fits in your cabinet.
One great way to make skewers is to have a picnic or a camping trip and bring your grill along. This means that the grill should be lightweight and easy to carry around.
Materials and Design:
Would you like to have a durable stainless steel grill or a traditional one made with natural materials?
A stainless steel unit is more durable and easy to maintain. Yet, a traditional and decorative option like Noto Dia Shichirin Hida Konro is something that will be a stunning addition to your outdoor dinner table.
Can it be used indoors?
If you are going to grill outdoors and don't mind setting up the charcoal, then getting a charcoal yakitori grill and some Binchotan is your best option. This will provide you with the best result for taste and authentic experience.
However, in the wintertime, you might want to cook some skewers indoors. This is done best with an electric or gas yakitori grill. Using this type of unit is also much easier and more convenient.
What Kind of Charcoal To Use?
Since the tradition of yakitori is charcoal-based, there is a preferred fuel source that most avid grillers recommend above any other.
It's called Binchotan, and it's a type of charcoal prized for a consistent, slow, and clean burn.
You won't need to worry about this if you opt for a gas or electric grill, but if you go with charcoal, you can get Binchotan charcoal for the most authentic experience.
It's a natural alternative that avoids a lot of the filler and toxins in many commercial brands of charcoal briquettes. This charcoal burns for a long time and imparts a mild aroma that lets the natural flavors of your food shine through.
You can get some high-quality Binchotan charcoal from Amazon.
Even if you don't want to buy Binchotan, I still recommend using lump charcoal instead of briquettes.
Are You Ready to Grill Japanese Style!
When you are looking to step up your grilling game, you start to specialize in things, and you get to know your tastes more.
Sometimes you like to grill all American steaks or hot dogs. Other times it's a perfect night for cooking Japanese style, which means pulling out your teppanyaki, Yakitori, or hibachi grill.
While it's possible to rig up a makeshift Yakitori-style grill on your existing gas, charcoal, or electric grill, part of the fun of this dining experience is gathering around the grill and being a part of the cooking process.
You can make it an authentic Japanese feast by using Binchotan charcoal and grilling chicken skewers served with soy sauce and rice wine dips.
But you can also just use regular charcoal and grill all kinds of skewers and kebabs.
Imagine a party or a backyard family BBQ with do-it-yourself kebabs available. Folks could pick from wide varieties of meat, veggies, or prawns and put them on the skewers.
You could have a designated griller, or it could be more DIY on the grill as well, with everyone taking a turn to flip their skewers. It can be a special grill for a special night, or it might be a regular Tuesday afternoon – when you have your own Yakitori, the option is always on the table.
Yakitori grills are also quite versatile. You can definitely use it for foods like steaks, chicken breast, and burgers, that have nothing to do with sticks.