If you are looking for a gas grill that is user-friendly and offers excellent cooking performance, then you should definitely read this review of Weber Q3200 gas grill.
I am a long-time owner of the Q3200, so this review is based on my own experiences. I will tell you all you need to know about this grill and why I like it so much.
But no grill is perfect, so I will also cover the few drawbacks that it has.
Let's start with taking a closer look at the key features and specs of the Q3200.
Weber Q3200 Features and Specifications
This is the largest model in Weber's popular Q-series. It's a cart-mounted grill that is meant to be kept in your patio or backyard while the other models in the Q-series are portable tabletop models.
The Q3200 comes in two fuel types — propane and natural gas.
The propane model is compatible with a standard 20-pound liquid propane tank.
Amazon only has the propane version available. BBQGuys has both propane and natural gas versions.
Specifications:
Fuel Type: Propane/natural gas
Number of Main Burners: 2
Total BTU: 21,700
Heat Flux: 76
Primary Grilling Area (sq.in): 393
Warming Rack Area (sq.in): 75
Weight: 86 lbs
Build Materials: Cast aluminum, stainless steel, plastic, and porcelain-coated cast iron
Dimensions: 50.2″ x 21″ x 43.5″ (W x D x H)
Warranty: 5 years or 2 years depending on part (more details later in this review)
Features
Design and Materials: The grill looks sharp and is designed for convenient everyday cooking. The cook box is made with durable cast aluminum and the stand is plastic. This makes the grill light and you don't have to worry about rust even if you leave it uncovered.
Grill Grates and Cooking Area: The 393 square inch main grilling area is big enough to cook for the whole family. Made of porcelain-coated cast iron, the grates are sturdy with excellent heat retention. Food doesn't stick easily and cleaning the grates with a wire brush is a breeze.
Ignition and Burners: Starting the grill happens with a push of a button. After 8 years my Q3200 still starts every time with the first try. The stainless steel burners provide excellent heat control and blast enough heating power for proper searing.
Grease Management System: The melted fat flows into an aluminum drip pan under the cook box. There are no flame tamers above the burners so if you grill greasy foods you might get some flare-ups.
Extra Features: There are a few cool extra features including foldable side tables, tool hooks, and large wheels for moving the grill around. In addition, the Grill Out handle light provides illumination for nighttime cooking.
Warranty: The warranty of the Q3200 is quite generous with most components being covered for 5 years:
Aluminum Cook Box and Lid: 5 Years
Stainless Steel Burner Tubes: 5 Years
Porcelain-Coated Cast Iron Grates: 5 Years
Plastic Components: 5 Years
Regulator: 2 Years
Ignition: 2 Years
What I Love About Weber Q3200
There is a lot to like about this grill. So let me tell you why I keep using it year after year.
Effortless to Use
What is the main reason for buying a gas grill in the first place?
Most people want a grill that makes cooking tasty barbecue foods easy and convenient. Weber has decades of experience in making grills and the Q3200 provides a great user experience.
From the ignition to controlling the temperature, everything works seamlessly. The built-in thermometer on the lid makes it easy to monitor the internal temperature of the grill.
Most of the time I don't even want to go inside and cook in the kitchen anymore.
Even when making pizzas I use a pizza stone and my Q3200. And I can tell you, the pizzas are crispy and delicious!
Get's Hot Enough for Searing
Did someone say that you can't get a proper sear on your steaks with a gas grill?
Well, that certainly isn't true with the Weber Q3200.
Just preheat it properly and the cast iron grates will do a great job with giving those grill marks and a proper sear on your steaks and burgers.
Below are some of the best rib eye steaks I have ever tried: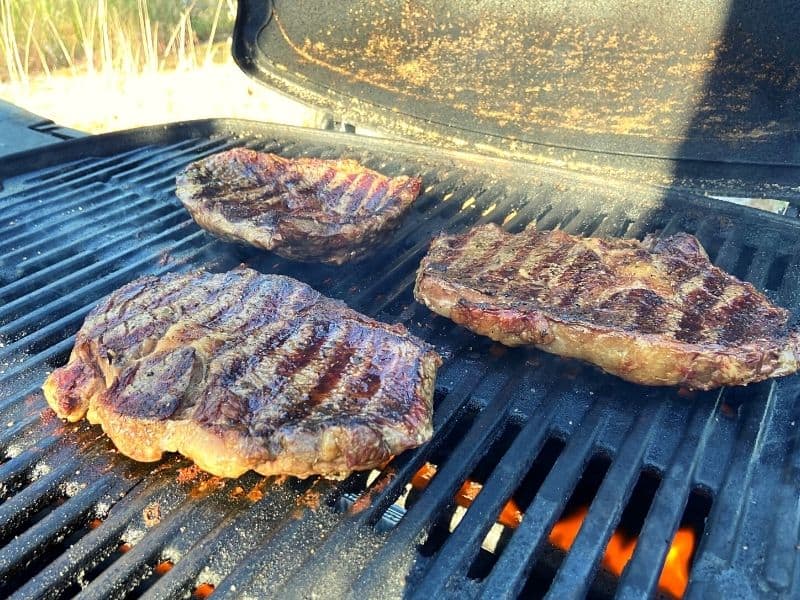 I cooked them a few days ago with the Q3200.
Easy to Clean
If you are like me, you don't want to spend any extra time cleaning and maintaining your gas grill. And cleaning the Weber Q3200 is as easy as it gets.
Just brush the grates with a wire brush after each use and replace the drip pan when it gets full.
You should also do more thorough cleaning every few months or so. This includes removing the grates and cleaning the cook box.
Take a look at my guide for cleaning a Weber Q gas grill for more details.
Durable
One of the best things about this grill is that it's built to last.
I don't even have a cover for my Q3200 and it still looks great and works perfectly after 8 years.
Are There Any Disadvantages?
While the Q3200 is an excellent grill, it has few drawbacks to mention.
No Indirect Cooking: The burners of the grill are set up so that you can't really have separate zones for direct and indirect cooking. So if you are going to need a grill that has burners that allows creating heat zones, the Weber Spirit or Genesis series might be a better option.
Propane Tank Holder: If you put the propane tank in the holder, it will be out of the way and covered by the plastic screen. However, it's hard to access it for turning the gas on and off, so I decided to keep at the side of the grill (see photo above).
Drip Pan Fills When it Rains: When it rains and the grill is uncovered, the drip pans fills with water so you need to pour out the water after the rain.
Customer Reviews of Weber Q3200
As mentioned earlier, I have been using my Q3200 for a long time so I know it in and out. But it's always interesting to see what other people think about it.
The Q3200 is a very popular grill and it has been on the market for a long time. This means there is plenty of user data available.
I gathered the customer review ratings from Amazon, Homedepot, and Walmart (over 2,400 reviews) and combined them in the chart below:
What we can see is that almost everyone who bought this grill is satisfied with it. 93 percent of customers gave it a 5 or 4-star rating.
Weber Q3200 Review – Final Thoughts
So the most important question is — should you buy the Weber Q3200?
I have been very happy with my Q3200 and it has also received great customer reviews. I can warmly recommend it for anyone who wants a durable and easy-to-use grill that offers great value for money.
Actually, it's so fun to use this grill that you will probably end up cooking with it every day. Or even twice a day!
Weber Q3200 is available on Amazon and BBQGuys online store.
Happy Grilling!
-Joonas
PS. If you have any questions or comments related to Weber Q3200, please post them below.