High-quality cutlery is a staple in any kitchen. But it's every bit as mandatory for the backyard pit boss as the conventional chef.
What's the point of a perfect BBQ without an equally inspiring presentation?
If you've ever tried slicing smoked brisket with a bread knife, you know what I mean. Every knife has a purpose.
So, while you were perfecting your secret recipes, we were testing knives to find blades you'll be proud to own. Based on quality, utility, balance, warranty, and price — here are the best BBQ knife sets that money can buy.
Our recommendations for the Best BBQ Knife Set:
What Should Be Included in a BBQ Knife Set?
For the fair-weather cook, a basic BBQ knife set will do. But if you see yourself slicing, carving and filleting meats to restaurant perfection, you need the right tool for the right job.
Starter barbecue knife sets should include:
Brisket Knife: Thick slabs of meat like briskets are BBQ staples, so any knife set worth its salt should feature a quality brisket knife. We recommend knives with Granton blades. A Granton blade has grooves along both sides that capture juices as you slice, decreasing friction for a cleaner cut.
Chef's Knife: A chef's knife is an all-purpose knife that can handle slicing and dicing and mincing chores on any food. There are better choices for meats, but you'll need it for sides. While most folks already have a chef's knife or two in their kitchen, a blade dedicated to BBQ is never a bad idea. If you need a full set for traveling, you won't have to root around in your kitchen drawers — just grab your set and go.
Boning Knife: Boning knives remove meat from the bone, turning a whole chicken into fryer pieces or boneless tenders in a snap. Stiffer than filet knives, they move through skin, fat, and ligaments like butter.
Utility Knife: Utility knives are good for everything but perfect for nothing. Larger than a paring knife but smaller than a chef's knife, they can do double duty as either when one is in use. It's the pinch hitter you need to keep BBQs running smoothly.
For advanced grill masters, we suggest sets that also come with:
Carving Knife: A carving knife is a longer, thinner version of the Chef's knife. More of an all-purpose blade, it's perfect for poultry and cutting thinner cuts of meats like steaks and chops.
A Filet Knife: Filet knives have narrow, flexible blades with a flat edge and a pointed tip that's ideal for slicing the skin from meat. It's handy for preparing fish and chicken.
A Breaking Knife: If you prepare your own cuts of meat from larger pieces, a breaking knife is a must-have. A step up from a chef's knife, professional butchers use the thicker blade to make quick work of slicing through skin, bone, and cartilage.
Santoku Knife: A type of chef's knife with a Granton blade, Santoku knives have a cleaver-like shape that's superb for chopping vegetables. It can complement your chef's knife or replace it entirely if you prefer the shorter blade. Santoku knives may also be easier to handle for small hands.
In addition to the knives, the best sets usually include a sharpener and a carry bag or a wooden knife block. Some also have a honing rod for maintaining and straightening the edges of your knives.
6 Best BBQ Knife Sets Reviewed
Finding a perfect knife set that fits your budget and needs is not an easy task. There are so many options and many are overpriced, lacking in quality, or simply missing something essential.
Whether you are looking for the highest quality, best value for money, or simply an entry-level set to get things started, we have you covered.
Here are the 6 best barbecue knife sets you can find:
Best Overall: Victorinox Fibrox Pro 7-Piece Competition BBQ Knife Set
Brought to you by the makers of Swiss Army knives, the Victorinox competition-grade knife set includes all of the essential BBQ knives plus extras you didn't know you needed. Crafted in Switzerland, the quality is impeccable.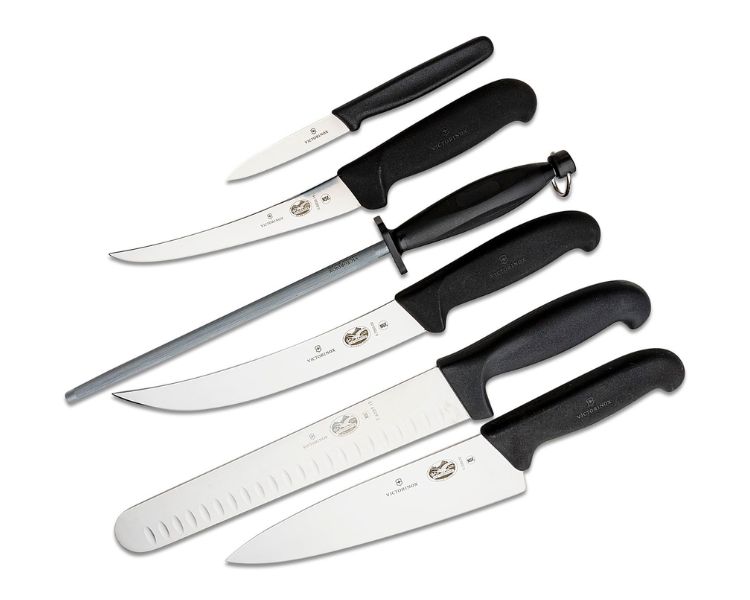 Specifications:
Blade Material: High Carbon Stainless Steel
Made In: Switzerland
Warranty: Lifetime
Set Includes:

3.25″ Paring Knife
6″ Semi-stiff Boning Knife
8″ Chef's Knife
8″ Breaking Knife
10″ Slicer
9″ Sharpening Steel
Knife Roll
Made with high-carbon stainless steel, the blades hold a laser-sharp edge that cuts meat without tearing or shredding the fibers. They make the cleanest cuts we've ever seen, day after day and without continual resharpening.
The blades are stamped with a ¾ tang wrapped in the patented Fibrox handle. Lightweight and ergonomic for any size hand, the handles don't slip, even when they're wet. They're a pleasure to use in any condition, indoors or out.
This set contains everything the competition barbecuer or a backyard pitmaster needs. In addition to the essential knives it comes with a breaking knife, sharpening steel, and carrying case for half the price that Victorinox could charge if they wanted to. Backed by a lifetime warranty, it's our top pick and an irresistible value.
What We Love
High-quality and durable materials
Excellent cutting performance
Ergonomic, non-slip handles
Light and well-balanced design
What We Don't
The visual design is quite basic
Great Value for Money: Cangshan S1 Series German Steel Forged 7-Piece BBQ Knife Set
This Cangshan knife set proves you can still get a bargain without compromising performance. It includes the most essential blades, including an excellent brisket knife.
Specifications:
Blade Material: Alloy Steel (German)
Made In: China
Warranty: Lifetime
Set Includes:

11″ Slicing Knife
10″ Butcher's Knife
7″ Vegetable Cleaver
6" Boning Knife
6" Carving Fork
3.5" Paring Knife
5 Plastic Knife Sheaths
Cut Resistant Knife Bag
This is a mid-quality set with many of the features found in high-end knives. It lacks a sharpener but includes a meat fork, a carrying case, and protective sheaths for each knife.
Styled in the Asian tradition, the blades are heat-treated for durability and sharpness. The stainless steel is harder than average for a long-lasting edge. Well-balanced and comfortable to hold, the angled bolster accommodates a safe and natural grip.
If you only want to spend the minimum amount, but get a durable and stylish knife set, then this is a great option. Warrantied for life, we were pleasantly surprised by its performance and think you will be, too.
What We Love
Blades are made with high-alloy German steel
Durable and stylish design
Nice price point
Well-balanced and comfortable handles
What We Don't
No sharpener included
No chef's knife included
Premium Choice: Wusthof Classic Ikon 10 Piece Knife Set with Walnut Block
If you're in the mood to spoil yourself or that someone special, do it with this premium knife set from Wusthof.
With seven knives, a honing steel, kitchen shears, and a sophisticated walnut knife block, it's everything you need for a backyard or indoor BBQ.
Specifications:
Blade Material: High Carbon Stainless Steel
Made In: Germany
Warranty: Lifetime
Set Includes:

3.5″ Paring Knife
4.5″ Utility Knife
5″ Serrated Utility Knife
7″ Hollow Edge Santoku Knife
8″ Bread Knife
8″ Chef's Knife
9″ Hollow Edge Carving Knife
9″ Honing Steel with Brushed Stainless Handle
Come-Apart Kitchen Shears
17 Slot Walnut Knife Block
The Wusthof blades are full tang and handcrafted from high-carbon stainless steel. Precision Yield Technology produces a 20% sharper blade with double the edge retention — this means you don't have to be sharpening them too often.
Perfectly angled and well-balanced with smooth, ergonomic handles, these knives are a joy to hold. If you are used to regular knives you will certainly notice the difference, these knives cut through meat and veggies smoothly and without any tearing.
Still, they're not for everyone — the price is jaw-dropping. And if you want an inclusive set specifically for BBQ, this one is missing a slicer with a Granton edge.
But when you are looking for a knife set that's perfect for all kitchen tasks and looks amazing, the Wusthof fits the bill. The quality is off the charts and will satisfy even the most demanding chefs!
What We Love
Exceptional design and overall quality
Superior cutting performance
Longer edge retention
Ergonomic and highly durable handles
Comes with a beautiful knife block
Stylish and Compact: Hammer Stahl Barbecue Knife Set
More isn't always better. For the minimalist, this top-quality knife set from Hammer Stahl is everything you need and nothing you don't.
Specifications:
Blade Material: High Carbon Stainless Steel (German)
Made In: China
Warranty: Lifetime
Set Includes:

6" Boning Knife
8" Chef's Knife
10" Slicer
10" Scimitar
Engraved Leather Knife Roll
With this set, you get the best five knives for BBQ including a scimitar — a type of breaking knife. The sturdy and stylish leather knife roll is a big plus.
Full-tang and full-forged, the blades are made of high-carbon stainless steel. Factory-sharpened to a 20-degree angle, they arrive ready to use in a humble, puncture-proof roll. The handles are made of resin-infused wood for beauty and durability.
Short on bells and whistles, beginners will appreciate the simplicity of this set — pit masters will make it sing. In a world obsessed with quality, it's the quality that counts.
What We Love
Excellent overall quality
Perfect selection of knives
Well-balanced and ergonomic
Comes with an engraved leather knife roll
Budget Pick: Master Maison 15-Piece Durable Professional Kitchen Knife Set
You won't need the Midas touch to afford these knives from Master Maison. You'll get six knives including a cleaver, a chef's knife, and a brisket knife with a Granton blade.
Specifications:
Blade Material: High Carbon Stainless Steel (German)
Made In: China
Warranty: 1 Year
Set Includes:

12" Slicer
8″ Chef's Knife
9" Scimitar
3.5″ Paring Knife
6″ Cleaver
6″ Fillet Knife
Honing Rod
Knife Sharpener
6 Edge Guard Covers
Canvas Carrying Case
The full-tang blades on this set are forged from premium carbon steel for precision and low-maintenance performance. Triple-riveted handles with reinforced end caps provide stability and comfort.
Road-ready, the knives come in a handy roll with a carrying handle. The set also includes a honing rod, sharpener, and 6 edge guards.
Master Maison, a California company, partnered with pros on the design of these knives. The result is a truly functional knife set with an above-average performance at a below-average price. You won't be disappointed.
What We Love
Sharp and durable blades
Very affordable
Includes a honing rod and sharpener
What We Don't
Some inconsistencies in the edges
The knives are quite heavy
Mini Set: Oklahoma Joe's Blacksmith 3-Piece Knife Set
Be prepared for anything with Oklahoma Joe's 3-piece knife set. You won't find a better deal for BBQ on the go!
All knives feature a full-tang blade, riveted handles, and a full bolster for stability and secure handling. Made of stainless steel, they resist rust.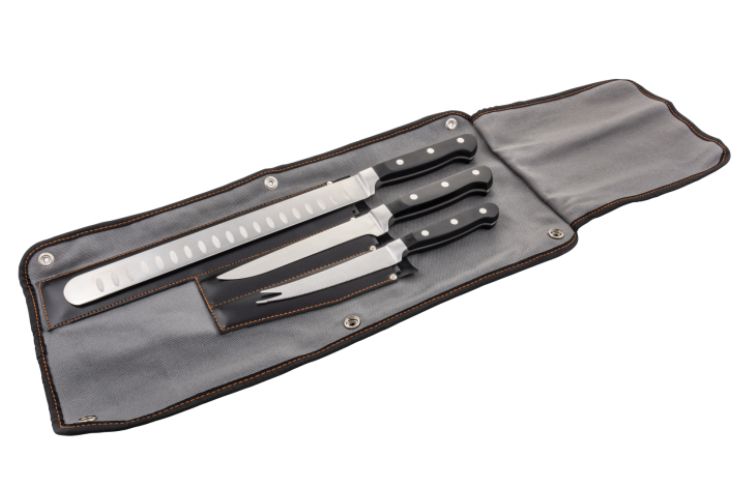 Specifications:
Blade Material: Stainless Steel
Made In: China
Warranty: 1 Year
Set Includes:

Brisket Knife
Boning Knife
Utility Knife
Knife Roll
The set includes brisket, boning, and utility knives — the basics for any BBQ. We especially like this set for brisket because the utility knife doubles as a meat fork.
Ideal for the occasional griller or to keep in the car for an impromptu feast, this handy set comes with a protective roll for safe travel and a 1-year warranty. It makes a thoughtful gift.
What We Love
Good entry-level set
Affordable
Compact and lightweight set
Buying Guide for a Barbecue Knife Set
Materials and features can make or break a knife set. It's essential to have a sharp blade and comfortable handle, but there are also some other important things to consider.
Here are a few things to look at before buying a knife set:
Blade Material and Manufacturing Method
Material quality determines the performance and longevity of knives. Most are made of steel, but beware — the grade may vary.
Stainless steel is strong, affordable, and rust-resistant. But high-carbon stainless steel is harder. It keeps an edge longer and is easier to sharpen.
High-carbon steel holds a paper-thin edge, but it may set you back more than a few dollars.
Stamped or forged?
A forged knife is crafted from a single bar of heat-treated steel. Stamped knives are cut from sheet steel and then heat treated for durability.
Forged knives are a cut above, but you'll pay more for them.
Blade Tang
Full tang blades extend through the length of the handle, giving knives heft and strength.
Partial tang knives stop short, creating a weak point where the blade can work loose from the handle. They can, however, still be of great value if the blade is encapsulated in a quality synthetic handle.
Handle
Handle material and ergonomics are integral to a knife's performance. While the classic look of wood is unbeatable, it's prone to water damage and cracking. And over time, the finish on wood handles can wear off.
Synthetic handles are more durable for outdoor use with a subtle texture that offers a firmer grip. Many are dishwasher-safe.
Weight and Balance
Blade-heavy knives are a plus for tough cuts of meat. Heavier, they offer more leverage. Handle-heavy designs are better for filet and boning knives that do largely finesse work because they're easier to control.
But the most important consideration is how knives feel in your hand — an unwieldy blade is an accident waiting to happen. Knives should feel like a natural extension of your fingers.
Bolster
A bolster is the thick junction between a knife blade and the handle. It protects your hand and provides a counterbalance.
But while it improves control, a large bolster shortens the cutting edge, decreasing the efficiency of cuts. For most users, it's a matter of preference.
Portability
Knife sets with a case or roll are easier to transport. Not only are they convenient, but they also protect blades from chipping.
But a wooden knife block can be an impressive addition to your outdoor kitchen. Knife blocks are also handier for daily use as grabbing the right knife is quick and effortless.
Sharpening and Honing Equipment
Sharpening is needed to maintain the performance of the knife edge while regular honing keeps blades precise and well-aligned. Honing also extends the interval between sharpening.
Having a good sharpener and honing steel is a bonus in any BBQ knife set.
Warranty
Warranties cover defects in materials and craftsmanship — not normal wear and tear. Still, a good warranty pays off if you get the rare knife that breaks because of a weak spot in the metal. The longer the term, the better.