Stainless steel grills have become ubiquitous in every big-box store and many backyards. Even entry-level brands can look good, so you wonder how the high-end grill makers can compete.
Well, one look at the offerings from these premium grill brands will set you straight. Grills like the ones made by Blaze and Lion are a world apart, packed with features that will delight any serious backyard chef.
So let's get to it, and see which brand you should choose for your backyard!
Blaze Grills – Brand Overview
Blaze was founded in 2012 by Mike Hinkley and Corey Tisdale, the brains behind the well-known BBQGuys website.
Blaze was meant to be a brand that addressed problems they saw in the competition. Blaze grills are routinely rated highly, usually 4.7 out of 5 or more, so the pair was successful by that measure.
The company makes elegant and functional grills and accessories for outdoor kitchens. Their products range from your standard stainless gas grills to a stainless charcoal kamado.
They also have all the other matching accessories you might need to make your outdoor cooking area complete, like vent hoods, beverage centers, fridges, and cabinets.
The private equity firm Brand Velocity Partners bought Blaze in 2020. Blaze is still based in Louisiana, and their products are extremely high-quality, long-lasting, and backed by a lifetime warranty.
I recommend that you also check out this guide with more reviews of Blaze grills.
Lion Premium Grills – Brand Overview
Lion was started in 1992 by an award-winning barbeque designer named Leon Carter.
Lion is a similar company to Blaze in terms of the products they sell. You can outfit an entire outdoor kitchen, whether you need a stand-alone grill, a built-in side burner, or a refrigerator.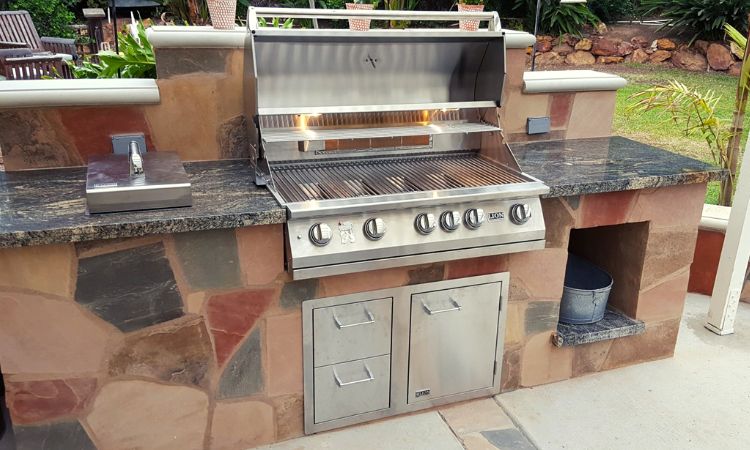 The company also sells BBQ islands — pre-made outdoor kitchen setups ready to go with stone or stucco faces. In fact, it's these portable outdoor kitchens that made the company famous.
Lion products are backed by a lifetime warranty for most parts. These high-quality grills are made from 16-gauge stainless steel with cast stainless burners. From front to back, these grills are made to last forever.
Blaze vs Lion – Grill Comparisons
Blaze and Lion grills are available as stand-alone cart models or as built-in counter models for outdoor kitchens. Their product lines are similar, with most units available in either a 32-inch, 4-burner range or a 40-inch, 5-burner range.
Blaze Premium LTE vs Lion L75000 Gas Grill (Stand-Alone or Built-In)
These two high-end grills resemble each other in many ways. Both are stylish, durable, easy to use, and offer a large cooking area with plenty of heating power.
The Blaze has slightly better cooking performance thanks to the triangle-shaped cooking rods and better flame-tamers. It's also the more expensive option — especially if you want a rotisserie kit, which you have to buy separately.
The Lion, however, bests the Blaze in a few areas — it comes with the rotisserie kit, smoker box, and griddle, it's a bit larger, and the burners eke out a few more BTUs. In addition, you can upgrade to ceramic flame tamers and the optional charcoal tray is worth a look, too.
Get the Blaze Premium LTE if you want the best possible cooking performance and don't mind paying a bit more.
The Lion L75000 is a better option if you want to save a few hundred bucks and get more extras included.
NOTE: We will review the 4-burner stand-alone units below, but both grills are also available as larger 5-burner versions or built-in models (you can choose your preferred option in the BBQGuys online store).
Blaze Premium LTE
Total Grilling Area: 715 sq.in.
Number of Main Burners: 4
Main Burner BTUs: 56,000
Infrared Rear Burner
Internal Halogen Lights
Lifetime warranty
Fuel: Propane/natural gas
---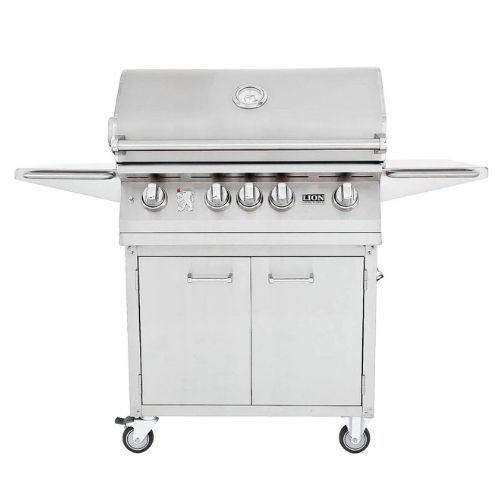 Lion L75000
Total Grilling Area: 830 sq.in.
Number of Main Burners: 4
Main Burner BTUs: 60,000
Infrared Rear Burner
Internal Grill Lights
Lifetime warranty (for most parts)
Fuel: Propane/natural gas
Design and Build Quality
The Blaze and Lion grills' design is very polished and well laid out. Both look similar, with 32-inch profiles and four burners each. Indeed, the grills are more alike than different, with similar looks and feature sets.
All components of the Lion grill are 304 stainless. However, the Blaze's interior components are made of 443 stainless, an alloy that includes titanium for better longevity.
These components will maintain their strength better than 304/316 stainless during repeated heating and cooling phases.
Ease of Use and Maintenance/Cleaning
Using these two grills is also very much alike. They have large turn-to-ignite controls for trouble-free startups. In addition, both have lights for nighttime grilling.
Blaze and Lion both make high-end grills, so their designs are exceptionally well thought-out — a feature that is most noticeable when it comes time to clean the grill or replace parts.
The grease tray extends the length of the grill and pulls out from above the control knobs on the front of the grill. All elements inside the grill, from the grates to the burners and flame tamers, come out easily for cleaning.
Burners and Temperature Range
These grills have upgraded, cast stainless steel burners backed by lifetime warranties. Their triangular shape protects them and helps keep them clean, and their robust design makes them worry-free.
In total, the Blaze has 56,000 BTUs, but the Lion has 60,000 BTUs — a difference so small that it doesn't make any real difference.
The Blaze and Lion grills also have built-in infrared rear burners that work great with the rotisserie kit. The Blaze's rear burner is 10,000 BTUs, and the Lion's is more powerful at 15,000 BTUs.
Note that while the Lion comes standard with the rotisserie, it's an option for the Blaze grill.
Grilling Space
The Blaze has a primary cooking area of 531 square inches, whereas the Lion has a little more with 647 square inches.
The Blaze and the Lion grills both come with removable warming racks for breads and side dishes. The Lion grill's warming rack can be stored tipped up to save space in the grill. They're nearly identical in size, 184 and 183 square inches, respectively.
Both grills feature stainless steel grids, and both use thick, robust stainless rods to deliver lots of heat and great sear marks. However, Blaze goes one step further — their grates are made with triangular rods that catch more heat on the bottom and less surface area on top.
Blaze also has thick flame stabilizing grids covering the grill's entire cooking area, whereas Lion has traditional triangular flame tamers. However, an upgraded ceramic flame grid is an option for the Lion grill.
Lion comes with a large griddle that can be used to replace two of your cooking grates, allowing you to cook things like shrimp, eggs, bacon, and pancakes without giving up your cooking space the rest of the time. There's even a handy griddle pick-up tool that doubles as a bottle opener.
Extra Features
Both companies offer many other options for accessories, allowing you to customize your grill to suit your needs.
With the Lion, you get a cover, a rotisserie kit, and a smoker box with the grill, but with the Blaze, you have to buy them separately.
If you like to sear your steak over infrared, you might be disappointed when you first look at these grills. Neither comes with a built-in sear station, after all.
But both companies offer the infrared burner as an accessory. Moreover, swapping the standard burner for the infrared only takes a few seconds, meaning you don't have to dedicate cooking space to the infrared burner if the recipe doesn't call for it. That's the best of both worlds.
The Blaze smoker box is an excellent option. Its sealed design makes it possible to fill with liquid for steaming, like beer, wine, or juice. Lion offers an interesting charcoal box, which allows you to heat the charcoal with the burner and switch to traditional grilling.
For more high-end options, take a look at this comparison of Coyote vs Blaze Grills.
Lion vs Blaze Grills – Final Thoughts
You really can't go wrong with either one of these grills. They are both built extremely well, to very high standards.
Choose the one that best fits your budget and cooking style. If you want to save a bit of money and get a grill cover, rotisserie kit, griddle, and smoker box included in the package, choose the Lion grill.
If you just want the best possible cooking performance and don't mind paying extra for the accessories you need, then the Blaze is our recommendation.
You can also check out our Blaze vs Weber grills comparison to see how this brand fares against one of the heavyweights of the industry.
Happy grilling!