Weber's reputation for making excellent grills precedes them. In some cases, though, their popularity overshadows some other great options you should be aware of.
One such company is Blaze, a Louisiana-based grill maker creating some beautiful and impressive barbecues.
Now it's time to put these two grill brands into a skirmish and compare some of their most popular models.
Summary of our comparison between Blaze and Weber grills:
Blaze – Brand Overview
Blaze was started in 2012 and is based in Baton Rouge, Louisiana. They're passionate about making superior-quality grills that offer excellent value for money.
Today, the company makes a selection of gas and charcoal grills, plus outdoor kitchen modules and refrigerators. They also have some nice smoker boxes, grill covers, and side burners to choose from.
Blaze grills are built with premium quality materials and are covered by a lifetime warranty.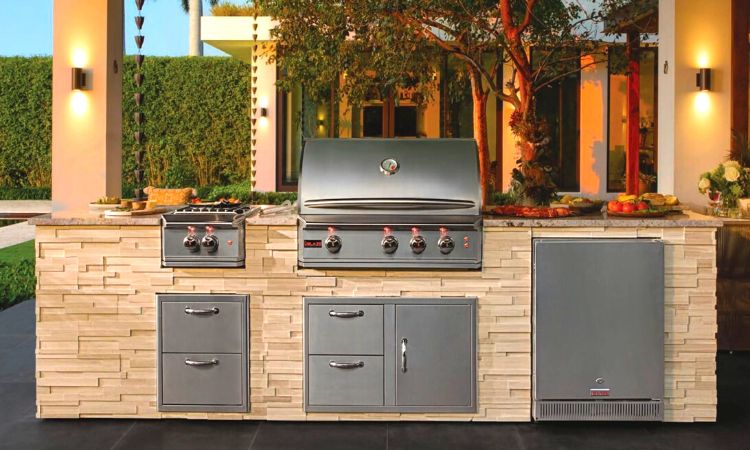 The best place to buy all kinds of Blaze products is the BBQGuys online store because they have the largest selection and best availability. Just choose the item type you're looking for (from the menu on the left if using a desktop or "Filter" drop-down menu on mobile).
Check out our Blaze vs Lion Grills comparison to see how this brand fares against another brand known for their premium gas grills.
Weber – Brand Overview
Weber may be the best-known grill company on the planet. They revolutionized backyard grilling in the 1950s by introducing the first, now-iconic kettle grill.
Today they still make some of the best charcoal grills, plus a wide assortment of gas, electric, and portable grills.
Some Weber grills are made in the United States at their Illinois factory, but most of their products are made with globally-sources components. However, most are still assembled in the USA.
Weber grills are so popular because the brand has something for everyone — no matter what is your cooking style or budget, you can find a suitable barbecue!
I recommend that you also check out our comparison of Weber vs Broil King grills for another epic battle of brands.
Blaze vs Weber Grill Comparisons
As mentioned above, Weber is a brand that offers great products in all categories from small and affordable grills to premium products with all the bells and whistles. On the flip side, Blaze only makes top-level grills that cost a bit more.
It wouldn't make a lot of sense to compare a smaller entry-level grill, or even a mid-range unit, to a large premium rig. For example, comparing Blaze vs Weber Genesis series grills doesn't make a lot of sense because it's clear that Blaze is better and more durable but also costs about three times more.
So we chose three different types of grills where the battle between Weber and Blaze is evenly matched.
Let's start with their most popular standalone gas grills and built-in options. After that, we will go into something a bit more exotic — charcoal-powered kamado grills.
Standalone Gas Grills: Weber Summit S-470 vs Blaze Premium LTE 32-Inch
Blaze Premium LTE is their best-selling product line delivering excellent quality and cooking performance for a reasonable price. If you want to check out more luxurious options, including Blaze Professional LUX, take a look at this guide with our recommended high-end grills.
The Summit grills are Weber's crown jewel offering the best in all areas — they are powerful, stylish, and have more great features than you can imagine.
So what happens when you choose the most popular Blaze Premium and Weber Summit grills, and put these two beasts against each other?
It's time to find out!
It's a very tough battle with no clear winner. The choice depends on what you are looking for — the best overall quality or more versatility and features.
The Blaze Premium LTE is our recommendation if you simply want a top-notch grill with standout cooking performance and a lifetime warranty.
This grill is made with commercial-grade stainless steel, has a huge cooking area, and packs plenty of heating power.
But what if you want things like a side burner, a rotisserie kit, and even a smoker box with a dedicated burner?
Well, then you should choose the Weber Summit S-470 because all of the above are included in the package.
Weber Summit S-470
Total Grilling Area: 580 sq.in.
Number of Main Burners: 4
Main Burner BTUs: 48,800
Sear Burner & Side Burner
Rotisserie Kit & Infrared Burner
Smoker Box & Burner
Fuel: Propane/natural gas
---
Blaze Premium LTE
Total Grilling Area: 715 sq.in.
Number of Main Burners: 4
Main Burner BTUs: 56,000
Infrared Rear Burner
Internal Halogen Lights
Lifetime warranty
Fuel: Propane/natural gas
Design and Build Quality
These two grills are made with high-quality stainless steel, built on stainless carts with enclosures below and shelves to each side. While they both look nice, the Blaze Premium has a more simplistic and stylish look.
The Summit S-470 is a flagship grill for Weber, so you'll find it comes loaded with every useful feature the company has come up with.
In terms of quality and longevity, the Blaze Premium has only the best to offer — even the lid is double-lined to keep the finish looking great. Compared to the Weber, it lacks many of the included toys but boasts slightly more cooking area and more powerful burners.
Ease of Use and Maintenance
Both grills make cleanup as easy as possible. Their high-quality stainless steel finishes are effortless to clean and rust a non-existent problem.
The Summit has a stainless steel grease tray and a catch pan system. The Blaze has a similar system, featuring a full-width grease-catching tray.
Burners and Temperature Range
The Summit S-470 is a four-burner grill with 48,800 BTUs of heating power on the main burners. In addition, it has an additional 10,600 BTU sear station burner, plus an included tuck-away rotisserie system with a rear infrared burner.
And, of course, there are the flush-mounted 12,000 BTU side burner and 6,800 BTU dedicated smoker box burner.
The Blaze is also a four-burner model, but its burners are made of cast stainless for extra longevity. The cooking surface can put out a total of 56,000 BTUs across its main burners, plus a 10,000 BTU infrared rear burner.
The rotisserie kit is an optional accessory on the Blaze.
Grilling Space
Neither of these units falls short when it comes to the size of the grilling surface.
The Summit has a total cooking area of 580 square inches, including a 112 square inch warming rack. The stainless steel grate is made of durable nine-millimeter rods.
The Blaze features unique, patented triangular rods on the grate for better sear marks and heat distribution. The 32-inch grill has 715 square inches of space, and the full-width 14-gauge stainless steel Flame Tamers keep the whole surface evenly hot.
Extra Features
In addition to all the features already mentioned, the Summit also has a clever backlit LED propane scale, so you'll never be surprised when the tank gets low. The knobs are backlit, too, and there's a Grill Out handle light that turns on automatically when you open the lid.
But when it comes to nighttime cooking, the Blaze Premium takes it up a notch. In addition to the control system that is illuminated with red LEDs, this bad boy also features strong halogen lights that will keep you grillin' well past sundown.
Warranty
The Blaze Premium grills have a lifetime warranty covering any defects in the manufacturing and workmanship on all stainless steel components. Electrical and ignition components are covered for one year.
The Weber Summit comes with a 10-year warranty that covers all items on the grill.
Built-In Gas Grills: Weber Summit S-460 Built-In vs Blaze Premium LTE Built-In
A built-in gas grill is often the best option when you are creating a permanent outdoor kitchen.
The top models from Blaze and Weber are very similar to the standalone grills compared above — these are just built-in versions from the same product lines. Thus, there is no need for an extensive comparison.
But there are a few notable differences.
Neither built-in grill includes a side burner and the Weber Summit comes complete with storage cabinets while the Blaze is just the grill head. The result is that the price of the Weber is a bit higher compared to the standalone version while the Blaze is more affordable.
Then again, if you appreciate that specialties like an integrated storage cabinet, rotisserie system, and smoker box are included, the Weber Summit S-460 might be a better option.
Weber Summit S-460 Built-In
Total Grilling Area: 580 sq.in.
Number of Main Burners: 6
Main Burner BTUs: 48,800
Additional Sear Burner
Rotisserie Kit & Infrared Burner
Smoker Box & Burner
Fuel: Propane/natural gas
---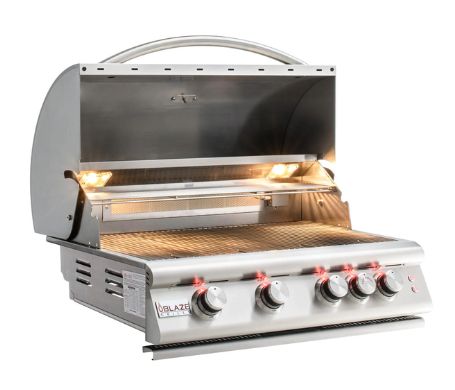 Blaze Premium LTE Built-In
Total Grilling Area: 715 sq.in.
Number of Main Burners: 4
Main Burner BTUs: 56,000
Infrared Rear Burner
Internal Halogen Lights
Lifetime warranty
Fuel: Propane/natural gas
Kamado Grills: Weber Summit E6 vs Blaze 20-Inch Kamado
Both Weber and Blaze make unique takes on the classic ceramic kamado grill. In Weber's case, they've created a steel grill that blends a Weber kettle grill with a Kamado Joe.
Blaze's kamado is even more interesting. Made entirely out of cast aluminum, its space-age shine would look great next to your Airstream trailer, in the cargo hold of your spaceship, or your back patio.
Our pick is the Weber Summit E6 — you just can't beat the design and value that this excellent kamado grill offers.
In addition to having a larger grilling surface, the Summit E6 is more affordable and easier to clean.
Yet, if you are ready to pay a bit more for the ultimate durability, then consider getting the Blaze Kamado instead.
Note that it costs about 40 percent more than the Weber, even without a stand or a cart — and this grill is quite heavy. So if you want to have wheels for moving it around, you'll have to pay extra for a cart.
If you are wondering just how durable the Blaze Kamado is, check out this video:
So as you can see, it's quite hard to break this thing even with guns and explosives!
But no matter which kamado you pick, both are less expensive and last longer than typical ceramic kamados, which can be cracked if you aren't careful.
Weber Summit E6
Total Grilling Area: 452 sq.in.
Material: Porcelain-Coated Steel
Weight: 117 lbs
Fuel: Charcoal
---
Blaze 20-Inch Kamado
Total Grilling Area: 400 sq.in.
Material: Cast Aluminum
Weight: 161 lbs
Fuel: Charcoal
Design and Build Quality
Both of these grills are extremely well-built and made to be long-term investments. With proper care, either will last you decades.
The Weber is double-walled, enameled US-made steel to ensure proper heat retention. On the other hand, the aluminum Blaze is less subject to corrosion and is easier to keep clean.
Blaze even eliminated the annoying gasket, a life-limited part on most kamados, by creating a cast-in tongue-and-groove seal on the lid. Even the exhaust cap and feet are cast into the grill for longevity.
To ensure the maximum resilience, the aluminum is 1-1/4-inches thick in some places!
The Weber includes a stand with three caster wheels. The grill also has a neat 12-inch insert that accepts various accessories, like a wok or pizza stone. A grilling center option also includes a multi-function rolling cart with a large side table.
The Blaze is available as a free-standing grill, on a deluxe stainless steel cart, or on a simple rolling cart with side shelves. There's even an optional rotisserie kit available!
Ease of Use and Maintenance
Kamado grills work by trapping heat better than any other grill. To keep cooking easy, proper airflow control is critical. Both manufacturers have incorporated excellent vents and dampers to make the task easy.
The Weber incorporates a unique "one-touch" cleaning system to remove ash. Rotate a handle, and the ash falls through the vents into a high-capacity ash catcher.
The Blaze has a removable ash pan that comes easily out of the bottom of the unit when you're done cooking.
Temperature Control and Heat Retention
The power of a kamado grill is entirely in its ability to retain heat. That's what makes these grills superior for charcoal grilling.
They can hold low temperatures for smoking recipes and get super-hot for searing, all while burning very little charcoal.
Cooking Space
The Weber is slightly larger with a 24-inch stainless steel cooking grate, edging in more cooking space in a smaller package. This is mostly owing to its uniquely squat design, whereas the Blaze has the classic egg-shaped kamado package.
The Blaze's 20-inch stainless grates feature hinged sides for access to the charcoal grate. The sturdy cooking grates are an impressive 12 millimeters thick. There's also an included 18-inch cook grate for use nearer the heat.
Warranty
One clue that can help determine the longevity of a grill is the offered warranty.
The Blaze kamado comes with a superior lifetime warranty, while the Weber is guaranteed for 10 or 5 years for most parts.
Blaze vs Weber – Final Thoughts
The main point of this whole comparison is to help you with finding the best option for your budget and needs.
Since both Blaze and Weber make some excellent grills, it's really up to your personal preference and what you really want. It doesn't make any sense to buy an expensive grill with features that you will never use!
But there are no bad options here — all grills included are well designed and fun to use.
So no matter which model you choose, you're sure to have some great barbecues coming up!
PS. If you are looking for more grill brand comparisons, check out this one with Nexgrill vs Weber.