If you already have a Blackstone gas griddle in the backyard, you might be wondering if it's safe to use it indoors in the wintertime. Or maybe you are planning on buying one and are looking for a model that you can use both indoors and outdoors.
Whichever the case, this guide will give you all the information you need about using Blackstone griddles and flat top grills indoors.
We will discuss why using a propane gas griddle in your kitchen or garage is generally not recommended. After that, I will introduce a few Blackstone models that you can use indoors without worries (hint: they don't use gas as fuel).
Why You Should Not Use a Blackstone Gas Griddle Indoors
Blackstone makes some of the best outdoor griddles available and is dominating the US market. Their products are durable, offer excellent cooking performance, and come in all shapes and sizes.
I'm sure we can all agree that cooking with a Blackstone on a nice summer day is just so easy and fun!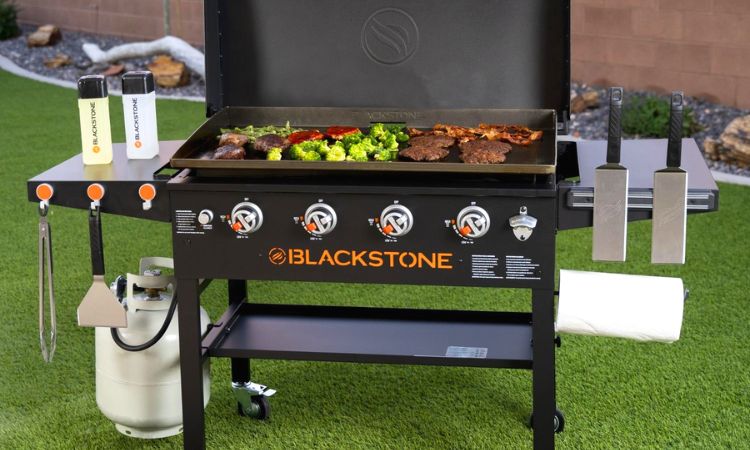 So why would you even want to use your Blackstone gas grill in your kitchen or garage? Isn't it much more enjoyable to cook out in the backyard?
Well, there are a few good reasons to bring your griddle indoors:
Bad weather: Grilling outdoors is not fun when it's cold and rainy.
Convenience: If you are cooking other foods in your kitchen, it's easier to have everything in the same place instead of running back and forth.
But a normal kitchen or garage is not suitable for using gas griddles simply because it's not safe, and there are three main reasons why.
1. Carbon Monoxide Poisoning
When you use a gas grill or griddle, a toxic gas called carbon monoxide (CO) is formed when the gas burns.
Carbon monoxide is odorless and lethal, so you certainly don't want any of it staying in your home. The gas can easily spread all over the house through air vents and small openings under the doors in the ceiling, so even kids who are nowhere near the kitchen might get exposed.
Accidental CO poisoning is not a joke. It's a real risk and something that should be taken seriously!
Every year more than 430 people in the US die because of it.
2. Fire Hazard
Your kitchen or garage might have surfaces and objects that are flammable. Usually, these types of spaces are simply not designed for using large gas-fueled appliances.
Every year there are over 10,000 fires in the US caused by grills and smokers, and thousands of people visit in ER to be treated for thermal burns related to grilling.
Using your Blackstone flat top grill outdoors on a stable and fire-safe platform with enough space around the grill is one of the best ways to avoid these accidents.
3. Smoke and Stain
There will always be some smoke when using a propane griddle, and you probably don't want to inhale too much of that or contaminate your home with the smell.
In addition, there are often splatters of hot oil that will make your kitchen messy.
What If You Still Want to Use Your Blackstone Gas Griddle Indoors?
Of course, it's not impossible to safely use gas grills and griddles indoors since many restaurants do it. There are places that even have a charcoal grill indoors — and they produce a lot more smoke!
Just to make things clear, I don't advise using a gas griddle indoors unless you are really sure what you're doing. It's better to stay safe than end up burning your house or getting CO poisoning.
This is why the Blackstone company also advises against using their gas griddles indoors.
In order to use your Blackstone griddle in the kitchen or garage, you need to take care of two things:
1. Ventilation
The best option for arranging proper ventilation is to have a ventilation hood above the griddle. It should be large and powerful so that all the smoke and carbon monoxide will be sucked in the hood and then funneled into a duct that blows them outside.
The problem here is that this kind of setup is very expensive and takes some effort to install appropriately. However, it will ensure that you and your family are safe from toxic gas and your house won't smell like a smoke pit.
You should also consider the size of the griddle — the bigger and more powerful your unit is, the more ventilation it needs.
2. Safe Cooking Area
Another important thing is to have a big enough area where you can fit the griddle safely.
This means having a large and even surface made with fire-safe material like stone or ceramic tiles. There should be no flammable objects or electric outlets near the griddle.
And remember that it can still get a bit messy, so the surfaces around the griddle might have to be cleaned after each cooking session.
So does this mean you have to give up on using any Blackstone griddle indoors?
No it doesn't!
Fortunately, there are E-Series griddles that you can use both indoors and outdoors.
Next, let's take a closer look at them.
The Best Option – Blackstone Electric Indoor Griddles
In addition to the outdoor flat top grills, Blackstone makes excellent electric griddles that can be used indoors.
Here are a few advantages of Blackstone electric griddles:
Can be used both indoors and outdoors
They have a glass hood that reduces mess and traps heat
Very easy to use and control the temperature
The griddle surface has a non-stick ceramic coating for easy cooking and clean-up
The grease cup can be washed in the dishwasher
The only thing you need to remember when using them outdoors is that electric griddles need — yes, you guessed right, electricity!
So you need to have an electric outlet near the cooking area or use an extension cord to get power. You should also remember to be careful not to use this type of griddle in rain or wet areas.
Here are the three E-Series models from Blackstone:
22-Inch Blackstone Electric Indoor Tabletop Griddle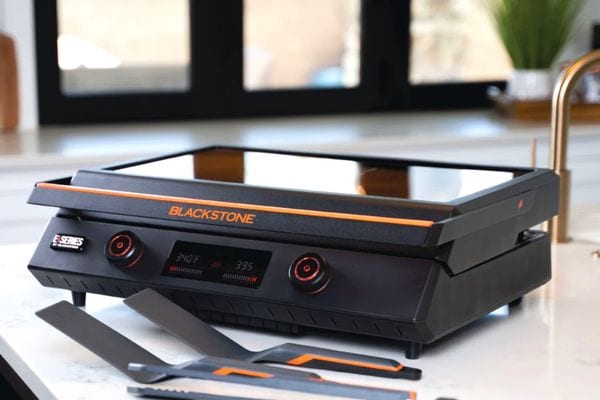 This lightweight and compact tabletop griddle is perfect for cooking breakfast, lunch, or dinner for the whole family.
The griddle has 1200 watts of power and a large 358-square-inch cooktop surface that can fit up to 12 hamburgers or 9 steaks at a time. Just stove it in the cupboard when you don't use it to free up space.
If you already have a Blackstone outdoor griddle, then this is an excellent addition!
22-Inch Blackstone Electric Indoor Griddle with Cart
This is basically the same griddle as above, but it comes with a cart that has four wheels and a side table for prep space.
It's a great option for cooking both indoors and in the backyard or terrace — just wheel it around to any suitable location with an electric outlet and start cooking!
17-Inch Blackstone Electric Indoor Tabletop Griddle
If you want a budget option that is really compact, then this 17-inch tabletop griddle might be a perfect choice. It still has a 234-square-inch griddle surface that can fit around 9 burgers or 4 steaks.
Final Thoughts – Using Blackstone Griddles in the Kitchen or Garage
Using any kind of gas-fueled griddle indoors is not advisable. However, if you have a suitable space with adequate ventilation, it's possible to do it without too many risks.
I recommend that you get a Blackstone electric griddle for indoor use and keep the larger propane grills outside.
Now, let's get those griddles hot and feed the family!
Read also: Camp Chef vs Blackstone Griddle Comparison