Traditional horizontal pellet grills are fabulously versatile in their ability to smoke or grill pretty much anything. But providing that option reduces the cooking area.
What if you could take the incredible utility of using wood pellets for fuel and couple it with the space and convenience of a big cabinet smoker?
Good news, my smoke-loving friends — you can!
Vertical pellet smokers are very much a thing, and they're just as wonderful as they sound on paper. Let's take look at the top models on the market and how to choose one that best suits your needs.
Our recommendations for the Best Vertical Pellet Smoker:
5 Best Vertical Pellet Smokers Reviewed
From dozens of options on the market, we chose the top 5 best vertical pellet smokers. Whether you are looking for a large premium smoker or a smaller budget option, you can find something suitable here.
Here are our top picks:
Best Overall: Pit Boss Sportsman PB7000SP Wood Pellet Smoker
The Pit Boss Sportsman has everything you can ask from a great vertical pellet smoker — plenty of cooking space, a wide temperature range, and a user-friendly digital control board.
One thing we really like about this smoker is the large glass window on the door that allows you to observe the food while it's cooking. Another great thing is that it comes fully loaded with accessories including 6 cooking racks, 6 meat hooks, 6 sausage hooks, and a meat temperature probe that works together with the digital control board.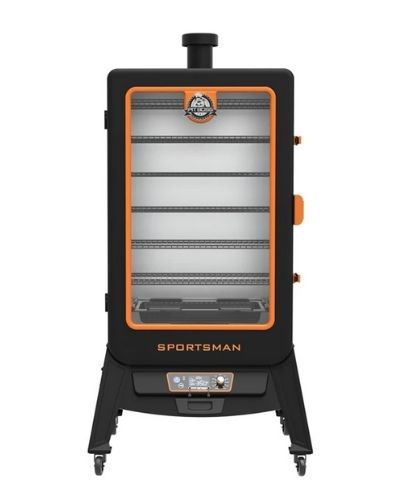 Specifications:
Cooking Area: 1815 sq.in (on 6 levels)
Hopper Capacity: 55 lbs
Temperature Range: 150 – 420°F
Weight: 142 lbs
Build Materials: Stainless steel
Warranty: 5 years
This smoker is built with heavy-gauge stainless steel and feels sturdy and durable. It has good heat retention and keeps the set temperature well, so you don't have to worry about checking on it all the time.
In addition, it has a pellet hopper with a huge 55 lbs capacity that will last for several long smoking sessions without refill.
The only thing you need to monitor a bit is the water pan — depending on the set temperature and smoking time you might have to refill it once or twice during a session.
The Sportsman is a big enough unit for any backyard smoker. If you put all 6 racks in, it has an impressive 1815 square inches of cooking area. It also gets a little hotter than most smokers, making it suitable for those roasting recipes. When cranked all the way up, it can maintain 420 degrees Fahrenheit in the cabinet.
This is our top recommendation for anyone who is looking for an excellent vertical pellet smoker for carefree backyard smoking sessions.
If you are looking for more options from this brand, check out our guide with the best Pit Boss grills and smokers.
What We Love
Easy to use
Large cooking area that can be customized
Built with durable stainless steel
Wide temperature range
Huge hopper capacity
Includes 6 meat hooks and 6 sausage hooks
Comes with a meat probe
What We Don't
The water pan could be bigger
The Runner Up: Smoke Daddy Inc. Pellet Pro 2300 Vertical Smoker with Double-Wall Cabinet
Want to invest a bit more and get a pro-level smoker?
Then you should definitely consider the Pellet Pro 2300. Standing 54 inches tall and weighing over 200 pounds, it's built to last and is perfect for those really big or long smokes.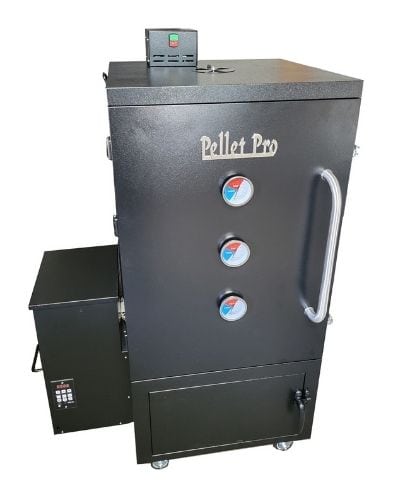 Specifications:
Cooking Area: 1680 sq.in (on 4 levels)
Hopper Capacity: 35 lbs
Temperature Range: 160 – 450°F
Weight: 200 lbs
Build Materials: Stainless steel and steel
Warranty: 7 years
This smoker has 4 large wire shelves that are removable and adjustable, so you can arrange your food however you please for a total of ten cubic feet of cooking space. The shelves measure 21 by 20 inches and are made of stainless steel.
The Pellet Pro is heavily built for excellent heat retention. The 18-gauge double-wall insulated steel body can maintain temperatures within 5 to 10 degrees Fahrenheit. In addition, the secure door has 3 thermometers for perfect temperature monitoring in each zone. A simple electric PID controller controls the pellet feeder.
The Pellet Pro includes a few other nice-to-have items, like the built-in 110-volt outlet and two USB power outlets. It's the perfect place to mount accessories like outdoor lights or other cooking equipment.
What We Love
Excellent overall quality and cooking performance
Heats up to 450°F
Maintains the set temperature very well
Built with durable 18-gauge steel
Excellent heat retention
Includes a protective cover
7-year warranty
What We Don't
A bit pricey
Heavy to lift and move around
Best High-End Vertical Pellet Smoker: Fast Eddy's by Cookshack FEC100 Pellet Smoker Oven
If you're looking for the Cadillac of vertical smokers, Fast Eddys happily obliges. Made of superior insulation materials, the cabinet can maintain very precise internal temperatures while being cool to the touch on the outside.
The whole unit is designed for ultimate cooking performance and great user experience. You don't even have to crouch down to attend the control panel since the whole unit is elevated on a sturdy platform with 4 caster wheels.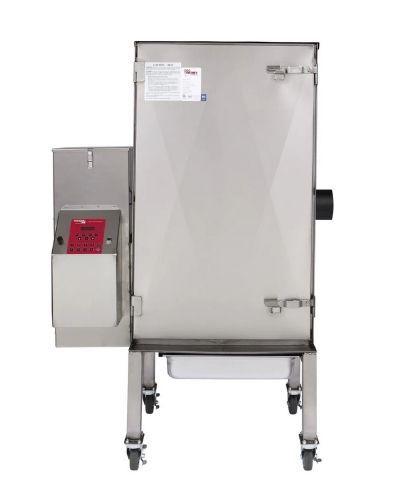 Specifications:
Cooking Area: 1564 sq.in (on 4 levels)
Hopper Capacity: 20 lbs
Temperature Range: 130 – 400°F
Weight: 416 lbs
Build Materials: Stainless steel
Warranty: 2 years
One great feature is Cookshack's IQ5 technology, which combines temperature and time control in one easy-to-use controller. You can set the smoker for any temperature from 130 to 400 degrees Fahrenheit, making this unit one of the best choices for low-temperature smoking recipes.
In addition, the controller can handle two or three-stage cooking modes and has eight programmable presets.
The excellent insulation of the FEC100 means that its 20-pound hopper will last as long as 24 hours at 200 degrees cooking temperature. It has 1,564 square inches of cooking space divided upon 23 by 17-inch shelves. All told, this large unit is 64 inches tall and weighs more than 416 pounds.
The FEC100 is made in the USA, which ensures high quality but also adds to the price tag. However, if you take good care of it, this smoker will last you a lifetime.
What We Love
Superior heat insulation and temp control
Very sturdy and durable
Smoke up to 100 lbs of food at a time
The controller has great customizing options
Made in the USA
Includes 40 lbs of wood pellets, cookbook, and a Cookshack spice kit
Great Value for Money: Camp Chef XXL WiFi Vertical Pellet Smoker
As the name indicates, the Camp Chef vertical pellet smoker is large and makes things super convenient by offering WiFi connectivity.
This smoker can hold a lot of meat and keeps the set temperature very well. And despite all of these perks, it's still very reasonably priced.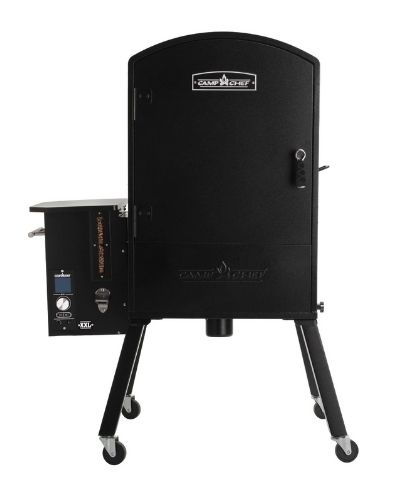 Specifications:
Cooking Area: 2408 sq.in (on 8 levels)
Hopper Capacity: 18 lbs
Temperature Range: 150 – 350°F
Weight: 145 lbs
Build Materials: Powder coated steel
Warranty: 3 years
With a temperature range of 150 to 350 degrees and as much as 2,408 square inches of cooking space, the Camp Chef makes a great vertical smoker.
The cooking space inside the unit is also extremely versatile. There are 4 primary meat cooking racks included. They can be removed or arranged in any order. You also get 3 jerky racks and 12 hooks for hanging sausages or other items. Each rack measures 21.5 by 14 inches. The hopper holds 18 pounds of pellets.
The Camp Chef has more modern tech than most other models, with two Wi-Fi-enabled temperature probes so that you can monitor and control it remotely.
In total, the unit is 55 inches tall and weighs 145 pounds. It's made of powder-coated steel for long life. Altogether, it has a maximum of 2,408 square inches of cooking space on 8 levels.
What We Love
Excellent features for affordable price
Large cooking capacity
Easy to clean
Set and monitor with a phone app
Comes with 4 meat racks, 3 jerky racks, and a sausage rack with 12 hooks
What We Don't
The heat insulation could be better
Not the best option if you want strong smoke flavor
Budget Pick: Pit Boss 77350 Copperhead 3 Series Vertical Pellet Smoker
If you'd like to try a vertical pellet smoker but don't want to break the bank, check out this compact unit from Pit Boss.
With 4 porcelain-coated shelves and a 35-pound hopper, this Copperhead 3 Series smoker is more than just a budget pick. It offers a serious smoker at a fair price, with plenty of capability to cook pretty much anything you desire.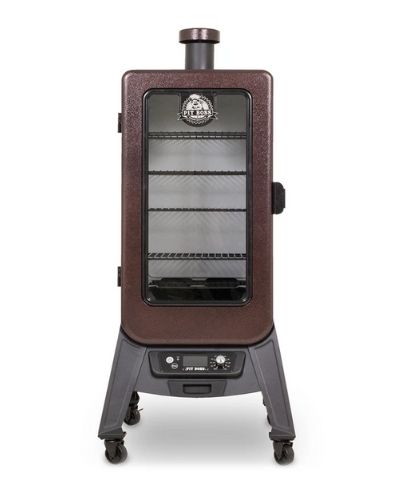 Specifications:
Cooking Area: 721 sq.in (on 4 levels)
Hopper Capacity: 35 lbs
Temperature Range: 150 – 450°F
Weight: 97 lbs
Build Materials: Painted steel, stainless steel and porcelain-coated steel
Warranty: 5 years
Despite being affordable, this smoker is not cheaply built. It has sturdy double-walled steel construction and a well-designed digital control panel with 10 temperature presets.
And like the more expensive Sportsman unit reviewed earlier, the viewing window on the door lets you keep an eye on foods while they are cooking.
This smoker can maintain temperatures between 150 and 450 degrees, meaning it's also one of the hottest pellet smokers on the market if you're eyeing roasting recipes. This is partly due to its compact size. But it still holds 721 square inches of cooking area divided up among 4 shelves.
The compact size also means that you can place this smoker in the corner of your deck or backyard without taking up too much space.
What We Love
Great entry-level smoker
Easy to assemble and use
Versatile unit with enough cooking space
Large hopper capacity for long smokes
Durable built and 5-year warranty
What We Don't
You have to buy a meat probe separately
No meat or sausage hooks included
Vertical Pellet Smokers Explained
How Do Vertical Pellet Smokers Work?
If you take all of the best appliances available and mash them together, then you'd likely get something like a vertical pellet smoker.
Let me explain this further.
First off, there's no doubt that a cabinet smoker is one of the best ways to smoke a lot of items at once. It's not great for grilling, true. But if your goal is smoking all the things, then a cabinet is hard to beat.
There are adjustable wire shelves for large or small foods and hooks to hang objects. Messes are easily captured in a bottom drip pan. Plus, they have a smaller footprint than your typical backyard grill, so they're easier to store.
What about making the fire and smoke?
Traditional cabinet smokers usually have a two-pronged approach — something to make heat and something to make smoke. Heat is regulated by an electric element or propane burner. Wood chips or chunks provide smoke in a separate, smaller tray.
Pellets are a one-and-done solution that makes more smoke than chips or chunks.
First, pick the hardwood pellets you want to use, and load up the smoker's hopper. An electric feeder inputs just the right amount of pellets into the burner to maintain a steady temperature. And as the pellets burn, they release tons of flavorful smoke.
Vertical Pellet Smokers vs Pellet Grills
If you are having a hard time deciding between buying a vertical smoker and a pellet grill, consider these differences:
Flavor: Vertical pellet smokers are better at cooking low and slow BBQ dishes — the vertical design enables your meats to have a rich and smoky flavor that you can't easily produce with a pellet grill.
Versatility: Pellet grills have a wider temperature range and in addition to smoking, you can also roast and grill with them. Some units even have a direct flame-searing feature.
Cooking Space: Vertical smokers allow you to customize the rack setup according to your needs so you can easily fit in tall items and smoke more meat at a time.
Space Requirement: Pellet grills usually take up a lot more space compared to vertical pellet smokers. In addition, vertical smokers are lighter and easier to move around.
This video compares pellet grills vs pellet smokers to help you choose:
Types of Vertical Pellet Smokers
There are a few basic variations on the vertical pellet smoker design that you'll find. All of them work very similarly and offer pretty much the same benefits.
Standard: Like standard cabinet smokers, a pellet-fired unit keeps its burner under the food to be cooked.
Offset: An offset smoker has the pellet hopper and burner mounted to the side. As such, it's very easy to add more pellets during long recipes without interrupting the cooking process or affecting the cabinet temperature. The heat and smoke enter from the side of the cooker instead of from directly under the food.
Reverse Flow: Reverse flow units are designed to use the hot moving air to circulate better and cook your food. In a standard cabinet smoker, the air rises from the bottom and exits through the top, passing over the food on its way out. In a reverse-flow smoker, the air rises along the sides of the smoker box and sinks back down before exiting through the chimney. This provides more air movement, more smoke contact with the food, and more even heating inside the cabinet.
What Can You Cook on a Vertical Pellet Smoker?
If smoking is your game, you'll love a vertical cabinet pellet smoker. Most have customizable shelves and racks that you can organize to hold pretty much anything.
Large and bulky items like pork shoulders or turkeys are no problem. Long items like full rib racks can be hung if desired.
Vertical pellet smokers are dedicated smokers, though. The cabinets can usually maintain temperatures from around 150 to 400 degrees Fahrenheit, but the exact specifications differ depending on the model.
If you want to have a unit that can reach higher temperatures, check out our comparison of Traeger vs Green Mountain pellet grills.
Advantages of Vertical Pellet Smokers
The biggest reason to investigate vertical smokers is that you're a chef who likes smoking in a big way. Larger versions of these cabinets can hold upwards of 1,000 square inches of food and have 20-pound or more hopper capacities.
Compare this with typical backyard pellet grills, which have cooking areas of around 600 square inches and eight-pound hoppers, for example.
In addition to holding a lot of food, cabinets are superior choices for holding oversized items. Things like enormous pork shoulders or entire turkeys might not fit under the lower lids of a standard pellet grill. Even if you do get them in there, the size of the dish restricts airflow for the smoking process.
On the other hand, most vertical smokers can handle big items with ease.
Compared to other cabinet smokers, the pellet smoker offers a few other advantages. For one, by combining the fuel with the smoke source, the pellets provide hours of even heating and an outstanding quality of smoke.
Also, since the auger feeds just the right amount of pellets into the fire to keep the temperature steady, they are very good at holding whatever temperature you set them to.
If you want a unit that can handle both grilling and smoking, check out our guide with the best pellet grills under 500 dollars.
Buying Guide for Best Vertical Pellet Smoker
Here are the most important things to consider before buying a pellet smoker:
Temperature Control and Cooking Performance
All quality pellet smokers have excellent temperature regulation.
They are electronically controlled, and a motorized feeder and ignitor tend to the cooker's fire. That means that the smoker can adjust the flame as needed, making the cooking experience more like roasting in a conventional home oven equipped with a thermostat.
Different designs of vertical smokers have different temperature regimes. In general, most can cook from a low-smoking setting of around 150 degrees Fahrenheit to a higher setting appropriate for roasting. The upper limit of these smokers is usually around 400 to 450 degrees Fahrenheit.
If you want to get into higher temperatures good for searing, consider getting a pellet grill with a sear box.
Cooking Space
You'll want to analyze the sort of dishes you want to smoke and see what will fit in your smoker and what will not.
The smokers vary depending on the number and size of racks. Some racks are mounted in fixed positions that cannot be moved, while others can be arranged in any order. Some also have hanging hooks for longer items.
Cooking space is measured in square inches, but remember that it's truly a factor in the rack's dimensions and how much space there is above it. A smoker can advertise tons of internal space with many racks, but if those racks are fixed in place with little space between each one, then not much can fit on each rack!
Ease of Use
Pellet smokers are extremely easy to use. The technology is based on electronic control, so there is little for the chef to tinker with. Plug the unit into power, load the hopper with your favorite wood pellets, and set the temperature you want to smoke.
One way these smokers differ is by the size of the pellet hopper. So if you're looking to cook overnight recipes, consider getting the largest hopper you can find. Most large cabinets can run 24 hours or more without a refill.
Materials and Durability
The primary difference you'll find among the smokers on our list is their build quality. The inexpensive models have thin walls and more unfinished edges. The upper-end units are built like tanks — big, sturdy, and heavy. The extra mass helps them retain heat while burning fewer pellets, which is one plus.
Any of these smokers can and will last decades if properly maintained. Tend to any rust, and keep them protected and out of the elements when not in use.
Hopper Size and Reliability
Again, hopper size is one of the biggest differentiators. Pick a smoker with enough capacity to meet your needs for any recipe. Pellet smokers are usually very reliable and keep the set temperature with only small fluctuations.
Enjoy your barbecue!
PS. Take a look at our comparison of Traeger vs Pit Boss Pellet Grills to find more interesting options for your backyard.