Tabletop gas grills are great for camping, tailgating, and roadtrips. In addition to being affordable and easy to use, they are also often lightweight and very portable.
But choosing a gas grill that will be used on a table versus as a standalone unit requires a slightly different set of criteria.
Take a peek at our buying guide below for specific tips and product reviews, and find the right tabletop gas grill for your needs.
Our recommendations for Best Tabletop Gas Grill:
What's Nice About Tabletop Gas Grills?
Many people don't realize that they could easily take their grilling game on the road if they had the right equipment.
Why limit yourself to being in your own backyard when you could go to the lake, the park, or the ball game?
Think about these benefits:
They're Portable: Don't miss an opportunity to make and eat a nice hot meal while you're on the move. Tabletop grills are great for road tripping, car camping, or sitting on a tailgate before the big game.
They're Lightweight: You might imagine yourself lugging this enormous, cumbersome unit around, but that couldn't be further from the truth. The best tabletop gas grills are fairly easy to carry and maneuver into your vehicle. They are made to be placed on the ground, a picnic table, or any other surface that is sturdy and safe.
They're Compact: These grills are totally storable, whether it's in your garage, truck, or home. Sometimes it's difficult to find a location to tarp up and store your big grill over the winter months. However, you will certainly find a spot for this kind of handy little piece of equipment.
How to Choose the Right Tabletop Grill
Here are some questions to consider before buying a tabletop grill:
What Is the Grill Made of, and Is It Durable?
You want your grill to be built with materials that will last so that you won't have to buy a replacement after a couple of seasons. Think about the material itself, the grill cover, and how effective it is.
In addition, pay attention to how well the metal has been welded together.
How Convenient is The Grill to Use?
Look for features like push-button starters, easy-to-change gas tanks, and temperature gauges.
Also, check how easy it is to clean the grill, both inside and out. Remember, you will be transporting and storing it and will need it to be reasonably spiffy.
Is It Easy to Carry?
Determine what the weight of the grill is and think if it's something you will be able to manage on your outings.
Does It Have Enough Cooking Space?
Let's not kid ourselves, sometimes we are going to need to grill a ton of food. Sometimes, not so much.
When looking at grill sizes, think if it can handle enough food so it's not crammed too tightly on the grill.
6 Best Tabletop Propane Gas Grills Reviewed
We have done the research and picked 6 excellent tabletop gas grills to be reviewed here.
Whether you are looking for a grill with plenty of cooking space, a budget option, or one with a griddle surface, you can find something suitable here.
Best Overall: Weber Q2200 Liquid Propane Grill
Weber grills are known for their durability and user-friendly design. The Q2200 has 280 square inches of cooking space, so you can easily fit 8 burgers on the grill. The sturdy cooking grates are made out of porcelain-enameled cast iron and you easily clean them with a metal brush.
The grill is also relatively lightweight so you can easily bring it on your next road trip, camping adventure, or tailgating experience and don't have to break your back in order to set it up.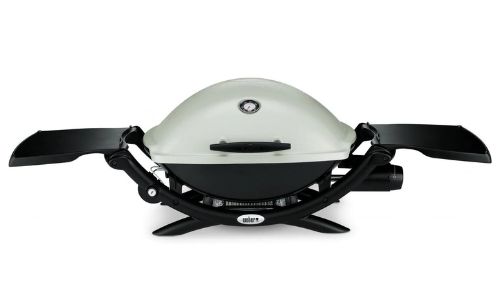 Specifications:
Fuel Type: Propane gas
Number of Burners: 1
Total BTU: 12,000
Heat Flux: 43
Grilling Area (sq.in): 280
Weight: 44 lbs
Build Materials: Aluminum and porcelain-coated cast iron (grates)
Dimensions: 51.4″ x 19.5″ x 15.5″ (L x W x H)
Warranty: 5 years or 2 years (depending on part)
The Q2200 puts out 12,000 BTUs of heat, which is enough to bring the temperature up to 450 degrees in less than 10 minutes. The burner is made out of stainless steel and provides even heat across the cooking surface.
The grill comes equipped with two side tables that fold out and are super convenient for food prep and the placement of hot food. The grill has a light beige lid made of cast aluminum that has a built-in thermometer gauge. The main body is charcoal gray.
If you don't want to use a table or other platform, just get Weber's portable cart so you can always use the grill without hunching down. The cart is lightweight and can be easily folded into a small space for storage and transportation.
The Q2200 can be easily assembled with a Phillips screwdriver. Its dimensions with the lid closed and the tables out are x 51.4″L x 19.5″D x 15.5″H.
One thing that we really like about this grill is its versatility. The lid is tall enough for small roasts or even a whole chicken. If you want to go camping and make some bacon and eggs for breakfast, just buy a Q2000-series compatible griddle, and you're all set.
The only drawback is that the grill has only one burner. This makes creating heat zones and cooking with indirect heat very difficult.
Weber's stellar reputation in the world of grills is for a good reason. The Q2200 offers durability and portability in one package without failing to deliver a solid cooking experience.
What We Love
Easy to assemble

Convenient to use

Enough cooking space

Provides even heat

Durable construction

Versatile
The Runner Up: Giantex Stainless Steel Tabletop Gas Grill
This Giantex tabletop gas grill has an incredibly sleek look due to its shiny, vibrant silver color. It offers 20,000 BTUs of cooking power spread over 2 stainless steel burners with drip covers.
The grill has squat little legs that keep the heat from directly hitting the table it's resting on.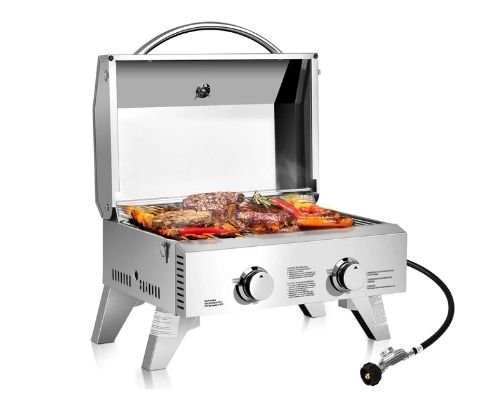 Specifications:
Fuel Type: Propane gas
Number of Burners: 2
Total BTU: 20,000
Heat Flux: 75
Grilling Area (sq.in): 266.5
Weight: 26 lbs
Build Materials: 430 Stainless Steel
Dimensions: 22″ x 18″ x 15″ (L x W x H)
Warranty: 1 year
The Giantex features easy-to-use push-button technology that starts the grill with one motion. The 266.5 square inch cooking area is big enough to cook for a small family and the grill reaches high temperatures quickly.
This affordable grill is perfect for tailgating, picnics, and camping trips. It's lightweight and comes with a locking hood for transportation and storing ease.
The grill is very easy to assemble and comes with clear and thorough instructions. Compared to the Weber unit, this one is more compact. It doesn't have side tables either. The dimensions are: 22″W x 18″D x 15″H.
Despite its high heating power, you can use the grill for about 8 grilling sessions with just a single 1lb propane cylinder. However, it might take a while to learn how to tame this beast. Controlling the heat is not that easy, and you may end up burning your food if you're not careful.
This stylish and durable grill from Giantex is definitely worth its price. If you're looking for a compact and lightweight grill with plenty of heating power, this might be the perfect option.
What We Love
Great value for money

Plenty of heating power

Very easy to assemble

Lightweight

Easy to set up

2 burners for creating heat zones

Made of durable stainless steel
What We Don't
The temperature control is not very accurate
Budget Pick: Cuisinart CGG-180T Petit Gourmet
Cuisinart always offers quality products at a reasonable price, and this grill is no exception.
The Petit Gourmet has a lovely vivid red color and retractable legs that keep it safely off the ground or table. The lid locks down for high heat functionality and easy storage capabilities.
Specifications:
Fuel Type: Propane gas
Number of Burners: 1
Total BTU: 5,500
Heat Flux: 40
Grilling Area (sq.in): 145
Weight: 13.5 lbs
Build Materials: Aluminum, stainless steel, and porcelain-coated cast iron (grates)
Dimensions: 16.5″ x 16″ x 13″ (L x W x H)
Warranty: 3 years
The grill pumps out 5,500 BTUs of heating energy on a 145 square inch grilling area. It has a porcelain-enameled grate over a sturdy stainless steel burner.
So this is a very affordable, super convenient option, that is so light you can just grab it with one hand. However, it doesn't have as much heating power and grilling space as some of the other products reviewed here. With this grill, you might not get the sear you are looking for with some foods.
When you don't want to spend a lot, and just need a small and convenient tabletop grill the Petit Gourmet fits the bill.
What We Love
Very affordable
Extremely portable
Lightweight
Easy to use
What We Don't
Small cooking area
Only one burner
Best Tabletop Griddle: Blackstone 22 Inch Tabletop Propane Gas Griddle
If you're looking for a quality tabletop gas griddle then check out this one. Here is a 2 burner gas griddle from Blackstone that features a large 339 square inch griddle area instead of the traditional grates on a grill.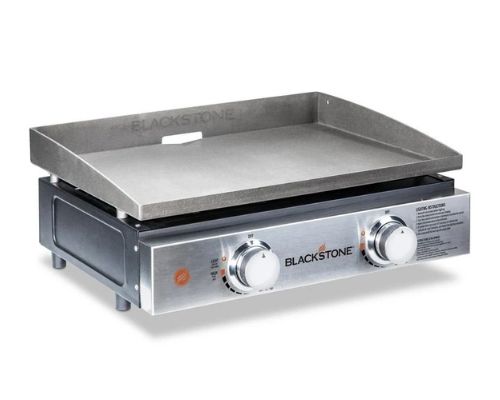 Specifications:
Fuel Type: Propane gas
Number of Burners: 2
Total BTU: 24,000
Heat Flux: 71
Grilling Area (sq.in): 339
Weight: 32 lbs
Build Materials: Powder-coated steel, stainless steel, and carbon steel
Dimensions: 22.5″ x 19″ x 9″ (L x W x H)
Warranty: 1 year
The griddle top is great for keeping the juices in the cooking area and enables you to prepare some flavorful meat and veggies as well as pancakes and omelets.
However, you may miss out on that particular charred flavor and those scorch marks that a grill top provides.
With 2 burners, you can create a warming area for food that is ready to eat but not ready to serve. The grill comes with a convenient and emptiable grease trap that is concealed in the back.
Buying this grill is not gonna break your bank. As you might expect, the low price comes with some downsides. Some users have reported quality issues such as warped metal parts. Also, the grill doesn't work very well if it's windy.
This compact gas griddle weighs about 32 pounds so you can easily take it along for road trips or camping adventures. It's our number one recommendation if you're looking for a tabletop griddle.
What We Love
Large cooking surface

2 burners for creating heat zones

Good grease management system

Very portable
What We Don't
Doesn't work well if it's windy
Best Infrared Tabletop Grill: Char-Broil Grill2Go X200
There aren't too many tabletop grills with infrared technology, but here is one from Char-Broil. It has 200 square inches of grilling space and one 9500 BTU infrared burner.
This grill was made for travel! It is extremely sturdy and comes equipped with lid locks for ease of clean-up and storage. Foldable legs make it safe to place on the ground and on wooden tables.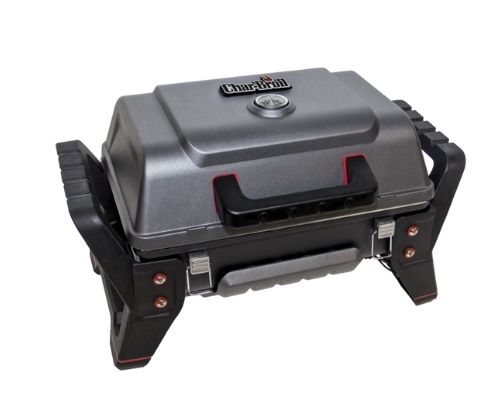 Specifications:
Fuel Type: Propane gas
Number of Main Burners: 1
Total BTU: 9,500
Heat Flux: 48
Grilling Area (sq.in): 200
Weight: 20 lbs
Build Materials: Steel and cast aluminum
Dimensions: 23.7″ x 15.0″ x 13.6″ (L x W x H)
Warranty: 1 year
The TRU-infrared cooking system means there will be no big flare-up when you start it or during the grilling. The heat is also spread evenly across the cooking surface so there are no hot or cool spots.
The grill is durable and well built but weighs only 20 pounds. It has a firebox made of cast aluminum and the latches and temperature gauge are made of stainless steel.
This grill has one weak spot though, the regulator. Quite a few users are complaining about issues with controlling the heat. Some grills come with a faulty regulator that doesn't allow you to lower the temperature of the grill.
Using Grill2Go X200 is very convenient and you can connect it to a 1 lb propane cylinder. This grill has a more industrial look and feel, which makes it a unique and stylish product.
What We Love
Durable built
Affordable
Gives a nice sear
Easy to take along for a trip

No flare-ups
What We Don't
The included regulator could be better
Best Option With Stove: Coleman 2 Burner Grill Stove Combo
Now we are almost finished with reviewing the best tabletop gas grills available on the market. But there is one more product that we just couldn't leave out.
Many of us might want to be able to make a cup of coffee or boil some rice while grilling some food at the same time. Here is a 2 burner grill and stove that is a perfect solution for that!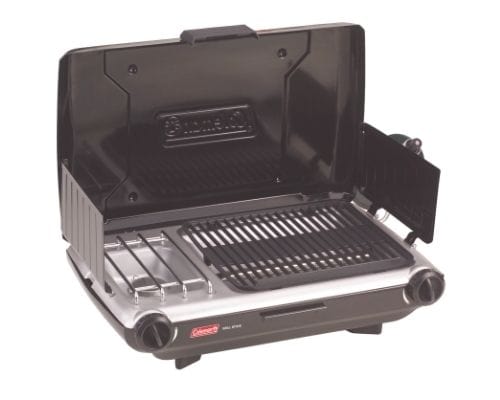 Specifications:
Fuel Type: Propane gas
Number of Main Burners: 2
Total BTU: 20,000
Grilling Area (sq.in): 130
Weight: 7.5 lbs
Build Materials: Painted steel and stainless steel
Dimensions: 15.75″ x 10.0″ x 6.5″ (L x W x H)
Warranty: 1 year
So this guy is a combo grill/stove where on the right side is a small grill area for meat and veggies, and on the left is the grate and burner area suitable for pots and pans. The grilling area is only 130 square inches but you can still fit 4 burgers or 2 steaks on it.
This unit also comes with small splatter wings which are panels you can fold out to prevent grease or soup droplets all over the table. How convenient!
It also has PerfectFlow technology that provides consistent flame performance even with the wind.
There is one major problem that some users encountered with this grill. The metal of the grilling grid seems to be of poor quality and can warp or even start melting. It seems like the grill has too much heating power and the grid just can't handle it. So better not to crank the heat up to full power when using it.
This Coleman grill is that classic camping grill that you grew up with, and the Coleman name basically screams Camping Pro! However, instead of the traditional Coleman green, this grill has a sleeker, more modern color scheme of black and silver.
What We Love
Versatile

Cheap

Very small and portable
What We Don't
Small

grilling area

Some users have issues with the grill grate melting
Tabletop Gas Grill FAQ
Can I use a tabletop gas grill indoors?
It is not recommended to use any gas grill indoors. When propane gas burns it produces carbon monoxide, which is a poisonous gas
Only use a gas grill outdoors or in areas that are well ventilated so that the carbon monoxide will not build up.
What is the best tabletop gas grill for camping?
Our recommendation for the best tabletop gas grill for camping is the Weber Q2200. It's compact enough to bring along and offers an excellent cooking performance. In addition, you can buy a cart for it so you can use it anywhere without crouching down.
If you need something smaller and lighter you can also check out the Cuisinart CGG-180T Petit Gourmet.
Should I choose charcoal or gas tabletop grill?
Tabletop gas grills are very easy and convenient to use. Just place the grill on an even surface, make sure the propane cylinder is connected properly, and press the ignition button. After about 5 to 10 minutes you are ready to grill.
Charcoal tabletop grills take a bit more effort since you need to light the charcoal and wait for it to burn into embers before cooking your food. The good thing is that they are often very cheap.
Ultimately, it's a matter of personal preference.
Best Tabletop Gas Grill Reviews – Final Thoughts
Ok, so now it's time to get that grill and start the party. But which one to choose?
The Weber Q2200 takes the cake! We ranked it high in all of our categories of consideration. Not only does this grill have a really sleek and simple outward appearance, it also has a durable construction that will last year after year.
The large surface area of this model means you'll be able to cook all of your favorites within a few rotations, and the extendable wings/tables are the epitome of convenience. The good part is that those tables can fold back in so you can fit it into your car easily and store it conveniently when you get home.
If you want to take a look at small standalone gas grills that don't need a separate table, here is a guide with reviews of the top models.