The main idea behind getting a small gas grill is, of course, to save space. Another common reason is to have a grill that you can easily pack in your car and take along to road trips, camping, and events.
Even with a small gas grill, you can still cook your food to the right degree and produce amazingly tasty dishes.
But looking for a grill that fits your bill is a task that takes some effort. There are so many different brands and models on the market, and not all are top-quality.
We have created this guide to help you with choosing the best grill for your needs.
First, let's look at what things you should consider before buying the grill. Then we will give you our top picks including several different types of models. Some are more portable, while others offer a larger grilling surface without taking too much space.
Our recommendations for Best Small Gas Grill:
Buyer's Guide: Small Gas Grill for Balcony or Patio
Grilling Area and Heat Output
Even when you are looking for a small gas grill, it doesn't mean that the cooking area can't be big enough to cook for the whole family or host small barbecue parties. The best models are compact but still offer enough grilling space for your needs.
The amount of heating power your grill can produce is one of its most important attributes. Having enough blast on the burners will ensure that your grill gets hot enough and doesn't take too long to heat up. Even with a small gas grill, you would want to reach a temperature of at least 400 °F and get a proper sear for your steaks.
Number of Burners
Most small grills have 2 burners, though one large burner is also common. Having multiple burners allows you to create several heat zones, which makes it easier to cook different foods at the same time.
Propane Hookup
How the propane attaches to your grill can make a difference in safety as well as flexibility. Look for a grill that has a well-made gas line that doesn't leak or break easily. It's also good to have some flexibility and be able to use different sizes of propane tanks with your grill.
Easy to Clean
Cleaning up your grill should be easy and fast. Cleaning the grill after each use will extend its life. Cooking food on a clean grill is also better for health, as there are not burnt leftovers that contain carcinogens.
You should also perform a thorough clean up at least a few times per year. If the grill is not easy to disassemble and clean, then it will be a frustrating and unpleasant task. Get a grill that is designed for easy cleaning and maintenance.
5 Best Small Gas Grills Reviewed
Next, let's take a look at our list of top picks for a small gas grill.
Here is our carefully selected list of recommended products:
NOTE: If you think that you might need a bigger grill, we have a comprehensive guide that also includes bigger gas grills.
Best Overall: Weber Spirit II E-210 2-Burner Propane Gas Grill
Weber is known for their high-quality grills that are built to last. The new upgraded Spirit II series offers several improvements over the older Spirit models that were already great.
E-210 is the smallest of the series, but still offers 450 square inches of total cooking space. The main cooking surface (360 sq.in.) is big enough to grill more than a dozen hamburger patties at the same time.
Specifications:
Fuel Type: Propane gas
Number of Burners: 2
Total BTU: 26,500
Heat Flux: 74
Primary Grilling Area (sq.in): 360
Warming Rack Area (sq.in): 90
Weight: 103 lbs
Build Materials: Stainless steel, porcelain-coated steel, and porcelain-coated cast iron (grates)
Dimensions: 48″ x 26″ x 57″ (L x W x H)
Warranty: 10, 5, or 2 years (depending on part)
The infinity ignition, coming as a part of the GS4 grilling system, ensures the grill lights up promptly. This grill has 2 burners that produce an even flame and enough heat to make the grill hot in no time.
The GS4 also includes flavorizer bars that prevent flare-ups and vaporize the dripping juices adding some smoky flavor to your food. In addition, the improved grease management system makes sure that the excess of melted blubber goes to the disposable drip tray.
There are three different color options available black, ivory, and mocha. All of them look great. For fuel, you also have an option to choose a model that uses natural gas instead of propane.
The E-210 grill sits on a sturdy cart that has wheels on the other side to help you move it around. It also has six hooks for hanging your grilling tools.
Using this grill is a pleasure, as everything works well and you can focus on cooking great food. Weber has done it again! This is our number one recommendation for a small gas grill.
What We Love
Easy to use and clean
Sturdy and durable frame
Even heat distribution
Excellent value for money
Big enough grilling surface
Has nice features like tool hooks and a fuel gauge
Weber has a great warranty and customer service
Great Portable Option: Coleman RoadTrip 285 Stand-Up Propane Grill
Looking for something a bit smaller and more portable? Thanks to its design, you can pack the Coleman RoadTrip 285 easily and take it along with you. Once you get to your destination the setup is fast and convenient. It also includes a stand, so there is no need for a separate table.
Specifications:
Fuel Type: Propane gas
Number of Burners: 3
Total BTU: 20,000
Heat Flux: 70
Grilling Area (sq.in): 285
Weight: 47 lbs
Build Materials: Aluminum and porcelain-coated cast iron (grates)
Dimensions: 30.25″ x 19.19″ x 16.13″ (L x W x H)
Warranty: 3 years
This grill has 3 burners that can be controlled independently. They can be used to create heat zones and provide sufficient heating power. The 285 square inch grilling surface is big enough for most occasions.
What if you go camping and realize that you forgot to bring the matches? Not a problem. The push-button ignition ensures that you won't need them to start grilling. This grill also has a handy built-in thermometer that helps you with controlling the cooking temperature.
So the portability is the main advantage of this model. But how easy is it to actually fold it up and carry it around? Let's take a closer look.
The RoadTrip 285 folds up to a suitcase-sized package for easy transport. And you don't even have to carry it. Once you fold up the stand you can pull the whole thing behind you with the handle and wheels. It's effortless to take it to your kid's little league game or pull it out of winter storage and move it to your patio.
One thing that really adds to the versatility of this grill is that the grill grates can be changed to griddles or stove grates. So when you go camping, you can cook bacon and eggs for breakfast without an additional griddle unit. You can also boil your rice or potatoes with stove grates. However, these accessories are sold separately.
I think this is a great portable grill, but it has a few minor setbacks. Some parts of the grill, mainly the side handles, seem to be a bit flimsy. Also, the latch that is supposed to keep the lid shut during the transport doesn't always hold.
If you are looking for a small portable grill that is versatile and has a large enough cooking space, this my recommendation. The RoadTrip 285 comes in 5 different colors so you can choose the one that best fits your personality.
What We Love
Easy to set up
Portable
Affordable
Sturdy enough
Adequate cooking space
What We Don't
Some parts are not very durable
The latch doesn't always hold the lid on transport
Best Small Tabletop Gas Grill: Weber Q1200 Liquid Propane Grill
Weber Q1200 is a durable and highly portable tabletop gas grill. It has one cooking burner made of stainless steel. The burner produces up to 8,500 BTUs of heating power. This might not sound like a lot, but it's enough to make the grill hot in about 10 minutes.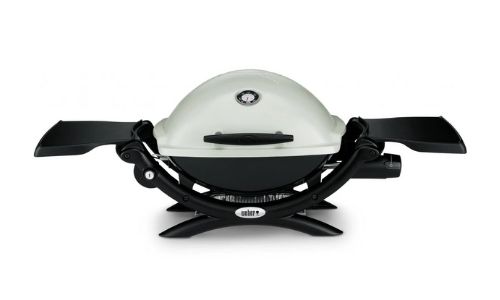 Specifications:
Fuel Type: Propane gas
Number of Burners: 1
Total BTU: 8,500
Heat Flux: 45
Grilling Area (sq.in): 189
Weight: 31 lbs
Build Materials: Aluminum and porcelain-coated cast iron (grates)
Dimensions: 40.9″ x 16.5″ x 15.5″ (L x W x H)
Warranty: 5 years or 2 years (depending on part)
You can use a 14.1 oz or a 16.4 oz disposable propane can for fuel, which adds to its portability. If you get a separate connector, like Weber 6501 adapter hose, you can also hook it up with a bigger propane tank.
This grill can be placed on a tabletop, portable cart, or on the ground. It has sturdy porcelain-enameled cast iron cooking grates with 189 square inches of cooking space. This is enough for about 8 burgers to fit in. If you want to cook pancakes or bacon, just get a Weber 6558 Griddle and you're all set.
The design of this grill helps with protecting the burner from weather and wear. The body of the grill is made of durable aluminum, which is weather resistant. Its design also allows proper heat circulation whether you're using direct or indirect heat.
This is a small and affordable grill. Yet, it has all the basic features that are important. Sturdy cooking grates, high-grade burner with even heat, and a convenient grease management system.
Arriving fully assembled, the grill takes no time to set up and start using. The electric ignition requires AA batteries to work. After you're done grilling, it only takes a few minutes to clean it.
I don't really have much to complain about this grill. Yes, it's quite small, but if that's a problem then take a look at the larger options in this article. The fact that it only has one burner could also bother some.
The Q1200 is a perfect little grill for balconies and patios. You can also take it along to road trips and camping adventures. It comes in 6 different colors. The grill is otherwise black but you can choose the color of the lid.
What We Love
Fully assembled out of box
Lightweight and is easy to move and set up
Easy to clean
Great value for money
Most Innovative: Fuego F24C Professional Propane Gas Grill
The Fuego F24C is not your average-looking gas grill. For some, it might look a bit odd, but I think the visual aspect of the design is brilliant!
And it's not just a great-looking piece of metal, the inventive layout makes it also easy and fun to use.
Specifications:
Fuel Type: Propane gas (natural gas available on BBQGuys)
Number of Main Burners: 2
Total BTU: 26,500
Heat Flux: 64
Primary Grilling Area (sq.in): 415
Warming Rack Area (sq.in): 110
Weight: 90 lbs
Build Materials: Stainless steel and porcelain-coated cast iron (cooking grates)
Dimensions: 24″ x 24″ x 56″ (L x W x H)
Warranty: 3 years (burners), 1 year (other parts)
If you consider the cooking space, this is not a small grill. It has a large 415 square inch main grilling surface and an additional 110 square inch warming rack. So why did we include this unit in our small grills comparison? Because the smart design allows you to fit it in a relatively small space.
This grill is large enough for dozens of burgers, hot dogs, and steaks. The burners produce up to 26,500 BTUs of heat and the grill can reach a maximum temperature of 600 °F. That is definitely enough to give your steak a proper sear!
The electric ignition allows you to light it up in a snap. The grill also gets hot fast. It reaches 500 °F in 5 to 10 minutes, depending on the outside air temperature. Cleaning the grill is easy as the residues drip into the grease management system.
The F24C has 4 wheels and stainless steel handles on the sides. This helps with moving the grill around. It also has a folding plastic tray on the side. This is the only part I don't really like as it seems to be a bit flimsy. The propane tank can be conveniently placed inside the cabinet under the grill.
If you are looking for a grill that looks unique and can cook enough food for having a backyard barbecue party, get the Fuego F24C!
What We Love
Large cooking area
Compact
Innovative design
Heats up fast
Looks cool!
What We Don't
The plastic side tray is not very sturdy
A bit pricey
Budget Pick: Cuisinart CGG-180T Petit Gourmet Portable Tabletop Gas Grill
If you went through all of the previous options and still couldn't find a grill that is small and portable enough, I have exactly what you're looking for. Cuisinart CGG-180T Petit is a very SMALL gas grill.
Specifications:
Fuel Type: Propane gas
Number of Burners: 1
Total BTU: 5,500
Heat Flux: 40
Grilling Area (sq.in): 145
Weight: 13.5 lbs
Build Materials: Aluminum, stainless steel, and porcelain-coated cast iron (grates)
Dimensions: 16.5″ x 16″ x 13″ (L x W x H)
Warranty: 3 years
This grill has one burner capable of producing 5,500 BTUs of heating power. It is enough to reach about 400 °F if you give it a moment to heat up. Despite being small, you can still fit six pieces of chicken breasts on the grill.
You can easily fold the grill into a small suitcase. Don't worry about having to sweat too much carrying it around as it only weighs 13.5 pounds.
This is a tabletop grill but you can also choose an option that includes a telescope stand. However, you have to cough up some extra bucks for the freestanding version.
How can it be so light? Well, the grill is mostly made of plastic and aluminum. Not the most durable materials, but it gets the job done.
What We Love
Very affordable
Extremely portable
Lightweight
Easy to use
What We Don't
Small cooking area
No thermometer
Final Thoughts
Finding a high-quality gas grill that is compact, but has a large enough grilling area to meet your needs, can take some effort. Luckily, we have done the research for you. Our number one recommendation is the Weber Spirit II E-210. It's a sturdy and durable grill with 2 burners and enough cooking space.
Whichever grill you choose, I hope that you will have many unforgettable moments cooking with it!