Unless you're still happy with your spit-over-fire caveman grill, you've probably considered getting a pellet grill. Traeger made the first examples in the 1980s, and the designs have been improving ever since.
Today, pellet smokers and grills are available in every shape and size. They're incredible for their ability to hold nearly any temperature, from low smoking to high-heat baking and grilling.
Best of all, pellet grills don't have to cost a fortune. In this guide, we have reviewed the best inexpensive pellet grills available for under 500 dollars.
In addition, we will take a look at how they work, and the most important features you should be looking for.
Our recommendations for Best Pellet Grill Under $500:
6 Best Pellet Grills Under

$

500 Reviewed
Best Overall: Pit Boss 700FB Pellet Grill
Pit Boss is a trusted American brand that has been making pellet grills for over 20 years. They know how to build great products at affordable prices.
The 700FB is our top pick for the best budget pellet smoker. It's versatile, durable, and provides excellent cooking performance. This unit can do anything from high-heat open flame searing to smoking ribs and baking pizzas!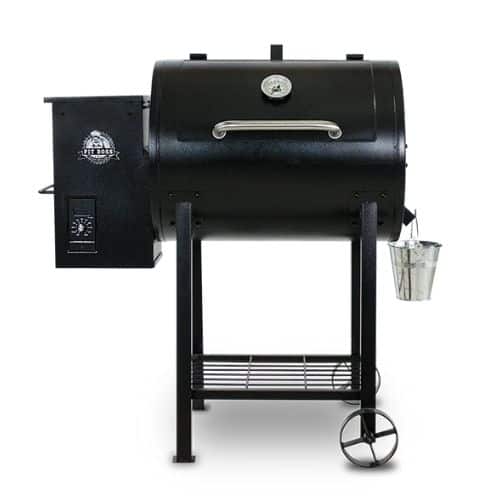 Specifications:
Cooking Area: 700 sq.in
Temperature Range: 170 – 500°F
Pellet Hopper Capacity: 18 lbs
Weight: 126 lbs
Build Materials: Painted steel and porcelain-coated steel
Warranty: 5 years
The 700FB has a digital control center that allows you to set the temperatures anywhere between 170 and 500 degrees Fahrenheit. The hopper holds 18 pounds of pellets which is enough for over 10 hours of "set it and forget it" smoking.
This pellet grill works best with Pit Boss wood pellets so we recommend using them. If you use other pellet brands you might run into some issues with the hopper.
Perhaps the most unique feature of the Pit Boss grill is its Flame Broiler. This design allows for either direct or indirect cooking. Open the Flame Broiler plate and you can sear those steaks in temperatures up to 1,000° F.
The porcelain-coated wire grates have 700 square inches of cooking space — enough for a big family or hosting a backyard BBQ party.
Cooking tasty barbecue doesn't get much simpler or more versatile than this!
What We Love
Easy to use and clean
Excellent value for money
Versatile — Great for smoking, grilling, and baking
Large cooking area
Built to last
Comes with a 5-year warranty
What We Don't
The hopper doesn't always work well with some wood pellet brands
The Runner Up: Z Grills ZPG-550C Pellet Grill
Our second choice for the best budget pellet grill is the Z Grills new model for 2021. The newly upgraded control is so accurate that it can hold temperatures to within five degrees Fahrenheit.
Specifications:
Cooking Area: 552 sq.in
Temperature Range: 180 – 450°F
Pellet Hopper Capacity: 10 lbs
Weight: 85 lbs
Build Materials: Powder-coated steel steel and porcelain-coated steel
Warranty: 3 years
The ZPG-550C is built of powder-coated steel, and the cooking grates are porcelain-enameled. A welcome front shelf adds some useable working space to the design, which is much more convenient than the typical side-table arrangements.
It's relatively small for a pellet grill with a 10-pound hopper and a primary cooking area of 406 square inches. The warming rack adds another 147 square inches. It's still big enough for three whole chickens, four racks of ribs, or an impressive 22 burgers.
One of the best things about this unit is the price. Even if you have a tight budget, you can still afford this durable pellet grill and enjoy years of effortless barbecue.
What We Love
Accurate temperature control
Affordable
Easy to assemble and use
Built with durable materials
What We Don't
The pellet auger makes quite a bit noise when it's running
New and Improved: Camp Chef SmokePro DLX Pellet Grill
Another grill worth a look is the Camp Chef SmokePro DLX. If you want something a bit smaller than the Pit Boss but don't want to give up all the options, here is a stellar choice.
Specifications:
Cooking Area: 570 sq.in
Temperature Range: 160 – 500°F
Pellet Hopper Capacity: 18 lbs
Weight: 140 lbs
Build Materials: Painted steel and porcelain-coated steel
Warranty: 3 years
This 24-inch-wide grill has 570 square inches of cooking area, which includes a built-in warming rack. It holds 18 pounds of pellets enough for long barbecue sessions.
The DLX includes a new PID digital controller that will monitor temperatures and control the level of smoke. It will get up to 500 degrees or so and it produces a lot more smoke than many other pellet grills available on the market.
However, the lid is not very tightly sealed so you might want to add some silicone or wool gasket to keep the temperature higher in cold weather and to prevent the smoke from leaking out.
Camp Chef also sells a side-mounting Sear Box for those chefs who want a great steak. The box is basically a small propane-powered grill top that will get to a whopping 900 degrees Fahrenheit!
When combined with the abilities of the pellet grill, it makes a do-it-all cooking station.
This is an extremely high-quality and well-built grill and even with the increased price, it's still very affordable.
What We Love
Simple temperature settings
Produces plenty of smoky flavor
Convenient ash clean out system
Comes with a stainless steel meat probe
What We Don't
The lid could be sealed better
Great Portable Option: Green Mountain Trek WiFi Portable Pellet Grill
This portable unit will blow you away with the number of features and versatility they've packed in such a small unit. If you are familiar with Green Mountain Grills (GMG), the old Davy Crockett has been rebranded and upgraded and is now called the Trek.
Specifications:
Cooking Area: 219 sq.in
Temperature Range: 150 – 550°F
Pellet Hopper Capacity: 9 lbs
Weight: 63 lbs
Build Materials: Painted steel and stainless steel
Warranty: 3 years
First off, as portable pellet grills go, the Trek Prime offers great cooking performance. It will run off either 12-volt car power or a standard wall outlet with 110-volt AC. It's quite heavy at 63 pounds but it does have a small footprint that measures only 24 by 36 inches.
The digital temperature controller is easy to use and holds the set temperature well. The cooking grates hold 219 square inches of food, and the hopper holds nine pounds of pellets.
The Trek is digitally controlled with a built-in WiFi connection. You can control and monitor the temperatures, manage custom cooking profiles, and set food times from the GMG app.
What We Love
Wide temperature range — Good for grilling and smoking
Great for camping and tailgating
Comes with a meat probe
WiFi control option for smartphones
Works with both 12V and 110V power
What We Don't
Relatively small cooking area
Best Tabletop Option: Traeger Ranger Portable Tabletop Wood Pellet Grill
If there is one top name in the pellet game business, it has to be Traeger. And their portable tabletop grill is a beautiful blend of functionality and craftsmanship.
While it is much more "portable" than the GMG, it features less cooking real estate. But unlike the GMG, the Traeger looks less like a pellet grill and more like a suitcase.
Specifications:
Cooking Area: 184 sq.in
Max Temperature: 450°F
Pellet Hopper Capacity: 8 lbs
Weight: 60 lbs
Build Materials: Powder-coated steel and porcelain-coated steel
Warranty: 3 years
Let's start with its size. It measures only 20 inches square, about a foot shorter than the GMG. The grill still weighs about 60 pounds, but the smaller size makes it easier to carry around.
The cooking area measures 15 by 12 inches for a total of 184 square inches. That is not enough space for a big party, but certainly enough for a day of tailgating or camping trip. There is enough space for six burgers or even for smoking a whole chicken or a small turkey.
The hopper holds eight pounds of pellets, and the digital controller will get up to 450 degrees Fahrenheit. It runs off a standard 110-volt outlet, so if you're away from home, you may need a small inverter to use it.
What We Love
Compact design makes it very portable
Heats up fast
Sturdy and durable built
Includes a cast iron griddle and meat probe
What We Don't
Requires 110 volt outlet
Small cooking space
The Cheapest Option: Asmoke AS300 Portable Wood Pellet Grill
Another small option is a great portable grill from Asmoke. Its design is similar to the Traeger Ranger, but it is built lighter and has a considerably larger cooking area.
Although this is last on our list, it's still a great portable smoker that is so easy to use that even beginners can cook tasty barbecue with it.
Specifications:
Cooking Area: 256 sq.in
Temperature Range: 180-500°F
Pellet Hopper Capacity: 5 lbs
Weight: 45.1 lbs
Build Materials: Steel and stainless steel
Warranty: 5 years
In total, the AS300 weighs about 45 pounds. It has a 256 square-inch cooking area, and its footprint measures about 25 by 18 inches.
This pellet grill is just the right size for a single rack of ribs, eight burgers, or 12 hot dogs. In addition, it has a four-pound hopper and digital controller that will smoke or get up to around 500 degrees for grilling.
The Asmoke has all the functions that you expect from a good pellet grill. If you don't want to invest a big chunk of money or just want a compact unit that you can store easily, the AS300 is a perfect choice. Overall, it's a great little smoker with a very reasonable price tag.
What We Love
Easy to use even for beginners
Very affordable
Great for backayrds, balconies, and camping
Includes a grill cover and meat temp probe
Comes with a 5-year warranty
What We Don't
Temperature control could be more accurate
Pellet Grills Explained
Pellet grills are unlike any other grill style, and understanding how they work is a vital part of making a good purchase decision. They require special fuel, and they work very differently than their charcoal or gas cousins.
How Pellet Grills and Smokers Work
The most significant difference with pellet grills is, no surprise, their use of pellets. These are hardwood, kiln-dried bits of wood pulp.
With the growing popularity of pellet grills, you can now find them at most big-box retailers and pretty much every dedicated grill store. But you still can't count on picking up a bag at your corner convenience store in a pinch!
The pellets are poured into a wood pellet container that is usually called the "hopper." The electric pellet feeder is simply a motorized auger that pulls the pellets toward the igniter. It's there that the pellets are burned to create the heat and fire.
The biggest advantage of the pellet grill is that the electric pellet feeder is metered. Since it runs on a simple electric motor, the speed can be controlled to allow more or fewer pellets to fuel the fire. More pellets equal a bigger flame, which means more heat to the grill.
All of that means that you can set the temperature of a pellet grill like an oven. It will then maintain that temperature very reliably.
Another massive benefit lies in the use of the pellets themselves. Since they're made of hardwoods, burning them releases tons of beautiful and flavorful smoke.
So there's no need for a separate smoker box with wood chips or chunks — the pellets do it all. Plus, the feeder can be set to a low temperature that allows for slow-smoking recipes.
The remainder of the pellet grill works and looks much like a traditional grill. The grill grates hold the food, and a pan or bucket catches the drippings.
They come in different shapes and sizes, from small portable units for tailgating to enormous backyard barrels that will make all local pitmasters green with envy.
What Can You Cook on a Pellet Grill?
Pellet grills are one of the most versatile backyard barbecues you can buy. Their programable temperature and reliable heat distribution mean that they can cook literally anything from smoked chicken thighs and briskets to burgers.
Talking about briskets, here is a video that shows you how to make a perfect brisket on a pellet grill:
Pellet grills really shine when the recipe calls for smoking. Smoking a turkey on a pellet grill is great for thanksgiving or a weekend feast with friends and family.
Like traditional smokers, pellet burners can run low temperatures for hours and hours. All you have to do to keep it going is keep the hopper full of fresh pellets.
But what if you want to get a great sear on some steaks the next night?
Don't worry — your pellet grill can do that too. Turn the pellet feeder up, and most units can run at 500 degrees or more. It's not as hot as an infrared burner or old-school charcoal, but it's more than adequate for most home chefs.
Advantages of Pellet Grills and Smokers
Are you are still wondering if a pellet grill is the right choice for you?
Here are a few good reasons to get one:
Easy to set up and light
Single, simple to use fuel source
Excellent flavorful smoke production
Effortless temperature control, usually digital
Reliable temperature holding, often within 5 to 10 degrees Fahrenheit
Wide temperature range from smoking to grilling
Easy to clean designs with grease catching buckets or pans
Buying Guide for Best Pellet Grill Under

$

500
When comparing different models of pellet grills, it's important to know what to look out for. A good pellet grill is a major investment, but luckily it will provide years of reliable service if you make the right choices.
Temperature Control and Cooking Performance
One of the biggest differentiators between the makes and models of grills is exactly what temperature range they are designed to hold. Different grills are made to excel at different tasks.
Do you want one that can smoke at very low temperatures? Or is it more important that you have one that gets nice and hot for searing and quick grilling?
Control is usually accomplished with a dial-in setting. Most have digital readouts and hold the temperature accurately.
If you already have a separate grill for high-temperature cooking, you might want to check our recommendations for the best electric smokers under 300 dollars.
Cooking Space
Like any other type of grill, the size of the grates matters. How big is your family? Will you be using the grill for entertaining guests or nightly dinners for two people?
Unlike traditional grills, you can't only light half of a pellet grill. So every time you cook, you're going to be heating the entire cooking area.
In one sense, using a pellet grill is a little more like using a home oven than using a grill. You set a temperature, and the entire cooking area holds that temperature.
That means that if you buy a big grill for the occasional big cookout, you might be using more pellets than you need to for your regular meals in between.
Ease of Use
Truthfully, all pellet grills are pretty easy to use. But a few of them shine in this area because their electrical connections provide options that other grills do not.
It's not uncommon to find grills with digital control panels. Taking that one step further, some even have Bluetooth or WiFi connections so that you can control them from your smartphone or tablet!
It is important to remember that pellet grills need electricity to work. Some portable models are 12-volt and will run off of your automobile or RV. But most need household AC electricity, so they'll need to be near an outlet or run off of a beefy extension cord.
The pellets do the heating — the electricity just runs the auger, circulation fan, and ignitor.
Need more cooking space on several levels?
Check out our guide with the best vertical pellet smokers. The cabinet-style design allows for more space and configuration options but limits the cooking style to smoking and roasting.
Materials and Durability
Pellet grills are not unlike other grills. Some are built to be inexpensive, while others are built for a high price point.
Generally, although not always, those more expensive grills are built with better materials and will last the longest.
You can always make a trip to the big-box or grill store to try them on for size when shopping for grills. Lift the lid and feel how heavy it is. How well does it seal? What's the fit and finish like? These hands-on test drives can tell you a ton about the grill.
Fortunately, this is not always necessary anymore. Popular pellet smokers have dozens, if not hundreds, of user reviews on online stores like Amazon. So you can just see what other users who have owned the grill for some time have to say.
As always, caveat emptor applies. If the price seems too good to be true, it likely is!
Hopper Size and Reliability
Another determining factor will be the size of the pellet hopper. A bigger hopper means you can leave the grill burning for longer periods of time.
You can, of course, refill the hopper for longer recipes. But this will require you to remember to fill it up. So if it's a big grill or you frequently use very long recipes, you might want to be on the lookout for the biggest hopper you can find.
Portability
Pellet grills are much more mechanically complex than gas or charcoal-powered units, so even models described as "portable" are often somewhat bulky.
Remember, it will have to have electrical power. Plus, it will have a pellet hopper to hold the fuel.
Still, several companies make very reliable and easy-to-use portable smokers that are worth a look!
WiFi Connectivity
Finally, there is the connectivity that pellet grills can provide.
Since they come with a power supply, many have the added benefit of WiFi or Bluetooth connections. These run on a smartphone app, allowing you to monitor the temperature and settings of the grill remotely.
Many apps also connect to the manufacturer's website for tips and tricks on using the grill. And, of course, many include free recipes.
Some apps also support thermometers and cooking timers to make your cooking experience more connected and simpler.
Whichever model you choose, have a great barbecue!
Ps. See also our comparison of pellet grill vs electric smoker and see if a dedicated cabinet smoker could be the best option for your backyard.