Korean BBQ is famous for a lot of reasons, only one of which is the delicious food. There's also the communal and social aspect that comes with not only sharing a meal but preparing it together.
With this style of barbecue, everyone enjoys the grilling phase, not just the chef.
While going out for Korean BBQ is fun, have you ever thought of setting it up at home?
Choose one of our recommended Korean BBQ grills or grill pans reviewed in this guide and you can cook a tasty meal of marinated meats and side dishes in your home or backyard!
It's easier than it sounds, and there are many different grill options available. With a little research and some meal planning, you'll be enjoying gogigui with your family in no time.
Our recommendations for Best Korean BBQ Grill:
Background and History of Korean BBQ?
Korean BBQ differs from other forms of cooking in a few ways, and these grills carry with them some history.
The people who settled what is today the Korean peninsula came from nomadic groups that traveled throughout Asia. They needed to be able to store their food and cook it quickly once they got to camp.
That's why many Korean dishes use heavy marinades and thin-cut fast-cooking slices of meat.
Korean BBQ describes more than just the cooking appliance. Going for Korean BBQ is an experience.
In a restaurant setting the grill is often built into the table, and everyone participates in cooking their own meals on the grill.
There's usually a grill in the middle, and lots of dipping sauces and sides all around. The meat, usually beef or pork, is already seasoned and ready to throw on the heat.
Korean BBQ restaurants have become very popular but you don't always have to go out to enjoy this treat.
There are plenty of great grills available to use in your home. Most are small and inexpensive, and the recipes are easy for everyone to try.
Korean vs. Japanese BBQ
You might be wondering what is the difference between Korean and Japanese barbecue.
Japanese hibachi is very similar. But where the Japanese use very simple sauces that do not distract from their extremely high-quality meat cuts, Korean barbecue is all about marinades and flavorful, spicy, or fermented side dishes.
Best Korean BBQ Grills for Indoors
If you want to have your Korean barbecue indoors, it's best to get an electric grill that doesn't produce a lot of smoke. You can also use a gas stove set indoors if you have proper ventilation.
Let's take a closer look at our top picks for the best Korean BBQ grills for indoor use.
Note: Below you can find a few more guides that we think you will find interesting:
Best Overall for Indoors: Techwood 1,500-Watt Electric Raclette Party Grill
Many of the most versatile tabletop barbecues are not specifically for Korean barbecue. Take, for example, this party grill from Techwood. It is branded for use with raclette, but it works great for Korean barbecue.
Specifications:
Power Source: Electricity (1,500 watts)
Cooking Area: 166.5 (sq.in)
Weight: 7.4 lbs
Build Materials: Cast iron
Dimensions: 19.1″ x 5.2″ x 9.2″ (L x W x H)
So what makes this electric grill so great it earned the top spot in our guide?
For one thing, it has a large non-stick cooking surface measuring 18.5 by 9 inches. The non-stick cooking grate flips over for a smooth griddle to make the grill even more versatile.
Under the grate, you'll find eight individual grill pans. If you're making raclette, these are for the cheese. But for Korean BBQ, these would work great for sauces and side dishes. Each pan is also non-stick.
This Techwood unit is a 1,500-watt electric grill, so you'll need to use it near a power outlet. The temperature is selectable from 392 to 596 degrees Fahrenheit so that you can cook just about anything on this versatile little grill.
Since everything comes apart and is non-stick, clean up is a breeze. If you don't need the paddles, you might want to take a look at Techwood's smokeless indoor grill with a smoke extractor.
What We Love
Enough power to make it really hot
Good temperature range
Easy to use and clean
Handy grill pans for side sauces and dishes
Reversible grill grate makes it more versatile
Great Option With a Hotpot: 4YANG 2-in-1 Electric Smokeless Grill
If you want a hot pot too, you can't go wrong with this combo unit. The thoughtful design makes it the perfect centerpiece for your next get-together, and the round design welcomes guest participation.
Specifications:
Power Source: Electricity (2,200 watts)
Total Cooking Area: 232 (sq.in)
Weight: 14 lbs
Dimensions: 21.26″ x 20.47″ x 8.74″ (L x W x H)
The circular grill surrounds the inner hot pot, which has a "yin and yang" design that allows for two different broths.
The entire grill measures about 17 inches in diameter. Combined, the grill and hot pot burners use 2,200 watts.
Everything is non-stick coated and the unit can be disassembled for easy cleaning. There is also a grease catch box that slides out from below the grill. The entire unit can be washed in the sink, but it is not dishwasher safe.
What We Love
Easy and fun to use
Separate temperature control for the grill and hot pot
Good grease collection system
Fast and convenient to clean
What We Don't
The grilling area is quite small
Best Korean BBQ Grill Pan and Gas Stove Set: TECHEF Stovetop with Gas Burner
If you need a little more portability or you don't want to use electricity, this all-in-one solution is worth a look.
You get a grill pan and a butane-powered single-burner stove. They work together perfectly, but they also work independently if you want to use the butane stove for other purposes.
Specifications:
Fuel: Propane gas
Heating Power (BTU): 11,500
Total Cooking Area: 113 (sq.in)
Weight: 7.6 lbs
Build Materials: Aluminum
Dimensions: 14″ x 14″ x 6″ (L x W x H)
The stove uses disposable butane cylinders, which are widely available at most supermarkets and big-box retailers. The hotplate can crank out an impressive 11,500 BTUs, so you can get the grill hot enough to sear almost anything.
The grill pan itself has a domed design and a drip spout, so you can catch any mess as you're cooking. It's non-stick, and since it is a simple Teflon pan, cleanup is straightforward.
If you already have a burner, you can also buy just the pan by itself.
What We Love
The swirl design drains grease effectively
Non-stick surface
Easy to clean
Even heat distribution
Lightweight
What We Don't
The non-stick surface can wear off over time
Most Portable Indoor Option: Presto Cool Touch Electric Grill
This simple rectangular grill is the perfect indoor grilling multi-tasker. As a Korean BBQ, it fits nicely on the kitchen table and has plenty of power to sear your meats.
This unit measures 19.75 by 13 inches, so there's plenty of space for friends and family to gather around.
Specifications:
Power Source: Electricity (1,300 watts)
Total Cooking Area: 160 (sq.in)
Weight: 5.5 lbs
Build Materials: Aluminum
Dimensions: 19.75″ x 13.06″ x 3.38″ (L x W x H)
The heat controller and power cord pop off, making the grill immersible and dishwasher safe. It has a slide-out tray to catch drippings for easy cleanup, and the entire grill surface is premium non-stick.
Grills like this are hard to use with thicker cuts of meat since they don't produce as much radiant heat as outdoor grills, and they have no lid. While it's perfect for Korean barbecue, keep that in mind if you want to cook burgers or chicken breasts as well.
Thicker meats may have trouble cooking through before burning on the outside.
What We Love
Great value for money
Very lightweight and compact
Decent sized cooking area
Immersible and dishwasher safe
Super easy to use
What We Don't
The power cord is quite short
Best Korean BBQ Grill Pan for Stovetop: IWATANI BBQ Plate CB-P-Y3
There are a few problems with most stovetop grills. One issue is a very messy cleanup; for another, they often suffer from uneven heating. In addition, the grill needs to be kept level, and generally, most of the grease will run to the side.
If you're cooking something messy, the possibility of an overflow onto your range top is a nasty reality.
Specifications:
Power Source: Electricity (1,300 watts)
Total Cooking Area: 160 (sq.in)
Weight: 5.5 lbs
Build Materials: Aluminum
Dimensions: 19.75″ x 13.06″ x 3.38″ (L x W x H)
The IWATANI BBQ grill pan solves these problems with a lower round burner plate. This plate is filled with water, which does two things. It makes clean up easier, and it helps distribute heat evenly to the grill pan.
This Korean grill pan sits on top and has a domed surface that distributes heat well and allows drippings to drain down into the drip pan. This is a thin and lightweight pan, and it relies on the water in the lower pan to distribute the heat.
The stovetop pan comes alone, but it can be used on any heat surface. If you want to use it on your table with guests, just use a portable electric hotplate or butane camping burner.
You could also use it on your kitchen range or outside on your barbecue grill. It's made of non-stick coated aluminum and measures 13.5 inches in diameter.
What We Love
Nice and convenient design
Easy to clean
Heats up evenly
Nonstick
Smokeless
What We Don't
The non-stick surface scratches easily
Budget Indoor Pick: Elite Gourmet Large Electric Round Grill
This electric tabletop grill features a 14-inch non-stick cooking grate that sits inside a heating pan with a glass lid. There's a removable drip pan for easy cleanup, and it and the grill pan are dishwasher safe.
Specifications:
Power Source: Electricity (1,300 watts)
Total Cooking Area: 154 (sq.in)
Weight: 6 lbs
Build Materials: Aluminum and plastic
Dimensions: 17.2″ x 17″ x 4.1″ (L x W x H)
The electric heating element can be dialed from 250 to 450 degrees, so you can control just how much heat goes into your food.
The Elite Gourmet uses a maximum of 1,300-watts, a little less than other models on the list, but perfect for a grill this size.
What We Love
Very affordable
Relatively large grilling area
Easy to clean: it's dishwasher safe
Heats up quickly
Large grease collection pan
What We Don't
The base of the product is made of plastic
The lid is a bit unstable
Best Korean BBQ Charcoal Grills
Tabletop charcoal grills are great for cooking Korean barbecue outdoors in your backyard or terrace. It required a bit more work to get the grill started but you will be rewarded with that authentic smoky flavor.
It is not recommended to use a charcoal grill indoors unless you have a space that is specifically designed for it. If you use a charcoal grill in an enclosed patio, make sure you have very good air circulation at all times.
Best Korean BBQ Charcoal Grill: Giantex Classic Cast Iron Grill
If you want to have your Korean barbecue feast outdoors, then this sturdy cast iron charcoal grill is a great option. It's compact enough to fit in the middle of the table but provides enough grilling space to cook for 4 to 6 people.
Specifications:
Fuel: Charcoal
Total Cooking Area: 106 (sq.in)
Weight: 20 lbs
Build Materials: Cast iron
Dimensions: 15.5″ x 10.5″ x 7″ (L x W x H)
The solid cast iron construction of this grill is built to last so you don't have to worry about buying a new one anytime soon. Just make sure you season it before first use and always clean it properly. It's also best to store it indoors away from moisture.
This portable grill is easy to use and has bottom vents for controlling the airflow and heat. It's compact and only weighs 20 pounds so you can take it along on a camping trip.
In addition to making Korean BBQ, the Giantex is excellent for cooking steaks and burgers.
What We Love
Compact size
Sturdy construction
Easy to use
Provides authentic charcoal grill flavor
Great for searing steaks and burgers
What We Don't
The grill needs to be seasoned properly before first use
Most Portable Charcoal Option: Grillerette Pro
The Grillerette Pro is a small and lightweight charcoal grill that is just begging to go on your next road trip or picnic. To make things even easier, it includes a convenient carrying case.
Specifications:
Fuel: Charcoal
Total Cooking Area: 130 (sq.in)
Weight: 7 lbs
Build Materials: Metal and plastic
Dimensions: 14.5″ x 14.5″ x 6.5″ (L x W x H)
This grill uses a battery-powered fan that helps with lighting the charcoal and adjusting the temperature.
It has an innovative cooktop that blocks the grease from going onto the charcoal so it produces very little smoke when cooking.
The only downside is the small cooking area. You can still manage to cook for a party of 2 to 4 people with this little beast!
What We Love
Produces very little smoke
Light and easy to carry around
Smart and convenient design
Comes with a travel bag
Includes fan for easy temperature control
Budget Charcoal Pick: BBQMM Charcoal Korean BBQ Grill
Want to do your Korean barbecue without blowing a hole in your wallet?
Here comes BBQMM Korean BBQ Grill! This unit is easy to use, potable, and yes, very affordable.
Specifications:
Fuel: Charcoal
Total Cooking Area: 113 (sq.in)
Weight: 4 lbs
Build Materials: Stainless steel
Dimensions: 19″ x 15″ x 7″ (L x W x H)
Get your barbecue on with this simple and convenient unit. You can set it up in a few minutes without any tools. It's also easy to use and clean.
This grill comes with a manual air blower fan and a carry bag.
What We Love
Very affordable
Easy to set up and use
Compact and lightweight
What We Don't
Small grilling area
Hot in the center but not so much on edges
Things to Consider When Buying a Korean BBQ Grill
The most significant decision you'll have to make when selecting a Korean grill is where you'll want to use it. You'll need a heat source, and some of it will depend a bit on what sort of equipment you have in your home already.
First you need to consider which type of grill is most suitable for your needs.
Type of the Grill
Electric Grill: The electric options reviewed in this guide are excellent for indoors cooking. They produce very little smoke and are easy and convenient to use.
Gas-Powered Stovetop Set: A set of portable gas stove and Korean BBQ grill pan offers a flexible option that can be moved around without worrying about electric plugs. You can use them indoors as long as you have proper ventilation. This type of set is also great for camping and tailgating.
Stovetop Grill Pan: If you have a portable stove, you can just buy a simple stovetop grill pan like the IWATANI BBQ Plate that is our top pick.
Charcoal Grill: Cooking your Korean BBQ with a charcoal grill provides the most authentic and traditional option. You can use them in your backyard or choose portable option to take along on trips.
Size
The size of your group and the size of your dining table is also important. How big of a grill can you fit?
Make sure to leave lots of room for everyone's plates and lots of side dishes. Most BBQs are either round or rectangular.
Non-Stick Coating
It's also worth noting that most meats used on these grills will be marinaded in sweet sauces — which is as messy as it is delicious. A non-stick grill pan is a must-have.
Grease Management System
If you are grilling fatty items like pork belly, you'll also appreciate a proper grease catching system. The easier your Korean BBQ is to clean and the less smoke it produces, the better.
Built-In Hot Pot
Finally, the one major feature you'll want to consider is whether or not you need a hot pot built-in.
Of course, you could have a separate grill and a hot pot. But by having one appliance, you have a clean looking presentation that fits nicely on a smaller table.
Popular Korean BBQ Dishes
Generically, Korean barbecue is called gogigui and it usually features beef, chicken, or pork. There are specific types of gogigui, however, including bulgogi and galbi.
Bulgogi is made with very thinly sliced beef sirloin or tenderloin, while galbi is made with beef short ribs. Both dishes are marinated with soy sauce, sugar, garlic, and sesame oil. Other marinated dishes include daeji bulgogi, which is spicy marinated pork made with Korean chili powder.
If you don't know where to start, try this easy and super tasty bulgogi recipe (1 minute video):
Unmarinated meats are also very popular:
Chadolbegi

is sliced beef brisket that is cut so thin it cooks instantly upon hitting the grill.

Deungsim

is un-marinated beef sirloin.

Samgyeopsal

is more common in Korea – it's made with thick strips of pork belly.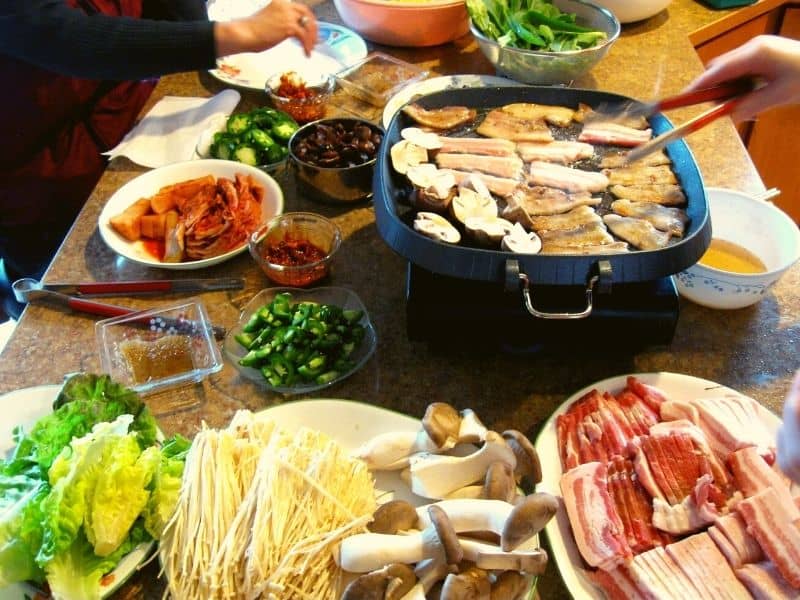 Side dishes, or banchan, are an important part of Korean barbecue. Fresh vegetables like peppers, lettuce, mushrooms, and cucumbers are common accompaniments.
Pajoeri is a spicy scallion salad and ssamjang is a spicy condiment paste. Kimchi, marinated garlic, and pickled cucumbers are also examples of banchan.
Enjoy your Korean BBQ!
-Joonas