Most of us love to grill food outside in the warmer months of the year. While this is an excellent option, some people don't have the outdoor space required for a full-size charcoal or gas grill.
Also, these traditional grills might not be a good option for cooking during the winter months.
This does not have to be the case anymore, because there are some exciting electric grills on the market. Perhaps it's time to consider an indoor/outdoor grill from the George Foreman brand.
Read on for the reviews of our recommended George Foreman grills that have some terrific features and are easy on the budget.
Our recommendations for Best George Foreman Grill:
Introduction to George Foreman Grills
Most Americans have likely seen the infomercials on Foreman Grills over the past 25 years or so. These portable grills that operate on electric power have become a household name partly due to their famous promoter, the legendary boxer George Foreman.
Let's take a closer look at the brand and what makes the Foreman Grills so popular.
Background and History
Today, over 100 million of the affordable George Foreman grills have been sold since the brand's introduction back in 1994.
People all over the world have made this smokeless indoor grill their go-to favorite that can be used year-round indoors or out.
What Makes the Foreman Grills so Popular?
Unlike the traditional bulky outdoor gas or charcoal-operated grill models, the Foreman Grills come in a compact and portable size that operates on electric power.
This type of compact grill is ideal for smaller spaces and can easily fit on balconies and small patios. And can be used indoors as well.
Here are some facts that have made the Foreman Grills so popular:
User Friendly: Easy-to-use and requires little maintenance.
Price: Affordable prices offer great value for money.
Fuel: Most models use electricity – no need for charcoal or propane gas.
Compact: Ideal for smaller spaces.
Portability: Lightweight and easily transported.
Smokeless operation: Use indoors without worries.
Cleaning: Grates that are dishwasher safe.
Options: Available in a variety of sizes and features.
The electric grills can be used indoors or out as long as you have access to electricity. The propane-powered models are perfect for camping or RV road trips.
Best George Foreman Grills Reviewed
Any of the below George Foreman Grills would make a good choice for grilling your favorite foods all year round.
Read on and choose the model that best fits your budget and needs.
Best Standalone Option: George Foreman 12+ Servings Indoor/Outdoor Electric Grill
Most George Foreman grills are tabletop units, but this one is built as a stand-alone. It's just the right size for small patios or balconies and has a large enough cooking space for most families.
This grill comes with a single-leg pedestal stand that can be disassembled for easy storage.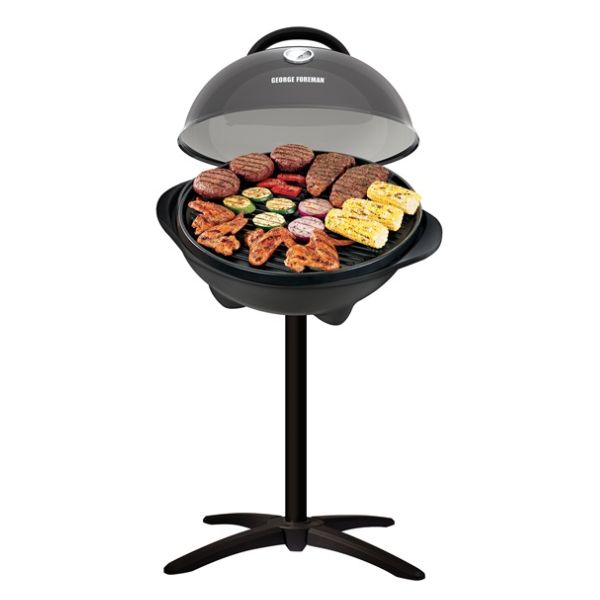 Specifications:
Wattage: 1,600
Cooking Area: 240 sq.in
Weight: 21 lbs
Cooking Surface Materials: George Tough Nonstick Coating
Dimensions (without stand): 22.2″ x 20.5″ x 13″ (L x W x H)
Design and Materials
This round silver-hued standalone grill is crafted from durable metal and operates on electric power. The removable stand ensures that this grill can be used both outdoors or on a picnic table or countertop indoors when needed.
The portable design enables you to quickly change your grilling station should a sudden rainstorm catch you off-guard outside. The stand is lightweight and removable for no-hassle storage.
The domed grill lid helps to keep interior temperatures consistent with little escape smoke released.
The grill also boasts a non-stick cooking surface that makes cleanup a breeze. As an added health bonus, the non-stick coating means that using butter or oil is not required.
Cooking Area and Temperature Range
Equipped with a large circular grilling area that measures 240 square inches, the grill can handle up to 15 servings of food. It's ideal for families, backyard BBQs, and fall season tailgating parties.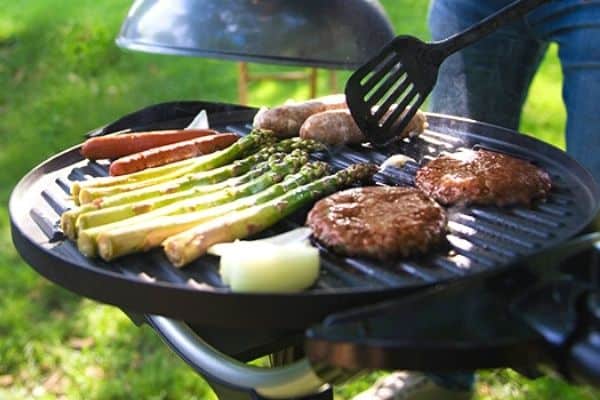 Since the cooking area has a circular design, the grill delivers consistent heat distribution reminiscent of old-time kettle-style grills of yesteryear.
This model has 1,600 watts of power and comes with adjustable temperature control that allows grill enthusiasts to cook at 5 different levels of heat for a wider range of grilled food options.
Keep track of the heat by using the included temperature probe for a foolproof way to grill all foods to perfection every time.
Ease of Use and Maintenance/Cleaning
This is one of the easiest grills to use, and the maintenance and cleaning requirements are simple too.
The grill's patented slope design allows better grease drainage that helps to reduce smoke and makes after grilling cleanup quick and easy. Washing the non-stick and removable grilling surface is a cinch.
What We Love
Large grilling surface
Great for indoors, balconies, and backyards
Nonstick cooking surface material
Comes with a removable stand
Easy to clean
What We Don't
The power cord could be a bit longer
Best Propane Gas Option: George Foreman Portable Propane Camp & Tailgate Grill
Planning to camp in remote locations or tailgate with friends? That means you probably won't have an electricity source available.
No problem, this George Foreman grill runs on portable propane tanks. It's compact and lightweight but still has a large cooking space that doubles as a grill and griddle.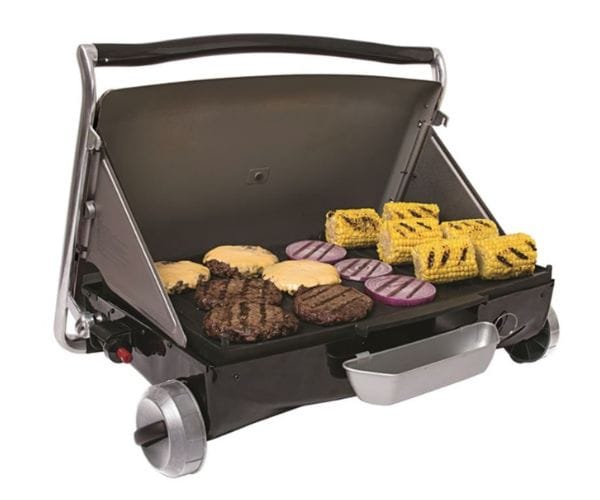 Specifications:
Fuel Source: 1lb propane tank
Cooking Area: 200 sq.in
Weight: 16 lbs
Cooking Surface Materials: George Tough Nonstick Coating
Dimensions: 20″ x 14.5″ x 7.25″ (L x W x H)
Design and Materials
The grill is crafted from high-quality and durable stainless steel that will hold up over time and frequent use. It has a push-button ignition, and you can grill up to 4 hours using just a single 1 pound tank.
The grill will fold down for easy carry and transport, and the removable carry strap makes moving it a simple process.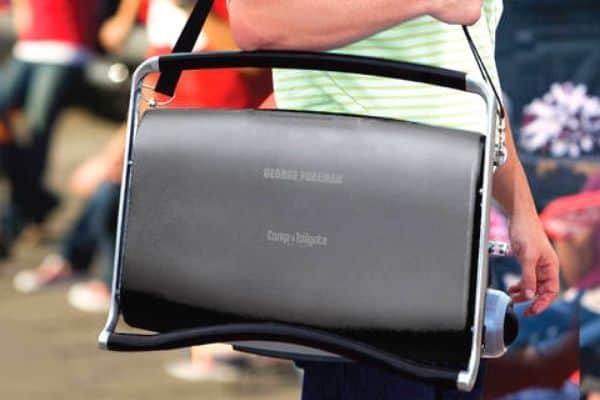 The nonstick grill plate is reversible with one side having a flat griddle and the other one a grilling surface.
This makes the grill super versatile. It can cook almost anything from pancakes and eggs to chicken breasts and burgers.
Cooking Area and Temperature Range
The grill area measures 200 square inches and can grill up to 12 servings at once.
Temperature can be easily controlled with the regulator knob and the grill heats up fast. At full blast, it gets hot enough for giving a nice sear to your steaks and burgers.
Ease of Use and Maintenance/Cleaning
This grill is simple to operate, and the cleanup afterward is fast and requires little effort. All grease flows into a removable trap.
The grill plate has a patented George Foreman non-stick coating that doesn't require oil and is easy to wipe clean. The plate is also dishwasher-safe.
What We Love
Great for camping and tailgating
Reversible grill/griddle cooking grate
Heats up fast
Simple temperature control
Easy to transport and carry around
Uses handy 1-pound propane tanks
What We Don't
No lid means you can't slow cook large items
Great Tabletop Option: George Foreman 5-Serving Electric Indoor Grill and Panini Press
If you are looking for an electric tabletop option, here is a great pick. This 5-serving indoor grill is compact, affordable, and very easy to use and clean.
Specifications:
Wattage: 1,000
Cooking Area: 72 sq.in
Weight: 4 lbs
Cooking Surface Material: George Tough Nonstick Coating
Dimensions: 16″ x 11″ x 5″ (L x W x H)
Design and Materials
This compact yet durable tabletop grill is made from sturdy plastic and boasts removable nonstick plates. A larger surface grilling area handles up to 5 servings that can be finished to perfection in just 20 short minutes in most cases.
The grill also boasts an effective fat draining design exclusive to George Foreman grills. With its quick heating action, this model is ideal for cooking up dinner for couples or a small family in a hurry.
An innovative floating hinge allows you to adjust the height for grilling a diverse number of foods. The grill also can be used as a panini press.
Cooking Area and Temperature Range
Cook up all your family's favorite dishes with this grill that has a 72 square inch cooking surface.
It's advertised to be big enough to cook up to 5 servings. But can you really fit enough food for 5 in it?
Yes, if you are cooking small portions: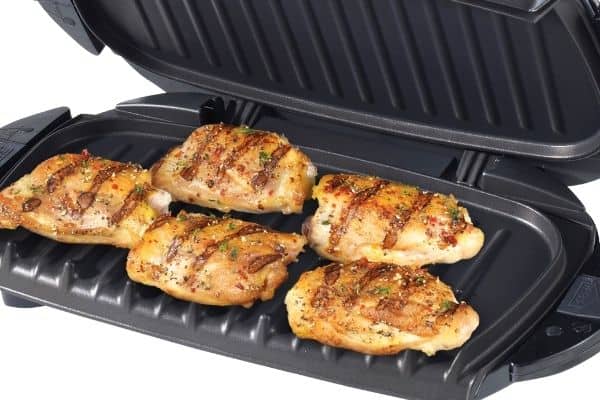 This model heats up fast using an embedded 1,000-watt heating element. It also features a temperature indicator light for ensuring a perfect grill session every time.
The grill has only one temperature setting. This makes using it very easy but doesn't allow you to adjust the temperature for different dishes and cooking styles.
Ease of Use and Maintenance/Cleaning
This compact and portable George Foreman grill is safe and simple to operate.
The 2 removable grill plates are dishwasher safe so cleaning up requires little effort. Jut remove the plates and loaded them up in the washing machine!
What We Love
Simple and easy to use
Removable and dishwasher safe grill plates
Great value for money
Compact and portable design
Premium Option: George Foreman 5-Serving Multi-Plate Evolve Grill System with Ceramic Plates
If your desire is to own a finer premium Foreman brand grill, then this multi-plate Evolve Grill System should be right up your alley.
It will not only cook impressive traditional grilled foods. A quick switch of the ceramic grill plates to waffle plates allows you to whip up some tasty breakfast in no time.
Specifications:
Wattage: 1,440
Cooking Area: 80 sq.in
Weight: 6 lbs
Cooking Surface Material: Premium Ceramic Coating
Dimensions: 15″ x 13″ x 5.75″ (L x W x H)
Design and Materials
This multi-plate grill model can cook 5 servings and is crafted from tough plastic with ceramic non-stick coated plates. The plates are removable and able to go right into the dishwasher for simple and fast cleanups every grill owner will appreciate.
The grill has heating elements and a control system that ensures even heat and consistent temperature.
Cooking Area and Temperature Range
This grill offers an 80 square inch cooking area that can easily handle up to 5 servings at a time or 2 to 3 larger portions. There is an adjustable temperature control that can be set from 350 degrees F to 450 degrees F plus a 500-degree F button for high heat searing.
The grill also features an easy-read digital timer with temperature controls along with a temperature indicator light.
Ease of Use and Maintenance/Cleaning
The large and easy-to-read digital display makes using this indoor grill simple. It will also give better heat temperature precision for expert grilling no matter the food.
The patented George Foreman grills non-stick surfaces help to make cleanup an easy and fast chore.
The removable coated ceramic plates and waffle pan also contribute to the easy-care maintenance. These plates may be placed in the dishwasher.
What We Love
Plenty of heating power
Temperature control for up to 500°F
Clear digital control panel
Cleaning is quick and easy
Has a 3-year warranty
What We Don't
The plastic handles on the grill plates could be more sturdy
Budget Pick: George Foreman 4-Serving Removable Plate Grill and Panini Press
Here is an indoor grill that is budget-friendly but still offers lots of convenient features. This 4-serving removable plate grill plus panini press is one of the most popular George Foreman grills.
Specifications:
Wattage: 1,150
Cooking Area: 62 sq.in
Weight: 0.62 lbs
Cooking Surface Material: George Tough Nonstick Coating
Dimensions: 12″ x 12″ x 6.5″ (L x W x H)
Design and Materials
This smaller indoor electric grill comes with removable plates that are easy to clean due to the non-stick teflon coating.
The grill is compact and fits nicely on a counter or an outdoor balcony/patio table. When not in use, you can easily stash it away under a sink or in a cabinet.
Cooking Area and Temperature Range
This grill features a 62 square inch cooking area large enough for 4 small servings. It will heat up faster than previous versions, and it is possible to go from food prep to dinner on the table in just 10 minutes or so.
Ease of Use and Maintenance/Cleaning
The removable grill plates can be washed in the dishwasher for simple and no-fuss cleanups.
This is a terrific choice if just wanting the basic grill features without a lot of fancy extras.
What We Love
Very affordable
Easy to use and clean
Heats up fast
What We Don't
The cooking area is quite small
Buyer's Guide for George Foreman Grills
Here are some informative details on the George Foreman Grills and why they are a favorite option worldwide. These grills now come in a nice assortment of sizes and include lots of special features.
It pays to determine what your grill needs are prior to purchasing one.
Read on for some specifications on the George Forman grills to help make your buying decision a little easier.
Electric or Propane
The first thing to decide when buying a George Foreman Grill is the fuel source.
You have two options:
An electric grill can be used indoors, on the balcony, and anywhere that has a standard electricity plug. You don't have to worry about running out of gas in the middle of cooking.
A propane grill is the best option for camping and tailgating. Also, youcan place it anywhere in your backyard without using long extension cords.
Cooking Area Size
These grills come in several sizes to suit everyone's usual grilling needs. Choose the cooking area or serving size that best matches your intended use of the grill.
Select from smaller models ideal for one or two people if you have limited space and budget. Or choose a larger model that can handle as much as 15 servings making it ideal for tailgating parties, outdoor camping trips, or family BBQs right in your own backyard.
Tabletop or Standalone
Most George Foreman grills are compact tabletop models. But there are also a few standalone models great for use on a deck, balcony or patio.
The various sizes give each consumer a range of options for added convenience.
Temperature Range and Control
The cooking temperature of the George Foreman grills is usually around 400 degrees Fahrenheit. Most tabletop models simply have an indicator light that tells you when the grill is done with preheating.
The larger and more advanced models have adjustable temperature control that allows the cooking temperature to be set anywhere from 300 degrees up to 500 degrees Fahrenheit.
Cleaning and Maintenance
Many of the George Foreman grills come with easy-clean features like a removable drip tray and grill surfaces that detach for quick cleanup. Most even go directly into the dishwasher for added consumer convenience.
Dimensions and Weight
You will want to think about the ideal size for the grill that you desire. Ask yourself whether it can fit in your kitchen, whether it can be moved easily and how big of a storage space will you need for it.
If using this grill for hiking and camping, be sure to choose a lighter-weight model with easy-carry features.
Durability and Warranty
All of the George Foreman grill models come with a warranty of one year, which is a nice incentive to give one of these grills a try.
The grills are made to be durable and will last a long time if the simple maintenance and cleaning tasks are completed as the manufacturer recommends.
Other Perks These Grills Offer
Another enticing perk that these grills offer is that some are approved for apartment use, unlike other grills that cannot be used in most apartments and other rental buildings.
What Can You Cook on a George Foreman Grill?
The great thing is that you can cook almost anything on a George Foreman Grill.
Chicken breast, burgers, steaks, bacon, panini, you name it!
However, if you want to cook larger items that require long cooking times (e.g. whole chicken) you need a model that has adjustable temperature and a lid.
Here are some of our favorite George Foreman Grill recipes:
What is the Largest George Foreman Grill?
Most electric grills have quite small cooking surfaces and are not big enough to cook for the whole family. This also applies to George Foreman grills that usually have a grilling surface of about 60 to 80 square inches.
However, there is one option that is considerably bigger. The largest George Foreman grill is our recommendation for the best standalone option reviewed earlier in this guide — the George Foreman 12+ Servings Indoor/Outdoor Electric Grill with 240 inches of cooking surface.
George Foreman Grill FAQ
How do I know when my George Foreman grill is ready to cook?
There is an indicator light that tells you when the grill is ready to cook. The preheating time is usually about 5 minutes.
How long should I cook hamburgers on a George Foreman grill?
You should make burgers that are about 1/2" to 3/4″ thick. If you have the type of George Foreman Grill that you can press closed it will grill the burgers on both sides at the same time. This means you can grill them for about 5 minutes.
If you have a George Foreman Grill that only grills the burgers one side at a time, then you need to grill them for 3 to 5 minutes on both sides.
You can also make thicker burgers but then you need to grill them a few minutes more.
How to clean a George Foreman grill?
The cleaning process of a George Foreman grill depends a bit on the model you have.
Almost all George Foreman Grills have removable grill plates that you can clean with warm soapy water or put in the dishwasher. If there is some burnt food and grease stuck on the grates, you can first soak them and then use a nylon brush or scrubbing pad for cleaning them. Do no use a metallic brush as it will damage the nonstick surface.
You can also place the drip tray in the dishwasher after emptying it.
In addition to cleaning the grill plates and drip tray, you can wipe outside of the grill with a wet cloth or sponge and dry it with a soft cloth.
Are George Foreman grill plates dishwasher safe?
Yes, George Foreman removable grill plates are dishwasher safe. You can place them in the bottom rack of the dishwasher.
Best George Foreman Grills – Final Thoughts
These grills have been in use since the early 1990s and are still widely popular today. Think about what features, size, design style, and heat source you prefer before making your final decision.
One thing is for sure — any of the George Foreman grills reviewed in this guide will be fun to use and can cook a variety of delicious dishes. The choice depends on your budget and what special features you need.