Nothing says summer like a backyard cookout. But why grill over gas when only charcoal creates an authentic barbecue taste?
The smoky aroma and complex flavors are irresistible and getting them is simpler than you think. You, too, can barbecue like a pro with one of these charcoal grills that cost you less than 100 bucks.
Our recommendations for Best Charcoal Grills Under $100:
Why Do People Love Charcoal Grills?
More Americans still use gas to grill than charcoal, but the winds are changing. Annual sales of charcoal grills are rising as consumers learn what they've been missing.
Even if you have a gas grill, here's why you need more charcoal in your life:
Enjoy A Traditional Grilling Experience
Propane grills are undeniably convenient. Working with charcoal takes finesse — it's a learning process.
But the thrill of the grill is about more than just eating. It's about the primal sense of comfort only a fire can provide.
The time you spend coaxing flavors out of food instead of gulping down another hurry-meal is a traditional way to relax and bond with family and friends. You'll enjoy the journey as much as the destination!
High Heat Sears in Flavor
Nothing captures the imagination more than a burger seared over an open flame. Juices dripping over hot charcoal release volatile compounds that give grilled food their unmistakable taste. There's no comparison.
Charcoal burns hotter than gas. With a lid on, temperatures can soar above 650 degrees Fahrenheit (340°C), rivaling the heat of a commercial pizza oven — it's why kettle grills are tops for making your favorite pie.
It's also why meats develop their characteristic char-broiled flavor. The Maillard reaction — the chemical reaction that causes caramelization — requires a temperature of at least 450 degrees Fahrenheit (230 °C), a level bargain gas grills can struggle to achieve.
No Fuel Tanks — No Problem
Full 20 lb. propane tanks weigh 37 pounds — it's no small affair to fill, transport, store and install them. And despite their relative safety, there's still a minor risk of explosion if tanks get too hot.
Bags of charcoal travel risk-free, and you don't have to drive to a refilling station when you run out. You can buy a back-friendly size bag anywhere from convenience to big-box stores.
Barbecue Like a Pro on a Dime
You get what you pay for when it comes to gas grills — research shows results with bargain brands are predictably bad. You could drop $300 or more for a model worth its salt, but you can make Texas-worthy barbecue on a charcoal grill with a price tag below $100.
Check out these 10 tips and bring your charcoal grilling game to the next level:
What Makes a Good Charcoal Grill?
These features can make or break a charcoal grill:
Sturdy and Durable Construction
The most popular materials for grills are steel and cast iron — both are sturdy and durable, but not all models are created equal. Material thickness plays a role.
Manufacturers balance weight with portability. Thicker gauge steel is less prone to damage but can be heavy, so it's ideal for home use. Travel models will necessarily be lighter.
Both steel and cast iron are susceptible to rust if left outdoors — keeping them out of the elements is the key to long-lasting performance. Quality exterior paint or porcelain-enameling encourages rain to roll off, offering an extra measure of protection.
Ample Grilling Space
A grill should have enough surface area to make plenty of what you love without overcrowding. Don't worry about buying a model that's too large. By positioning the coals, you can focus heat in a limited area or make hot and cool grilling areas to take steaks from searing to cooking temperature. It's better to size up than down.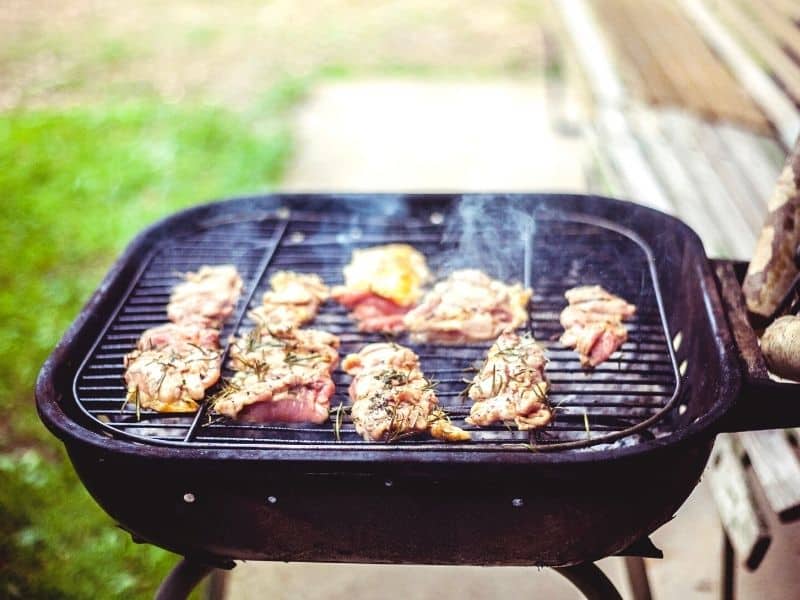 Easy to Clean
Food-encrusted grill grates are a bear to clean. Plated steel is a relatively non-stick, and cast-iron is challenging until it's seasoned. If easy-clean grates are a priority, look for enameled steel.
Charcoal also leaves behind ash. It can be a sooty mess. Better charcoal grills have an ash catcher or at least an opening at the bottom for sweeping out ash into a container.
Good Airflow and Heat Control
Airflow is the key to controlling the temperature in charcoal grills. Dampers adjust the flow of oxygen, which either feeds or suffocates flames. Open them to ramp up heat for a quick sear — close them to achieve a slow, steady heat. Grills with well-designed adjustable dampers for airflow and temperature control offer the greatest range of cooking options.
5 Best Charcoal Grills Under $100 Reviewed
You can get a nice charcoal grill even if your budget is small, but it takes some effort to find the real gems amongst the many poor options on the market.
We have done the research and picked the best freestanding, tabletop, and portable charcoal grills you can get for under 100 dollars. We have also included some more specialized options for people whole like making skewers or searing steaks on open-top hibachi-style grills.
If you think you could stretch your budget up a bit, you might also want to check our guide with the best charcoal grills under 200 dollars.
Best Freestanding Option: Weber Original Kettle 18-Inch Charcoal Grill
The Weber name is synonymous with grilling. If you're not familiar with what this Chicago-based American company offers, let us introduce you to one of the best charcoal grills money can buy.
Note: The price of this product has increased and it might cost a bit over 100 dollars at the moment.
Specifications:
Grilling Area (sq.in): 240
Weight: 24 lbs
Build Materials: Porcelain-coated steel, plated steel (cooking grates)
Dimensions: 23″ x 18.5″ x 36″ (L x W x H)
Warranty: 10, 5, or 2 years depending on the part
Why the Original Kettle is Our Top Pick?
Let's take a closer look at why this grill outguns the competition:
Design and Cooking Performance
It all begins with a deep 18-inch kettle precisely engineered for optimal heat circulation.
A single rust-resistant aluminum damper in the lid lets you control the temperature perfectly. Porcelain-enameled inside and out for superior heat and weather resistance, the bowl and lid are warranted for an unheard of ten years.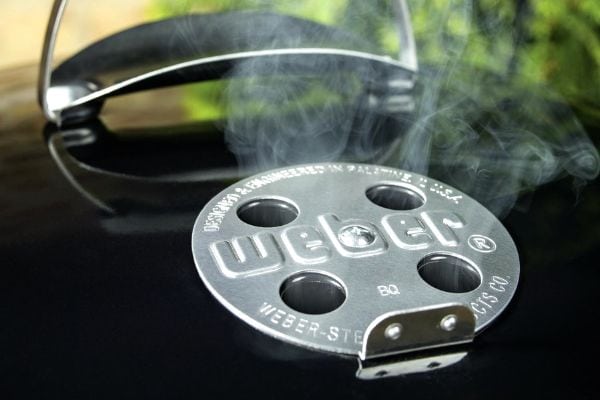 The design of the Original Kettle enables you to do much more than just grill some steaks and burgers. You can use indirect heat and wood chunks to cook various barbecue dishes from ribs to smoked chicken thighs.
Want to surprise your family or guests with something awesome?
Here is how to cook some heavenly St. Luis Style Ribs on a Weber Kettle:
There is only one complaint that I have about this grill — since I'm 6′ 2″, I have to reach down when tending to the food. But to be fair, I can't really blame Weber that I grew this tall!
Cleaning and Maintenance
When the grilling is done, it's time for clean-up. Yeah, I know, this is the boring part that nobody likes.
The good news is that with the Original Kettle it's a breeze!
Features such as Weber's patented One-Touch cleaning system do most of the work for you. Just rotate the handle under the kettle and the ashes are funneled into a catch tray while the unburned charcoal is preserved for cooking your next meal.
It's a fuel-saver and makes the Original Kettle one of the few kettle grills you can keep clean without getting your hands dirty.
Value for Money
Weber's quality shows in the details, from the rugged, glass-reinforced handles and crack-proof, all-weather wheels to the hook that lets you rest the lid on the side of the grill when it's not in use.
This means that a small investment will get you a grill that can last for decades if you take good care of it.
But the best part about the Weber is its price. At this price range, it's like driving a Cadillac for the price of a Ford. You won't be disappointed!
What We Love
Excellent overall quality
Well-designed damper for heat control
Easy to clean
Durable construction
Great value for money
Lightweight and easy to move around
Great warranty and customer service
What We Don't
Tall people have to reach down to tend the food
Best Portable Option: Weber Go-Anywhere Portable Charcoal Grill
Weber does it again with its ultra-portable Go-Anywhere grill. Weighing in at just 15 pounds, it's the ultimate in minimalist grilling with features that make you forget its size.
Specifications:
Grilling Area (sq.in): 160
Weight: 15 lbs
Build Materials: Porcelain-coated steel, plated steel (cooking grates)
Dimensions: 12.2″ x 21″ x 14.5″ (L x W x H)
Warranty: 10, 5, or 2 years depending on the part
I just bought this grill recently to take it out on camping trips and to the beach. But I like it so much that I often use it to cook lunch at home.
This small wonder is made of premium-grade steel that is sturdy enough for the road yet equally comfortable on your balcony. The base and lid are enameled to withstand corrosion — the finish is baked on and resisting peeling and rust. Dual top-mounted dampers adjust airflow across its adequate 160 square inches of cooking space.
The Weber packs up securely in seconds — the foldable legs keep the lid in place. Slip it in your trunk for a quick afternoon outing. It'll make lunch for four or more.
Like all Weber products, the Go-Anywhere grill is backed by their legendary customer service and warranty. You won't go wrong with a Weber.
If you are planning on buying this little beast but want to read more about it first, check out my full review of the Weber Go-Anywhere Charcoal Grill.
What We Love
Lightweight and ultra-portable
Easy to use and clean
Top vents allow good temp control
Durable plated-steel grill grates
Very quick and easy to assemble
Weber grills have a great warranty and customer service
Large Tabletop Grill: Char-Griller Tabletop Charcoal Grill
Char-Griller's tabletop grill offers full-sized performance both at home and on the road.
Built from heavy-gauge steel, it sports 250 square inches of cooking area. At 21-inches wide, it's among the few portable grills that can tackle full racks of ribs. The side-mounted damper controls the flow of air and smoke for perfect results every time. It's ideal for tailgating and as an RV grill for camping and road trips.
Specifications:
Grilling Area (sq.in): 250
Weight: 38 lbs
Build Materials: Steel, cast iron (cooking grates)
Dimensions: 18″ x 21″ x 20″ (L x W x H)
Warranty: 1 year
Clean-up is a breeze with the removable ash pan. Cast iron grates retain heat for even searing, but it takes a bit of effort to clean. Cool-touch hood handle prevents burns.
This grill has a dual function as this it can be used as a side fire-box on an existing Char-Griller grill. This allows you to do some Texas Style horizontal smoking and also provides additional grilling space.
The only real caveat with the Char-Griller is its weight. It's not exactly a grab-and-go grill at 42 pounds, but the trade-off is stability and performance. Its quality and versatility make it worth the effort.
What We Love
Large cooking area
Sturdy and durable
Has a sliding drawer for easy access to coals and ashes
Removable ash pan makes cleaning easier
Portable – great for tailgating and camping
What We Don't
Cleaning the cast iron grates takes some effort
Best for Kebabs: Isumer Hibachi Yakitori Portable Stainless Steel Charcoal Grill
Make restaurant-quality shish-kebabs, skewers, or authentic Japanese yakitori on this portable charcoal grill. It's uniquely designed so that skewers easily be placed on the grill without burning the wooden sticks.
Specifications:
Grilling Area (sq.in): 250 (approximately)
Weight: 12 lbs
Build Materials: Stainless steel
Dimensions: 28.7″ x 12.8″ x 26.81″ (L x W x H)
Warranty: 1 year
Made of heavy-gauge steel, this grill is still portable at 12 pounds. The foldable legs fit neatly in your trunk. It comes with a stainless steel grate and two baskets for placing seasonings and food.
With the grates installed, this versatile yakitori grill can tackle traditional barbecue, but temperature control for larger food items is challenging without a lid. Vents on both sides control airflow, but unlike the Weber, they are not that easy to adjust for precise heat management.
The Isumer is a great option for open-air cooking and if kebabs are your specialty, no grill performs better.
Wood skewers don't burn, and food cooks evenly every time. Enjoy the delicate char-broiled skin on wings and vegetables — there's no sticking.
What We Love
Made of sturdy and durable stainless steel
Large grilling area
Portable and versatile
Legs can be folded
What We Don't
Not suitable for slow cooking because there is no lid
Budget Pick: Cuisinart 14-Inch Portable Tabletop Charcoal Grill
Cuisinart's 14-inch tabletop grill is a budget-friendly solution to your portable grilling needs. It assembles in minutes and is compact enough to take anywhere from the backyard to the beach.
Specifications:
Grilling Area (sq.in): 150
Weight: 5 lbs
Build Materials: Painted steel, plated steel (cooking grates)
Dimensions: 14.5″ x 14.5″ x 15″ (L x W x H)
Warranty: 3 years
The 14-inch diameter chrome-plated grilling surface features 150 square inches of grilling area suitable for three to four people. A single damper controls the temperature for a quick sear or low and slow cooking.
Like the Weber, the steel firebox is enamel-coated and weather-resistant. The kettle sits on a tripod base for stability and features a basic ash collection pan. Three latches keep the lid secure for travel.
Compared to the Weber, the Cuisinart's features are similar, but the finish is less refined, and the materials don't feel quite as durable. But for a fraction of the price, the performance is surprising. You won't be disappointed. It's proof that good things can come in small packages.
What We Love
Very low price
Easy to assemble and use
Compact and lightweight
What We Don't
The grill grate is not very stable and could tip over easily
The lid handle can get hot
Charcoal Grill FAQ
Can I get a good charcoal grill for under 100 dollars?
Yes, you can absolutely get a great charcoal grill for under 100 dollars.
Grilling with charcoal is not that complicated, so all you need is a well-designed grill made with durable materials. One of the most important things is that the grill has air vents that allow you to adjust how fast the charcoal burns so you can control the heat. The grill should also have a tight lid to prevent heat from escaping and it should be easy to clean.
The limitation of low-cost charcoal grills is mainly the size. Most high-quality units have a limited grilling space but they are still large enough to fit about a dozen burgers so you can feed the whole family.
Yet, you should note that prices of many products have increased recently
Are affordable charcoal grills durable or do they rust or break easily?
Affordable charcoal grills can still be durable. In fact, in this guide, we have only included grills that are sturdy and made with long-lasting materials like porcelain-coated steel except for the cheapest budget option.
However, there are many inexpensive charcoal grills that are made with low-quality materials. They are often flimsy and start rusting easily.
Can I cook tasty food with a low-cost charcoal grill?
Yes, you can cook very tasty favorite foods like burgers and steaks even on an inexpensive charcoal grill. If you have the skill, you can even prepare gourmet foods. The cost of the grill does not determine how tasty the food will be — it's the skill of the grillmaster.