What could be a better way to spend nice summer days than in your backyard with tasty food sizzling on a grill. But there are so many grills on the market that sometimes finding the right one is not an easy task.
How to choose the right brand? Which features are important?
To save you time, we have done the research and included the 6 best options in this guide.
Our recommendations for Best 3-Burner Gas Grills:
What's Great About 3 Burner Gas Grills
When buying a grill, the first thing to consider is if you should get a charcoal or a gas grill.
If you are grilling frequently, a gas grill is a more convenient option as you can start it with a push of a button and it heats up quickly.
Yet another advantage is that gas is usually cheaper than buying charcoal. Cleaning up the charcoal after grilling can also be messy and takes some extra effort.
One great thing about 3 burner gas grills is that you can easily regulate the temperature and create heat zones by adjusting each burner individually.
Also, a grill with 3 burners typically offers a big enough cooking area without being too bulky. You can still fit it on your patio or backyard without taking up all the space. So it's just the right size for most families.
The gas grills we chose for this guide are convenient and easy to use so you can have fun while cooking!
You can also check out our guide with the best 2 burner gas grills if you think a 3 burner might be too large for your needs.
How to Choose the Best 3 Burner Gas Grill
Before getting into the reviews, let's take a look at the most important features that you should consider to make sure the grill fits your personal needs.
Fuel – Propane or Natural Gas?
You can start by deciding if you want a propane or a natural gas grill.
Propane is the more common option and allows you to move your grill and the gas tank around freely. However, natural gas might be more convenient if you have a gas line available at your house.
Heating Power
What is also important is that you can achieve a high enough cooking temperature to get a proper sear on your steaks. You can't only look at the BTUs — heat retention is also important.
In addition, the amount of BTUs should be proportional to the size of the cooking surface.
But you don't have to worry about this too much if you get one of the models reviewed here. We have only chosen models that pack some real heat in this guide!
Materials and Warranty
Next, it is important to consider the materials used for building the grill. Many 3 burner gas grills are made of stainless steel and porcelain-coated steel making them sturdy and durable.
We also recommend choosing a unit with heavy-duty grilling grates that are easy to clean.
One more thing you should consider before buying a grill is the warranty. Gas grills are convenient, but you also run the risk of one of your burners or other parts needing replacement.
Luckily, many of the high-quality 3 burner gas grills come with a long warranty. Pay close attention to the terms of the warranty, in case you have to replace some parts later.
Best 3 Burner Gas Grills Reviewed
Ok, now it's time to get into the reviews.
We chose 6 different types of grills to be reviewed here, each offering something unique. So whether you are simply looking for a great 3 burner with excellent cooking performance, a premium option with great features, or a budget pick, you can find it right here.
Best Overall: Weber Spirit II E-310 Propane / Natural Gas Grill
The Spirit II E-310 is a stylish 3-burner gas grill with a great overall design, sturdy built, and a surprisingly affordable price tag. This unit offers everything you need for having fun with great backyard barbecues.
It doesn't have any unnecessary extra features but focuses on the essentials — providing an excellent cooking performance for grilling plenty of tasty foods!
Specifications:
Fuel Type: Propane/natural gas
Number of Main Burners: 3
Total BTU: 30,000
Heat Flux: 71
Primary Grilling Area (sq.in): 424
Warming Rack Area (sq.in): 105
Weight: 114 lbs
Build Materials: Stainless steel, porcelain-coated steel, and porcelain-coated cast iron (grates)
Dimensions: 52″ x 27″ x 44.5″ (L x W x H)
Warranty: 10 years
Why the Spirit II E-310 is Our Top Pick?
Let's take a closer look at why this grill is our top pick:
Easy to Use and Maintain
This grill comes with Weber's outstanding GS4 grilling system. The design is based on 30 years of grilling experience and the wants and needs of consumers. Everything from starting the grill, controlling the heat, and cleaning up works seamlessly.
Here is an excellent video that shows you how to keep your Weber Spirit nice and spiffy:
One great feature is the fuel gauge for monitoring how much fuel is left in your propane tank. This means you won't run out of gas in the middle of cooking!
Another notable feature about this grill is that it gives you space to store your utensils. There are 2 foldable side tables and six tool hooks to make things smooth. The 2 wheels on the grill make it easy to transport and move to storage.
Burners and Grilling Area
The Spirit II E-310 packs enough heating power to make the grill searing hot in about 10 minutes. What's maybe even more important is the uniform heat distribution across the cooking surface.
This means you will have a smooth and pleasant grilling experience and can expect your food to be cooked evenly and consistently.
One feature I really like about the Spirit II is the flame tamers (or flavorizer bars) above the burners. They catch the drippings vaporizing them, so you get a nice smoky flavor on your food. In addition, they prevent flare-ups because the extra grease is funneled away from the burners into the aluminum grease pan.
This grill has 424 square inches of primary grilling space spread out over the 3 burners. So you will have a big enough cooking area for about 12 burgers on this grill.
The cast-iron cooking grates are sturdy and porcelain-enameled for better durability. They are also reversible — thicker on one side and thinner on the other.
The warming rack provides additional 105 square inches for slower cooking or just to keep food items hot.
Conclusion
The Weber Spirit E-310 comes from an iconic brand and offers great value for money. It's made with durable materials and covered with a 10-year warranty against defects in material and workmanship.
When you are looking for a high-quality 3 burner gas grill at a reasonable price, this is our top pick. For fuel, you can choose between liquid propane and natural gas.
The only downside about this product is that there is no side burner included.
If want to have a side burner and an extra sear burner, consider getting the Weber Spirit E-330.
What We Love
Excellent value for money
Gets hot fast
Even heat distribution
Great ignition system
Strong and solid frame
Comes with a 10-year warranty
Great Value for Money: Char-Griller E3001 Grillin' Pro Propane Gas Grill with Side Burner
The Char-Griller E3001 Grillin' Pro provides you with a large grilling area, plenty of heating power, and great features, for a very affordable price.
You will get 40,800 BTUs of heat on 438 square inches of cooking space in the main grilling area. There is also a 192 square inch warming rack and a 12,000 BTU side burner. For a low price tag, the features on this grill are amazing!
Specifications:
Fuel Type: Propane gas
Number of Main Burners: 3
Additional Burners: Side burner 12,000 BTU
Total BTU: 52,800
Heat Flux: 93
Primary Grilling Area (sq.in): 438
Warming Rack Area (sq.in): 192
Weight: 100 lbs
Build Materials: Painted steel and porcelain-coated cast iron (cooking grates)
Dimensions: 48″ x 28″ x 48″ (L x W x H)
Warranty: 5 years
Convenience is always lovely. There are utensil hooks and the electronic ignition on this grill allows you to save time with a quick and easy start-up. The cast-iron cooking grates and stainless steel burners are durable and will help to give your food a nice succulent taste.
The sturdy steel construction of this grill helps to add to the longevity of the grill. However, remember to protect it from the elements, as it might start rusting quite easily.
If you don't want to spend too much, but still want to get a large and powerful 3 burner unit, go for the Char-Griller E3001 Grillin' Pro!
What We Love
Large cooking area
Gets hot enough for searing
Durable porcelain-coated cast-iron grates
The double-sided grates can be used for grilling and searing
The lid is high enough for big roasts and whole birds
Comes with a side burner
What We Don't
Made of painted steel that might rust if the paint chips off
Temperature control is a bit touchy
Best Premium 3-Burner Grill: Weber Genesis E-335 Propane / Natural Gas Grill
Here is a feature-stacked option from Weber that you should definitely consider if you are looking for the best quality.
The new 2022 Weber Genesis E-335 is also loaded with nice features. The extra searing burner helps with creating beautiful grill marks on your steaks and burgers while the side burner is handy for making sauces and preparing side dishes.
So this means that while the Genesis E-335 has 3 main burners, it actually has 5 burners in total if you count in all of them!
The Genesis line gas grills are some of the most popular Weber products on the market. Great to begin with, the renewed 2022 models feature a larger and more powerful sear station, a bigger warming rack, an enclosed cart, and upgraded metal swivel casters.
This grill also has an excellent grease management system that helps to reduce the risk of flare-ups and makes cleaning the grill easier.
When cooking on this grill, you can easily serve anywhere between 5 to 10 people. The total cooking area is 787 square inches with a primary grilling area of 513 square inches.
The Genesis E-335 is a very well-designed grill and everything works smoothly. The temperature control is accurate so you don't end up burning the food. Side prep workspace is excellent when you need a table so that you don't have to keep running inside the house.
You can also get some additional Weber gizmos to add more versatility to your unit. Compatible with the new Crafted Outdoor Kitchen grillware collection the options include anything from rotisserie sets and roasting baskets to flat top griddles and pizza stones.
If you are serious about grilling, then consider buying the Genesis E-335!
You surely have to invest a bit more in this one, but you won't regret it. Both liquid propane and natural gas options are available.
What We Love
Superb grilling performance
High-quality components
Heats up quickly and evenly
Large cooking area
Comes with a side burner
Has a sear station for intense heat
Comes with a fuel gauge (for propane)
Long warranty
What We Don't
Rotisserie kit is not included (sold separately)
Best Budget Option: Char-Broil Classic 360 Propane Gas Grill
Next on the list is the Char-Broil Classic 360 3-Burner Grill. This is the most affordable grill included in this guide. If you are looking for a simple grill that won't take up too much space, this is a great option.
The grill features 360 square inches of primary cooking space and porcelain-coated grates. Your food can stay warm while you finish grilling other dishes with the 170 square inch swing-a-way rack.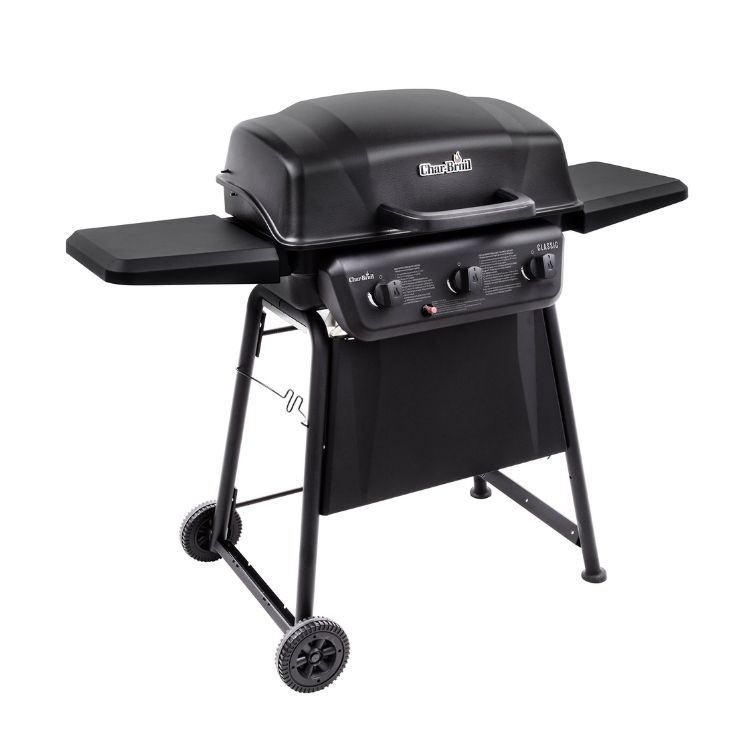 Specifications:
Fuel Type: Propane gas
Number of Burners: 3
Total BTU: 30,000
Primary Grilling Area (sq.in): 360
Warming Rack Area (sq.in): 170
Weight: 48.5 lbs
Build Materials: Stainless steel, porcelain-coated metal, plastic
Dimensions (folded): 51″ x 24″ x 43.5″ (L x W x H)
Warranty: 5 years (burners), 2 years (firebox), or 1 year (all other parts)
The 3 burners are made of stainless steel and protected by a sturdy lid. Extra storage space is one nice feature of this grill. There are metal side shelves that measure 12-inches x 13-inches that can also be used for prepping space. However, there are no hooks to hang your BBQ tools.
A potential downside of this grill is that it may take some maneuvering to make sure the flame shields are fitting correctly. If they slide off, there is a possibility that the flames can spark up. Also, the temperature control knobs are not very accurate when it comes to adjusting the heat level.
Char-Broil Classic 360 is a great budget option that still manages to deliver a satisfactory grilling performance.
What We Love
Very affordable
Easy to assemble and use
Plenty of heating power
What We Don't
The temperature control could be more accurate
No thermometer
Best Infrared Option: Char-Broil Performance TRU-Infrared 3-Burner Propane Gas Grill
Here is another Char-Broil brand product and this time with infrared technology. This brand is well-known for affordable products with good quality. You can expect increased style and durability with the stainless steel finish on this unit.
On this grill flare-ups while grilling are prevented thanks to the TRU-Infrared cooking technology. It also helps with cooking your food more evenly. If you are new to grilling, this is tremendously helpful.
Specifications:
Fuel Type: Propane gas
Number Main Burners: 3
Additional Burners: 10,000 BTU side burner
Total BTU: 34,000
Primary Grilling Area (sq.in): 450
Warming Rack Area (sq.in): 150
Weight: 105.6 lbs
Build Materials: Stainless steel and porcelain-coated cast iron
Dimensions: 54.1″ x 23.4″ x 45.5″ (W x D x H)
Warranty: 5, 2, or 1 year depending on the part
The grates on this grill are rust-resistant, making the grill even more durable. Reliability is another key factor of this grill. The push to start button works every time and makes the grilling process so much easier.
There are 450 square inches of primary cooking space on this grill. It features 24,000 BTU's of heating power on the 3 main burners. In addition to that, there is a 10,000 BTU side burner with a lid. You can make your favorite sauce or sides on this burner.
One potential downfall of this grill is that cleaning the grates is not so easy. The grease tends to get stuck on the surface and is quite hard to clean them properly.
All in all, this is the best infrared 3 burner gas grill when considering price and quality.
What We Love
Infrared technology provides even heat
No flare-ups
Sturdy and durable stainless steel construction
Side burner is included
Affordable
Stainless steel burners, lid, and firebox
What We Don't
Cleaning can be a bit tedious
No cabinet for storage space
Most Powerful and Portable: Camp Chef PRO90X 3-Burner Portable Propane Gas Stove
Here is a unit that is not your typical gas grill — actually it's more like a stove. The nice thing here is that you can use it in so many different ways.
This portable powerhouse is part of Camp Chef's 16-inch cook system family, which means that you can use it with anything from griddles, BBQ Boxes, and pizza ovens to regular pots and pans.
Specifications:
Fuel Type: Propane gas
Number Main Burners: 3
Total BTU: 90,000
Cooking Area (sq.in): 608
Weight: 60 lbs
Build Materials: Painted steel and cast aluminum
Dimensions: 78.5″ x 26.5″ x 32″ (W x D x H)
Warranty: 1 year
The stove has an enormous 16 inches by 38 inches cooking area that allows you to cook many different things simultaneously. Cook some steaks on a griddle while making sauce with one burner or bake pizza and make a soup at the same time.
Matchless ignition makes starting the burners easy and the windscreen ensures the fire keeps on burning. The stove's 3 burners put out a whopping 90,000 BTUs — that's an impressive amount of heating power!
Transporting or storing the unit is made easy with folding legs. The height of the legs can also be individually adjusted so you can make it level even on an uneven surface.
This rig was built for big cooking jobs like tailgating and family reunions. One warning about this grill — it can get extremely hot!
What We Love
Packs some serious heating power
Huge cooking area
Versatile
Easy to transport and set up
3-Burner Gas Grill FAQ
Is a 3-burner grill big enough?
3-burner grills typically have a main cooking area between 300 and 500 square inches. This means you can easily cook for about 5 to 8 people, which makes them a great choice for most families.
What is the best 3-burner gas grill?
Our top pick for a 3-burner gas grill is the Weber Spirit II E-310. It's a high-quality grill with excellent cooking performance and a relatively affordable price. The unit also comes with a 10-year warranty.
How long does a propane tank last for 3-burner grill?
This depends largely on how many BTUs your grill can put out and if you're grilling on high or low heat.
As a rule of thumb, we can say that one 20 lb propane tank provides about 20 hours of cooking time on high or medium-high heat. So if it takes you 20 to 30 minutes in total to preheat the grill and cook those burgers or steaks, you can have as many as 40 grilling sessions with one tank.
However, if you will have longer cooking sessions with more items or complicated recipes, the tank will be empty much faster.
What is the benefit of having a 3-burner grill over a 2-burner?
With a 3-burner grill, you have more control over the heat and can create temperature zones for slow indirect cooking. For example, you can use just one burner so you will have a large area with indirect heat that is perfect for cooking recipes like ribs, briskets, and pork butts.
In addition, 3-burner grills usually have a bigger overall cooking area than 2-burner models.
If you like organizing backyard barbecue parties and think that a 3 burner can handle the crowd, take a look at our recommended 6 burner gas grills.
Have a great barbecue!